It's a lot steeper than you think. Walking the hill, beneath the oaks that shade the ancient wooded hillside that the course at Shelsley Walsh cuts into, it's not only steeper than you imagine from the start line, but faster, too. The 1000 yard (914 metre) run climbs a total of 328 feet (100 metres precisely) and bar the S bend section before the finish line, it's pretty much pedal to the metal all the way.
And what a selection of metal we had at the inaugural Hagerty Hill Climb, a non-competitive event for car enthusiasts from across the nation. From a 1956 Maserati 300S, which Fangio drove to four Grand Prix victories, to a humble Hillman Minx that was driven from Norfolk to Shelsley Walsh, near Worcester, by our very own Damien Cross, and anything and everything in between, there really was something for everyone on this sun-kissed day of hill climbing.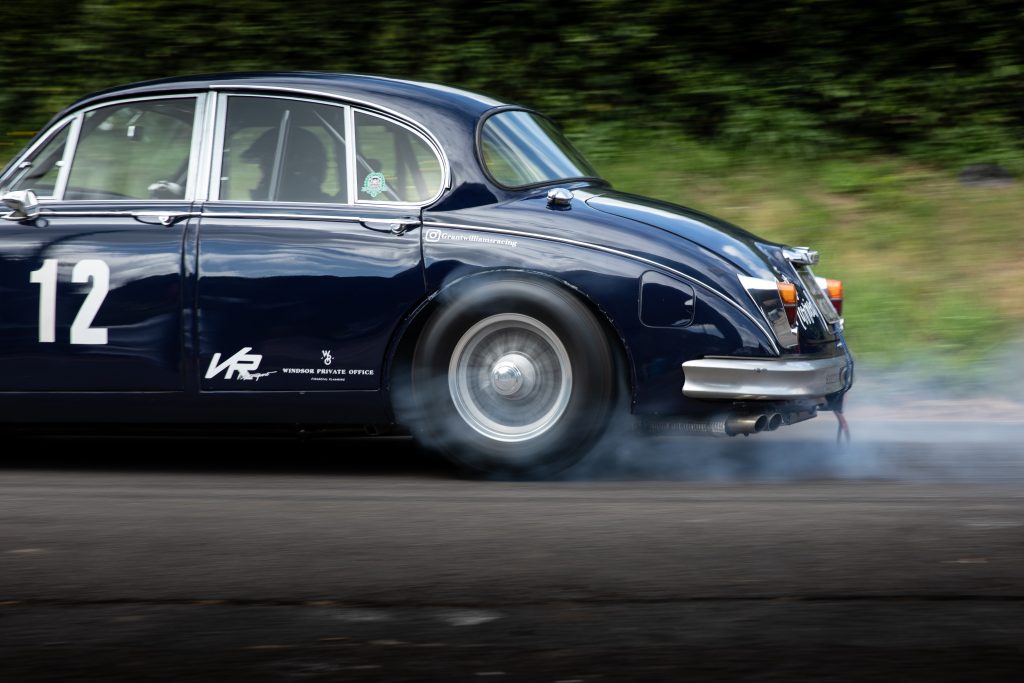 One of the very first to arrive is Ken Prichard Jones. He pulls in, wearing a full-face crash helmet. With it removed, we learn why he's wearing it; Pritchard-Jones has travelled all the way from West Sussex, and his arrival at about 7.30 in the morning helped avoid traffic, as well as sleep.
He's brought his 1951 Turner, a true survivor as it's the only one of eight said to remain, and it rumbled all the way here thanks to a delightfully vocal Ford flathead V8 with an Ardun overhead valve conversion. "It's putting out 308 brake horsepower and 328Ib ft of torque, and weighs 970 kilos, so it's brisk," comes the understatement from Prichard Jones, who took on the Turner in 2011, as a box-of-bits project that has taken him 10 years to complete. With a history of being used in competitive hill climbs and sprints, it's apt that it's one of our first arrivals at Shelsley Walsh, and equally apt that it's soon joined by a 1963 AC Cobra 289, which takes the 'shed' adjacent to the Turner.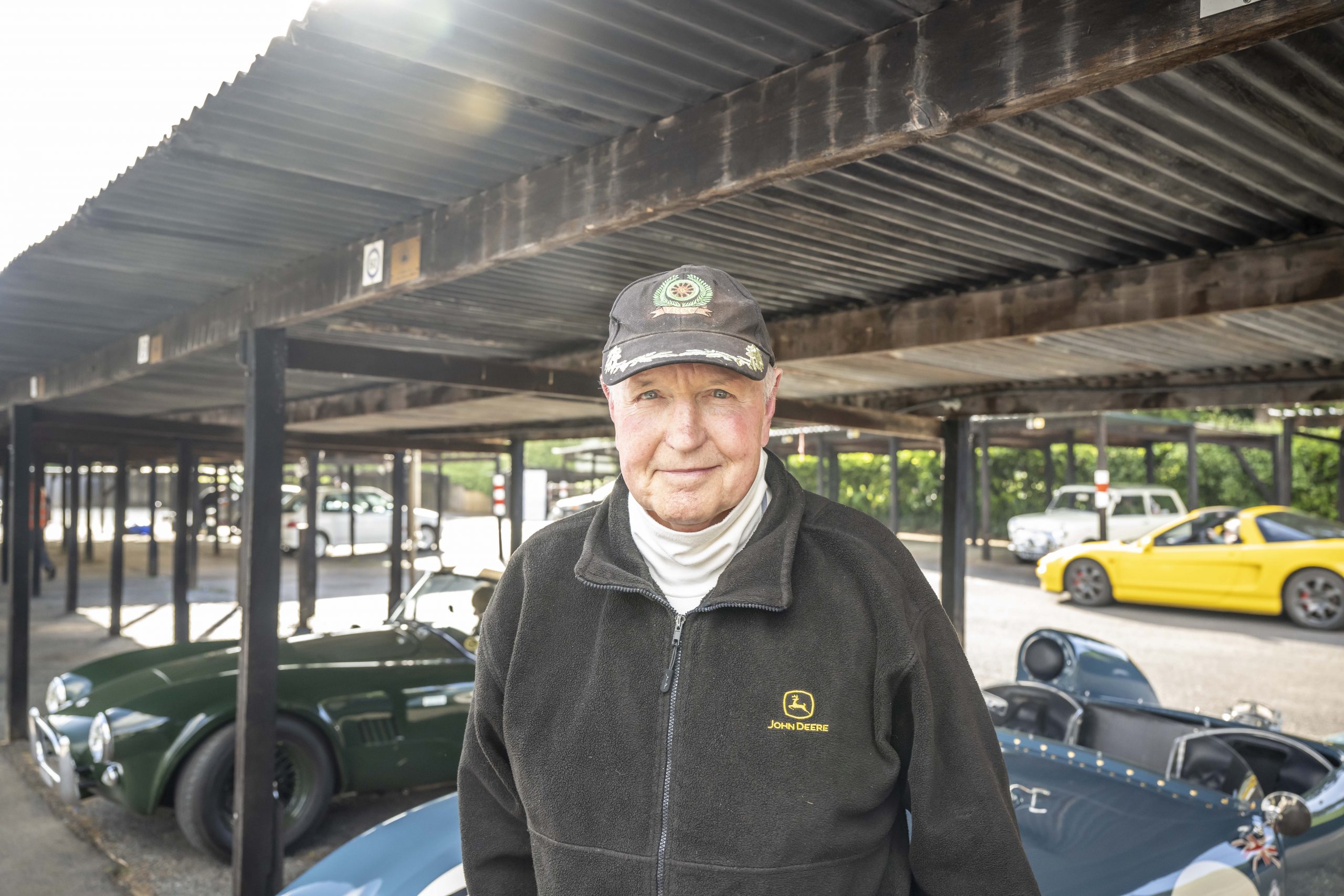 As more arrivals bring colour, noise and the unmistakable smell of burnt fuel to the paddock at Shelsley Walsh, a 1950 Jaguar XK120 Open Two Seater. It wears every one of its years, utterly original and deliberately unrestored. Repairs are visible, while paddock passes hanging from the bar on the dashboard date back as far as 1953. It is, quite literally, a moving, breathing, artefact.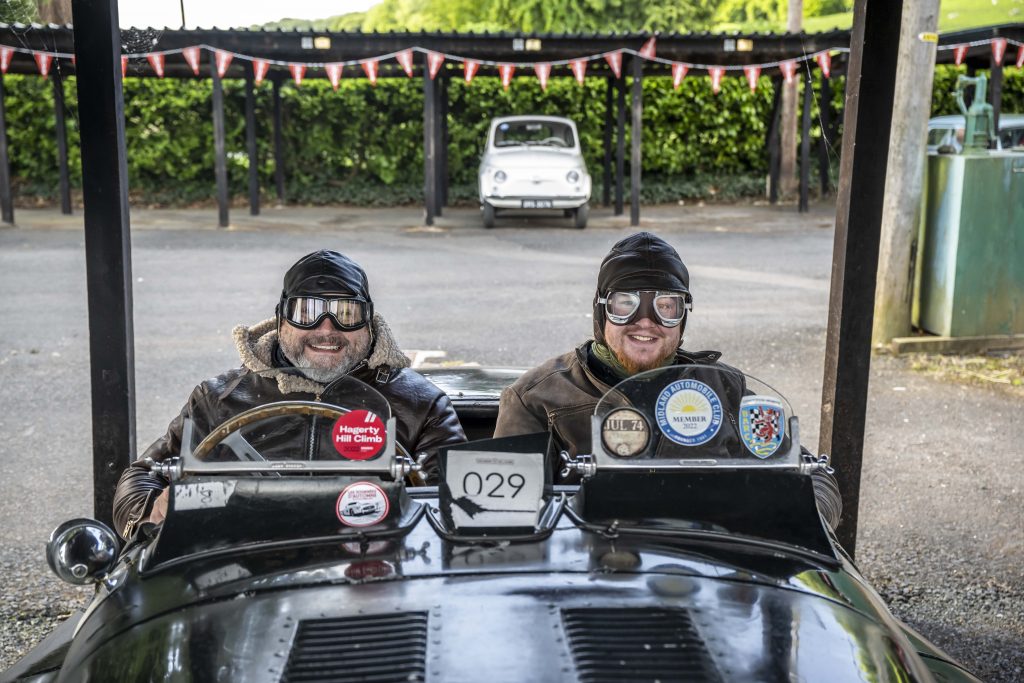 Peter Stant, of SNG Barratt, and son Harry are caring for it today, and look the part in flying jackets, leather flying hats and goggles. Will Harry be driving today? "He passed his test three days ago," laughs Peter, "so not today!"
Peter tells of how he's been up the hill at Shelsley 240 times – as a passenger. SNG Barratt runs its own days at this historic site, which has been in pretty much continuous use since 1905. Why 240 times? "We bring our six-cylinder E-type and let people drive it up the hill, but I have to accompany them for insurance purposes. I age about ten years every time," he jokes.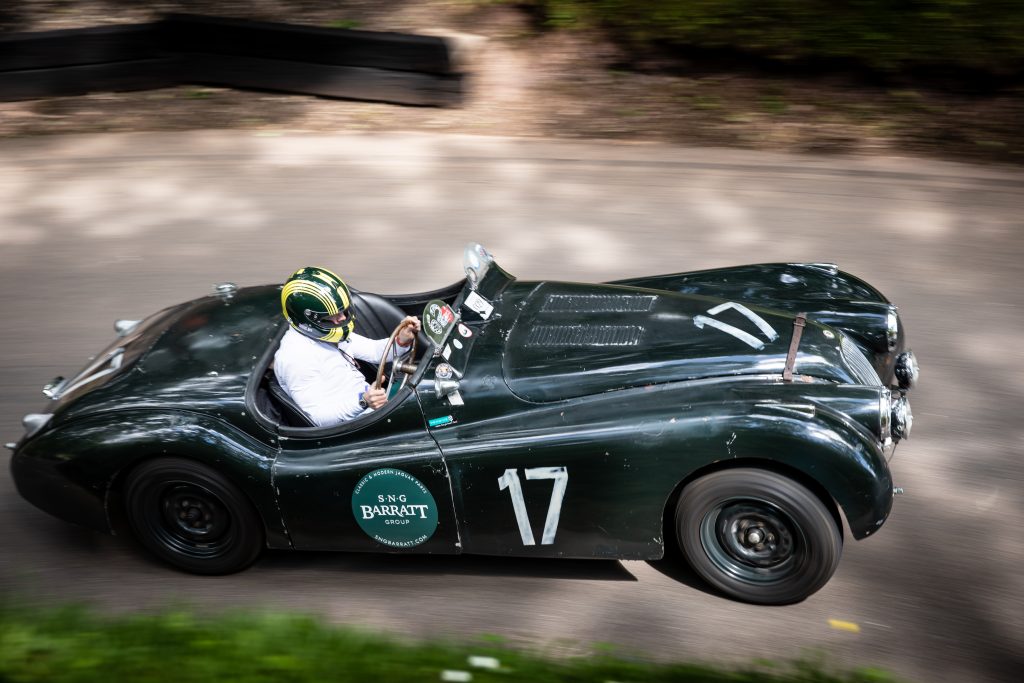 From one extreme to another, and Sussana Kenniston, who has travelled in convoy with Eliot Dunmore, the latter in a Subaru Impreza WRX STi 22B. It looks noisy and uncomfortable. Not the 22B; that looks plush. Kenniston is in a race-prepared Volkswagen Corrado, which is devoid of everything bar a seat, roll cage and fire extinguisher. It's nicely prepared, but in place of its original G60 supercharged engine resides a heavily tuned, four-cylinder, 199bhp 1800cc GTI engine. After a crash, that engine was the only surviving piece of a racing Golf she campaigned, so she searched for a new donor race car and found the Corrado.
It's on the road for the very first time since she acquired it for racing duties, in 2010. After driving for 80 miles, from near Oxford, to reach Shelsley Walsh, she's glad she brought earplugs. Will it be a hard drive? "I don't know! I haven't raced for a few years. It got to the point that I was so scared about crashing this on the race track that I didn't take it out, so I'll see how I feel. It sounds so good that it would be a shame not to!"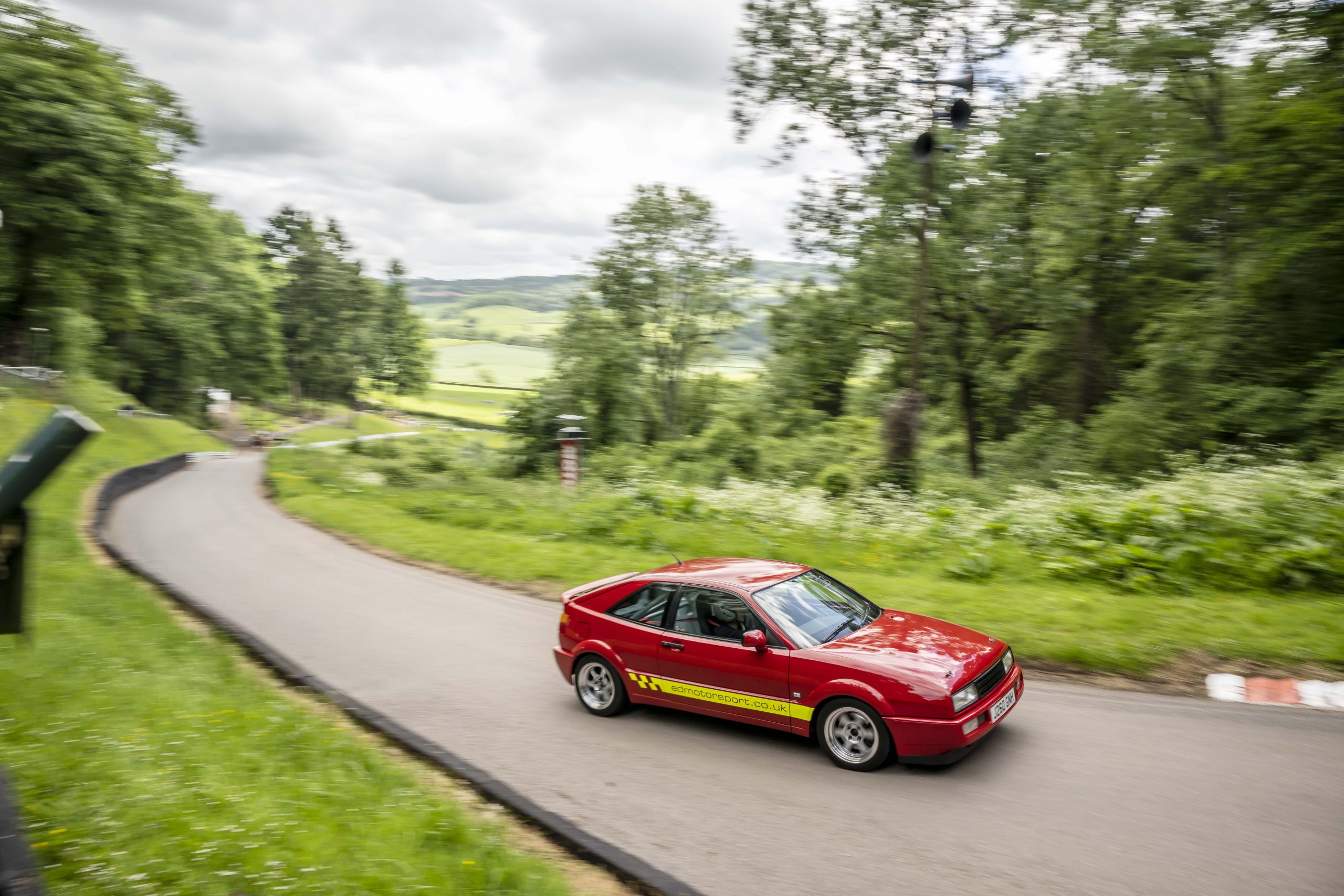 Something else that sounds good is the DeTomaso Pantera GTS, owned by retired classic car dealer Dave Quine. He's nipped over from Hereford, although his accent betrays his Liverpool roots. He bought it six years ago, and put it through a restoration process, which included having the V8 tuned by Quick Motorsport, which counts the likes of Ken Block as clients.
"As a kid in Liverpool, back in 1972 or '73," says Quine, "there was a restaurant called The Master Mariners, and it looked like a cruise liner inside. We were walking down the road and saw this 'thing' outside the restaurant and ran over, going like, 'Wow! What is that?' and the concierge came over telling us to get away from it. As we left, I remember shouting, 'One day, I'll have one of those.'" Sure enough, he has one, and what a wonderful wedge it is, full of attitude but not as over-the-top as the Group 4.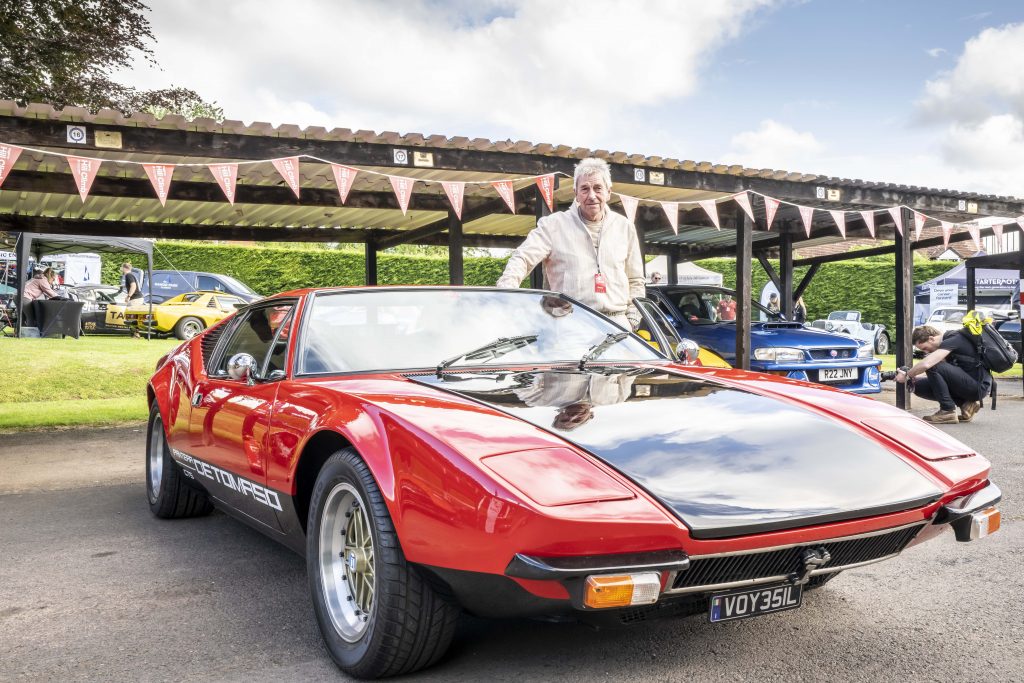 "I love Shelsley Walsh, I like the environment, it's a great place to come and I like to bring the Pantera and share it with car enthusiasts. It's a car that needs to be seen as it's quite rare."
A different sort of noise can be heard from the melodious straight-six engine of Andrew Barrett's BMW M5 E28. Number 180 of 184 sold in the UK, he bought it when it was nine years old, swapped it for a BMW M5 Touring (E34), lost that in an accident so bought back the M5 E28 in 2003. "It's just such a lovely car to drive, and it's a rare thing. I saw two, yellow, Lamborghini Murcielagos while I was driving over, this morning, but I didn't see any other E28 M5s," laughs Barrett.
Is the tail wayward? "It handles sweetly. It has a limited-slip differential so when it does slide it's very catchable. I used to hillclimb and sprint the car, then had paint and restoration work done and didn't do that for a couple of years. Then I decided there's no point not driving it; you've got to get out and use it." Hear hear.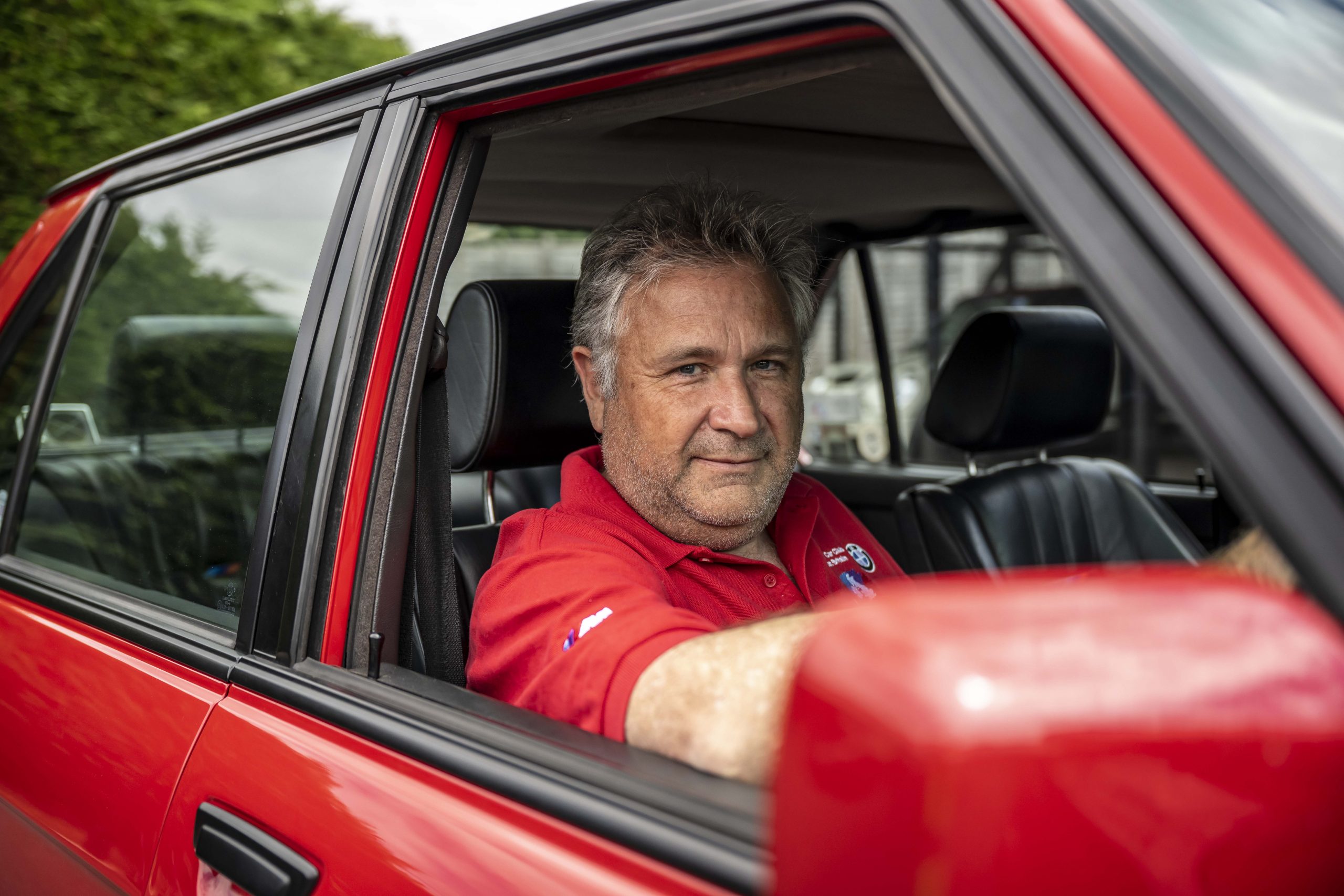 You could say much the same for Jane Weitzman, whose ultra-rare Toyota 2000 GT was brought to the UK in 2006, and whose car collection is one of the better-known collections in the UK. "This car is one of the Holy Grails for Toyota. If you turn up unexpectedly to a Toyota enthusiasts meeting and they are on their knees, bowing before it. They have literally done that and it is so much fun!"
Weitzman praises the car's design, in particular the rear, and describes its driving experience as delicate and jewel-like, and enjoys pointing out that the wood veneer is produced by Yamaha, even if it's not running perfectly today.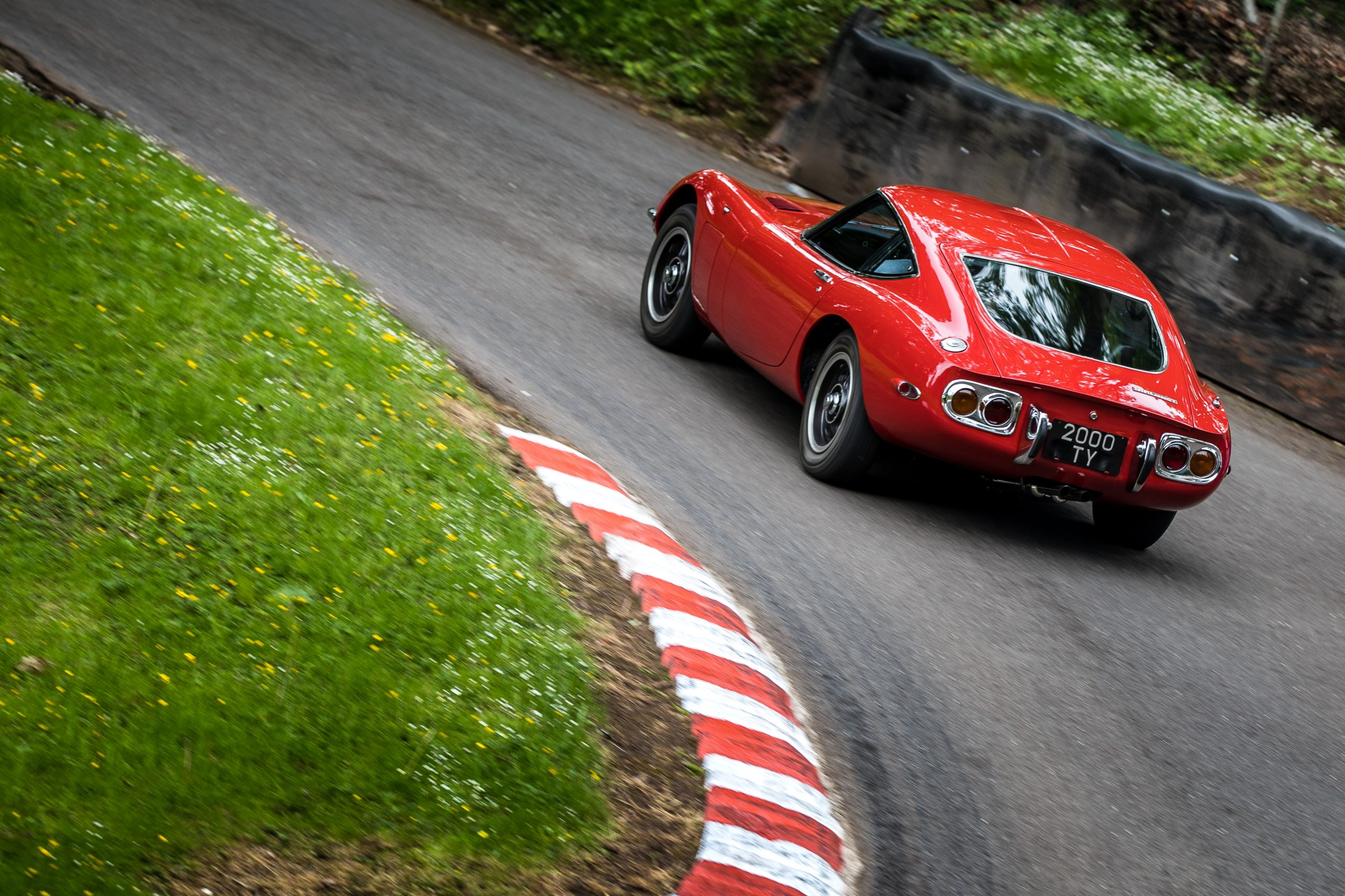 From one rarity to another, and an achingly tidy Ford Fiesta in you've-been-Tangoed-orange. Belonging to Lawrence Tibbs, it has been in his keep for 10 years and started life as a humble Fiesta Popular Plus. Stripped back to the shell, Tibbs decided to spice things up with a Ford 1.6 Crossflow engine from an XR2, complete with twin Weber 40 carbs, hot cams, uprated brakes and suspension and a four-speed gearbox, which he may change in time.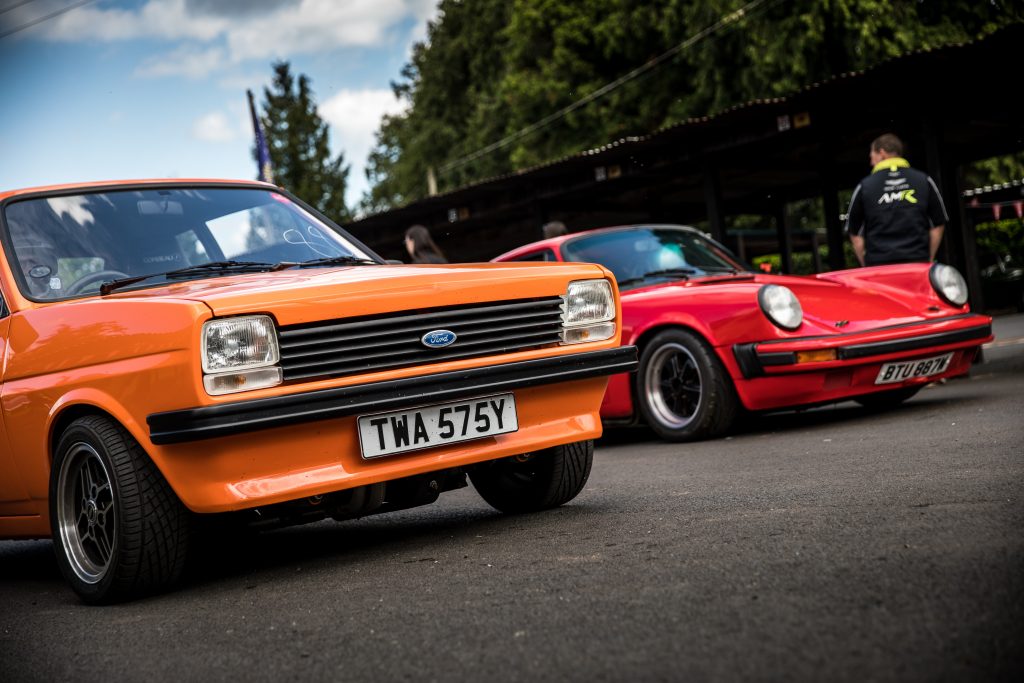 It also happens to be Tibbs' first time at a hillclimb. "This is the first event doing anything like this, bit scared to be honest! It's the great thing about today not being a timed event, you can just go at your own pace." He's confident the Fiesta will be up to it, as it "handles really well – a friend of mine runs String Theory Garage, he's done all the setup and it handles just right." If all goes well, he says hillclimbing could become a habit.
Again, highlighting the age range and variety of cars, we're drawn to the BNC of Rachel Blake. The 1928 model is from a French manufacturer that few of today's car enthusiasts will have heard of: Bollack Netta et Cie (and Company).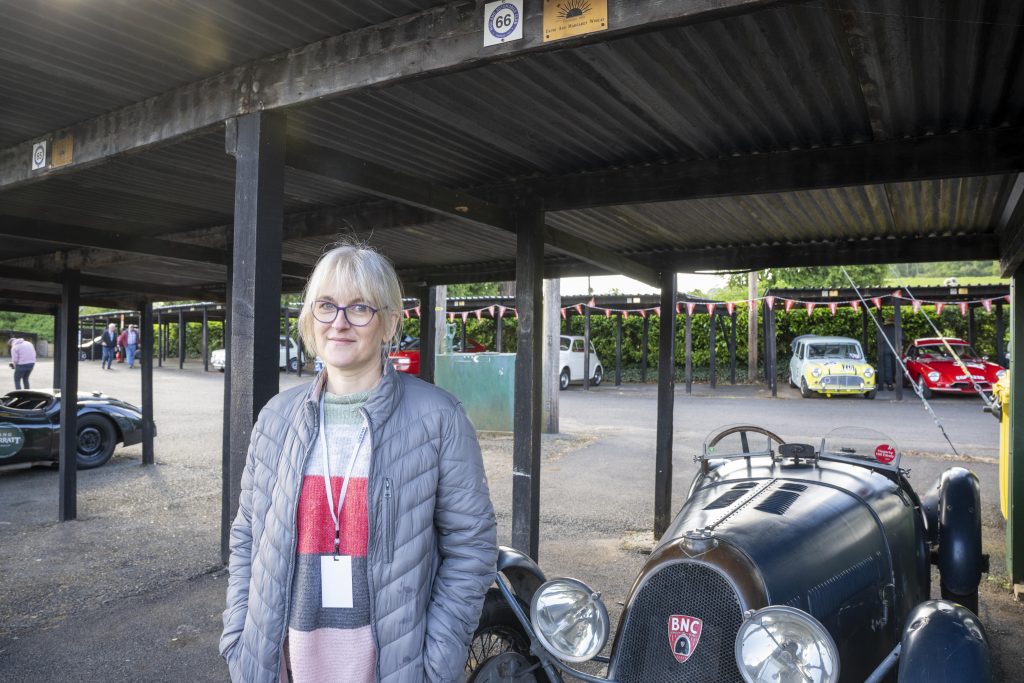 Spun out of a cyclecar company, it was a comparatively short-lived brand that was a victim of the Great Depression. Rachel Blake is now its custodian, and thinks there are just three in this country. "When we found it, it had a Riley engine that was blown up. So it was engineless. Then my ex-husband put in a Thompson engine, which is more in keeping with a French car. It's a twin-overhead cam four-cylinder, 1500cc. This one actually went to Brooklands in 1929 and lapped the circuit at 90 miles an hour, which is scary to think of.
"It drives like it's on rails. It's really stable… she says, fingers crossed! It's not the most powerful in my class in the VSCC, because it has to run as a special because of the change to the Thompson engine, so I'm one of the slower, but I usually get first vintage!"
Have we saved the best until last? If you're a Mini fan, then yes, unquestionably we have. Travelling from Sidmouth in Devon, Ian and Adele Hunt have brought not one but two hot Minis, and it's the rarer Mini van that's caught our eye.
"The commercial Minis were banned from racing in 1961, because they have so little glass and are lighter, and once they were allowed back to racing we handed it to Phil Anning, in Kent, and he built a new 1044cc semi-race engine for it, all the suspension's been altered to make it handle better, but it works every day as our company van!"

Ian Hunt reckons the van handles the course at Shelsley Walsh better than the regular Cooper S race car they have, because of the longer wheelbase, and the tuning that's been set to allow for slight oversteer. Lighter than the race car, it's an animated little thing, as we find out during a ride up the hill with Ian at the wheel. We're not the only ones; Paddy Hopkirk, Warwick Banks and John Fitzpatrick have all been up the hill in the passenger seat, and left their signatures on the car's headlining as a momento.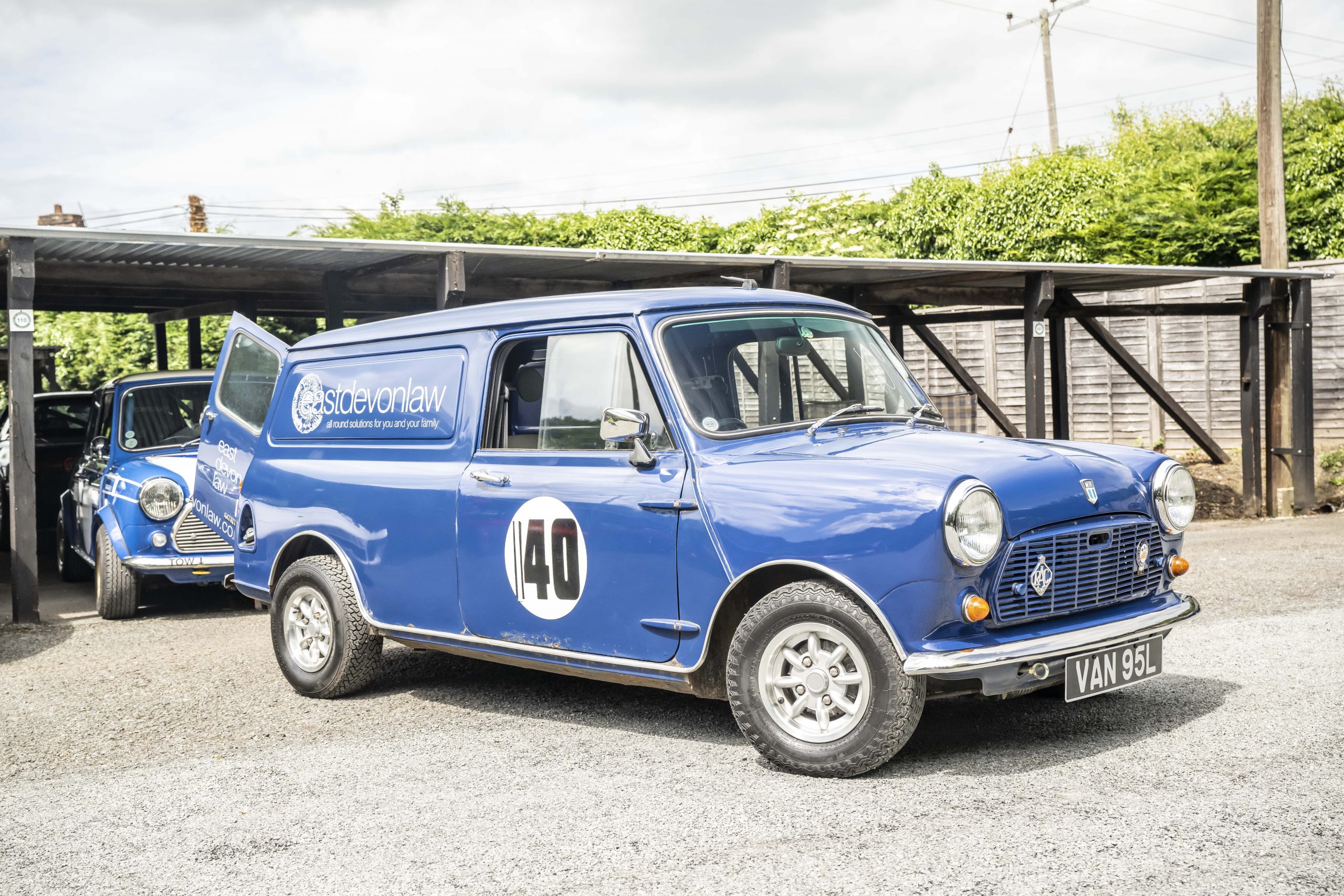 "We didn't even make the car to publicise the business. We've just done it because we love racing and like doing things a little differently, and just thought, 'Do you know what? Let's have some fun and race the van.'"
One by one, they charge up the hill, tyres fizzing off the line and brakes snatching a wheel here and there at the left hander into the S bend at the top of the course. And at the end of each batch, they return, eager for another go. Notes are swapped amongst drivers about where time can be found; others take friends and family for passenger ride on this non-competitive event.
No one may have come remotely close to the hill record, of 22.37 seconds, but all have a smile on their face as they follow the course that has been challenging car and driver since 1905.
Read more
Cowland versus Pritchard at the Hagerty Hillclimb
Super saloon vs Shelsley Walsh: Can I tame a Lotus Carlton up the hill?
How to speed up Shelsley Walsh – by the fastest man on the hill