Ducati is on a roll right now. The Italian firm recently announced that last year it sold more than 60,000 bikes for the first time, while also winning both the MotoGP and World Superbike championships – another first.
Those title-winning racebikes and the top-selling Multistrada model were V4s, but the root of Ducati's success for half a century has been the V-twin engine layout – which goes all the way back to the GT750 of 1971.
How much is your car to insure? Find out in four easy steps.
Get a quote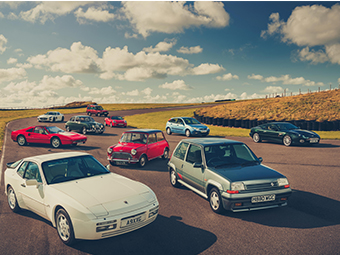 This was the start of the superbike era. Honda had just launched its ground-breaking CB750 four, and Italian marques Moto Guzzi and Laverda had new 750cc roadsters of their own. Ducati's first large-capacity model was good enough to compete with them all.
Decades later, simply looking around this immaculate bevel-drive V-twin is a treat: admiring its stylish orange-and-black paintwork, its period badges, and the lines of its attractive aircooled engine with its cooling fins and rounded alloy crankcases.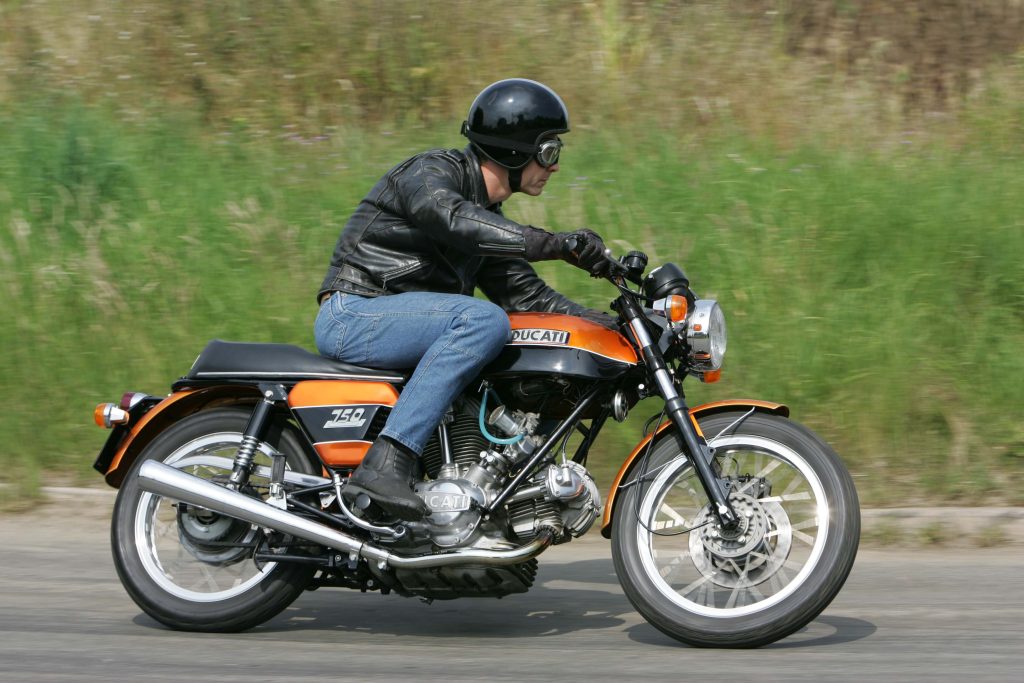 It's even better to sit astride the firmly padded seat, reach forward to the bars and fire up the motor with a lazy kick, sending the slender Conti pipes barking out their tuneful sound. And then to prod the Ducati into gear, let out its clutch and accelerate away to discover that the GT is respectably rapid, bursting with character and wonderfully enjoyable to ride.
I hadn't expected it to feel remotely this good. This first V-twin was rather overshadowed by the racier Super Sport models that followed it. But the GT750 was a bold and innovative high-performance machine, and was also remarkably well sorted for a debut superbike.
The GT was the work of legendary engineer Fabio Taglioni, who had joined Ducati in 1954 as chief designer and technical director, at the age of just 34. In the early Sixties he had revitalised the company with successful single-cylinder bikes including the 100cc Gran Sport.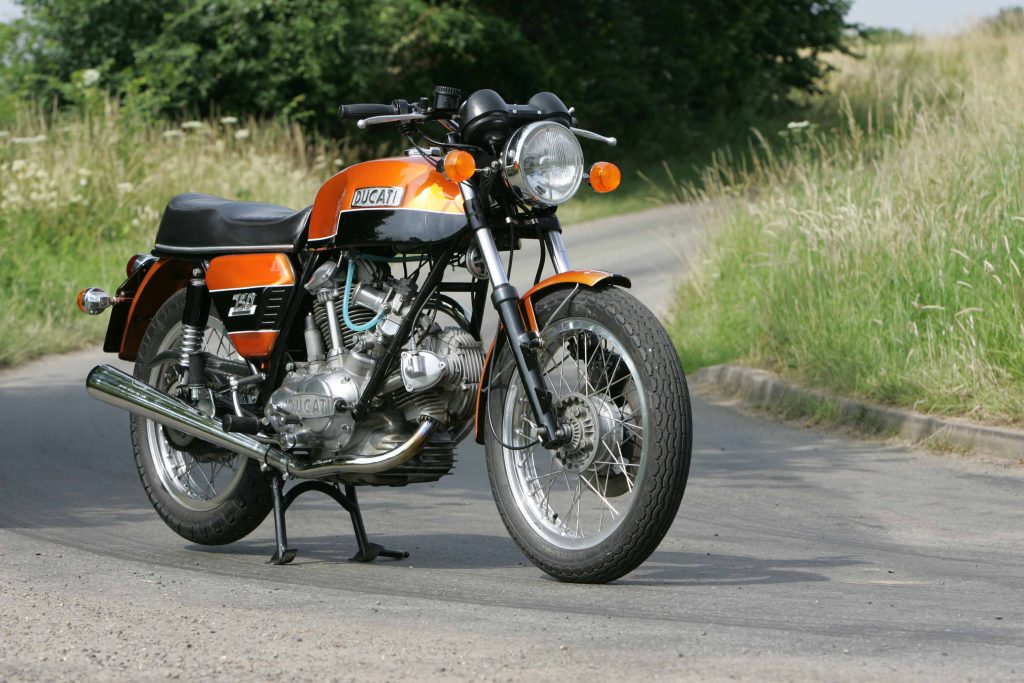 Ducati had long been aiming to produce a twin-cylinder model. The firm had raced parallel twins in the Fifties, and in the mid-Sixties developed a succession of prototype roadsters, with the aim of competing with dominant British twins. But Ducati dealers in the vital US market were unimpressed and the twin project was abandoned.
By this time the firm was in financial trouble, and in 1969 was taken over by the Italian government. The new management team saw the need for a 750cc model and realised that it had to be something special. Taglioni created a V-twin, or more accurately an L-twin, that was essentially two 350cc singles on a common crankcase.
By June 1971 it was in production as the GT750, sometimes referred to as the 750GT. As well as being distinctive, the inline V-twin layout had advantages of a small frontal area and low centre of gravity. The 90-degree angle gave perfect primary balance, and Taglioni's decision to raise the front cylinder by 15 degrees from horizontal allowed cooling air to both pots.
Like the factory's proven singles, the 748cc V-twin featured bevel drive to a single overhead camshaft, and an integral five-speed gearbox. It had conventional coil valve springs instead of the desmodromic (positive closure) layout that Taglioni had already introduced on some racing singles, and produced a claimed 60bhp at 8000rpm.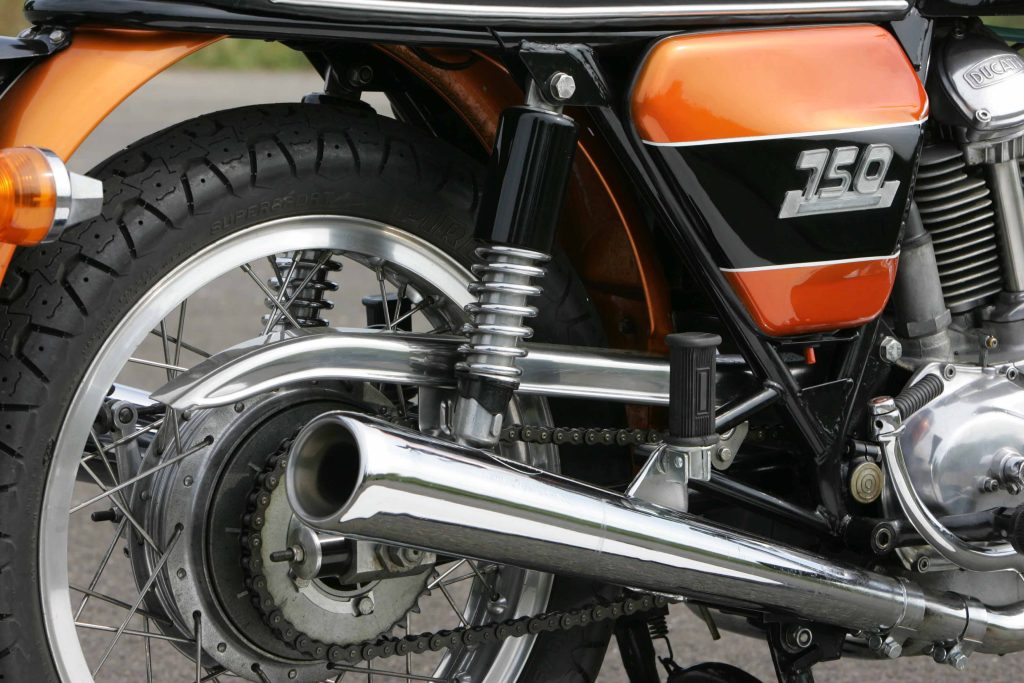 This and the low overall weight of 185kg gave a power-to-weight ratio that was impressive in 1971, and decades later was still enough to make this GT fun to ride. The cold motor needed several kicks before it finally fired up – with a glorious mix of rustling mechanical sounds, Dell'Orto carburettors' sucking and Conti exhaust bark that ensured its reluctance was instantly forgiven.
The gearbox was initially stiff, and also provided an unfamiliar one-up, four-down pattern for my right foot. But after just a few miles the engine had warmed up, the box was working fine and the sun was gleaming off that shapely tank.
That 60bhp claimed output might have been a bit optimistic, and this engine couldn't match the midrange grunt of the larger V-twins that followed it a few years later. But the GT accelerated with plenty of enthusiasm, its straight-line performance emphasised by the fairly upright riding position – which was still sporty enough to allow a comfortable crouch into the wind at higher speeds.
In Ducati V-twin fashion the engine was sufficiently smooth to be pleasant throughout the range, but had just enough vibration to give an involving feel. This bike was at its leisurely best when short-shifted, and was happy to cruise at a relaxed 70mph or more. Fully run-in and with its rider's chin on the tank, the GT was good for a genuine 125mph top speed that made it one of the world's fastest bikes in the early Seventies.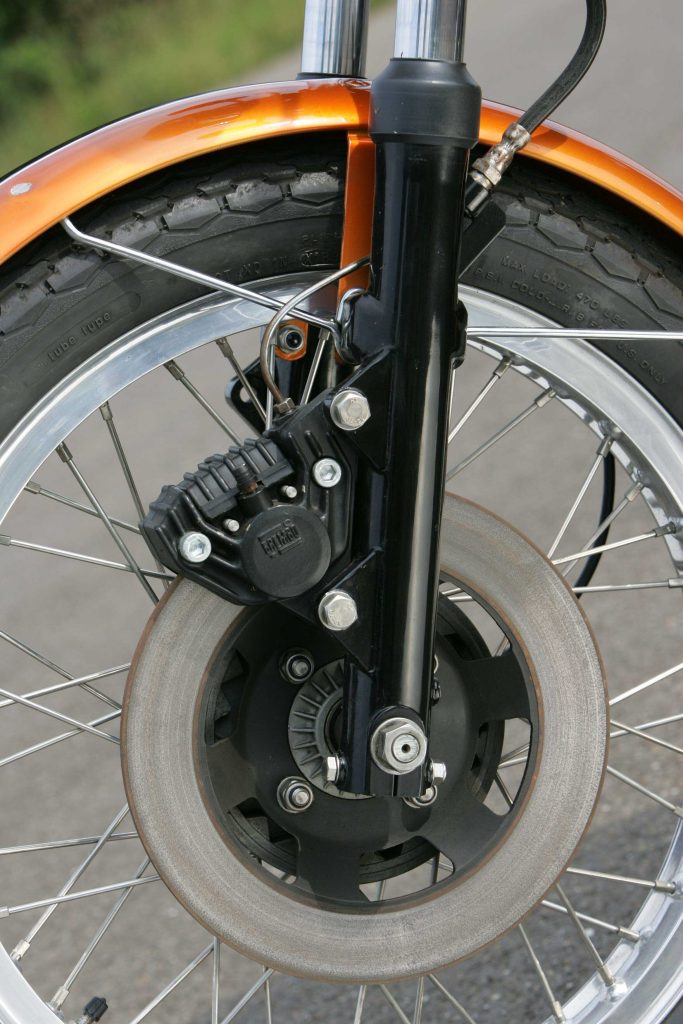 And its handling was outstanding, especially at high speed, where its stability set the tone for Ducati's early V-twins. Although the blend of conservative steering geometry and 19-inch front wheel meant the GT required a fair bit of input on a twisty road, it was light enough to respond quickly when I needed to change direction.
This GT's Pirelli Phantom tyres helped by being fairly narrow, yet sufficiently sticky to make good use of the ground clearance, which was generous despite reasonably low-set footrests that contributed to the bike's comfort. The only chassis part that felt dated was the front brake, which was wooden and lacked power.
The other fork leg had lugs for a second disc, but Ducati never fitted one to the GT, though they did introduce a few updates on later machines, including updated front forks and the addition of an electric starter on the last bikes to leave the factory.
Production ended in late 1974, by which time the factory had developed its format to create the more aggressive 750 Sport, featuring clip-on bars, rearset footrests and optional half-fairing, and the even racier 750 Super Sport, with its desmo valve operation and single seat.
Ducati's V-twin range was well under way. One of the great motorcycling dynasties had been established.
1974 Ducati GT750
You'll love: Its style, relaxed speed and stable handling
You'll curse: If you need an emergency stop
Buy it because: It's gorgeous and as good to ride as to look at
Condition and price range: Project: £15,000 Nice ride: £25,000 Showing off: £30,000
Engine: Aircooled bevel-drive V-twin
Capacity: 748cc
Maximum power: 60bhp @ 8000rpm
Weight: 185kg without fluids
Top speed: 125mph
Read more
The Ducati 900 Super Sport was the superbike of the Seventies
Laverda Jota: An Italian stallion born in Britain
The Moto Morini 3.5 Sport is a singleminded Ducati alternative