Moto Morini, revitalised in recent years by its Chinese owners, has announced a new pair of 650cc twins called the Seiemezzo; Italian for "Six and a half". The name is a nod to the Seventies, when the firm from Bologna was known for its 344cc V-twins – and especially for the 31/2 Sport.
The original "And a half" was a mini superbike, offering style, handling and rev-happy performance despite being much smaller than most firms' flagship models. Its high price, on a par with the likes of Honda's CB500 four and Suzuki's GT750 triple, meant sales were modest but it earned a devoted following.
How much is your car to insure? Find out in four easy steps.
Get a quote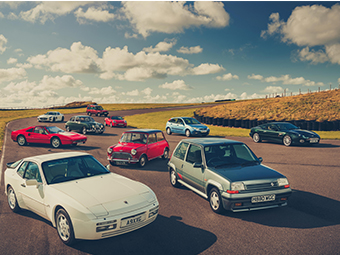 Moto Morini, like the bigger and better-known Ducati factory from the same city, had begun by producing small-capacity single-cylinder machines. In 1963 a Morini ridden by Italian ace Tarquinio Provini finished second in the 250cc world championship.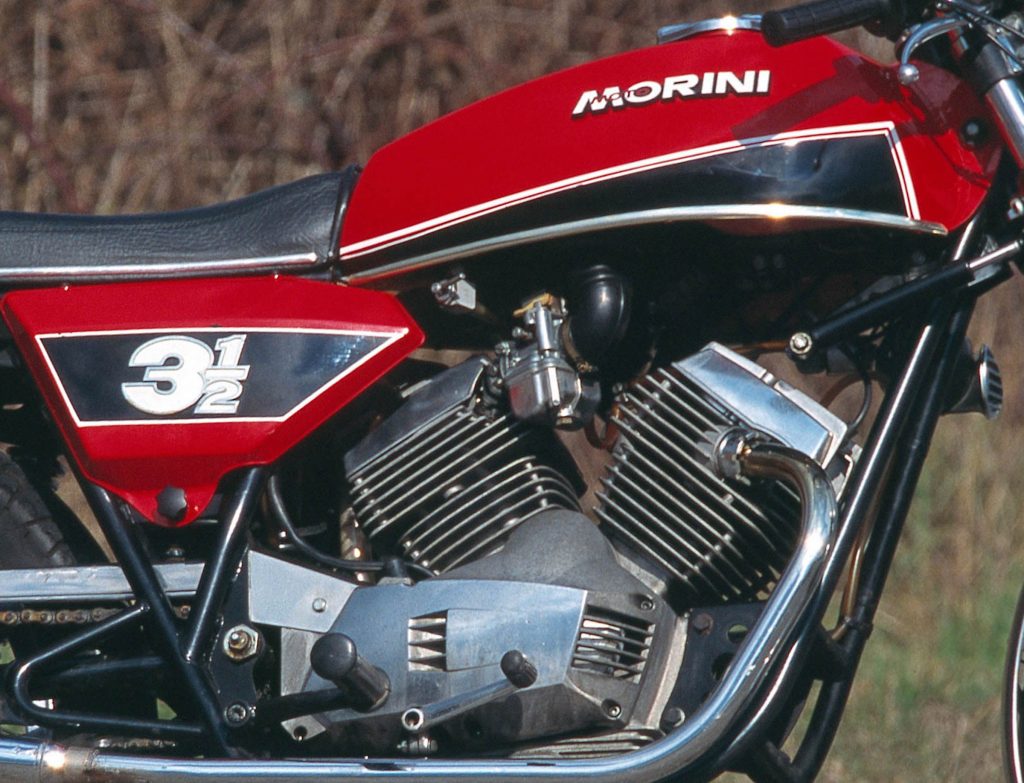 But the firm's reputation owed most to the following decade's pair of 31/2 roadsters, the base-model Strada (Street) and Sport. The Strada had a conventional layout, with raised handlebars and single-colour paintwork. It was an attractive and capable bike but admirers of Italian exotica had eyes only for the Sport, with its striking two-tone finish.
Low, clip-on handlebars and a humped seat gave a lean, aggressive look. On early Sports this was enhanced by a big, double-sided front drum brake. There was an appealing simplicity to the heavily finned, aircooled V-twin engine, whose cylinders were set at 72 degrees apart.
Morini's motor was most notable for its unusual Heron cylinder heads – flat-bottomed, with the combustion chamber in the concave piston crowns. The firm was the first motorcycle manufacturer to put this layout into production, although it had been used by car manufacturers including Alfa Romeo and Jaguar.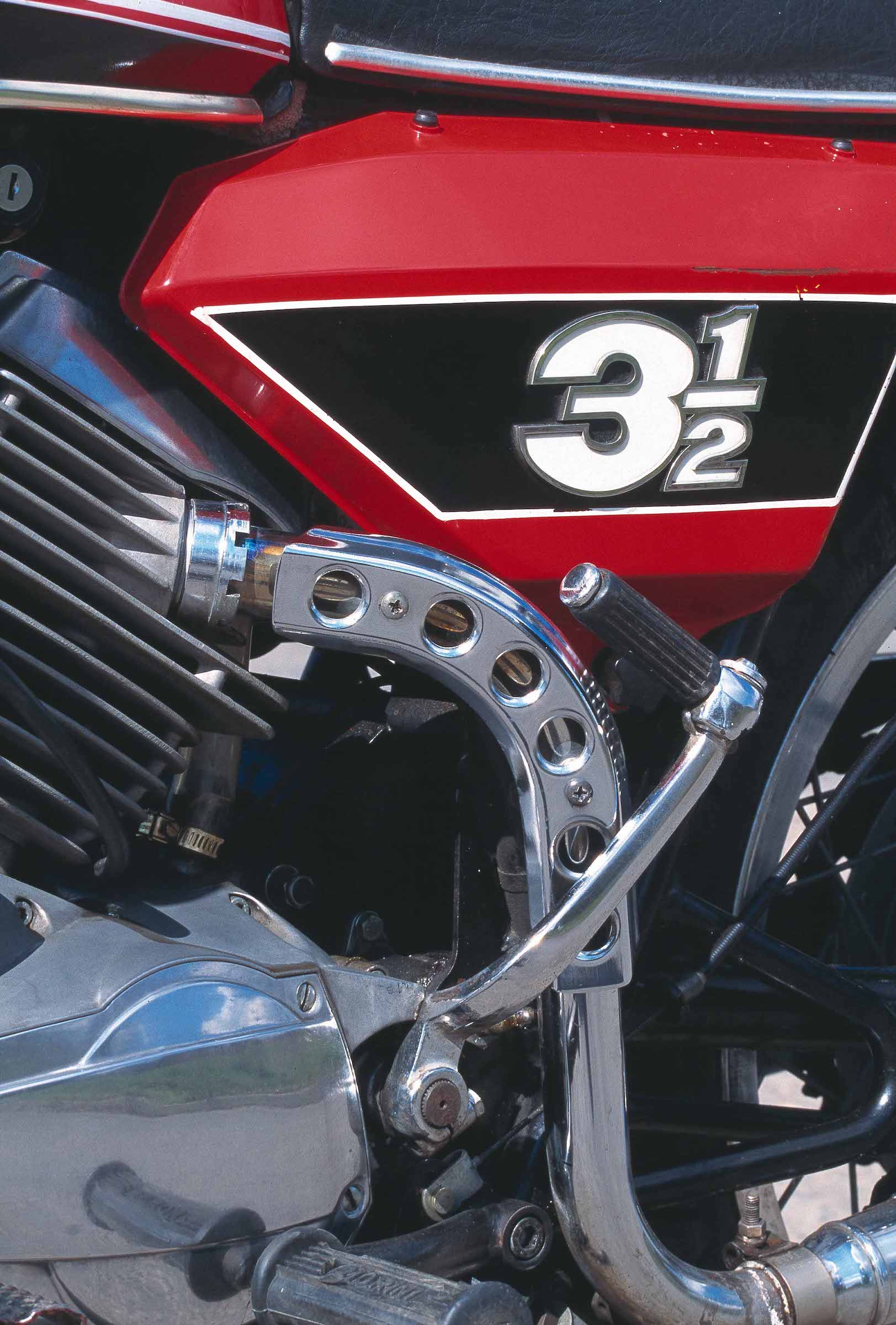 The two 31/2 models shared most engine parts, including an electronic ignition made by the local Ducati electronics firm from which the bike company was descended. The Sport's hotter camshaft and different pistons gave a higher, 11:1 compression ratio. Its maximum output of 39bhp was healthy for such a small engine.
In Seventies fashion the chassis was based around a frame of tubular steel, with simple but firmly sprung telescopic forks and twin shocks. This 1976-model Sport was fitted with the single-disc front brake that replaced the original model's drum at around that time.
Few bikes are as distinctive in their look and feel as the Sport, which established its personality as soon as I threw a leg over the low seat and reached forward and down to the clip-ons. The view was basic: a pair of black-faced Veglia clocks, three warning lights above a large "Sport" logo on the top yoke, and tinny, typically Italian switchgear on the handlebars.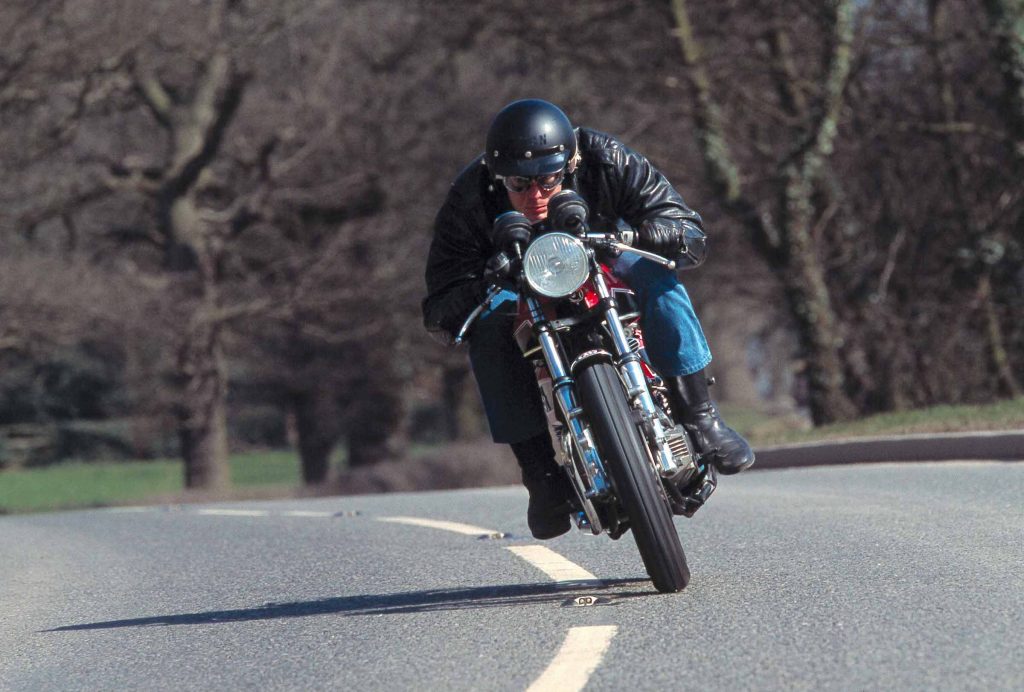 After locating the ignition key down by my left thigh I flicked up the choke levers of the tiny Dell'Orto carburettors and swung the left-sided kickstarter. (And on the occasions when the engine didn't fire after the efforts of my left foot, I hopped off again and kicked harder with my right…)
The riding position was a rather strange blend of low bars and forward-set footrests, which put too much weight on my wrists and rear for comfort. But the Morini felt low, slim and light, especially when stripped of mirrors and indicators like this bike. There's was no mistaking the red-and-black V-twin's sporty nature.
The little motor was unhappy at low revs, vibrating slightly and spluttering when its throttle was wound back at 4000rpm. But with the engine turning faster it was a different story. At about 5000rpm the Sport came alive, feeling better the higher it revved.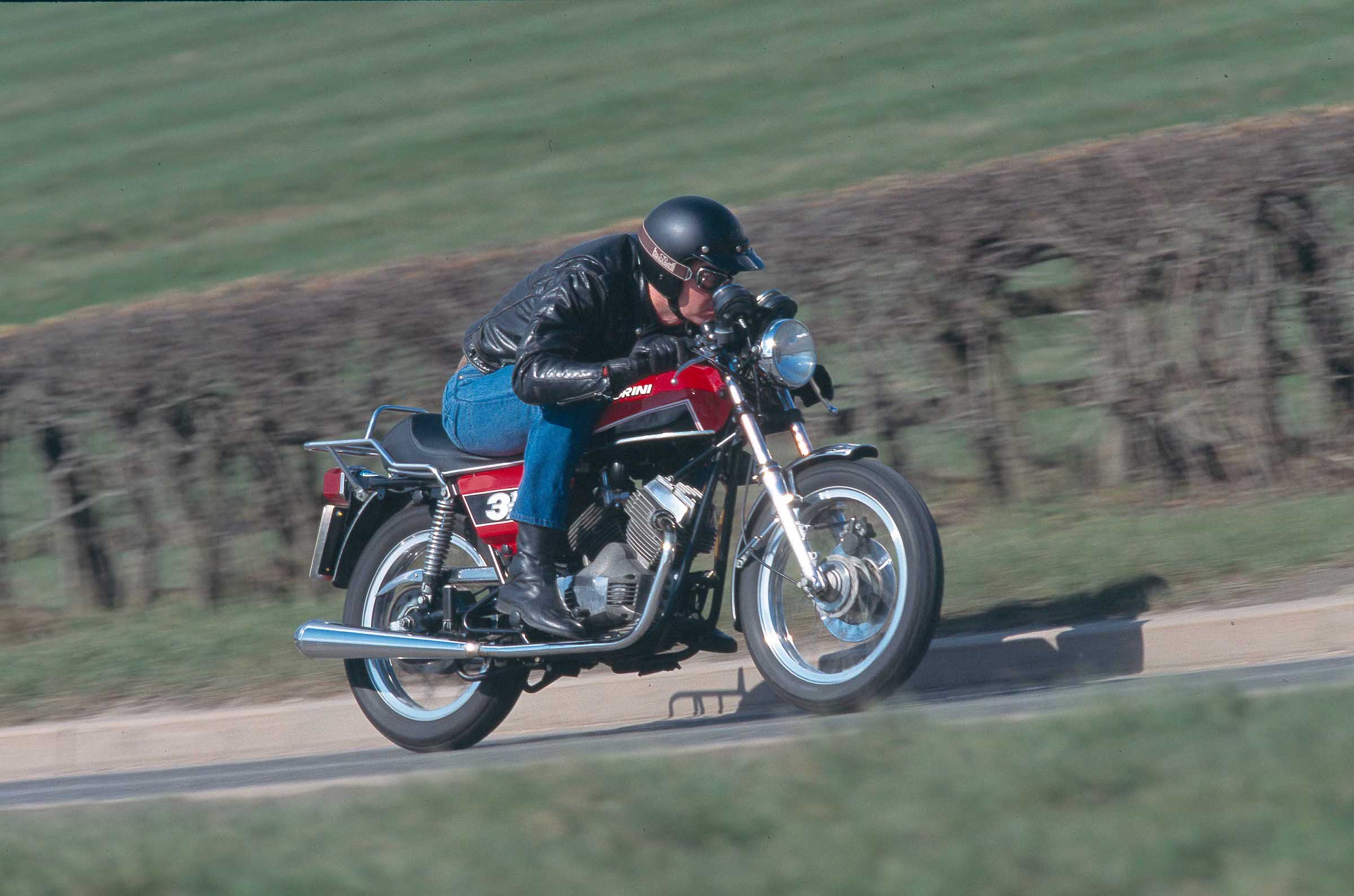 The real power was between 6000rpm and the 8500rpm peak. When I kept the V-twin spinning with frequent flicks through the six-speed gearbox, the Sport hammered along at an indicated 80mph, keen to stretch its legs towards a top speed of about 100mph.
The need for frequent shifting made it important that the six-speed gearbox worked well, which it generally did – provided I remembered that the lever was on the right. The box was less impressive at a standstill, when the Morini's lack of a neutral light meant I occasionally discovered a neutral between second and third, then invariably stalled when I tried to pull away in second.
Such irritation was quickly forgotten when the sun came out and I found a winding road that gave the Sport the chance to show off its handling. This is a small, light bike that weighs barely 150kg, so was not compromised by its old-fashioned steering geometry and 18-inch front wheel.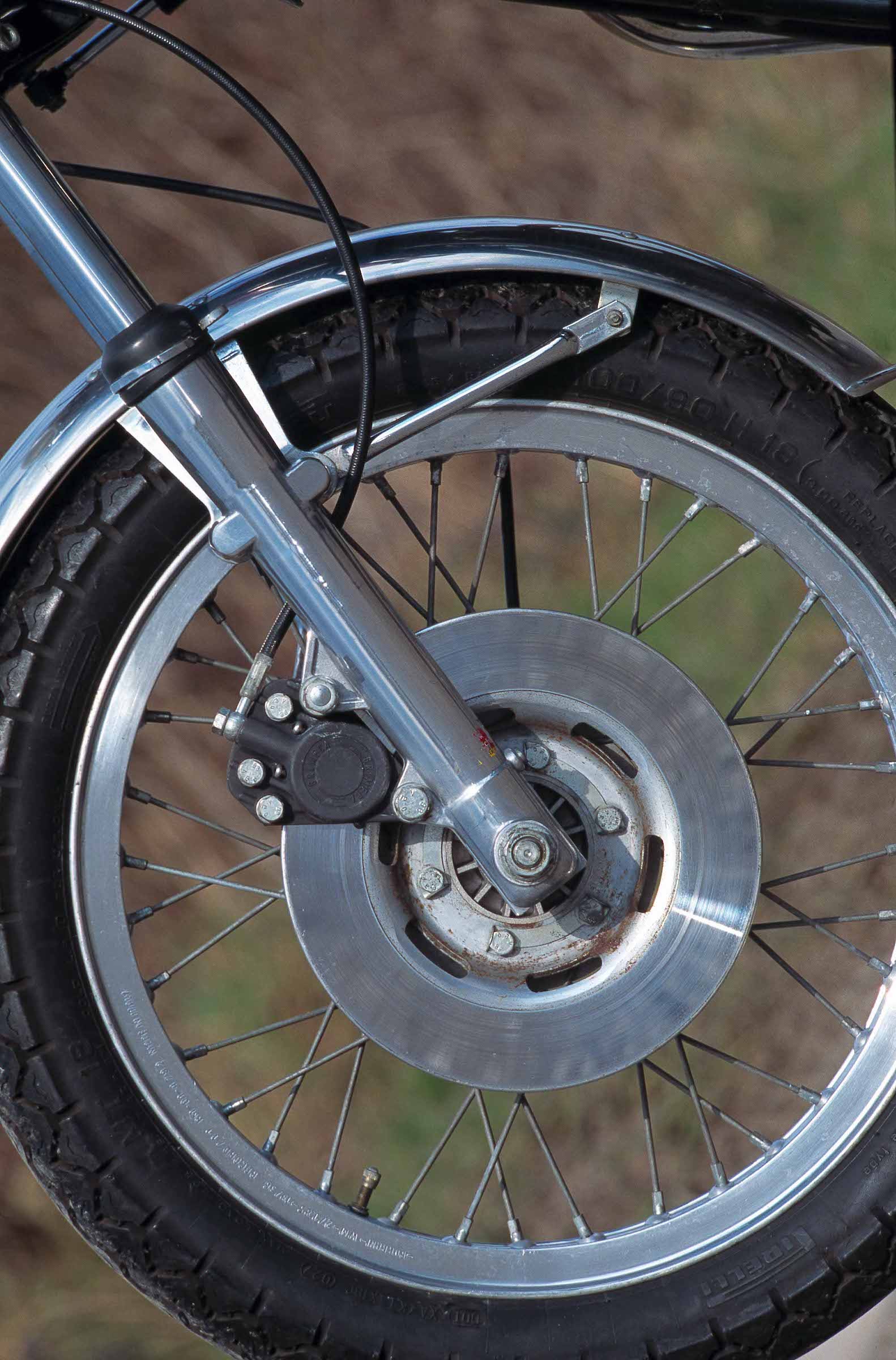 Stability was excellent at all speeds, and the sweet-steering Morini went round corners effortlessly, aided by suspension that was well-damped without the traditional Italian harshness.
Other cycle parts were excellent, too. The Grimeca front disc brake was spongy by modern standards but capable of hauling the light Morini to a halt very sharply, aided by the small rear drum. And the Pirelli tyres gripped well enough to make good use of the narrow V-twin's generous ground clearance.
The Sport is a singleminded little machine, built for performance rather than comfort. By sports bike standards it was not particularly fast even when new. But on the right road the Morini was hugely enjoyable. Its revvy engine and excellent chassis encouraged me to ride it hard, reassured by its reputation for reliability.
The 31/2 Sport is also economical to run, and these days it's far more affordable than classics from the firm's Ducati neighbour. It's no wonder that many Morini owners are enthusiasts who have owned several models. Or that the marque's current owners have been using its classy back catalogue for inspiration.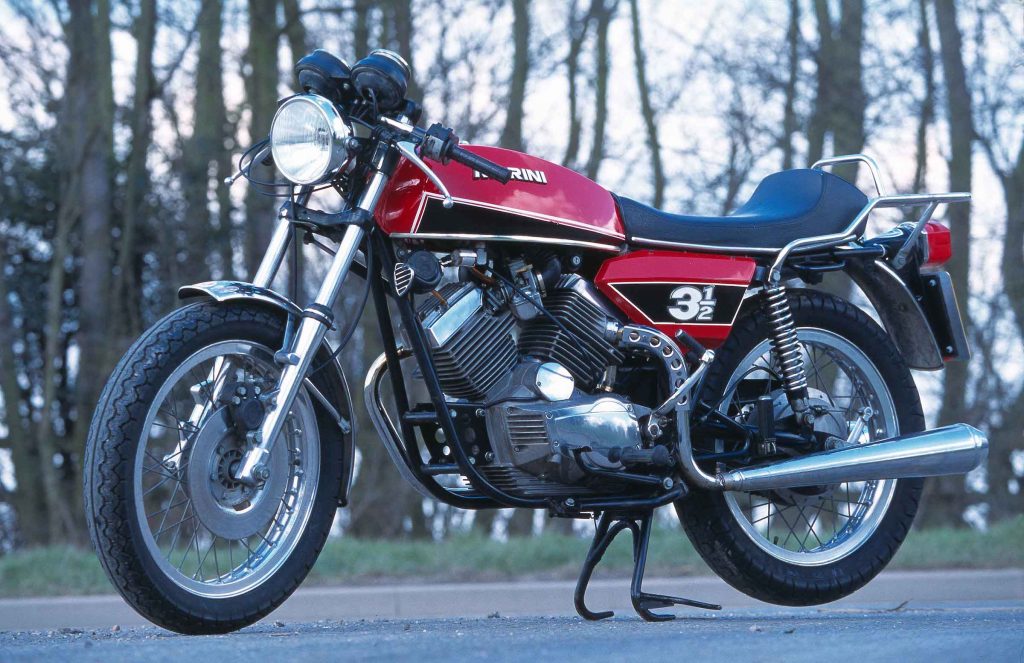 1975 Moto Morini 31/2 Sport
You'll love: Style, rev-happy character, agility
You'll curse: The lack of comfort – and neutral light
Buy it because: Italian V-twin charm at a bargain price
Condition and price range: Project: £4000 Nice ride: £5500 Showing off: £7000
Engine: Aircooled pushrod V-twin
Capacity: 344cc
Maximum power: 39bhp @ 8500rpm
Weight: 153kg with fluids
Top speed: 100mph
Read more
Few bikes can approach the howl of the MV Agusta Magni
Fine-tuned by the LAPD, Moto Guzzi's California does it all
Ad Break: The Lancia Delta HF Turbo offered 121mph in your favourite chair