The motorcycle as an art form reached its apogee with Ducati's 916. It's easy to see why, too, when its looks attracted many buyers who had previously shown no interest in two wheels and didn't even have a licence. It was, and still is, a must-have for many collectors, sitting alongside core modern classics like the BMW E30 M3, Ford Sierra Cosworth, or perhaps more directly comparable, the Ferrari 355. All of this means Ducati's mid-1990s superbike has become revered in a way few machines are, pushing prices up and making the 916 the first motorcycle ever to feature in the Hagerty Bull Market back in 2020.
When it went on sale in 1994, after its original unveiling the previous year, the 916 was an instant hit in a market then obsessed with sports bikes. Honda's Fireblade had turned the superbike world upside down two years before the 916 made it to showrooms, helped by its compact size and handling teetering on the edge of flighty. Ducati knew it had to come up with something to outdo the 'Blade on the road, on track, and in the eyes of buyers. While its existing 888 model was still successful in World Superbike racing, Ducati as a company was struggling financially even with parent company Cagiva's heft behind it. This is where designer Massimo Tamburini pulled off a masterstroke.
How much is your car to insure? Find out in four easy steps.
Get a quote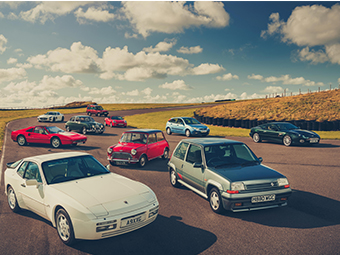 Tamburini was clearly influenced by Honda's exotic NR of a few year's before with its slim headlights, narrow waist, single-sided swingarm, and underseat exhaust silencers. All of these featured on the 916, with projector beam light technology allowing the Ducati its trademark look where the headlights became part of the fairing's shape. Another touch of genius from Tamburini was to ditch the all-encompassing bodywork of superbikes up to this point and, instead, make a statement of the frame and engine. Highlighting both of these main components in gold only served to make them more prominent to the eye and fundamental to the 916's appeal.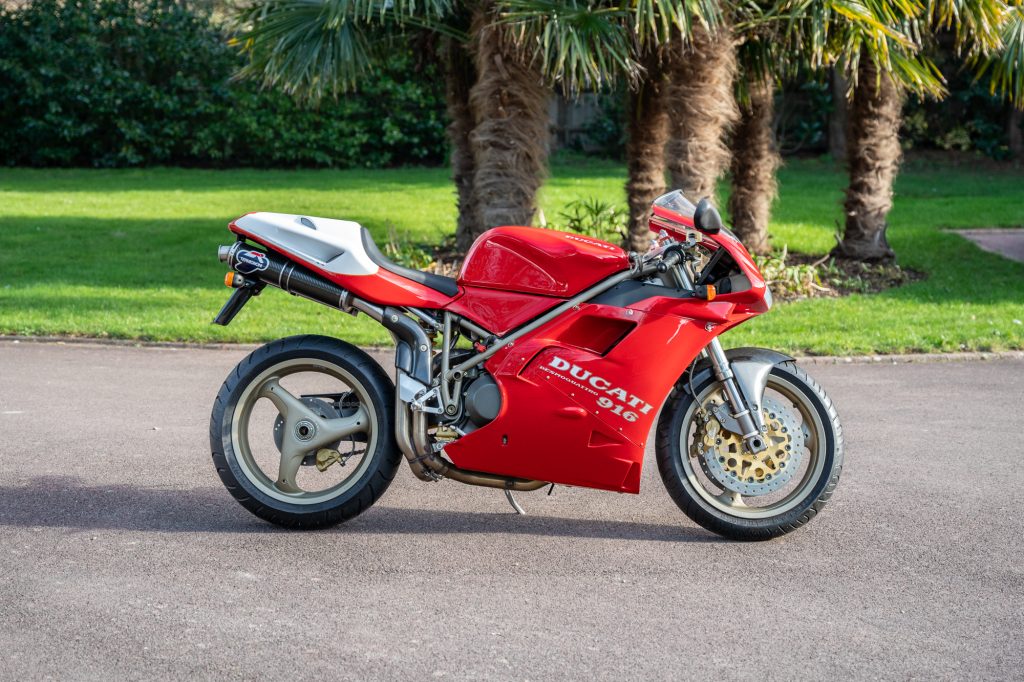 Launched in single-seat Strada style in 1994 with a 114bhp 916cc 90-degree V-twin engine, the 916 was less powerful than its key rivals. There was also the higher power SP version with 126bhp thanks to twin fuel injectors. The engine delivered plenty of torque in both models and the V-twin motor allowed the rear tyre to grip where its screaming four-cylinder rivals could spin power away. The 916 was also light compared to the competition and its handling put it in a different league. The front end, especially, drew masses of praise for the confidence it gave its rider on the road or track.
Ducati replaced the Strada with the Biposto that had a pillion seat in 1995, and the first Senna special edition run of 300 bikes appeared. The Senna was finished in black with carbon fibre details, red wheels, and used the SP's engine. The following year, the SPS arrived with a 996cc engine, as well as the 955 SP, both needed to homologate the bike for racing in different series. A 916 SPS joined the line-up in 1997 with a 134bhp 996cc motor, and the second of three Senna editions was offered. In '98, a Carl Fogarty replica was built ostensibly to mark the British rider's success in the World Superbike series, but it also homologated a revised frame and airbox for racing. Only 202 were made and this is the Holy Grail for many 916 fans.
For 1999, Ducati changed the name of the bike to 996 to reflect its engine capacity. Various models were offered, such as the SPS and R, and the Testastretta with an engine using a narrower angle between the valves in the cylinder head. The last of this line was sold in 2004 when the range was replaced by the controversially styled 999. By then, the 916 had four World Superbike titles to its name and was a legend in its own lifetime. All of which explains why so many classic car fans are just as smitten with this Italian motorcycle.
What's a 916 like to ride?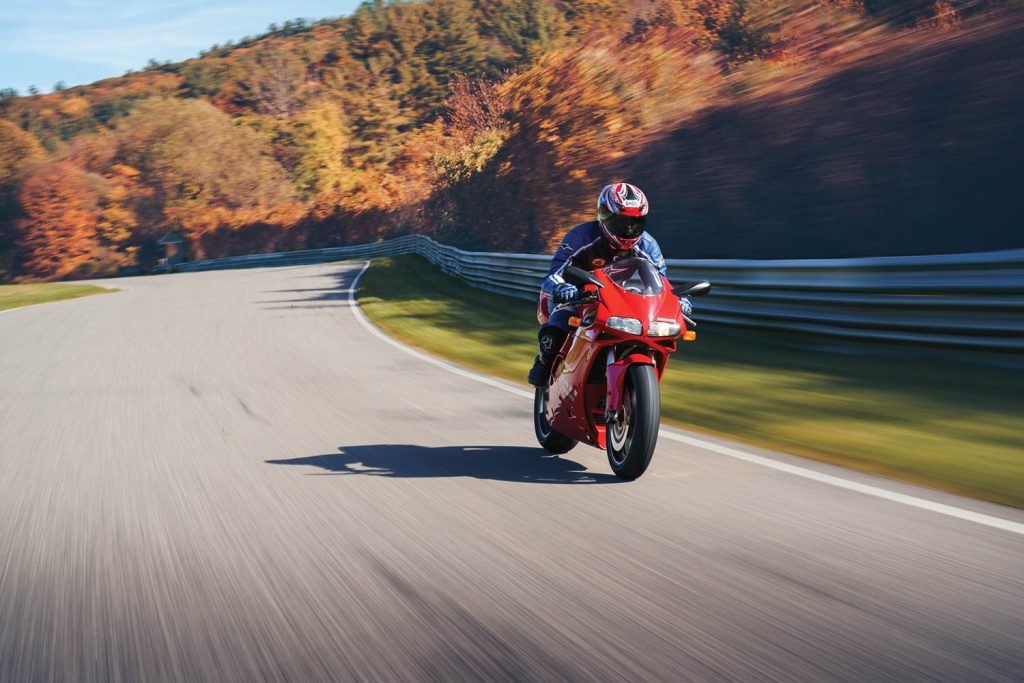 The first few miles on a Ducati 916 may well have you wondering what all the fuss is about. The suspension is firm, it has a woeful turning circle, and the clutch is just unpleasant and snatchy at anything around town speeds. When the motor has warmed through, the underseat exhaust silencers do their best to sear your rump. Then there's a seat padded so thinly the material might as well be a lick of paint, and the riding position puts most of your body's weight on your wrists. In short, it's bloody awful.
Until it isn't, when you get out on to fast A-roads and let the 916 strut its stuff. As speed increases, that gorgeous front fairing lets just enough wind past to support your weight. The steering becomes millimetre perfect and more to do with thinking than any great input from your hands or arms. Sure, the ride remains firm but it's all about control rather than stiffness for the sake of it and the 916 feels less flustered by bumps than an early Honda Fireblade. It's all to do with how planted the front suspension is and the huge levels of grip it can push through the front tyre.
The narrowness of the 916 also makes itself known on the sweeping, fast roads that are its natural hunting ground. Next to a contemporary Yamaha FZR1000 EXUP, which is easily quicker in a straight line, the Ducati is keyhole surgery to the Japanese bike's knitting needles through corners. You carry so much speed on the 916 that you don't need that rabid top end of the Yamaha, and you have the superb traction afforded by the Italian bike's V-twin engine and excellent rear suspension set-up. The 916 also has top notch brakes, so you can meter out stopping perfectly to preserve momentum and flow.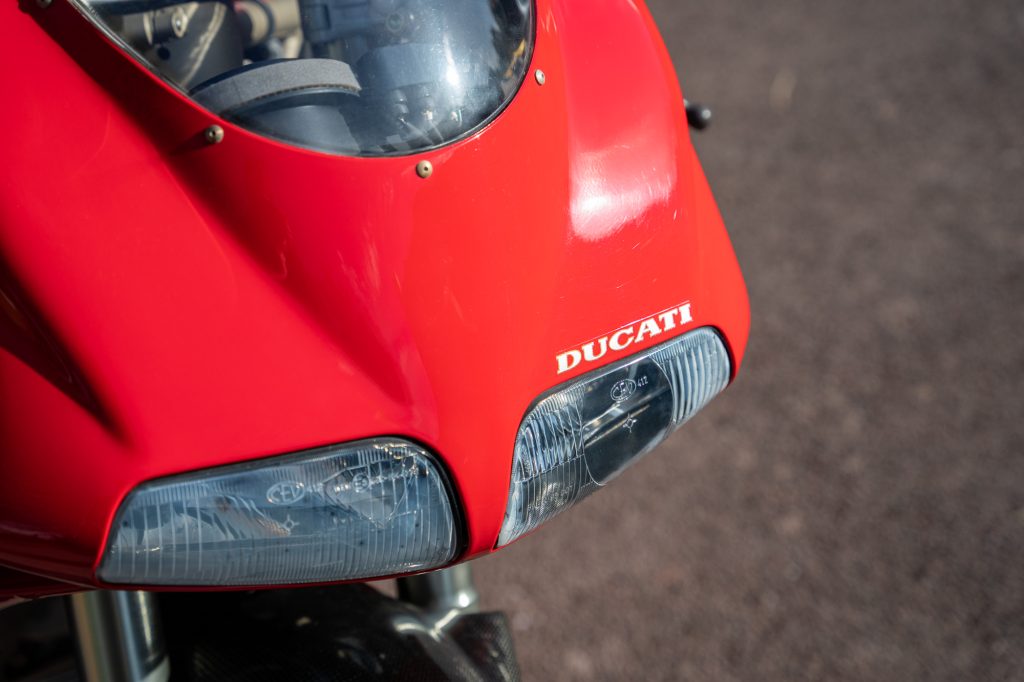 Star of the show is the engine, however. From the moment you thumb the starter button, it sounds special. The V-twin thump-thump at idle becomes a rapid-fire burr to 9000rpm where power begins to finally plateau. Between 4000rpm and that peak power point, the engine is sublimely flexible in any of its six gears, and the 916 is at its very best flitting between third, fourth and fifth ratios on routes that tack back and forth.
On a track day now, a 916 would be easily outstripped by any number of more modern superbikes. Yet on the road, it remains a formidable means of getting from here to there very quickly and with a massive smile on your face. In four-wheel terms, it's like a Caterham R500 in this respect. And like the Caterham, you probably wouldn't want to use the 916 for everyday commuting or long-distance touring, though the Ducati can handle it if your knees are up to the job.
How much does a 916 cost?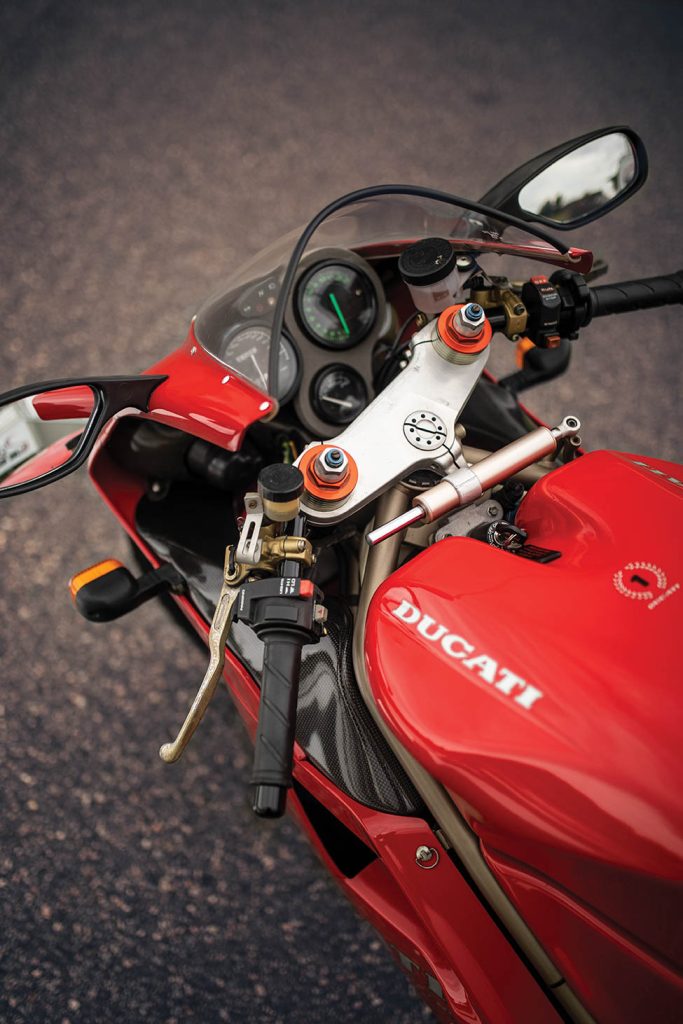 Values of the Ducati 916 have risen markedly in the last three or four years. Many of the scruffy track day bikes from when prices were cheap a decade ago have either been restored or raided for spare parts. This increase in values has also encouraged owners of previously average bikes to improve their 916, so there is now a decent pool of very tidy motorcycles to choose from.
However, don't expect much in the way of bargains. A 916 in reasonable shape that you can sling your leg over and enjoy on a Sunday morning will still cost from £9000. This will likely be a bike with higher than average miles on the clock, though that should not put you off if it comes with a full service history.
Most sorted 916s will start from £10,000, but that can easily rise to £15,000 for an SP or SP3 model. The even rarer Senna and Fogarty Rep bikes now fetch £30,000 if they are in as-new shape.
One way around these prices is to opt for the almost identical-looking 748 model with its smaller engine. It might be a little slower in a straight line, but you get all of the same handling prowess for around two-thirds of the price of a 916.
What goes wrong and what should you look for?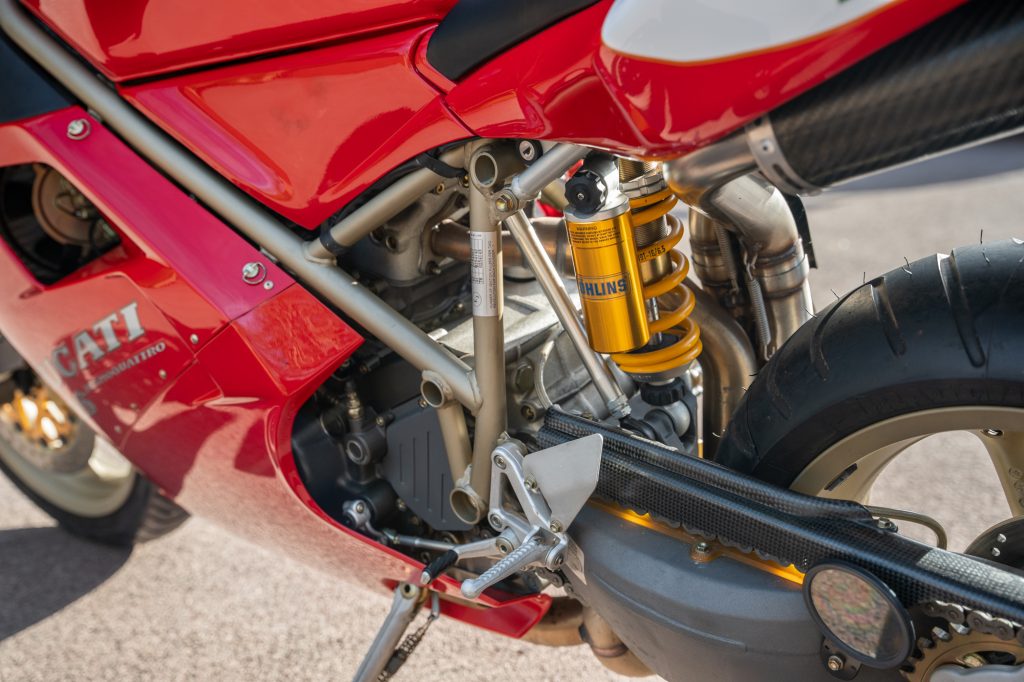 Before inspecting any Ducati 916, it pays to establish how regularly the bike has been used. Ones that have been tucked away in a collection or parked as an ornament might well look pristine, but there's a good chance rubber seals and lines will have gone brittle with age. That mantra also applies to the vital cambelts, which should be replaced every 10,000 miles or two years, depending which comes sooner. If a cambelt snaps, the resulting engine rebuild will be very expensive.
Similarly, low mileage 916s could have missed being fitted with an upgraded regulator/rectifier unit. It's vital for easy starting and a clue to it not being replaced will be poor starting that can damage the starter clutch. In the worst cases, this missed update can also lead to a fire breaking out. Further electrical checks are needed to make sure the battery is in good health. Ask the owner if the bike is kept on a battery conditioner when garaged, and also check the nut that secures the alternator to the engine is secure as the washer used here can fall into the gearbox and destroy it. Staying with the electrics, there are two looms on a 916 – one for the engine, another for the rest of the bike. Water can get into the connections, so make sure everything works as it should as chasing faults can be a long process.
Crash damage to the fairing panels should be obvious, but be sure all of the original Dzus fasteners are in place and functioning. Also have a good look at the gaps between panels for even lines or signs or cracks. Any damage to the fuel tank is a strong indicator of worse lurking beneath the surface, while flaking paint when you lift the fuel filler cap is a bad sign as it can get into the tank and clog the lines. Up to 1997, the fuel filler cap had a small elephant logo of parent company Cagiva.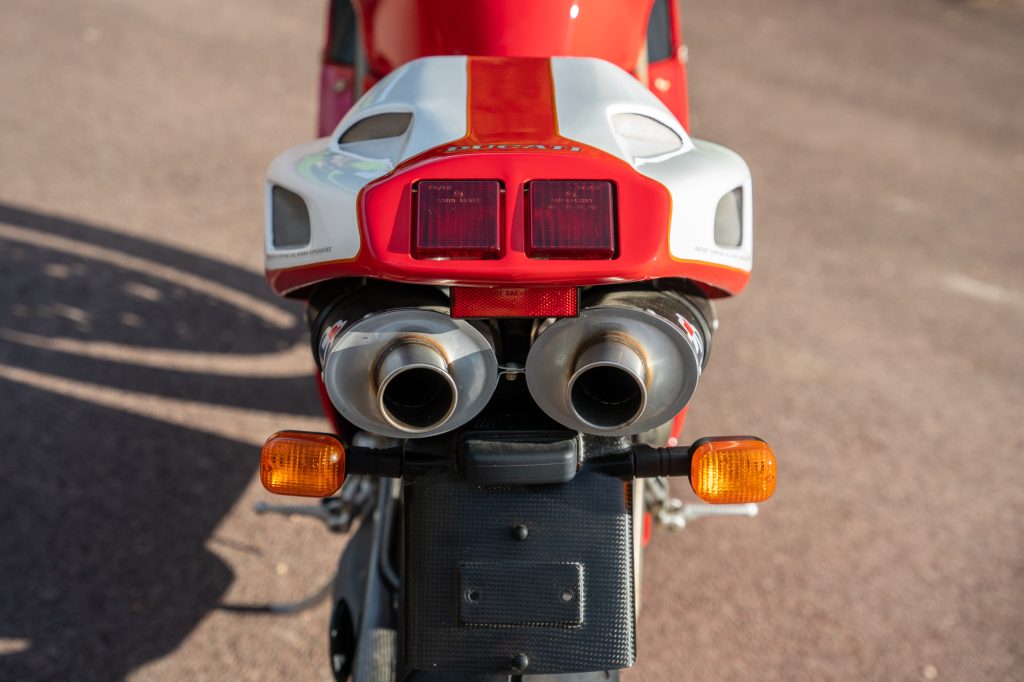 A bent chassis can be hard to spot, but there are tell-tales such as cracked paint around joins of the frame tubes. Also have a close look at the chassis bracing around the coolant tank that are especially prone in an accident. The good news is the Ducati's steel trellis frame chassis is easier to straighten if it's damaged than many of its contemporary rivals with aluminium frames.
The V-twin engine of the 916 is strong and durable so long as it has been correctly serviced, so dig into the paperwork with any bike for evidence of this. Its desmodromic valve system is harder to service and set-up than more usual valve operations, but it's also reliable. The engine can sound quite noisy and rattly on start-up, so better to concentrate on listening for any unusual noises or looking for leaks when it's fully up to temperature.
Check the front forks are not pitted or corroded, and the rear shock should be clean and leak-free. For items such as brake discs, pads, lines, chain, and tyres, it's best to regard these as service items that will need to be replaced straight away unless the seller can prove they've been done recently.
Which is the right 916 for you?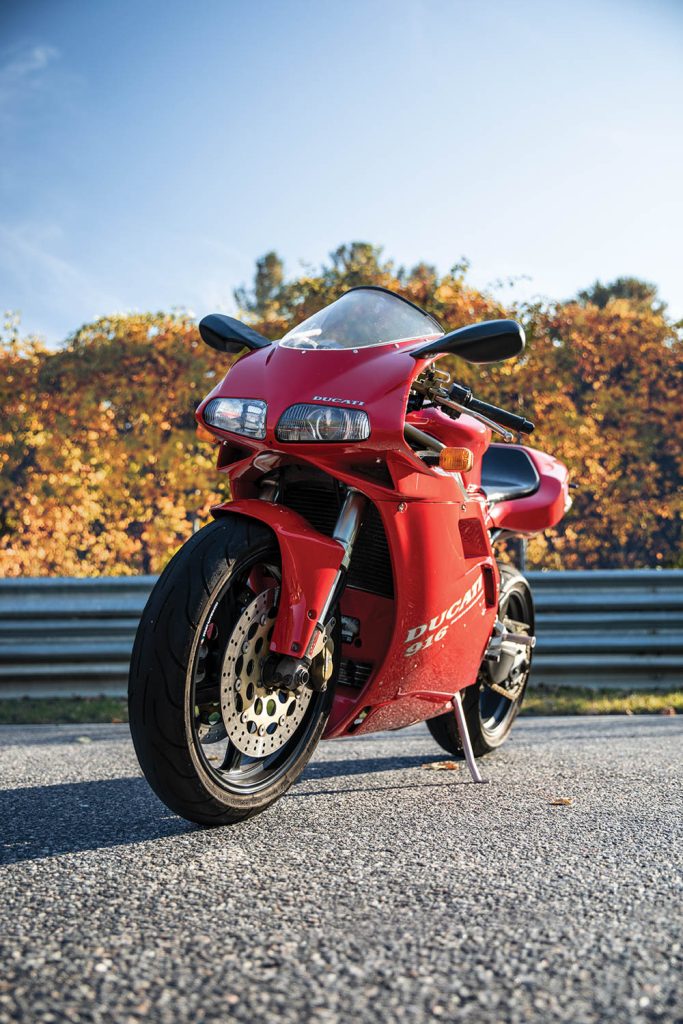 The good news is you can't really go wrong with a Ducati 916 as every version is great to ride. The rarer SP and SPS variants offer an even more distilled riding experience, but there's very little in it on the road compared to the standard Strada or Biposto models. If you want to carry a pillion, the latter is your only choice as it has a small second seat and rear pegs.
The exotic Senna and Fogarty Replica 916s are really only for collectors now as their value makes them less likely to be used on the road. While it's a pity they won't often see proper use on tarmac, the rest of the 916 range still ride just as well, so you're not missing out on much other than exclusivity. All of which means a Strada or Biposto is the best bet for anyone who wants to get out and enjoy the focused thrills offered by a Ducati 916.
As mentioned above, don't rule out the slightly less powerful 748 models as they handle every bit as well. Arguably, you can use even more of the 748's performance on the road as you have to work this bike harder to keep pace with a 916. Also, the later 996 models are more affordable than the 916, so you can save a £2000 over the earlier bike at the more affordable end of the market while enjoying the same looks.
Check out the Hagerty Media homepage for daily news, features, interviews and buying guides, or better still, bookmark it. Or sign up for stories straight to your inbox, and subscribe to our newsletter.