Car clubs are the very backbone on which the classic car scene is built, says presenter of Salvage Hunter: Classic Cars and Hagerty columnist Paul Cowland. So why don't they get along?
Here's a fact that may shock you. Despite almost 40 years of messing about with old, battered and classic cars, I've never once been a member of an owner's club.
Actually, I tell a small lie. I once deviously joined the Split Screen Owner's Club to get an insurance discount (I can only apologise to all parties concerned) and the lovely people at the Orange County Mustang Owner's Club in America once sent me a lovely letter, T-shirt and membership card, unprompted, after seeing my car online. Yet, despite their Facebook barbecue pictures appearing to be the stuff of culinary (and perhaps, coronary) legend – I have yet to make a meeting.
How much is your car to insure? Find out in four easy steps.
Get a quote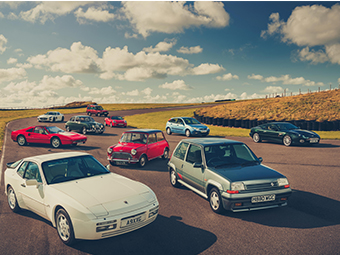 There are a few reasons for this. As Groucho Marx once famously wrote, in a resignation letter to a members club, 'I don't care to belong to any club that will have me as a member,' and there's something in that. Seriously. If your membership bar is that low, I have genuine doubts about the future morals of the organisation.
The other reason is that I rarely choose my friends based on the fact that we own the same car. In some cases, that would be, literally, impossible, because some of the strays and stragglers I have picked up along the way are the sole remaining example on the road.
And then there's what I call 'The Life of Brian' factor. For those of you that have not watched The Life of Brian, there's a scene in it where a faux political group is asked by the main protagonist whether they're the 'Judean People's Front'. Much affront is caused, before their leader, played by John Cleese, explains haughtily that they are, in fact, 'The People's Front of Judea'… a vastly different organisation.
And it's something that I see and hear about a lot, amongst car clubs. Despite many of them offering the same umbrella of knowledge, enthusiasm and parts access for a common marque, there always seems to be a bunch of 'splitters' as Cleese brilliantly puts it.
This was once eloquently brought home to me when hosting and judging a car show. I had the honour of presenting a trophy for 'Best Club', and as I enthusiastically strode over to the showground to present this coveted silverware to the Judean Mondeo ST Owner's Club, I was quickly informed – and in no uncertain terms – that this was the Mondeo ST Owner's Club of Judea, and they were not to be fraternised with. The splitters!
While the names, models and clubs may have been changed to protect the innocent, this moment really happened – and with a car that's perhaps even rarer than said Fast Ford. And it made me think. Surely these lovely people would all get along, given the chance? Don't they all like the same car? They surely have several other common interests, too? Wouldn't the joining of these two fine organisations make for larger, more fun meetings, with access to more parts and skills, and greater discounts for bulk buying?
I know first-hand just how wonderful car clubs can be. We work with them throughout each episode of Salvage Hunters: Classic Cars and the knowledge, skill and experience they bring to each production is invaluable. So many cars we've restored on that show wouldn't have been anything like as good as they were without the input of the countless, selfless individuals that have helped us source parts, unearth technical data, or even assist us with hacks and short-cuts. This is what's amazing about owner's clubs. A collection of incredible people just trying to help other like-minded souls find, run and fix their dream car.
As we face hurdles in the road for our hobby, now is the time to bury those hatchets, settle those differences and literally club together to form organisations that can carry a little clout on behalf of their members. Car clubs are undoubtedly stronger when they're united, and if you all like the same car to begin with, surely that's a great place to start?
And I promise not to join and lower the tone.
Read more from Paul Cowland
Convert a classic to electric? It's assault and battery
Average is the new epic. Treat yourself to something utterly unexceptional
Saint Cowland of Cars and his ever-growing flock