It's no mean feat for any Seventies classic to complete a 1000-mile trip in the conditions we've been experiencing lately. But imagine you're driving an 800bhp Ford Model T of such clout that the National Street Rod Association, 50 years young this year, voted it 'Hot Rod of The Century.'
Do that, and you'll realise the sort of pressure Gerry Gaughan is under: he's taking "Revenge", one of the best loved custom cars of the Seventies, around the country to support Mind, the mental health charity. The Revenge Reliability Run, as it's called, will take in petrolhead venues across the country between 6-14 August, starting and finishing at the Ace Café in London.
How much is your car to insure? Find out in four easy steps.
Get a quote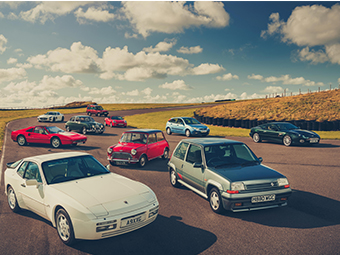 The full list of locations is listed in more detail here – and "Revenge", built in 1976, will also be paying its creator – ex-Hawker-Siddeley engineer Nick Butler of Auto Imagination – a visit on its journey fundraising around the country. Other hot rodders and classic car enthusiasts are invited to register and join in on the run, either in part or in full.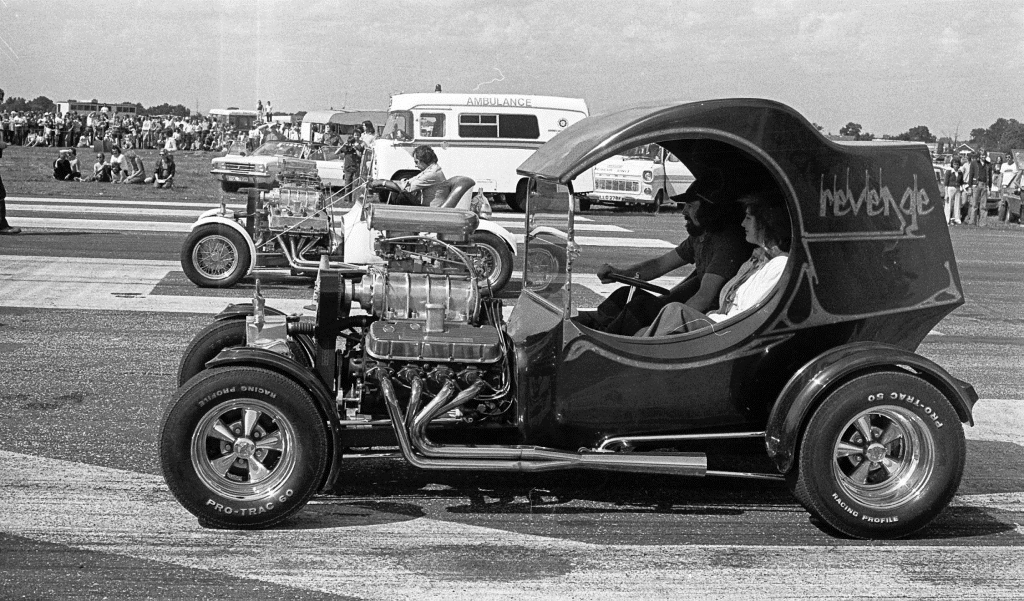 Gaughan had a poster of Revenge on his wall as a child and had the chance to buy the car in 2019, restoring it during lockdown. Its touring history in the Seventies had been well-documented, appearing on Blue Peter, The Old Grey Whistle Test and The Multicoloured Swap Shop, as well as Street Machine magazine, where it was one of ten chosen 'rods in a ten-record "Cruisin" picture disc series (The Earls' "Remember Then!" and Billy Bland's "Let The Little Girl Dance" appeared on either side of the seven-inch).
Revenge had dropped off the map after its show duties at Alexandra Palace and Olympia had finished, however (Nick Butler had up until that point used it as his daily, driving it to a show in Paris and trailering it to a Swedish car show in 1978). It was only the second 'rod built by Butler; while he'd built other important cars – the earlier "Nykilodeon" and the latter "Andromeda" (both of which also survive) – Revenge was the most widely referenced and copied, with moulds taken from its "C-Cab" delivery van-based body for others to create hot rods in its image; Butler wanted the money to develop his promising mid-engined, all-wheel-drive Cirrus sports car.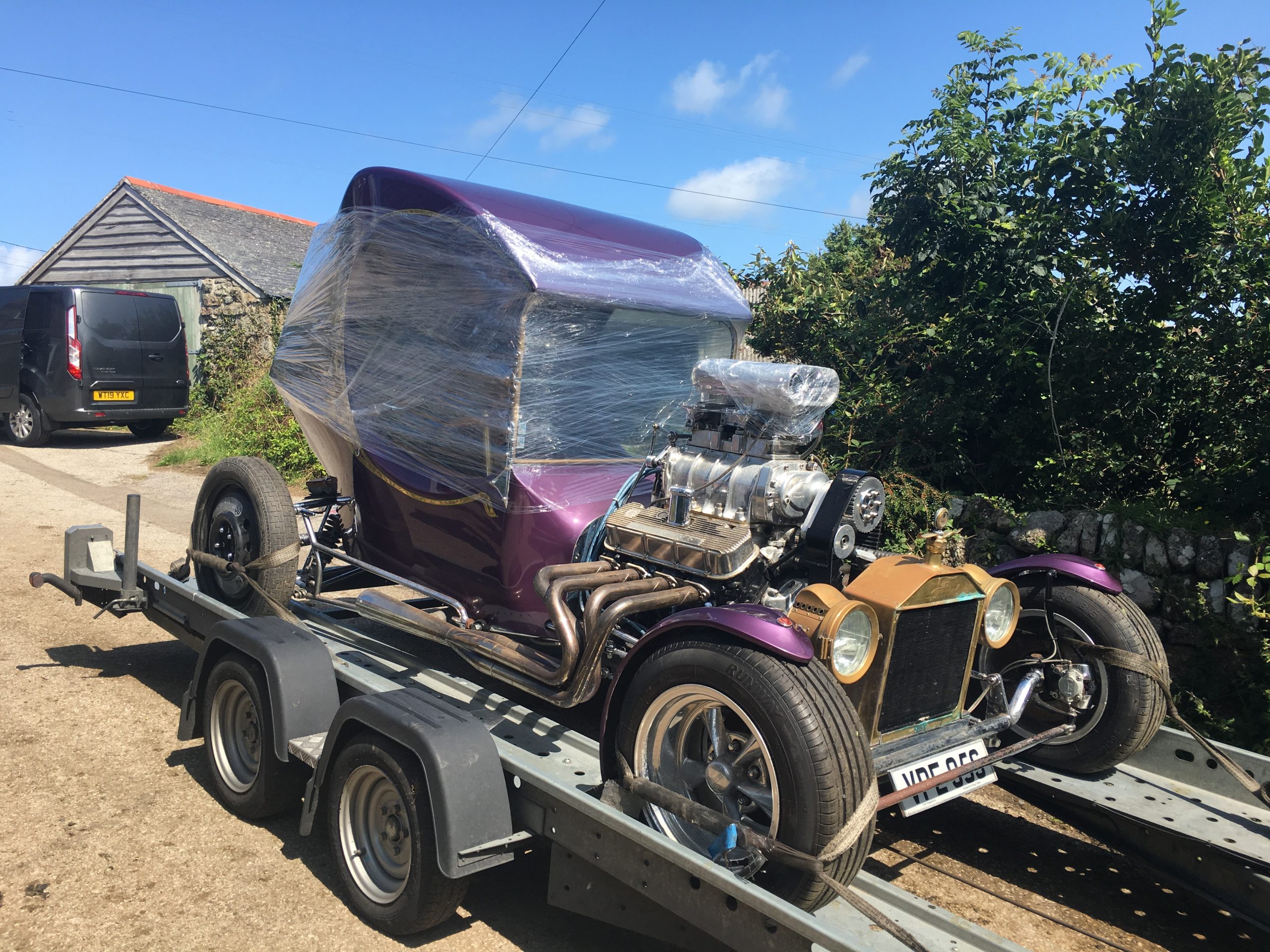 So the car passed through numerous hands in the Nineties and Noughties, retaining its exotic running gear comprising a supercharged all-aluminium, 427 cubic- inch "L88" Chevrolet V8, McLaren M23 rear suspension and an E-type rear differential, as well as Jaguar Mark 2 brakes fore and Ford GT40 units aft. It was finished off in a metalflake purple sprayed by previous owner, Roger Fulker (Butler had wanted it this colour in the Seventies but ultimately chose a dark green instead).
Gaughan has slowly been upping the mileage on Revenge since its restoration. Despite an upright driving position its list of creature comforts is impressive, including a heater from a Lotus Elan. Appearances at Kop Hill hill climb last year and a return to Wheels Day in Hampshire (last visited in 2014) have added to the odometer, while new MSD electronic ignition and a recored radiator from Serck Motorsport should help the car keep its cool.
"People still don't talk about mental health issues […] the classic car generation don't talk about this stuff," Gaughan told Hagerty. He is funding the trip out of his own pocket so that all donations can go to Mind.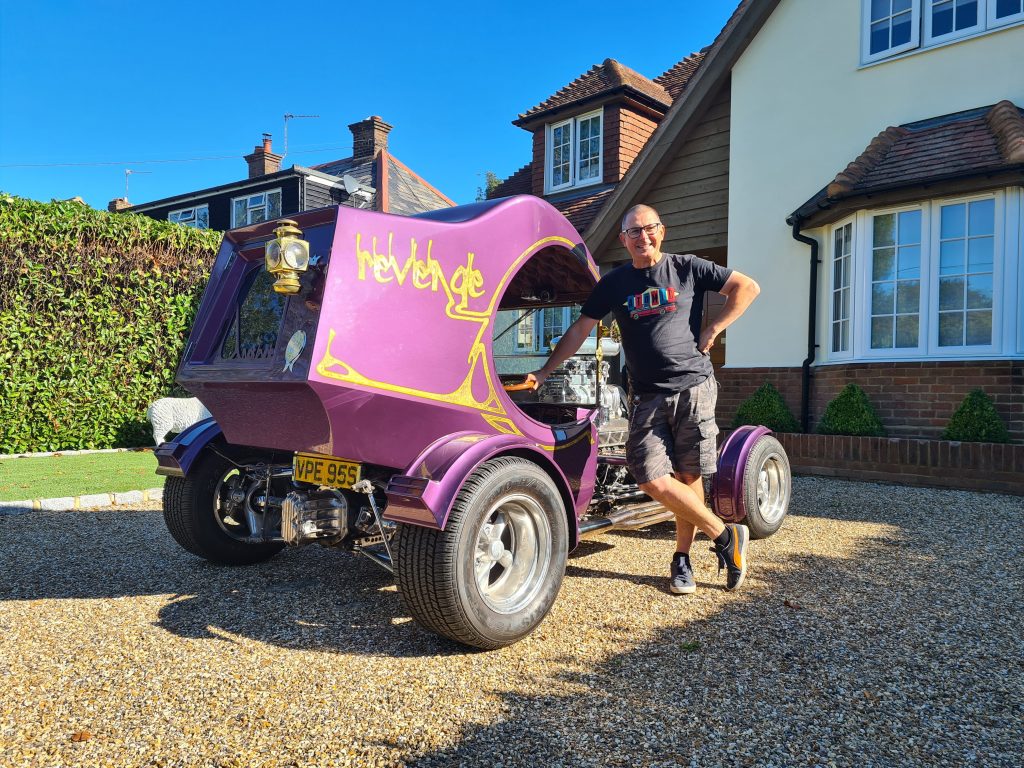 "It started as an adventure for me [but getting out there] makes people aware of the charity as well as starting conversations and bringing back memories. I am a little nervous, but the trip is carbon neutral [via a carbon offset scheme]. The first day is the biggest between the Ace Café and the Haynes Motor Museum, and we have friends following us with spares for Revenge." Hopefully he won't need them.
Read more
Peel Trident offers Jetsons style… for £120,000
What's all this then? Ex-undercover police Range Rover Commercial for sale
Andy Warhol's rarely seen Mercedes paintings will divide opinion – again