Is an undisputable classic car one that was built ahead of its time? After howling over, around, up and down Wiltshire in a sporting rarity, that drives far better than some GTs 10 or even 20 years its junior, you can't help but wonder.
The drive has taken longer than intended over all sorts of roads; through heavy and light traffic, and in both dry and wet weather. Yet this 1955 Bristol 404, the only pure design built on the company's short-wheelbase chassis at the works in Filton, Bristol, hasn't just coped with 2022 life it has amazed.
How much is your car to insure? Find out in four easy steps.
Get a quote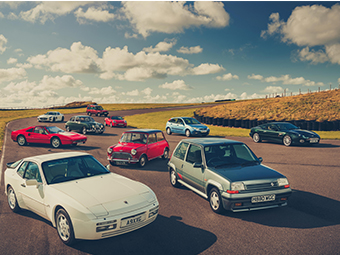 To place the 404 in context, you need to look past Bristol's latter image. Yes, retain the aero heritage and build quality, but remove the eccentric styling, the faded mystique, the pipe-smoking and tweedy clichés. Ignore these because they are not applicable to the wonderful pre-1960 machines of the Bristol Aeroplane Company's (BAC) Car Division; a 14-year, six-cylinder dynasty closer in spirit to contemporary Lancias and fellow post-war newcomer, Porsche, than anything mainstream and British. Although some Bristol owners would be appalled at any such comparison with a 'spicy Volkswagen'…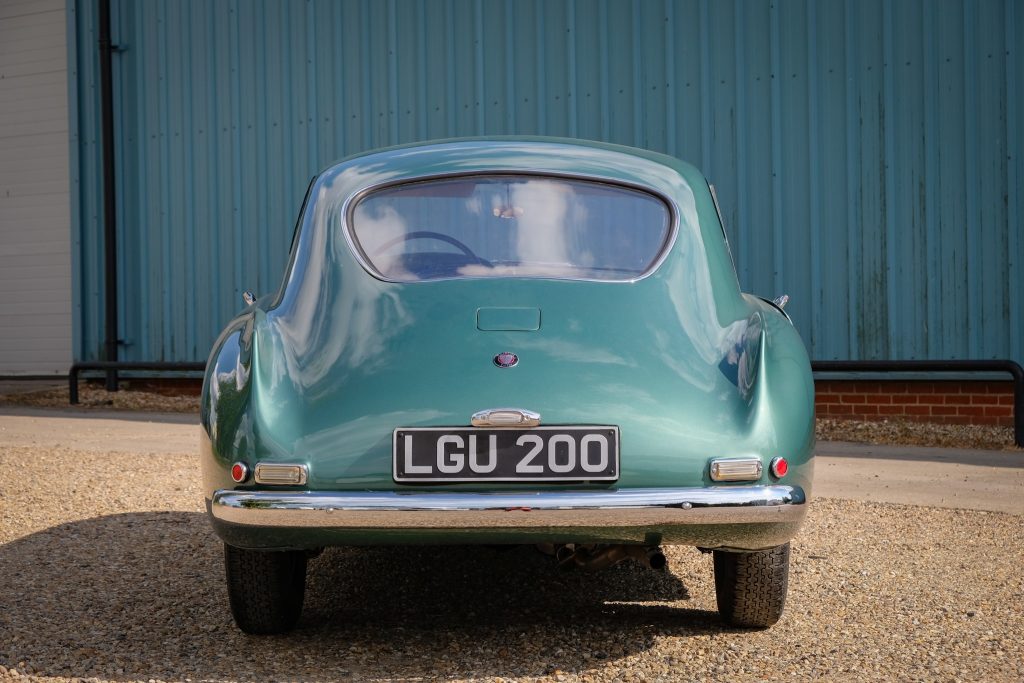 BAC was a company that was not only one of the largest aircraft and aero-engine manufacturers in the world, but it also had a reputation for quality and innovation. The Filton-based firm built one of Europe's first and fastest monoplanes, while its WW2 output included one of the most feared fighter-bombers, the Beaufighter. BAC didn't just prove Sir Henry Royce wrong about his radial engine scepticism, but it would be an 18-cylinder Centaurus that would power one of — if not the — fastest of all piston-engined fighters (the Hawker Sea Fury). Engineering pedigree flowed richly through the company's veins.
The Filton factory's peacetime diversification into car production is well known. After briefly owning AFN Ltd and Frazer Nash, the aero giant and the sports car company soon went their separate ways. As part of the divorce settlement the Filton works would still supply Frazer Nash with drivetrain components, including the Bristol FNS engine — a sporty unit that saw track action and gained popularity among sports car and F2 racers.
Yet the 404 has been portrayed as an oddity in the Bristol bloodline — a close-coupled sports coupé not produced at Filton before or since. A model only built from 1953 to '55, which appeared to be the 'odd one out' among Bristol's cars.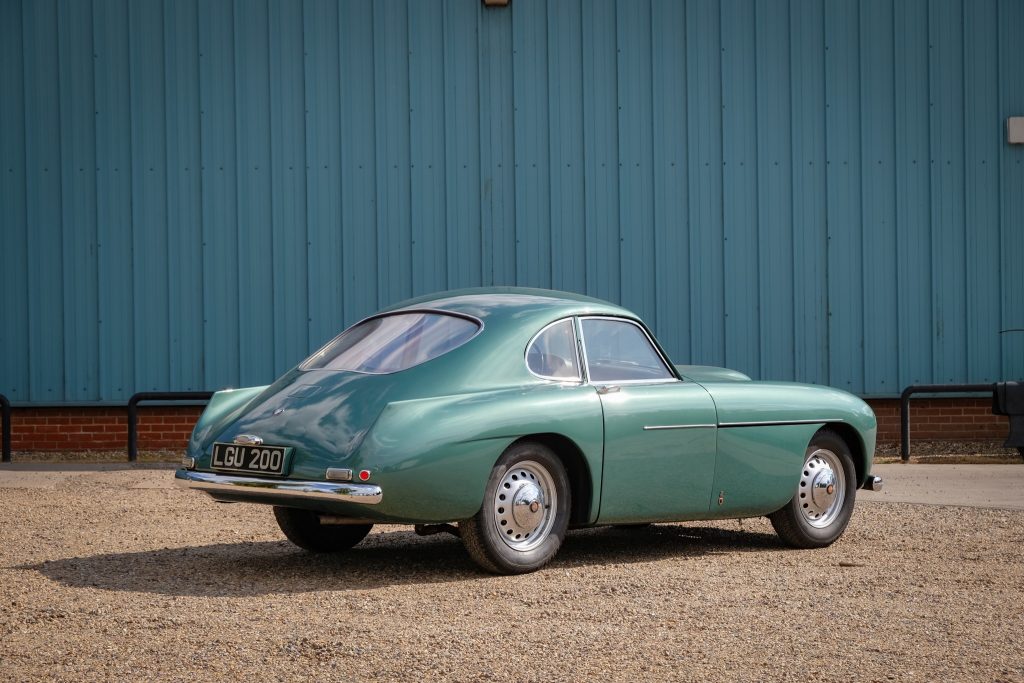 The reality, though, is that the early 1950s was when the confident new manufacturer was going from strength to strength, and expanding into new markets. No longer would it produce just one model, as it had done with the 400, the time had come to implement a 1946 plan for a two-model range. Consisting of a larger model, the 405 (powered by an all-new 3.5-litre+ DOHC engine) alongside the 404 (a new more exclusive, sporting sister). Unfortunately global events and development problems with BAC's new Britannia airliner meant corporate restructuring and a series of cutbacks. One of which meant that the 405 would have to utilise 2-litre power.
The 404 remains the most conventionally pretty of all Bristol's Filton-built cars. Be it from the front, where the main pitot and carburettor air-intakes created a new distinctive style that was uniquely Bristol; or from the rear, where that graceful sleek Porsche-like fastback tumbles down between a pair of subtle rear jet-age fins. Aside from the elegant bodywork, the 404 pioneered spare-wheel and battery front-wing lockers to improve luggage space, weight distribution and high-speed handling. Inside, that unmistakable instrument binnacle debuted and there it would remain on every Bristol four-seater built until production ended in 2009.
Underpinning the 404's flowing style and wonderful quality is the SWB chassis that was designed by chief engineer Jack Channer, in 1951. Compared to its sisters, the 404's wheelbase was 18in shorter and this chassis would also underpin the US-market Bertone-bodied Arnolt Bristol — 142 of which were built — making the 51-run of 404s viable and increasing Bristol's fastidious production by 50 per cent.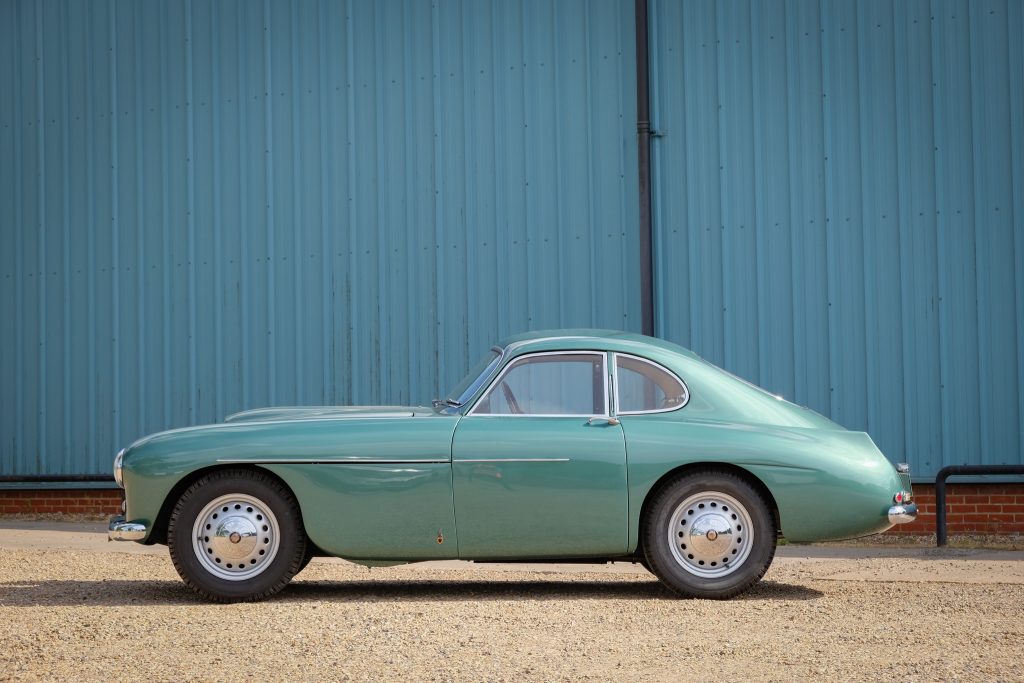 As Bristol owners tend to take a liberal attitude toward originality, the 404 I'm driving is powered by the ultimate iteration of the BMW-derived Bristol six-cylinder, the more torquey 2.2-litre (129lb ft) – rather than either of the original 105bhp or 125bhp 2-litres (123/128lb ft). The 2.2 engine was fitted by Bristol Cars in 1971 and this diminutive Bristol is also packing front disc brakes and a gearknob-mounted overdrive, all of which add to the ease of driving a 1950s cars in today's hurly-burly traffic.
Immaculately, and subtly, appointed in dark grey bodywork with a green leather interior [the car pictured is for illustrative purposes only. Ed], the 404 is a snug fit for this six-footer, but when accelerating and jabbing through the precise slick gearchange, the cabin is filled by the vocal engine's chanting. By modern standards the 2.2 can't be described as powerful, but its blend of torque and power makes this little triple-carb beauty enchanting and more-ish.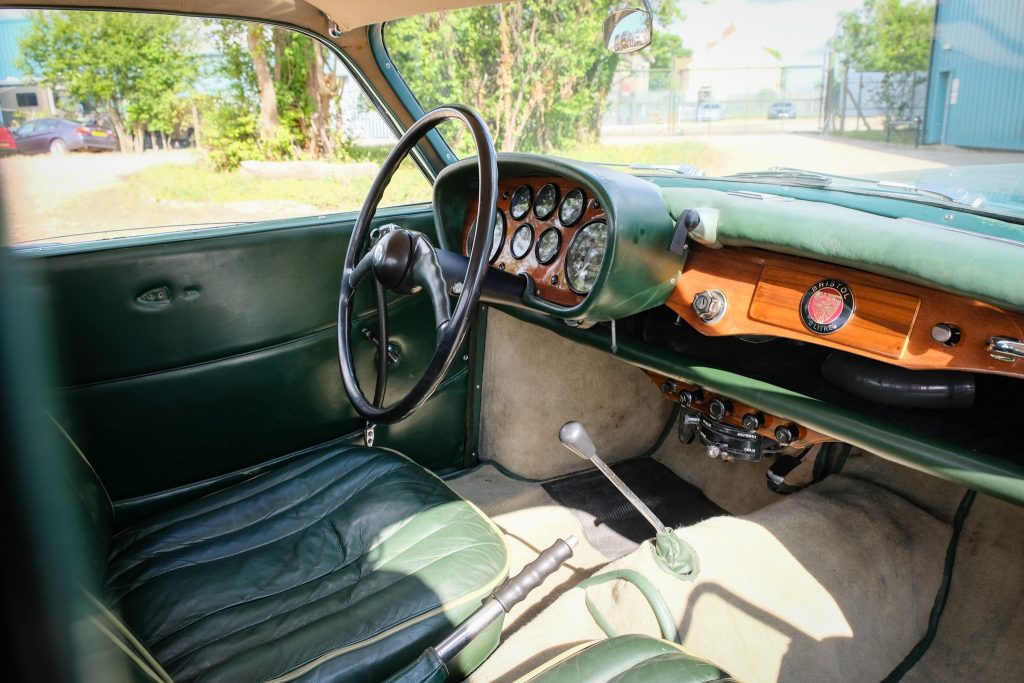 Accelerate and the push-rod chatter at idle melts into a babble, and once past 2000rpm the Bristol's voice warms up and turns into a rich warble at 3000rpm. Keep the throttle pinned to the floor and as the tacho sweeps past 4000rpm, the engine delivers a hackle-raising crescendo worthy of something with twice the cylinder count. Yet ironically, one of the 404's biggest attractions now was also its biggest setback then…
The 404 may have been beautifully assembled, but it suffered in terms of cost versus performance — particularly as the years passed and competitors achieved more power. Where the £2621 19s 2d, 2.6-litre, 117mph Aston Martin DB2/4 packed 125bhp, the 105mph Bristol would set its owner back a steep £3542 15s 10d. Even if you wanted something Germanic and aerodynamic, a 1.5-litre 55bhp Porsche 356 would cost just £1971. So on paper or in the pub, the Bristol's figures did not astonish. Although over cross-country roads, this petite Bristol was something of a giant killer.
Guide the large steering wheel through a series of bends and the beautifully precise, manual steering rack makes the rim eagerly chat to your hands. Through sharp and double-apex corners the 404 responds with terrier-like relish. In crosswinds and high-speeds, the 404 does have a reputation for skittishness, but radial tyres do much to calm the frisky little fellow. Roll is controlled, grip is bountiful and thanks to a completely trustworthy and communicative front axle, the 404 is a faithful B-road companion. Six-cylinder Bristol models are high-achievers in terms of front-end responses, composure, ride and handling but the short-chassis does trade ride quality for responses.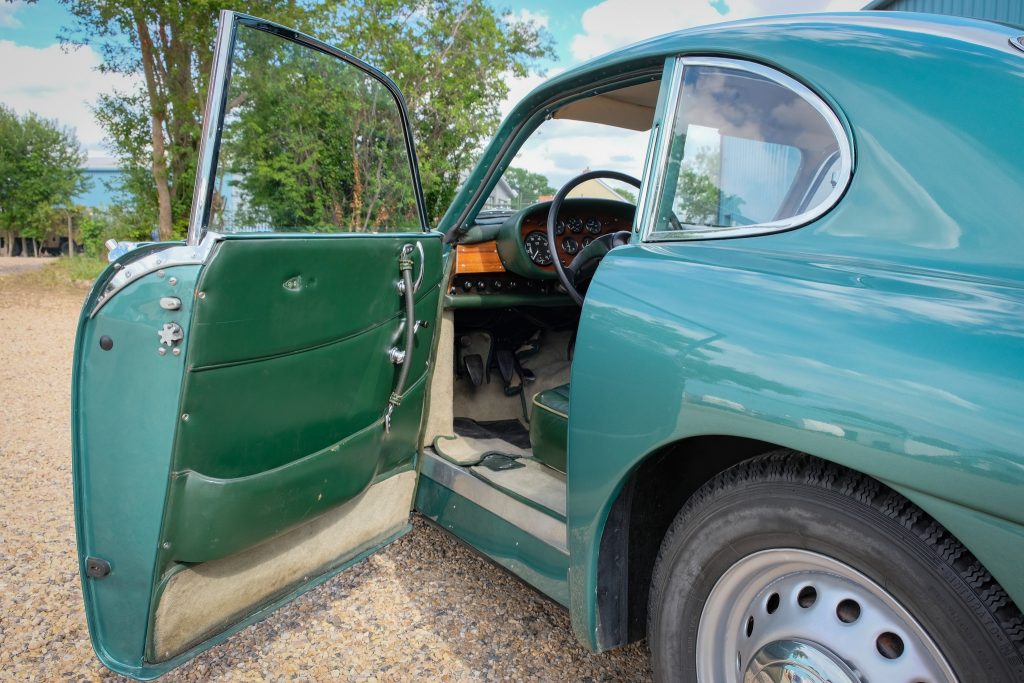 In many ways the 404 is closer in spirit to Porsche's approach to sports cars than Aston Martin's. Quick, planted, delicate and sonorous yet deeply involving, it becomes apparent that if a 404 were to dice with a Feltham Aston Martin across country, then the Bristol would no doubt leave the Aston in its dust. Meanwhile, the Aston driver would be left with leaden biceps and, quite possibly, a bill for new crankshaft bearings.
The similarities between Bristol and Porsche don't stop at a quick-witted chassis clothed in a fuss-free aerodynamic body. In 1952 Bristol opened its Racing Department to develop its 450 racer – the first Bristol to sport aerodynamically functional rear fins. This Works racer's mission was to compete at Le Mans and Reims. After an embarrassing failure at Le Mans in 1953, successes soon started to roll in – class wins, class records and two back-to-back Le Mans 2-litre podiums in 1954 and '55. Alas those Britannia problems, the 1955 Le Mans disaster and Bristol's 2-litre being out-performed by some 1.5-litre cars – notably Porsche's new quad-cam – ensured that the Racing Department closed for good in 1955.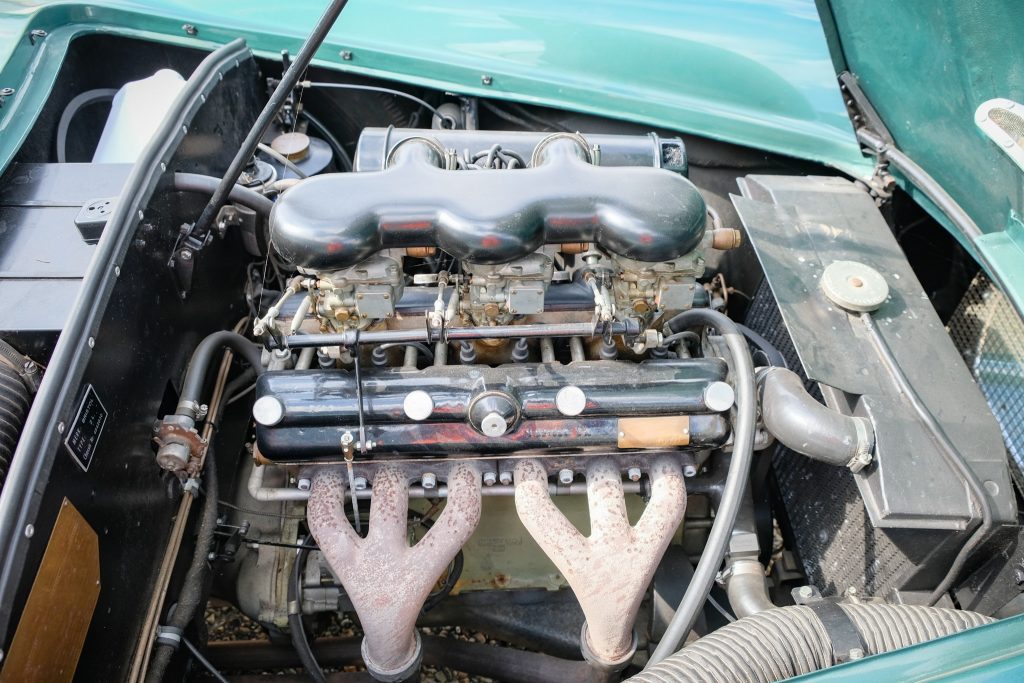 No more Works racing, no new Racing Department developed sports car, no new large DOHC engine, and no new all-independent chassis. Neither the Arnolt-Bristol nor the 404 would be replaced, and instead Bristol returned to a single-model line-up in 1955 – the same year that the Car Division became Bristol Cars Ltd. Indeed, soon the decision was taken that car production was not viable, and so the company was sold in 1960.
BAC did continue to innovate and not just up in the supersonic stratosphere with Concorde. Its plastics division, Bristol Aeroplane Plastics, demonstrated a great degree of skill and understanding regarding fibreglass manufacture. So when Colin Chapman was experiencing problems with the revolutionary 1957 Lotus Elite's pioneering fibreglass monocoque bodyshell, he would turn to Bristol to address its issues.
Had times been different and there hadn't been such a squeeze on BAC's resources, it is easy to see Bristol as a British Porsche-plus in the 1960s. A high-quality producer of GTs, sporting saloons and sports cars with a Works racing team – but backed up with the latest aeronautical technology from its parent company and all evolving from the first sporting Bristol, the 404.
Perhaps, perhaps, perhaps… As it stands all we have now is the 404 – a compact, beautifully constructed, sporting coupé with a wonderfully alert chassis. Whereas a 1.5-litre Porsche 356 would be equally light and agile to drive, its sweet four-pot boxer can't match the Bristol's soulful six-cylinder soundtrack. No, it would take Porsche a further 11 years before it would launch a nimble, road-going, sporting GT powered by a six-cylinder – a much-vaunted car that would prove very popular…
Read more
Here's one Zagato made earlier: Driving the 1960 Bristol 406 Zagato
I bought a Bristol by accident – and fell in love
Porsche 912: Poor man's 911 or something more?