Nostalgia. It plays a significant role in the classic cars that many of us choose to own and cherish, or at least dream about owning one day.
The cars that we grew up with, driven by our parents, grandparents, older siblings and friends, often influence the classic we covet or buy when our life stage and finances allow.
How much is your car to insure? Find out in four easy steps.
Get a quote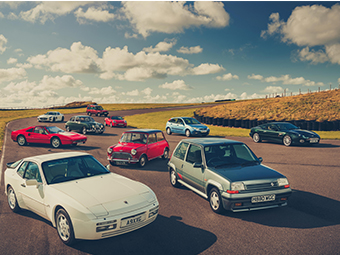 That said, I have yet to own any of the cars that my parents drove. It was a varied bunch with a few highs (Reliant Scimitar GTE, Toyota Celica GT Twin Cam, Peugeot 604) plus some real lows (Ford Zodiac IV, Volvo 360, Vauxhall Viva SL90 HB). The only one that really appeals to me personally is a 1974 Mazda RX-4 Coupe that my father owned briefly, an ill-timed purchase just as the mid-1970s fuel crisis kicked in; not ideal for a thirsty, high-performance rotary-engined car!
Most of the cars that I bought for a few hundred quid in my formative days of motoring as an impoverished student caused my father to sneer, as he was not a fan of the Citroen DS, 2CV, Saab 96 V4, Lancia Beta Montecarlo, and so on that became mine.
He did quite like my very first car though: a 1970 Honda S800 Coupe. The model was only Group 1 at the time, the lowest (and most affordable) insurance category, I assume due to its small capacity motorcycle-derived engine.
I took and passed my driving test in my S800 Coupe, despite the advice of my parents and driving instructor, before later scrapping it (ouch!) due to the huge cost of getting it through its MOT! This S800 Coupe was followed by another S800 – a Roadster this time – which I sold and and replaced with a couple more Hondas, a pair of tangerine-coloured Z600 Coupes.
These Z600s, along with my S800s, created a soft-spot in my affections for Honda, enhanced by a late-70s Civic that an old flame of mine owned, which gave us both many miles of entertainment. That pale blue metallic Civic was the last early-generation Honda I had driven in more than 30 years, until last week that is…
As part of an exclusive new driving day for the press at Goodwood, Honda UK brought along its own, pristine first-generation 1975 Honda Civic, a base two-door booted model in bright canary yellow, (seemingly the very car shot for the contemporary Civic sales brochure) to contrast with its current, tenth-generation Civic models.
Opening the 1975 Civic's thin, tinny and lightweight driver's door and climbing into the black PVC interior, a wave of nostalgia immediately hit me as I settled behind the large, narrow-rimmed steering wheel. The simplicity and no-fuss honesty of the mid-70s Honda's airy plastic and metal interior was wonderfully refreshing.
The inner windscreen frames, door panels, and so on were all painted the same bright yellow as the Civic's exterior, with a strip inset of fake Fablon wood on the wide black plastic dash panel being the only token concession to luxury. It's a charming contrast to the overly fussy interior of the modern Civic Type R parked next to its forefather.
With a genuine sub-72,000 miles on the clock since new, this particular Civic has clearly led a cossetted 43 years. The Honda UK chap revealed that both door bottoms had rusted and been restored a few years back, but otherwise this Civic was totally original.
Turn the key and the 1200cc Honda started immediately and quickly settles into a happy hum. Slot the small, spindly but precise gear lever into first and the Civic set forth with no drama. The remaining three forward gears are just as light and crisp as first, and out on the road, the low weight (a lean 678 kg) of the 50 bhp Honda made the car more than adequately brisk, if not especially fast by modern standards.
The Honda's very light and airy interior affords exceptional all-round visibility out on the road, with thin window pillars and a large glass area, in relation to the Civic's compact size. By comparison, a quick blast (in every sense) in the latest Civic Type R revealed just how far this best-selling Honda model has evolved in the 46-years since the original Civic's debut in 1972.
The current, tenth-generation Civic, sampled in its ultimate expression, the 2-litre turbocharged 316 bhp Type R model, now weighs in at a hefty 1,415 kg, yet goes like a scalded cat. Apart from its name badge, however, today's Civic shares little with the bright yellow model I sampled.
The 2018 Civic is an accomplished package, although it's too big, overly-styled, with a complex and fussy interior; all characteristics that the 1970's original thankfully lacked. The latest Civic Type R might be devastatingly quick, but it lacks the charm and poise of the yellow 1975 example I drove, which generated far more smiles-per-gallon than today's capable Civic ever could.
Five decades on, Honda has definitely moved its mid-size family hatch game forward, but given the choice, I for one would favour a 1970s Civic parked on my drive over the current model, or better still, that 1970 S800 Coupe I learned to drive in more years ago than I now care to remember!