You might be tempted to view the new 911 Dakar as little more than a toy. A car to spirit away in a corner of an air-conditioned garage, one small part of a coveted collection. A car to enjoy from a distance, late at night when everyone else has gone to bed, with a glass of single malt as you sit and survey the fruits of your labours. You have it because partly because you can, but mainly because almost everyone else cannot. You're one of just 2500 people the world over upon who Porsche (or its dealers) look upon sufficient kindly to allow you to part with the best part of £200,000 for the privilege of parking one in that dehumidified shed of yours. Because you're not going to use it for the purpose for which it was designed, are you? And if you want a 911 for any other reason, you'll just make like everyone else and buy any other 911.
Here's the thing. Owners who spirit theirs away, or wheel them out on high days or holidays in places they go to be seen, will never know what they're missing. And contrary to the impression conveyed in these images, you don't need a desert to do it.
How much is your car to insure? Find out in four easy steps.
Get a quote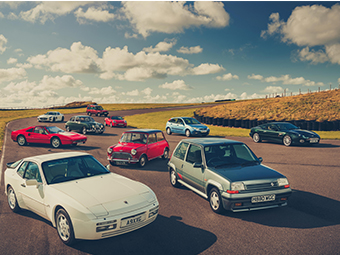 So let's look past the optional (£18,484) 'Roughroads' livery in which some 70 per cent of Dakar 911s have been ordered in honour of the memory of the first all-wheel drive 911 (though technically it was a 953) which won the 1984 Paris-Dakar rally, and see what this car really is. We'll get to what it's like in a minute.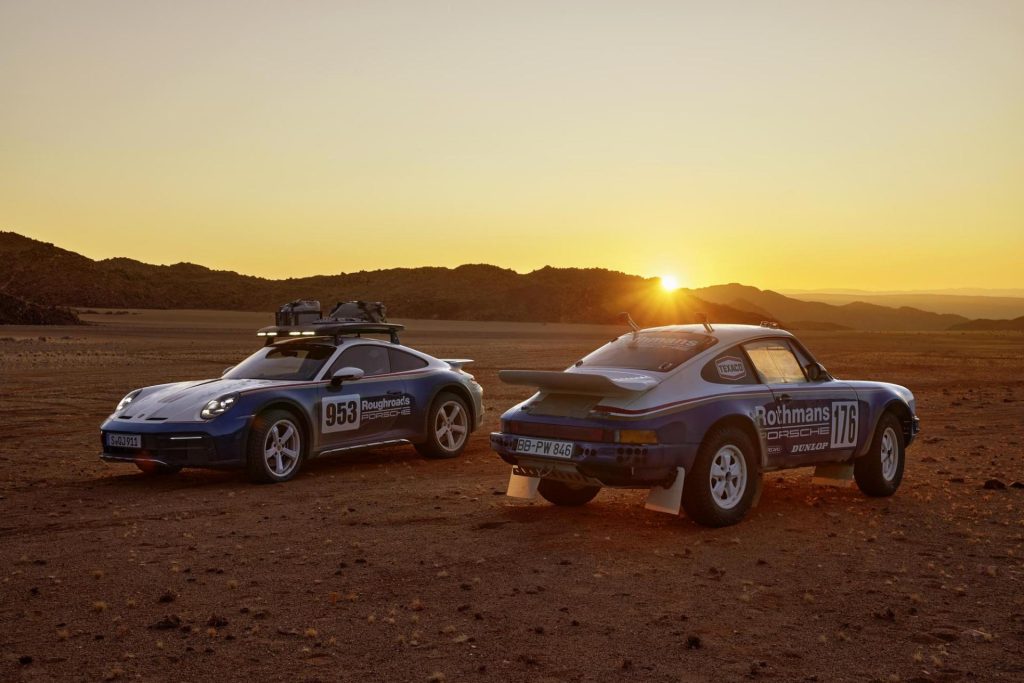 If there is such a thing as a 'donor vehicle', it is the Carrera 4 GTS. And given the 911 Dakar carries over that car's entire powertrain hardware unaltered – engine, transmission and four-wheel drive system – what can possibly justify the price hike from the £120,800 asked for the Carrera 4 GTS to the £173,000 for the Dakar – a price which, remember, does not include rally-raid style decals.
Well, exclusivity will have a lot to do with it, but thankfully this is no normal 911 in fancy dress. Whether it is used for such purposes or not, it has received all the adaptations required to turn it into a formidable off-roading machine. Off-roading a 911? Is that not as pointless as lapping the Nürburgring in an old Land Rover Defender? Well, no, as it turns out.
To transform the 911 into Dakar spec, the first requirement was to raise its underside further from the ground. So an additional 50mm of ground clearance was added, to which 30mm more can be accessed at the touch of a button for serious clambering ability (it then has the same breakover angle as a Cayenne – breakover angle essentially being a way to indicate the size of the lump it would take ground out the car on its belly between the axles) or for when you find yourself beached deep in the mud or sand and need a little additional height to tippy-toe away. The fun thing is that even when driving on tiptoes, the Dakar is still certified to 110mph, and that limitation is imposed by the tyres, not the car.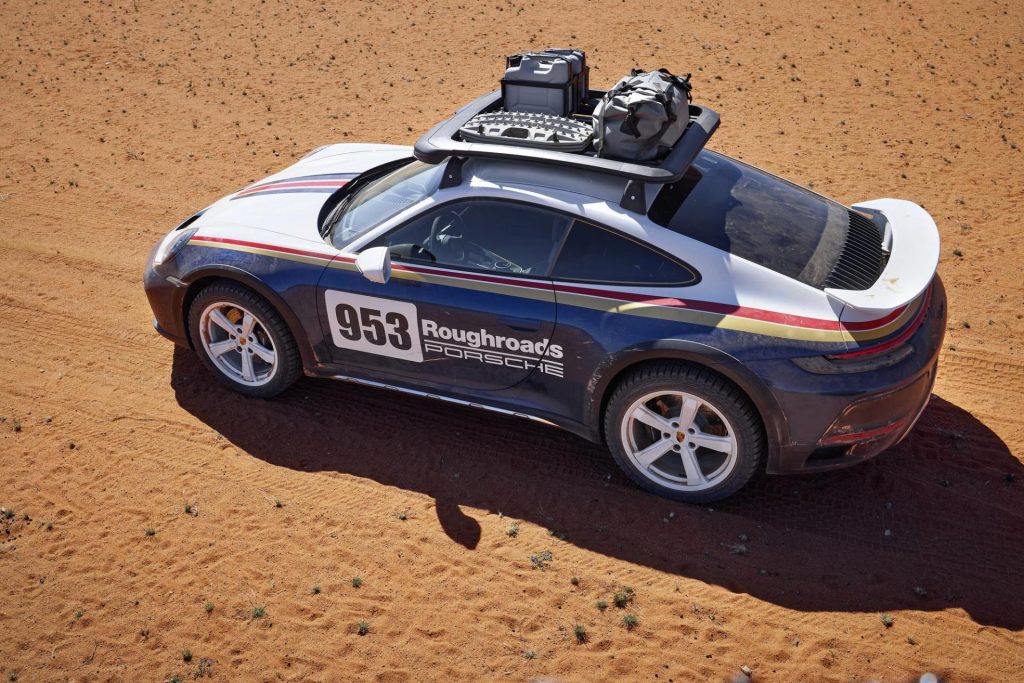 Ah yes, the tyres. Another indication of the lengths to which Porsche has gone to adapt this car for a purpose to which it will hardly ever be put is that it commissioned Pirelli to design a bespoke off-road tyre for it, a twin carcass tyre no less which so far as I can see, is almost impossible to puncture. Unique summer and winter tyres are available too, which I was unable to sample (more on those at the end).
Then Porsche started raiding the parts bin, seizing the carbon-fibre reinforced plastic bonnet of the GT3, its lightweight battery and its active engine mounts, plus the active anti-roll bars and rear wheel steering you'll find only on the options list of a C2 GTS. It has thin glass and deleted rear seats too, standard on the GT3, optional on the GTS. What you won't find as standard or even an option on the Dakar 911 are carbon ceramic brakes, and again it's down to those tyres: with tall sidewalls they require small-diameter wheels behind which even standard GTS discs won't fit, let alone carbon items. So Carrera S discs are fitted and they're fine, not least because the Dakar has a limited on road top speed of 149mph, making it the slowest 911 since the 1970s. Why? You guessed it – it's those tyres again.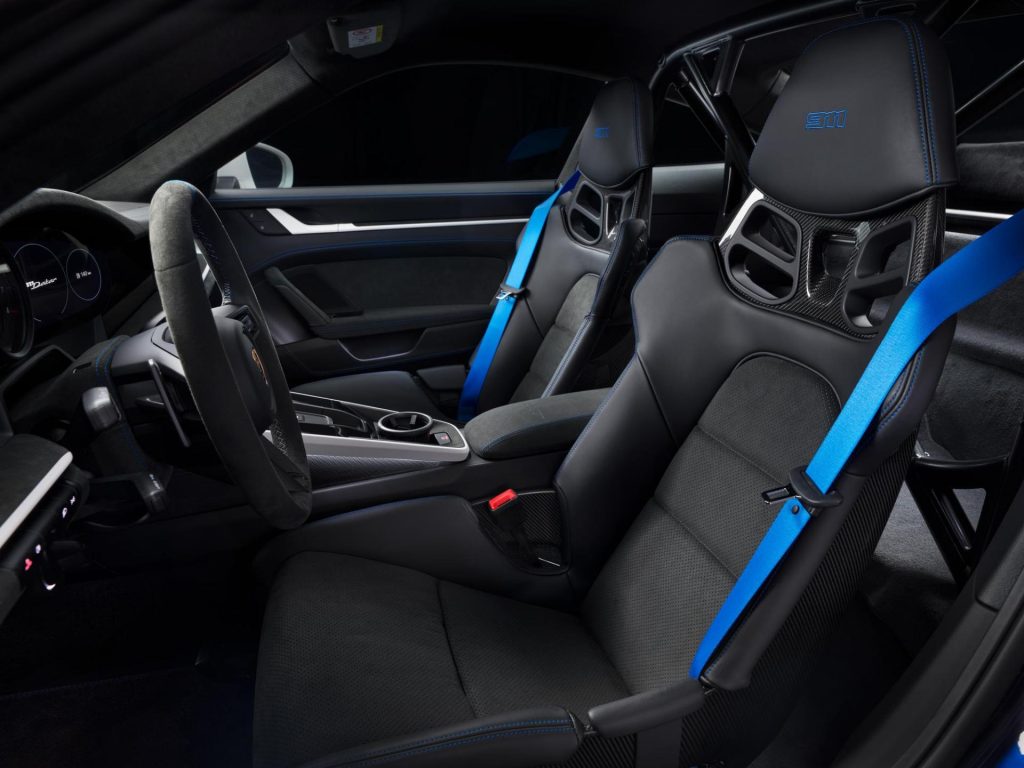 Even beyond the looks, full body lift and various Dakar logos sprayed around the inside, there a few things here you won't find on any other 911, however hard you look or however much you pay. The original 911 Dakar-inspired CFRP rear wing is one, full underbody protection another, but most interest should be directed to two additional settings on the drive mode selector wheel. One is called 'Off road' which raises the body, defaults the front-to-rear torque split to an even 50/50 and selects engine and transmission maps that have been optimised for the off-road environment. The second is called 'Rallye' which is for letting your hair down: massive rear torque bias and as many opportunities to go seriously sideways on loose surfaces as even the most hopeless oversteer addict could wish for.
It feels a little strange when you drive it on the road for the first time, particularly if you are already 911-literate. The spring rates have been cut in half to make the most of its long travel suspension, but the ride is more unsettled than you might therefore expect, the limiting factor I am sure being the necessary stiffness of the sidewalls of the bespoke Pirelli Scorpions. They're noisier than summer tyres too, but not irksomely so.
So it had better make sense when the going gets tough and it doesn't get much tougher than the Sahara where I drove it. Does it make sense here? Like you wouldn't believe.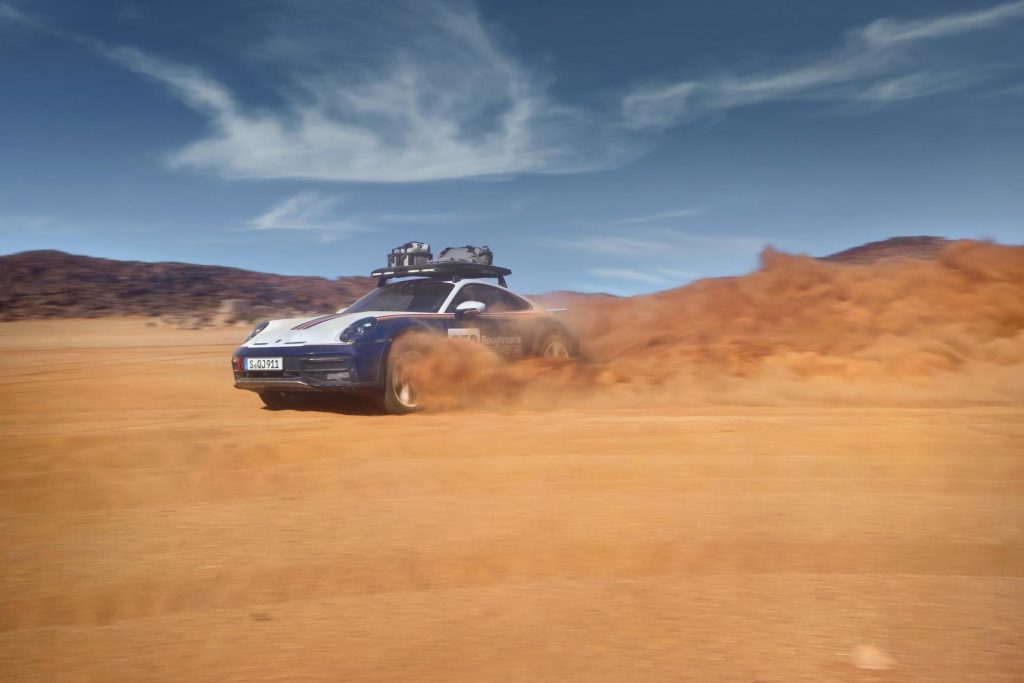 Once you've got your head around heading off in a brand new, factory-built Porsche 911 into a vast landscape of rock, sand and gravel, certain facts soon begin to make themselves clear, facts which demonstrate that this isn't just a good off-roader for a sports car, but by almost any standard you can name. No, it doesn't have the approach or departure angles of Land Rover Defender nor, I'd warrant, its wading depth either, but then again, the centre of gravity of a purpose-built SUV is probably getting on for twice as high as in the 911 Dakar. So while there's all sorts of stuff you might actively seek to avoid in the former for fear of falling over, in the latter you steam in.
Then there's the weight: at 1605kg – just 10kg more than that C4 GTS – it's getting on for a tonne lighter than certain full sized SUVs, which means a tonne less mass to accelerate, brake and persuade to change direction. On dry Tarmac that's a perpetual benefit, on sand it's a godsend. Finally, consider the effect of 473bhp in such a light car in those conditions. With that power, combined with the traction of not just all-wheel drive, but its rear mounted engine and those tyres, it'll charge up dunes you'd not consider contemplating on your hands and knees.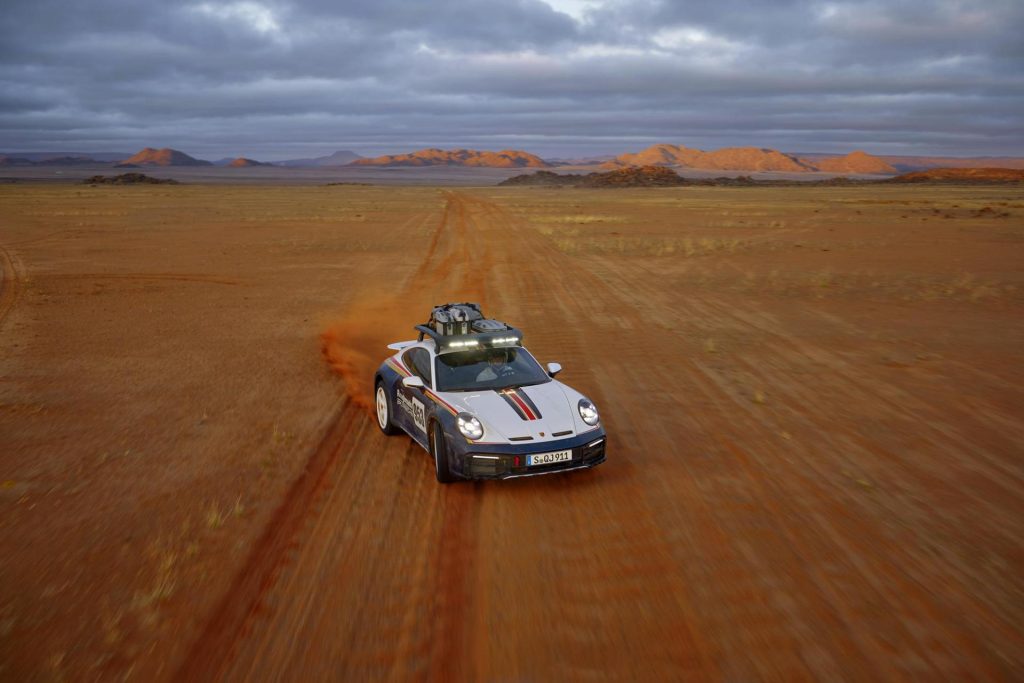 And you'll not be surprised to know, slithering about in the sand in someone else's £173,000 Porsche is right up there among the very most entertaining ways of passing the time with a steering wheel in your hands.
But who's going to do that with theirs? Really. A few, I'd hope, those with untold wealth in their banks and a handy desert on their doorsteps. But are you likely ever to see a Porsche 911 Dakar tackling green lane routes together with snorkel and winch-wearing Discos, Defenders and Samurais? Not a chance.
So who, then is it for? Collectors and completists mainly. But it need not be. Imagine a different kind of Dakar 911, painted a single, discreet colour. It has no badges to identify it, and in place of the Scorpions it has Pirelli summer or winter tyres to suit the season. This car becomes at once the most versatile 911 there has been, one that can be used every day even when the snow lies deep and crisp and even when its owner has a home in the city, a bolthole in the countryside and a holiday home down a steep unmade track with pot holes like crevasses and a surface like the Augean stables.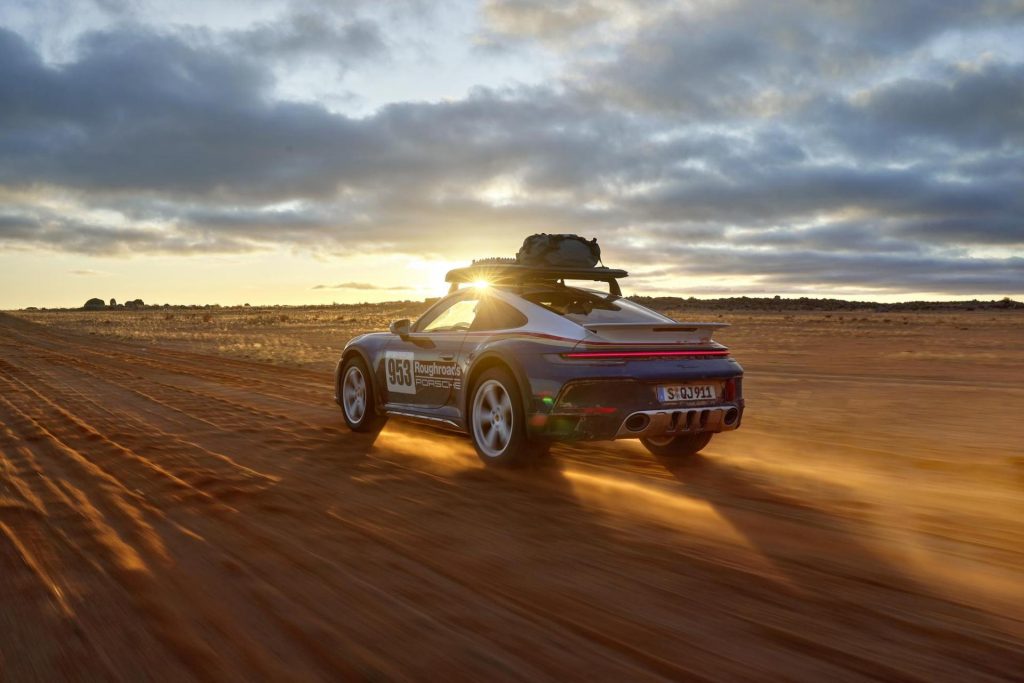 In this scenario, this toy, this little bit of fun added to already mighty collection, becomes something else altogether, something not even that C4 GTS can claim to be: all the car a certain sort of person in a certain set of circumstances could ever want need. And for a Porsche 911, praise can come no higher than that.
Read more
Porsche 953: When Stuttgart won the world's toughest rally in a sports car
2023 Porsche 911 GT3 RS review: As close as it gets to a Le Mans-ready racer
Gold standard: As the Porsche 911 2.7 RS Sport and Touring turn 50, we drive them