Let's get the name sorted first. Say after me: Pur-row-sang-way. Not poor or purr – it's not hard up or a cat. One more try. Now run it all together. That's it. At least, that's the best approximation I can give you of how all the Italians I met seemed to pronounce Purosangue, which translates as thoroughbred.
Now that you can confidently walk into your dealer and order one, we should probably have a quick recap on what it is that you'll be paying more than £313,000 for. This is Ferrari's first four-door. In fact Ferrari says it is also its first full four-seater. But it is not, the company is at pains to stress, an SUV alternative to an Aston Martin DBX, Lamborghini Urus, Bentley Bentayga or Porsche Cayenne Turbo GT. So what is it, exactly. Perhaps it could be best described as a practical sports car.
How much is your car to insure? Find out in four easy steps.
Get a quote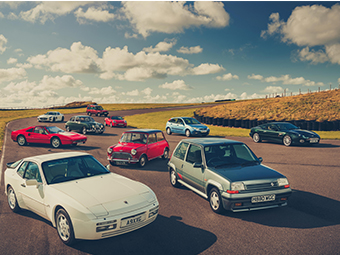 How practical? There is 473 litres of luggage space, which is not enormous but you can increase that by folding down the rear seats at which point I suspect you could fit a bicycle in if you removed the front wheel. As for those rear seats, they feel quite special because you get a proper bucket seat to sit in, legroom is perfectly acceptable even for a tall chap like me, and the feeling of space is enhanced by the panoramic roof – admittedly a £12,326 option – which I suspect helps alleviate any slight feeling of claustrophobia that the standard roof might impart.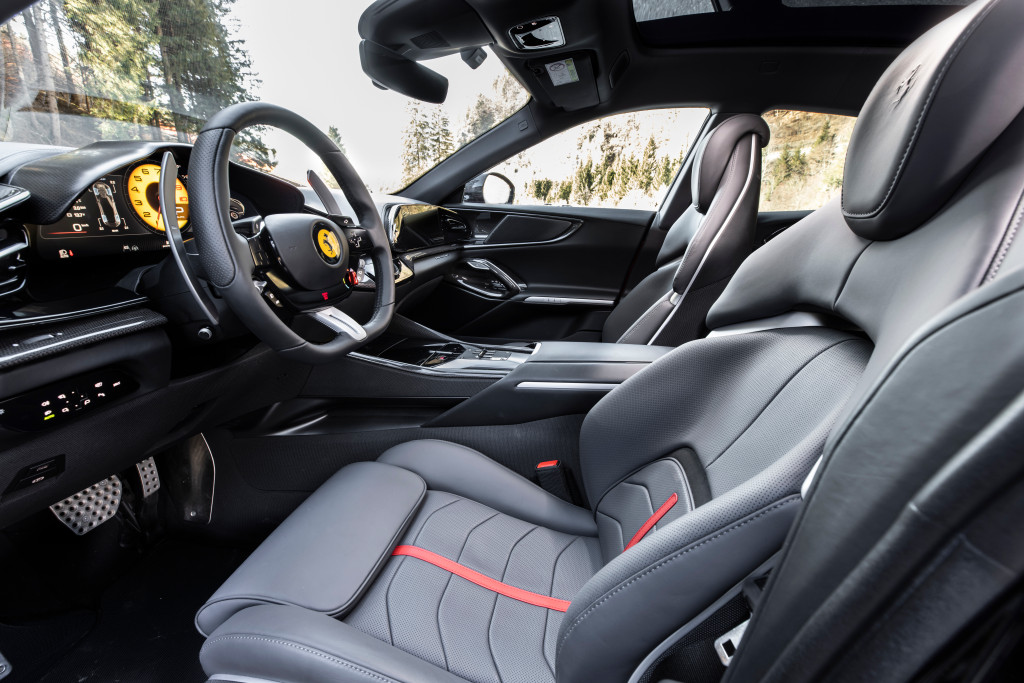 The rear doors, by the way, are rear-hinged like a BMW i3 or Rolls-Royce Phantom and are electrically operated (with neat little exterior switches reminiscent of miniaturised versions of those on a 488), and with a pair of doors open climbing in or out of the Purosangue is pleasingly easy. Just don't park too close to a wall or car, or the back-seat passengers will have to quickly learn a choreographed routine of opening the front door, then the back, stepping out, then closing the back door before you can walk away with a modicum of dignity intact.
If you're thinking this all sounds a bit too 'school run', then have no fear. Under the bonnet is a 6.5-litre naturally-aspirated V12. And perhaps surprisingly at a time when car makers are being made to race toward electrification, Ferrari says this will be the only engine the Purosangue will ever get. It puts out 715bhp and Ferrari has redesigned the intake system to improve the torque figure to 528lb ft, with 422lb ft available from just 2100rpm. There are two gearboxes – the same eight-speed DCT that you'll find in a 296GTB and then the two-speed 'box that hangs off the front of the engine as part of the four-wheel drive system that we first saw in the FF. The Purosangue also gets the rear-wheel steering system that debuted on the 812 Competition supercar.
Most intriguing of all, however, is the suspension system that has been introduced on the Purosangue. Using technology developed by Multimatic, it places a motor on each damper, which can then either slow down or accelerate the damper stem depending on what is required. The idea is that this fully active system allows both more precise body control and then also ride and body control to be dealt with independently. As a result, not only can you select the usual modes on the Manettino (Ice, Wet, Comfort, Sport, ESC Off) but also up to three levels of ride quality (Hard, Medium, Soft) separate to the handling mode you are in.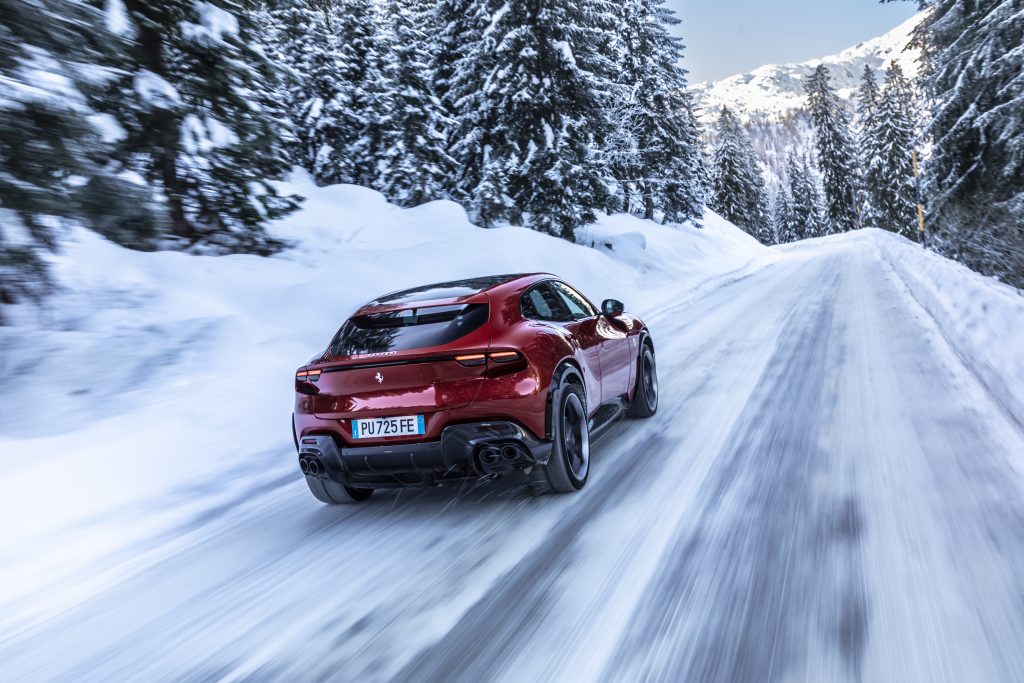 How does all this translate to the driving experience? Well, up in the spectacular mountains of northern Italy, dashing through avalanche tunnels with golden bars of light streaming onto the road, it feels pretty damn good. The engine in particular is spectacular. It sounds angry and beautiful and every bit as good as you think a Ferrari V12 should. Flicking the paddles up and down the gears there is a vibrancy to the whole character of the drivetrain that is scintillating.
Before I drove the Purosangue I thought that having a naturally-aspirated V12 in it was a bit ridiculous. And it is. It makes no real sense in something that is purporting to be practical. Something smaller and turbocharged or, even better, hybrid would be more befitting and, let's face it, fitting for the environmentally conscious world in which we live. But this is a Ferrari. I don't really want Ferraris to be worthy. There are plenty of companies whose sole remit is to produce millions of cars that are conscientious and convenient. I think it is entirely right that even Ferrari's most useable car is still slightly unhinged and removed from real life. That's how it should be, isn't it?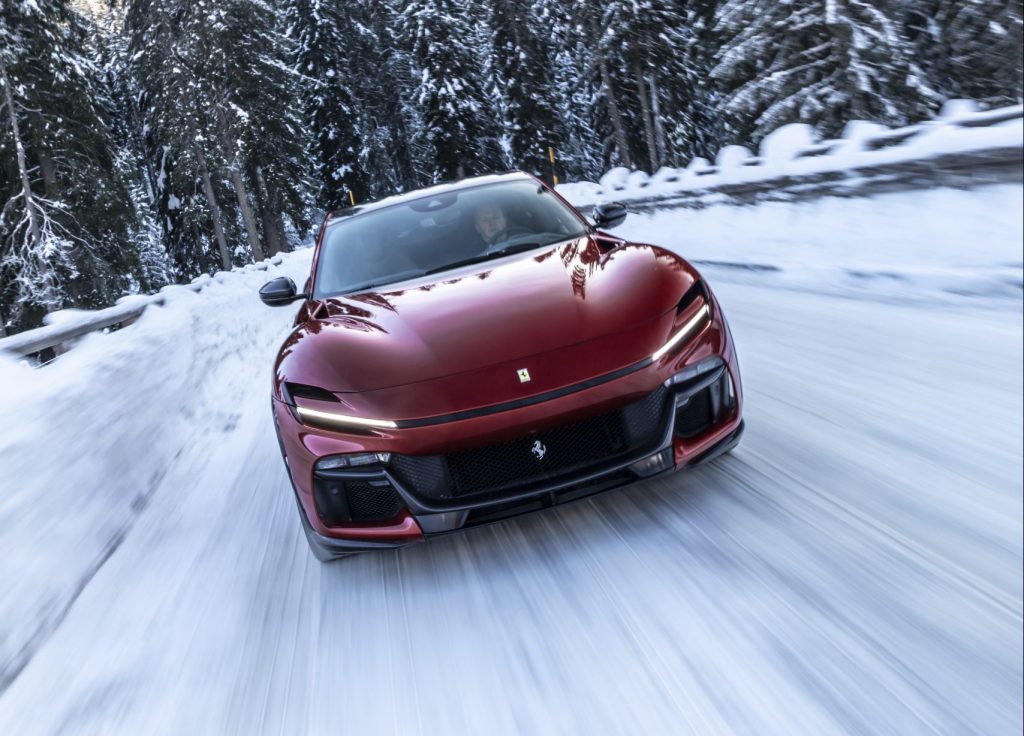 To that extent, I think the fact the suspension is more sporting than I'd expected is probably acceptable. I had thought that the True Active Spool Valve technology would have a little more plushness to it in comfort mode, but even when mooching there is definitely a more granular sense of connection to the road than with the more detached and perhaps cosseting ride of SUVs like the Bentayga and DBX.
The up side is that when you switch to Sport, you feel the whole car tense and there is that lovely, distinctly Ferrari feel to the way that it carves through turns, leaning into a very precisely defined edge of grip. You can definitely still feel the weight of the Purosangue because even though it is lower-slung than the aforementioned Bentley and Aston, it is still 2180kg without passengers and luggage and there is just no disguising that, particularly under braking. In fact braking is the one dynamic area where I felt a little uncomfortable with the body control, because the lack of pitch as you leaned hard onto the brakes was somehow a touch too unnatural.
The winter tyres of our test car certainly magnified the Purosangue's playfulness. With drive going solely to the rear wheels until the systems determine that some help is required, you can get things moving around. On the slippery roads up in the mountains the car felt pretty mobile, but not in an uncontrollable way. The steering is more akin to the Portofino in that it's a touch slower to react than the Ferrari norm, but this suits the character of the car well. You obviously also sit higher than in a Ferrari sports car, but equally the position still has a sporty feel to it and the view out incorporates the tops of the front arches, making the car easy to place.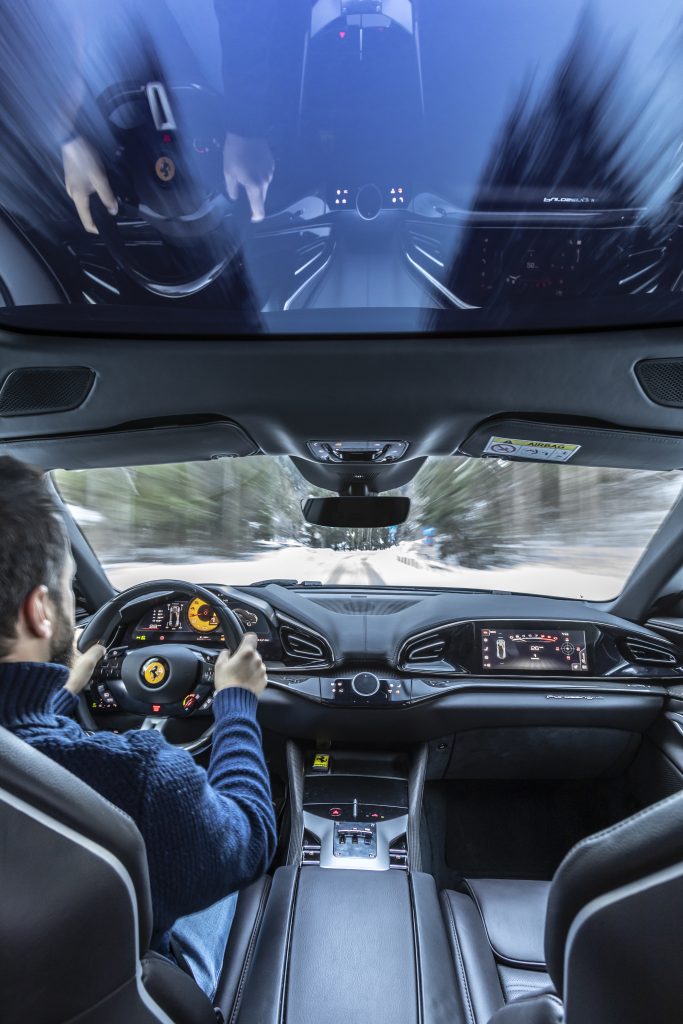 Less easy to control is the infotainment system, which still relies largely on haptic switches on the steering wheel. Although some indents have been added to help guide your thumb, I just didn't find it particularly easy to use, particularly with Apple Carplay, which is really designed with touchscreens in mind. By contrast, I rather liked the rotary control that rises from the dash to let you adjust the climate control and seats. And the stereo from Burmester – wow. Alongside the entertainment from the V12, the Purosangue has definitely got aural pleasure covered.
So what to conclude? Ferrari is adamant that this four-door with raised ground clearance and a Hill Descent mode is not an SUV. And I sort of understand that, because it is demonstrably different in shape and demeanour to cars like the Cayenne, Urus and DBX. To be honest I can't really find a niche to put it in, which might be a good thing or might mean the concept is as confused as me.
Not that it really matters. You see, something I said earlier on was a bit misleading, because no matter how well you enunciate Pur-row-sang-way in a dealership you won't be able to order one. Not at the moment anyway. For the foreseeable future the order books have been frozen and dealers will only take expressions of interest. That's a 'waiting list' to you and I.
Frustrating as this might be for some, I find the reason for it rather pleasing: Ferrari has said it isn't going to build a huge number. If it stays true to its word, the Purosangue will only ever account for 20 percent of Maranello's output, so there should be no danger of the market being awash. If you've been able to buy one then this is likely to be beneficial for the car's residual value, and as for those who place the Italian car maker on a pedestal, it means that the somewhat sacrosanct prancing horse badge won't be uncomfortably diluted. When you spot a Ferrari, whether it has two doors or four, it will still feel a little unusual and, most important of all, special.
2023 Ferrari Purosangue specification
Price: from £313,120
Powertrain: 6.5-litre naturally-aspirated V12
Gearbox: Eight-speed dual-clutch transmission, adaptive four-wheel drive
Power: 715bhp @ 7750rpm
Torque: 528lb ft @ 6250rpm
Weight: 2180kg
Fuel economy: n/a
0-60mph: 3.3 seconds
Top speed: 193mph
More reviews
X marks the sweet spot: Aston Martin DBX review
2023 Aston Martin Valkyrie review: A blue-chip investment that deserves to be driven