In these uncertain times, it's good to know your money is safe. But bank accounts and shares are just too boring or volatile when there are cars to be enjoyed. If you don't want to spend your savings on a new car which – unless it's some sort of highly desirable, limited-edition, 'unobtainable' – will drop in value every year, why not splash out on a classic convertible?
According to the Hagerty Price Guide, a good number of roofless runarounds have all held their value over the last five turbulent years. We're not talking about Astons, Ferraris or Porsche, we're talking about the sort of classic car that is generally affordable to buy and run, plentiful so you can find something to suit your budget, and has a charm and sense of escapism that you won't get from leaving money in a savings account or riding the waves of stocks and shares.
How much is your car to insure? Find out in four easy steps.
Get a quote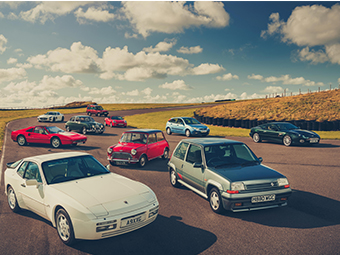 That said, unlike a bank account you'll have to exert a bit of effort looking after them but our selection are simple to fix, especially if you buy well in the first place. So dust off your string-back driving gloves, clean the lenses of your sunglasses and come for a ride in five tempting classic and modern-classic roadsters.
BMW Z3 Roadster 1.9
BMW's take on the modern roadster was a real show-stopper when it was launched in 1996. Rather than the almost cuddly lines of the MX-5 it looked aggressive and powerful, with a long nose and side vents that could have been borrowed from a World War II fighter plane.
But under that bonnet was something altogether tamer – a 1.9-litre four-cylinder engine and the suspension bits from the 3-Series Compact. Later cars got the option of more powerful six-cylinder motors, but the humble 1.9 was always the best seller.
Today it makes a stylish, fun and cheap to run summer car. The 3-Series underpinnings mean parts are plentiful and easy to source, there are hundreds of BMW specialists to help you look after it and it is rewarding, if not thrilling, to drive.
A well-worn example can be yours for less than £2,000 but you'll have to be prepared to wield a spanner at that end of the market and tatty, multi-owner cars will never be as desirable when you try to sell. Find a cherished example though and it could be a useable everyday classic which won't go down in value and might even earn you a few quid if looked after, as the Hagerty Price Guide shows.
Fiat 124 Spider
There are a few bits of information you'll want to drop into casual conversation if you are a Fiat 124 Spider owner. Like the fact that it was designed by Tom Tjaarda, the same man who styled the Ferrari 365 and De Tomaso Pantera. Or that the engine was the work of an ex-Ferrari engineer – Aurelio Lampredi. If there are any other classic car owners within earshot you could also drop in how advanced the car was when new, with a twin-cam' engine, disc brakes on all four wheels and a five-speed gearbox.
In fact you could almost pretend that this Italian roadster was a junior Ferrari, in everything but price. According to the Hagerty Price Guide, the values of these pretty little two-seaters has been stable for the past five years, ranging from around £4,000 to £28,000 depending on condition and history.
That makes it pretty affordable, as long as you buy a good solid car with all of the inevitable problems (electrics and rust, mainly) sorted. The left-hand-drive layout may put some people off too, but is perfect if you like to enjoy road trips abroad in your classic.
Be careful not to wind up those MGB owners too much though, or they might point out that the Spider's 'exotic' underpinnings were later used to create the Lada Riva and FSO 125p.
Mazda MX-5 Mk1
Since its introduction in 1989, the car which itself aped classic roadsters like the Lotus Elan and MGB has now been firmly established as a classic in its own right.
The first generation of MX-5 is brilliant fun to drive, with one of the best-feeling gearchanges ever created and an evocative exhaust note. The engine is no ball of fire, but the fun handling means you'll be able to get thrills and smiles at far lower speeds than you would in a modern performance car. Plus it's got pop-up headlights that delight big and small kids alike.
The best early MX-5s have always been in strong demand, with cherished cars sought after by enthusiasts who are happy to keep them in a dehumidified garage to be brought out on sunny days. It means values have been climbing slowly – the Hagerty Price Guide values the very best at nearly £10,000 – and dedicated fans are even willing to undertake full restorations to fix the inevitable rust which afflicts any MX-5 which has seen a salty road.
There are plenty of modified MX-5s and Japanese imports too, which are usually worth less than an original UK cars – the latter are called Eunos Roadsters and are easily identified by their squarer rear number plates. Buy the very best you can afford, keep the rust at bay and it will be a solid investment which brings a smile to your face.
Triumph Herald 13/60 convertible
The trouble with roadsters is that they are anti-social. You can only take one person with you to enjoy the ride, which is no good if you have a family. A four-seat convertible is the answer and the Herald is one of the best-value classic drop tops around.
Prices for pristine examples have hovered around the £10,000 mark for the past five years, according to the Hagerty Price Guide – about half the equivalent Morris Minor convertible. The Triumph is a very different car too, with pseudo American styling which is all sharp edges compared to the Minor's soft curves. Inside there's a touch of posh with a wood dash and the roof folds flat into the rear deck, leaving clean lines which are unencumbered by windows or hoops.
Choose the later 1,300cc engine in the 13/60 version, introduced in late 1976, and it will have enough performance to keep up with modern traffic too but will still sip fuel. The steering lock is remarkable, making parking or manoeuvring in a tight garage an absolute breeze. But perhaps the most fun part of the Herald is fixing it. The huge front bonnet hinges forward allowing unhindered access to the engine and front suspension. Sit on the front wheel and tinker away.
Lotus Elise S1
Few cars have been awarded 'classic' status as quickly as the first-generation Lotus Elise. When the car was launched in 1996 it was truly revolutionary and was a showcase for the Norfolk company's engineering expertise in addition to being a sales success.
Under the swoopy plastic body was an aluminium chassis which was glued rather than welded, creating a rigid structure. The interior made the most of this too, and instead of trying to hide the bare metal it made it a beautiful feature.
Behind the driver sat a humble 1.8-litre, four-cylinder K-Series from a Rover 400. But what made it all so special was the lack of weight; at just 725kg the Elise was lighter than a Fiat Cinquencento. This made it handle beautifully and meant it had supercar-chasing performance with the fuel consumption of a supermini – a perfect combination for a fun car.
As a result the Elise is a car which has always been in demand, with prices stable for the last five years at around £25,000 for the best examples, according to the Hagerty Price Guide. You'll need to choose one carefully and keep on top of the maintenance but a well-kept Elise shouldn't lose value and will, touch wood, always be a joy to own.