Imagine you could walk into a Porsche dealer today and order the equivalent of an everyman's Ferrari V12. It would be a perfectly balanced, front-engine, rear-wheel drive sports car, one complete with a pair of seats in the back and enough luggage space for a roadtrip to Milan and some credit-card fuelled spending in the most glamorous boutiques.
The irony is, of course, Porsche used to offer enthusiast drivers just such a model. It began life as the 924, grew up to become the 944, which in turn morphed into the 968. Then, facing financial ruin, the company gave up on the concept, choosing to create the Boxster in an effort to find economies of scale with the 911.
How much is your car to insure? Find out in four easy steps.
Get a quote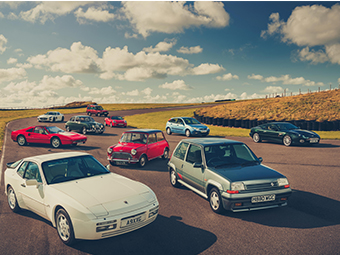 To this day, there are some Porsche purists who look down their noses at anything that doesn't have a flat-six-cylinder motor engine suspended over its rear axle. Yet this can play into the hands of open-minded enthusiasts who aren't sniffy about four-cylinder, front-engined Porsches. Especially with the 944. I'm one of those people; I bought a 944 and lived with it for a year, used it every day and got to learn about its best bits and, er, shoddy bits. (It's the car you see in the accompanying pictures.)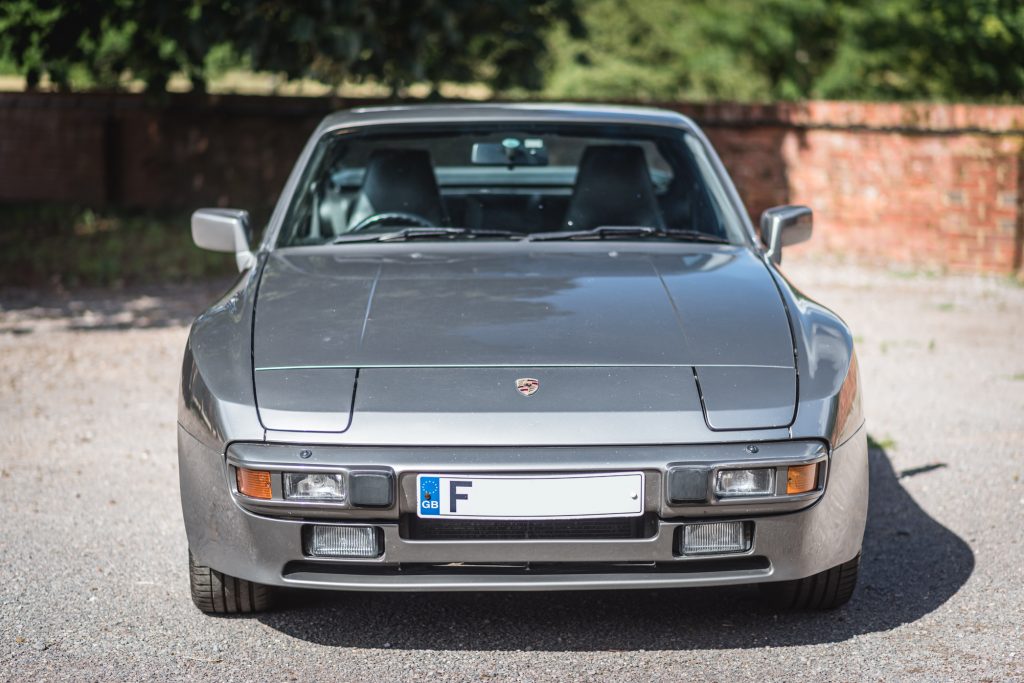 The 944 is an affordable classic – affordable, that is, when viewed comparatively within Porsche circles – that can, if properly maintained, still be pressed into service as a daily-driver. The bad news is there's not really any such thing as a Porsche for peanuts. As more people wake up to the car's appeal, the 944 is becoming increasingly sought after, meaning its values have climbed over the past decade.
Introduced in 1982 with a 2.5-litre straight-four cylinder, front-mounted engine (half of the 928's V8) and a rear-mounted transaxle, the 944's near-perfect weight balance earned it success in both road and race form. It would remain on the market for a decade, beginning life as the 2.5 Lux model, followed by the Turbo of 1985, gaining desirable updates from 1986 (including the short lived 2.7 S) and culminating in a twin-cam swansong of the S2 and Turbo S. In 1992 it was replaced by the 968.
Today the 944 has experienced a retro resurgence, and is one of the few cars tracked by the Hagerty Price Guide that has increased in value. But with its rags to riches story in mind, make sure your search criteria includes a solid service history as a priority. The good news is, Porsche parts are readily available and scheduled servicing is relatively affordable. Here we focus on the coupé version.
What's a Porsche 944 like to drive?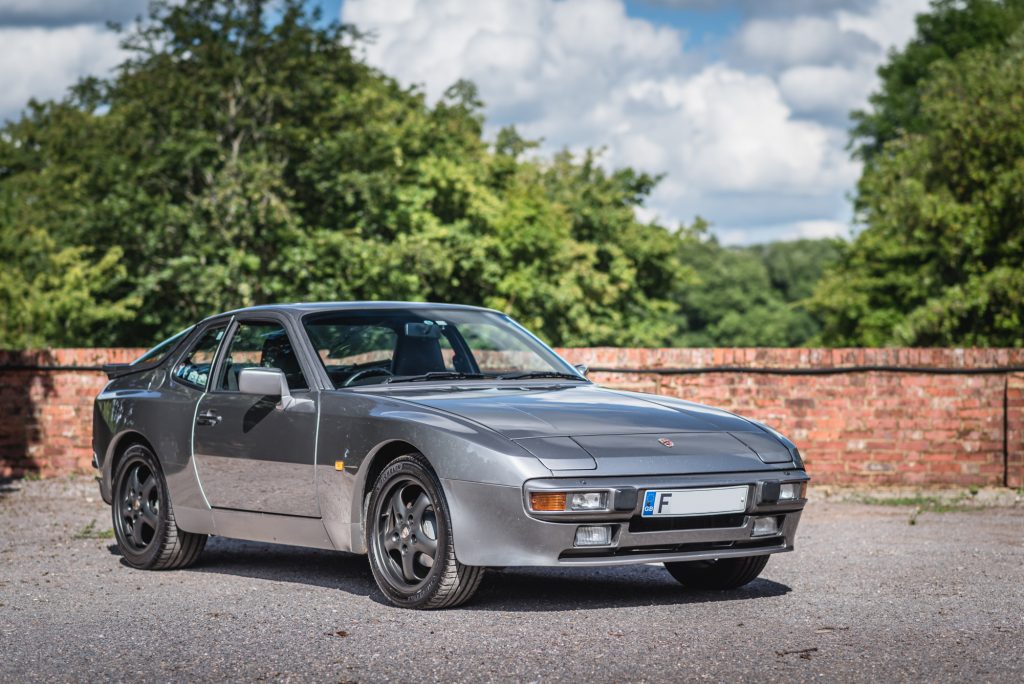 The 944 is a light, nimble and direct car and frankly just bloody good fun to drive. It flows down a road, and the balance of the front-engined, rear-wheel drive platform inspires confidence, especially though bends.
Regardless of model choice, the 944 feels smooth and torquey with easy progress made via the precise five-speed gearbox. The steering is an ideal balance of weighty feedback and responsiveness to minor inputs, but proves light enough that parking manoeuvres aren't a chore. The gearbox is direct but beware a notchy shift quality, as it indicates wear and tear.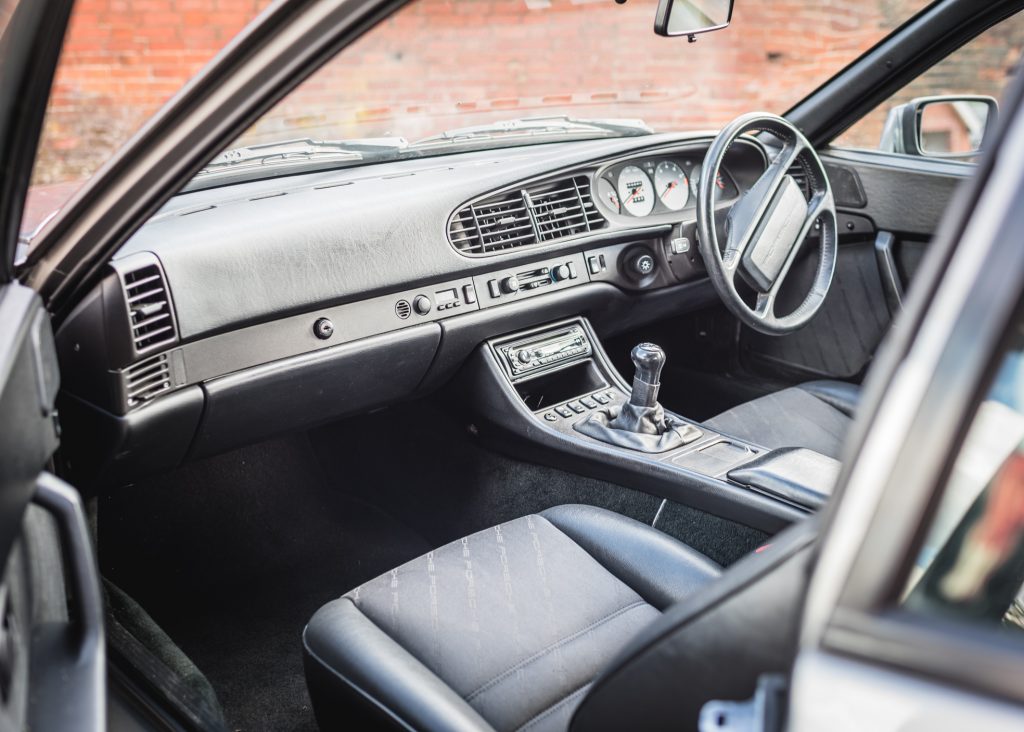 This cool coupe will happily take a track day in its stride or you can just potter down the road to the supermarket and make the most of it's ample load space under that expansive rear glass.
Singling out models, the bog-standard 944 is no rocket ship. The 2.5 Lux is just about quick enough to entertain, but what it lacks in standing acceleration, it more than makes up for in driving experience, engagement and feedback. Unsurprisingly, the 217bhp Turbo packs more punch and attracts more kudos, but there are reliability concerns and its higher price range makes enthusiasts critically consider bang for buck.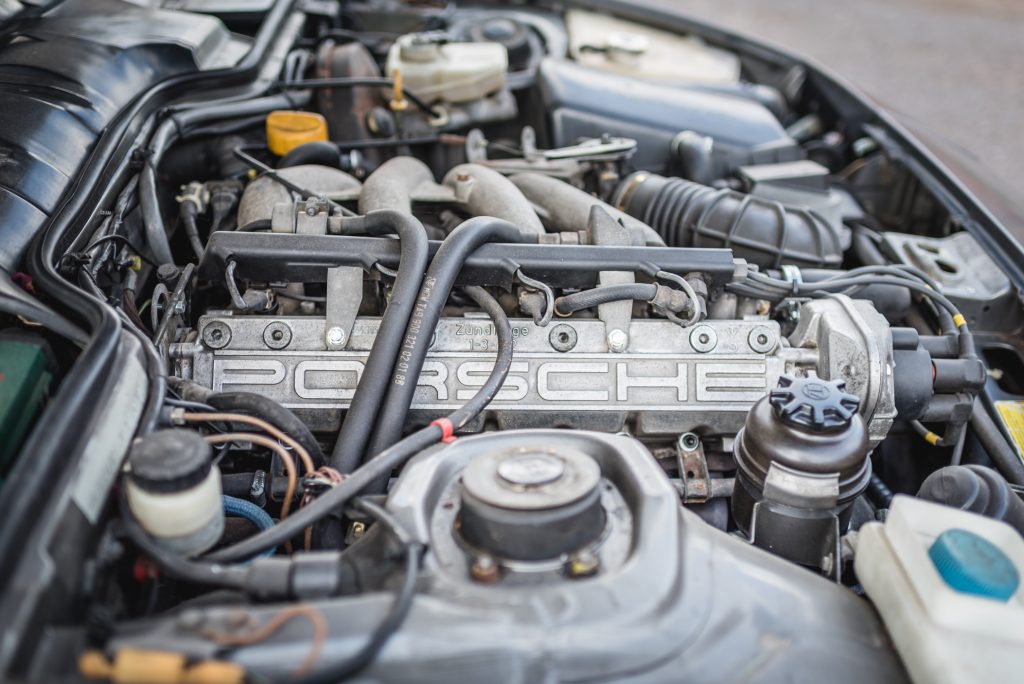 Many 944 fans feel the smart bet is the later 3-litre 16-valve S2. Introduced in 1989, the S2 is when things really started to get lively; with 211bhp it put the old Turbo into the shadows. Its twin-cam engine is a more refined unit with significant turn of pace and mid-range torque that will surprise and reward you in equal measure. For all-round value, the S2 offers the best investment in terms of both driver experience and residuals.
How much does a Porsche 944 cost?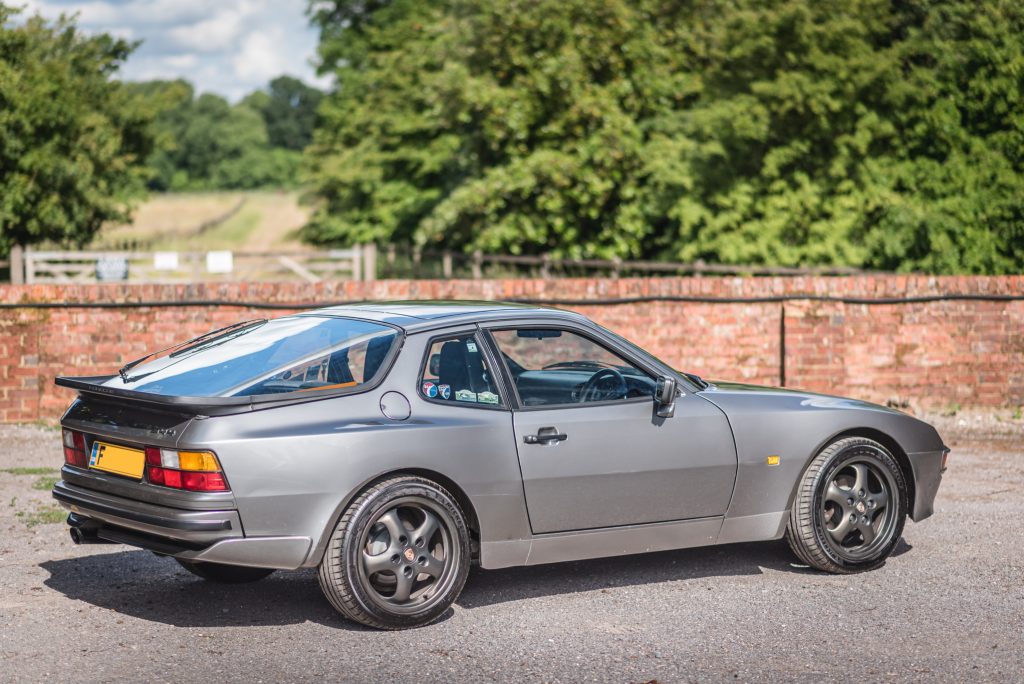 The 944 is no longer the unappreciated Porsche, so the days of picking up a bargain are behind us. Early 'square dash' models are the entry point, but these pre-1986 944 Lux models have a retro (dated) feel. Values for a 1983 944 Lux start at £5,000 for a fair condition car, according to the Hagerty Price Guide, but can reach more than £20,000 if it's a concours-standard example. The later, post-86 oval-dash 2.5 Lux models hover around the same price range, but typically cost £10,000 when offered with a complete mechanical service history and presented with solid bodywork.
To afford a good early Turbo, you'll need to budget from £12,500, while the very best in the country can command £30,000. The later S2 model, which we feel is the sweet-spot in the range, starts at around £9500 for a fair condition example, which climbs to about £26,000 for a concours car.
Finally, a rare, 247bhp Turbo S or a concours, low-mileage 944 with perfect pedigree will cost you anywhere between £13,000 and £33,000. As ever, condition is all.
Cars that could be politely described as a 'project' are available for less, but as many classic car enthusiasts will attest, it's cheaper to buy a car that's had its bad points put right than it is to pay for all the work yourself – unless, of course, you're particularly handy with drills and angle grinders.
HOW MUCH DOES IT COST TO SERVICE?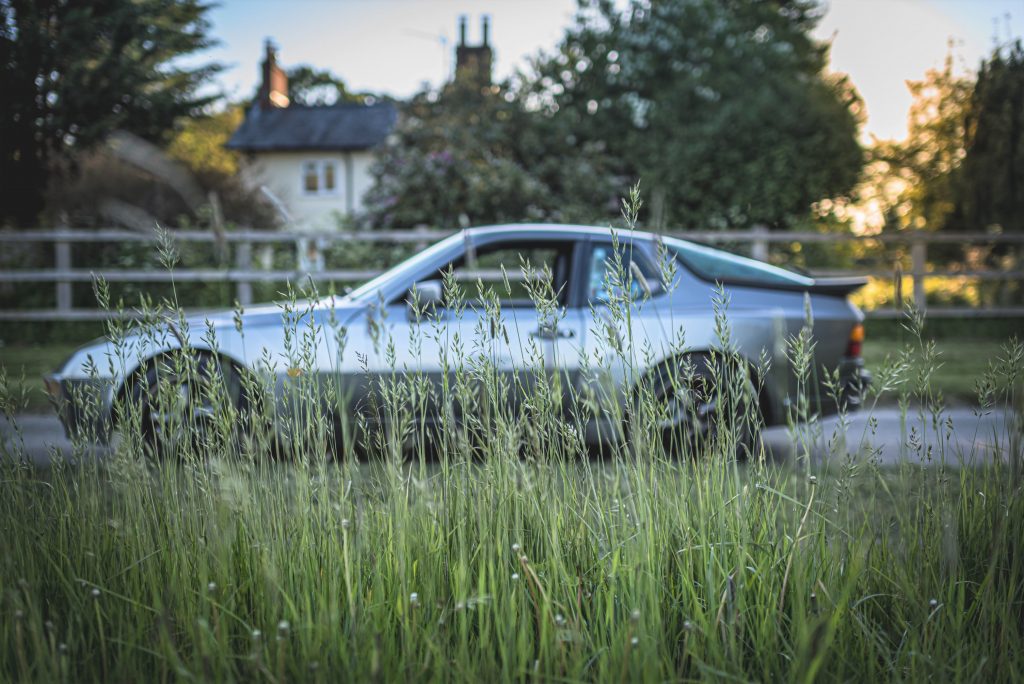 Servicing is paramount to maintaining both reliability and value, so keeping up with recommended manufacturer intervals and addressing issues as they arise will keep your Porsche 944 performing as it should and ensure your investment doesn't tank.
Spare parts are plentiful, via Porsche. But while there are a host of reputable Porsche independents across the country, personal experience has shown that speaking with a specialist who knows the 944 specifically will shortcut to issues particular to this Porsche – saving time and money.
A typical service for a 944 2.5 is in the order of £300, with an additional £50 for S2 and Turbo cars. Drive, cam and balance belt services (every 4 years maximum) should not be skipped under any circumstances. A failure will cost dearly. While you're in there, the water pump should be changed at the same time. If you find yourself in need of a new clutch (which will set you back around £500 in parts and the same again in labour), make sure you also have the rear main oil seal renewed – a weak point on these cars.
Those who like to perform their own servicing can buy a standard kit of filters and plugs for around £50 from parts specialists. Oil will add to this. Be sure to collect all service records and associated invoices for consumables.
What goes wrong and what should you look for?
The good thing about living with a 944 is that your local Porsche dealer should be able to source original Porsche parts for the car at reasonable prices. But you can try and negate the need for costly parts by forensically examining any car's history file and building a picture of what hasn't been done and will need to be budgeted for in the future. For example, ensure it confirms the all-important intervals for the engine's belt changes, chain, tensioner and water pump.
While Porsche saw fit to bless the 944 with a galvanised body, don't be fooled into thinking they won't rust. They nearly all do, but not terribly. Typical areas of corrosion include the wheel arches, wings and sills – in other words, all the common points – but thankfully even the worst of rotting sills can be addressed by a reputable specialist. So do your best to get under the car and use a torch and, if the owner allows, a wire brush to check the condition of the chassis and see what lies beneath several decades of accumulated dirt.
During a test drive the engine should feel smooth and pull enthusiastically. Listen to the transmission for any signs of whining and feel for poor gear selection. The gearbox can become quite vague with age. Tired original factory suspension is likely at the end of its life, if it hasn't already been refreshed, so consider the cost of a coilover kit when negotiating on the price.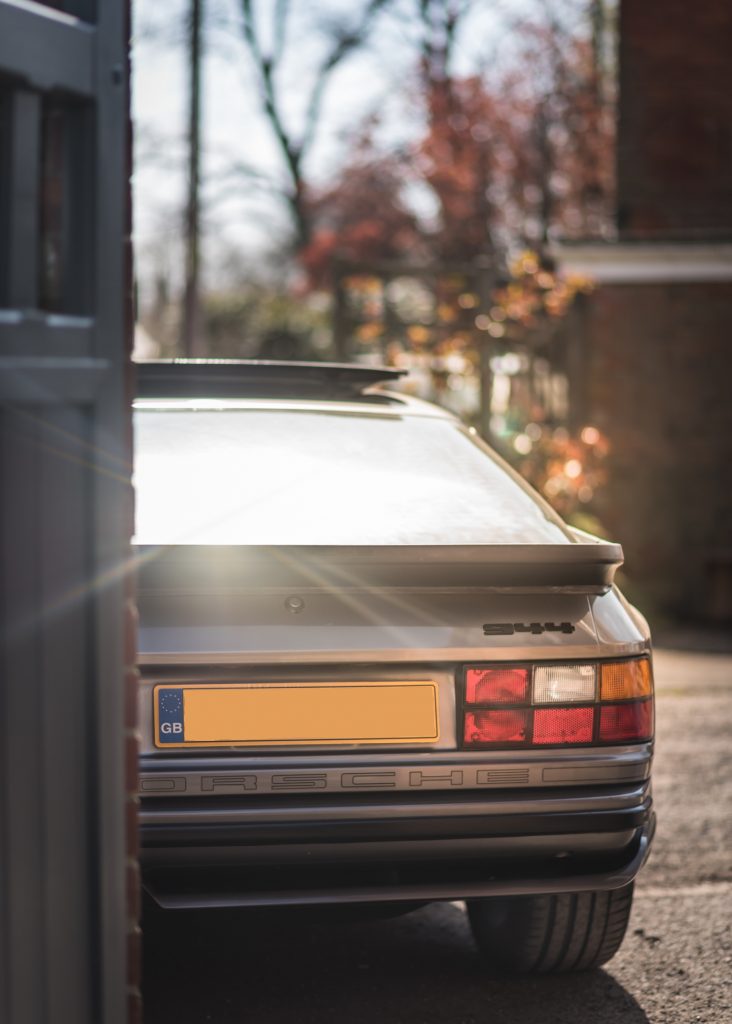 The interior, including those classic Porsche tombstone seats should still be presentable despite the car's age. However, rips are common on high mileage cars, particularly on the driver's bolster. So it's worth noting that from around 1987, the 944 gained interchangeable seat backs, so you can swap a passenger backrest for the driver's. The dashboards tend to crack along the top, due to sun exposure.
Check all interior electrics function correctly, as windows can slow over time and the temperature control for the heater is a common failure (but an easy fix). Another age related 'feature' is likely to be the dull and bleeding LCD screen of the digital dash clock. Replacements are a job for the kitchen table, with patience and time required (excuse the pun).
The great British weather will test the integrity of the rubber seals around the doors, windows, sunroof, rear lights and that vast expanse of glazed rear hatch. The upshot is that almost without exception, a 944 will at some point succumb to water ingress from one of its elderly seals. The lift-out targa sunroof is worth refreshing with both inner and outer seals, the lengthy hatch seal is an easy and advisable job, as are the rear hatch pin seals. Another tip is to check the condition of the rear right wheel arch, by lifting the boot carpet. A drain from the petrol filler neck area can perish, and when it does the arch cavity fills with water.
I'll spare you the frustrating saga of trying to achieve watertight rear lights and simply say that the appalling factory sealant around the lenses should be completely stripped, cleaned and upgraded.
My own Porsche 944 experience left me with a lasting admiration for the transaxle coupe. If you have a 944 on your list of potential classic cars, take the time to speak with owners past and present. You'll be hard pushed to find anyone with a bad word to say about their time with a 944. It is a usable, surprisingly practical and of-an-era sports car with sharp handling to match those sharp lines.
Read more
Rematch: Porsche 911 Carrera vs 944 Turbo
Buying Guide: Range Rover Classic (1970-1995)
Buying Guide: BMW M3 E30 (1986 – 1992)