A Ferrari racing driver, fire pump engine, and a factory built 300 miles from the company's headquarters was a strange start in life for any car. Then again, the Hillman Imp was not your average small car. Conceived to offer fuel-efficient driving and rival the Mini that had arrived in 1959, the design team for the Imp was led by Mike Parkes, who went on to race for Ferrari, and Tim Fry. They were given free rein to come up with a compact car that could carry a family of four plus luggage and still turn a profit for the company despite the notoriously tight margins in this part of the car game.
Hillman had already dabbled with a prototype aptly called the Slug, but this was ditched and Project Apex was launched to develop what would become the Imp. A rear-engined design was not uncommon at the time, especially when the Volkswagen Beetle was riding high in the sales charts, so this is what Fry and Parkes settled on. However, Hillman and its Rootes parent group had no suitable small engine, so they called on Coventry Climax, which made a lightweight aluminium four-cylinder engine that was being used to great effect in racing cars and had been developed from its own fire pump motor.
How much is your car to insure? Find out in four easy steps.
Get a quote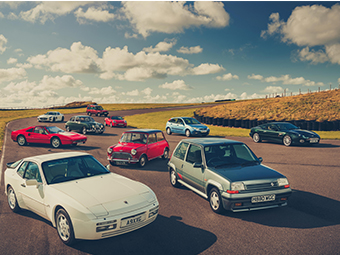 The resulting 875cc engine was brilliant and was mounted to a purpose-built transaxle. Another innovation was to cant the engine at 45-degrees to lower its centre of gravity and allow for a lower boot line. The engine and gearbox choice required a sophisticated rear suspension set-up for the Imp, but up front was a more rudimentary swing axle design.
Hillman introduced its new small car in May 1963 and it proved a hit with buyers. Even with the rear engine and boot, customers loved the rear glass hatch that opened on to a luggage tray, and there was more storage under the bonnet, and many found the Imp handled better with a bit of extra weight over the front wheels. The Singer Chamois joined the range in 1964 and a van version called the Commer Imp followed in 1965, with an estate based on this arriving in 1967. The same year, a coupé version of the Imp called the Californian was introduced to add a bit of sportiness to the mix, but buyers tended to prefer the slightly more upmarket appeal of the Singer Chamois coupé and Sunbeam Stiletto derivatives.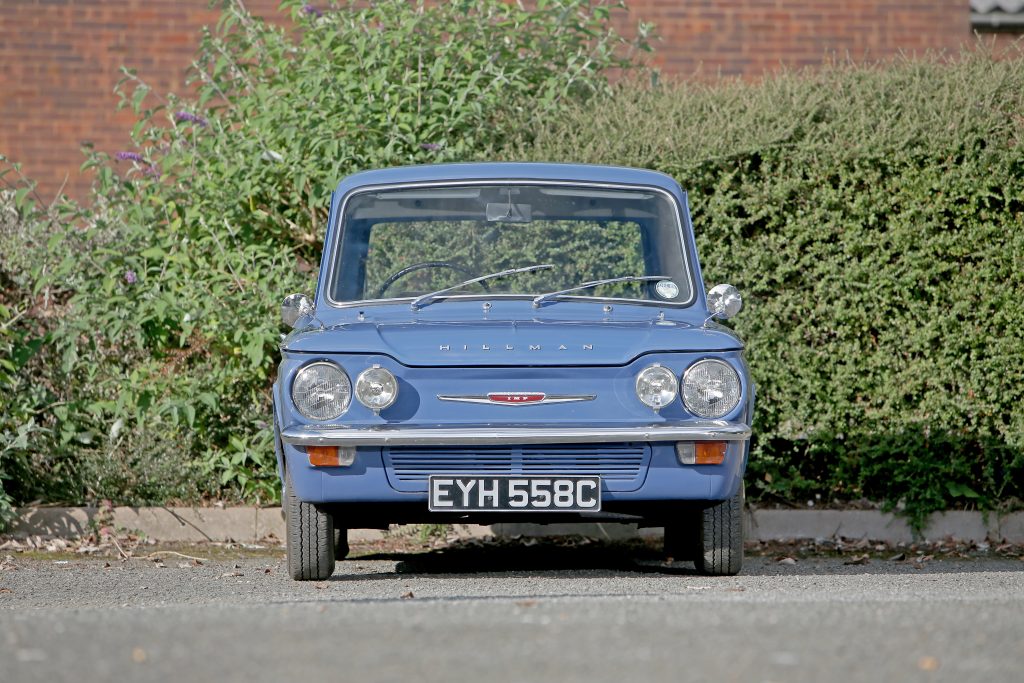 Despite improvements during its life, with a major upgrade in 1966 and another in 1968, the Imp's reputation had been damaged by poor reliability and build quality. This stemmed from the car being launched in a hurry and, more fundamentally, production at the Linwood factory outside of Glasgow. This facility came about through government incentives to create a plant near to the River Clyde to provide jobs for former shipyard workers. Rootes was also lured in with a stake in the Pressed Steel Company to make body panels. However, with no experience or tradition of car building in the area plus repeated industrial strife, the Imp suffered. It didn't help the engines were made in Scotland, then sent by train to Ryton near Coventry to be completed, and then returned by rail to Linwood to be fitted to the car.
Hillman overcame the early quality issues and the Imp developed into a great package, but the damage was done in buyers' minds. By the 1970s, the Imp was sold as a budget car, and was the cheapest new car in the UK at one point. The curtain came down in 1976 after 440,000 Imps of all varieties had been built, and with it went the Linwood plant.
It was an ignominious end for an underrated small car, but to this day the Imp enjoys an enthusiastic following, with many car enthusiasts raving about its engineering, roadholding and charm. If you'd like to join them, this Imp buying guide will steer you in the right direction.
What's an Imp like to drive?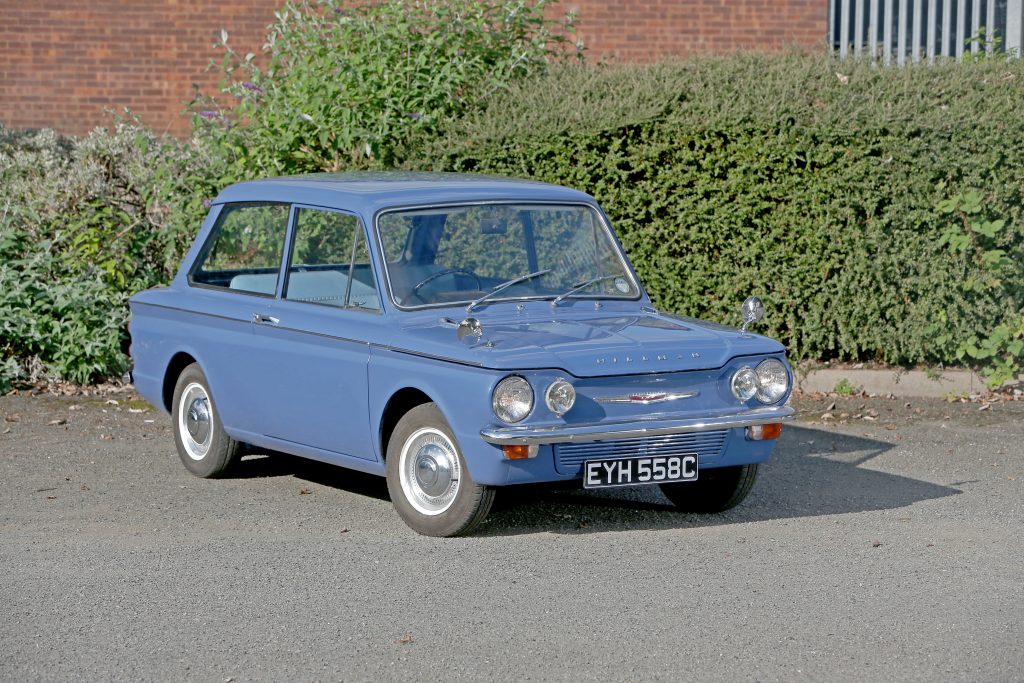 The Imp may not have the same clever packaging that lets the Mini squeeze a quart into a pint pot with its cabin space, but the three-box Hillman is still roomy inside. If anything, there's a bit more space to spread out in the Imp for the driver and the rear-engined layout means there's only a vestigial transmission tunnel. The simple dash, with strip speedo in early cars or round dials in later models, is easy to read and all-round vision is superb. This is matched by a good driving position and light controls, with a pleasingly short, accurate throw for the gear shift.
Fire up the Imp's all-aluminium engine and, in cars built up to 1966, there's the sophistication of an automatic choke to help warm the engine. These early examples also came with a pneumatic throttle linkage, though there's no real advantage to this on the driving front. The willing engine and snicky gearbox encourage you to whisk the Imp along with verve in town, where it feels agile and the compact size works to great effect.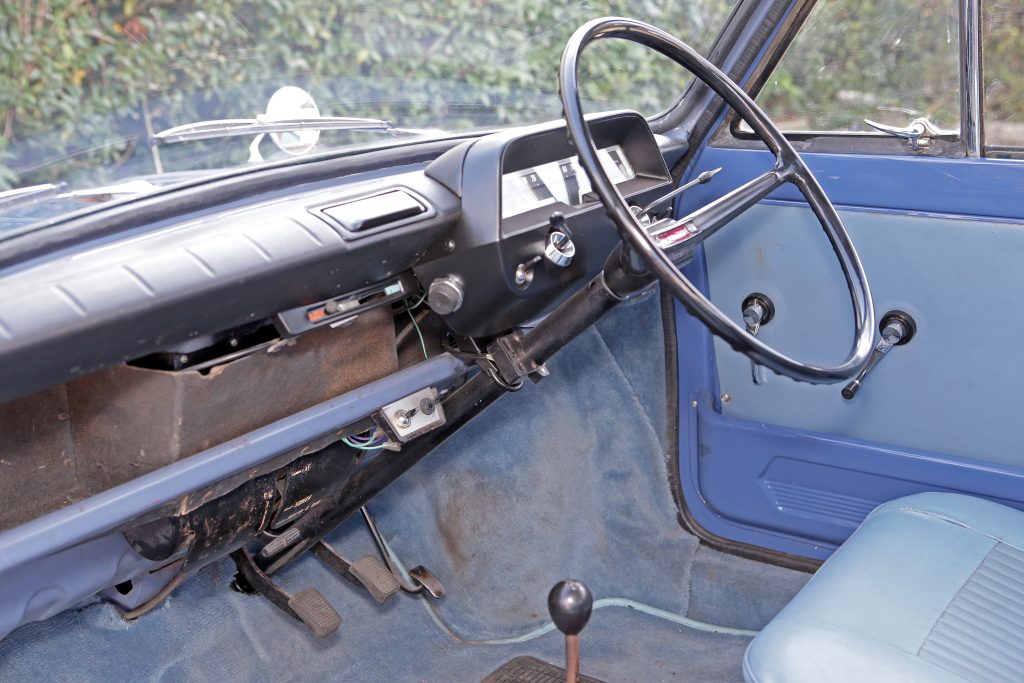 On faster roads, the Imp feels like a more grown-up car than a contemporary Mini as the Hillman offers a more absorbent ride. The steering isn't as direct as a Mini's, but there's still reasonable feel through the Imp's front wheels. However, you do need to adjust your driving style to allow for the rear-engined design. Turning into a tight corner and then coming off the throttle will see the front wheels run wide or, if you're carrying some speed, the rear end can pendulum round. However, modern tyres and the vast amount of knowledge out there about setting up Imps correctly means this should not be a worry.
Faster, more powerful Imp variants with the 51bhp version of the engine can be pushed to 90mph flat out, so they are more than happy to cruise on the motorway. The standard 39bhp versions are happier at 60mph, so they can still be used for daily driving duties. There's some wind noise from around the upright windscreen pillars, but it's no worse than in a Mini and the Imp's cabin is quieter due to less engine noise.
How much does a Hillman Imp cost?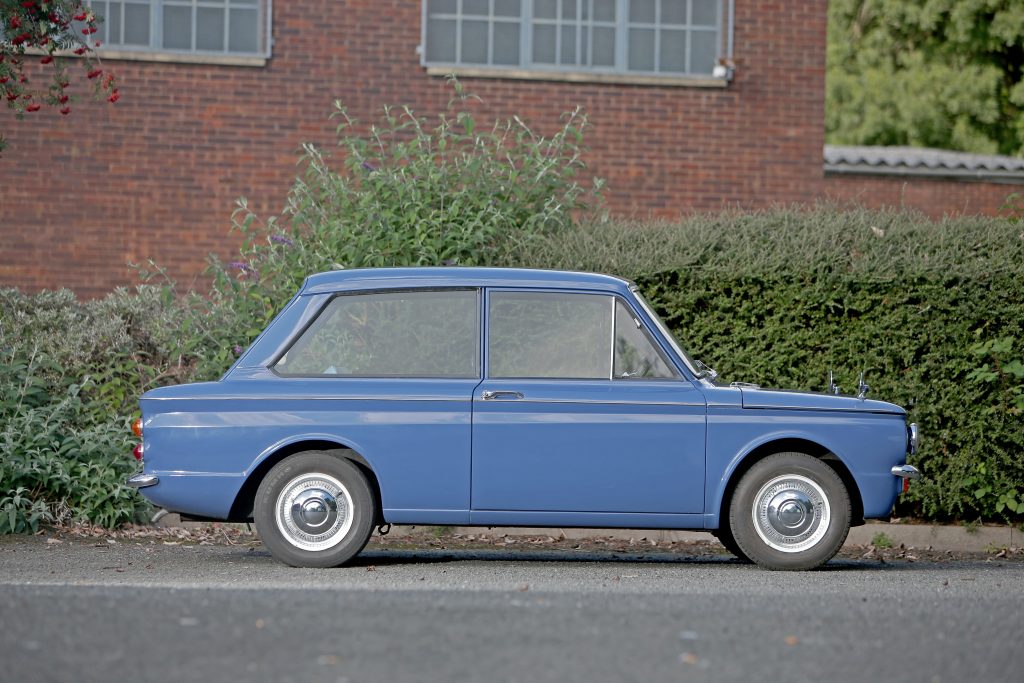 The Imp comes in a number of guises, which has a bearing on value – and don't forget you can use the Hagerty Price Guide to get a feel for what you'll need to budget. The standard saloon can be found in reasonable condition from £3000 if you don't mind a car that will need work to improve it as you use it. Double that budget will put you behind the wheel of a very smart Imp and the best tend to make around £7500. Only pay more for a perfectly preserved original or restored example. The Super Imp is worth much the same. For a Californian coupé, reckon on paying around £1500 more than an Imp saloon. Husky estates come up very rarely and prices tend to be on a par with the Californian.
A Singer Chamois offers a small slice of added glamour thanks to its walnut veneer dash, wider wheels and smattering of extra chrome. It also came with quad headlights from 1969 to further distinguish it from the standard Imp. Prices for the Chamois saloon run from £3500 for a runner to £8000 for very smartly presented cars. The coupé version is more desirable still and commands a £1500 premium over the saloon.
The third line of the Imp family are the Sunbeam versions. The Sport comes with the 51bhp engine as standard, along with quad headlights from 1969 and slightly improved handling over the standard Imp. Values for the Sport are similar to the Singer Chamois coupé, so reckon on paying £9000 for the best. Beyond this lies the Stiletto as the ultimate production Imp and you'll pay £5000 for a car that needs work or £10,000 for a fully sorted one.
What goes wrong and what should you look for?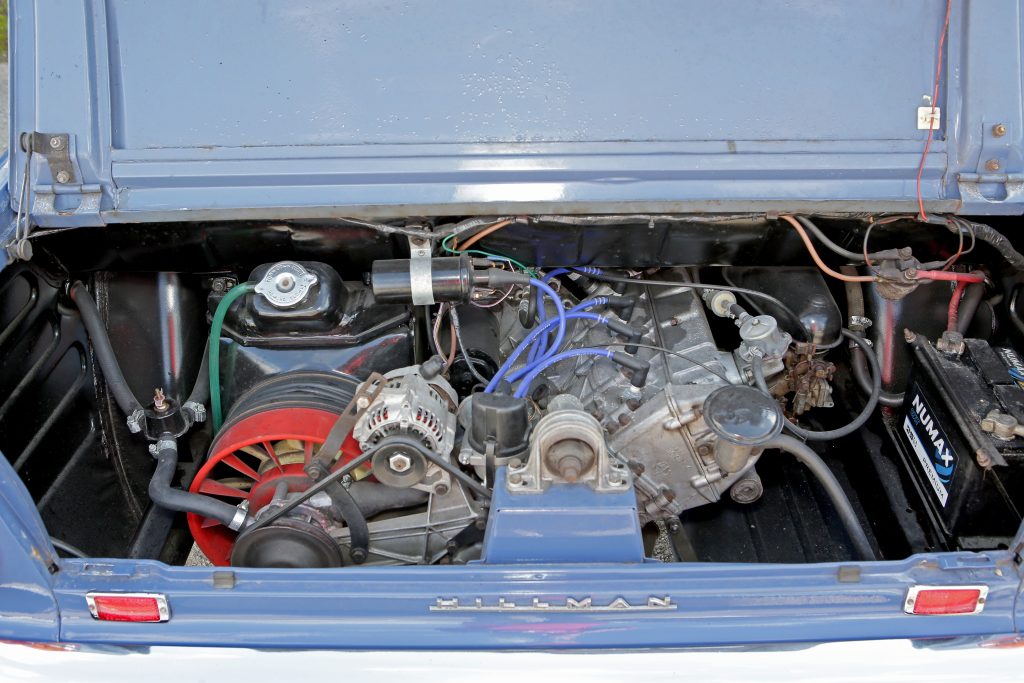 Rust has seen the vast majority of Imps head to the scrapyard many years ago, so those available now tend to be well looked after. However, it still pays dividends to have a good root around for corrosion. Check the wheelarches, sills, door bottoms, bonnet, and the bottom of the rear screen pillars. Underneath, have a good prod of the floorpans, spare wheel well, and all around the front and rear suspension mounts. In short, an Imp can and will rust almost everywhere.
The aluminium engine used in the Imp has been unfairly tarnished as unreliable. A lot of this stems from owners and mechanics simply not understanding about alloy engines in period. Today, you must check the motor has the correct anti-freeze in it to prevent damage in cold weather and overheating. If the engine does overheat, it can warp the cylinder and block, which is solved by skimming them. However, engines that have been skimmed more than once can cause their own troubles with pinking, which is often mistaken for poor ignition timing. If there's blue smoke on start-up, the chances are the engine needs new inlet valve seals, but it could also point to more grave wear and an expensive engine rebuild.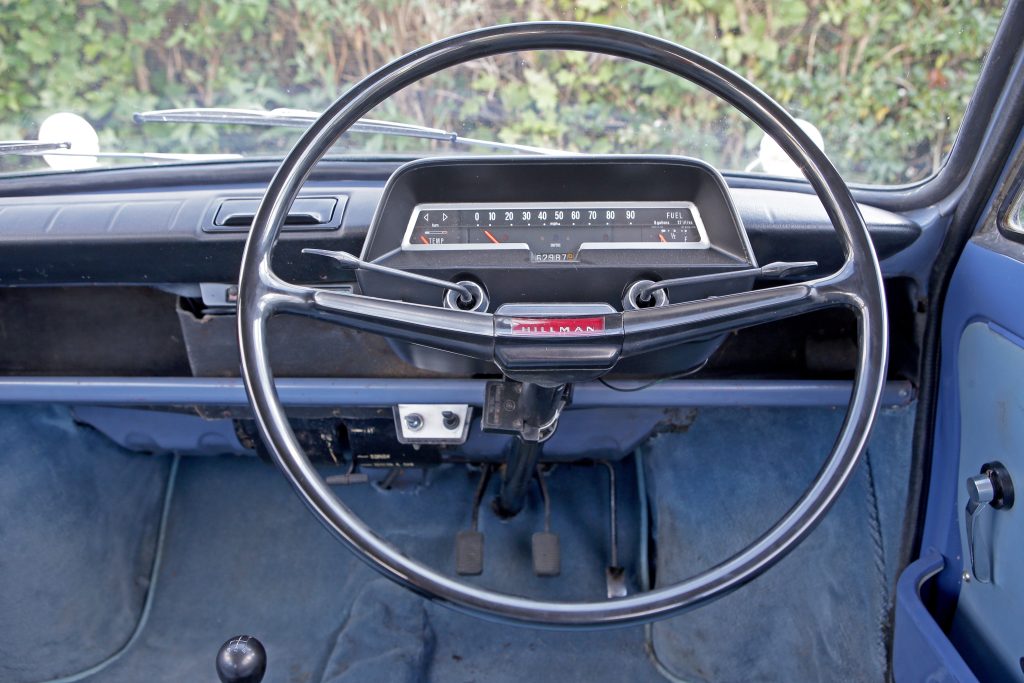 On a test drive, make sure the gears select smoothly and easily. A crunch between first and second points to worn synchromesh. The steering should be light and have no play, while any knocks or rattles are most likely due to worn king pins and bushes. Drum brakes work well in the lightweight Imp so they should stop the car briskly. Upgrading to a disc brake conversion is common among Imp owners and worth having.
There's not a lot to the interior of an Imp, but make sure it's all present and correct as replacement trim and fabric is very difficult to find. Similarly, the electrics are simple but may have been bodged over the years, so try every switch and button to be certain they work properly.
Which is the right Imp for you?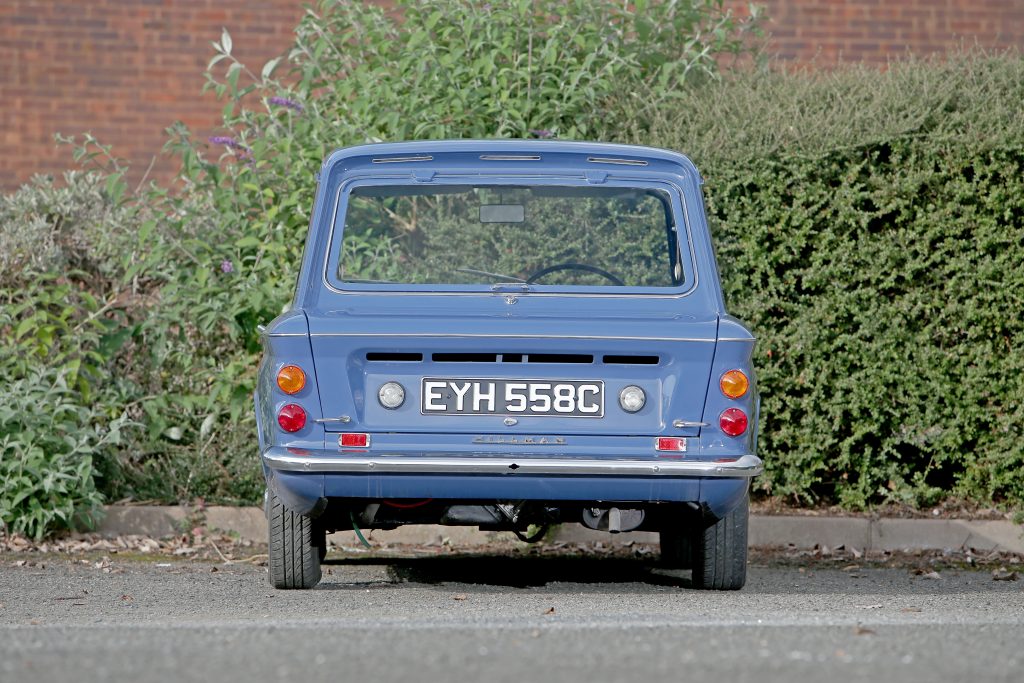 The good news for anyone considering a Hillman Imp or one of its derivatives is they have not hit the price highs of the Mini. Even the most desirable Sunbeam Stiletto is still within the budget of most enthusiasts, and the Imp offers more room for the family along with a comparably enjoyable drive to its key rival.
There is an undeniable appeal in the most basic Imp with its 39bhp engine and interior shorn of almost any fripperies. It's motoring pared back to the essentials while still being capable of everyday use. There's a huge range of tuning options for the Imp engine, so you can improve it to suit your needs whether it's for added performance or just a bit more pep for longer drives.
The Singer Chamois and Sunbeam Stiletto come with an extra dash of style and this is hard to resist, especially with the fastback coupé body. The Chamois Sport and Stiletto also have the uprated 51bhp engine as standard, which makes them more fun and easier to live with in modern traffic. If you're not set on the simplicity of a standard Imp, these are the ones to have.
Read more
Radio 2's 'Sally Traffic' on her love affair with Doris, the Hillman Imp
Buying Guide: Mini Cooper (1961-1971)
This little Imp helped kill off the big Rootes Group