The Ford Model T did more to popularise the car as a means of affordable transport than any other. Its production spanned the pioneering early years of the automobile all the way through to the late 1920s when cars as we recognise them today were emerging. Buying a Model T is more than owning a car, it's taking on custodianship of a piece of history, yet it's surprisingly affordable for a car that could be more than 100 years old.
Ford produced around 15.9 million Model Ts between October 1908 and May 1927, with 300,000 assembled in Manchester in the UK. The Model T was so popular Henry Ford once said: "There's no use trying to pass a Ford, because there's always another one just ahead." By the early 1920s more than half of the registered automobiles in the world were Fords.
How much is your car to insure? Find out in four easy steps.
Get a quote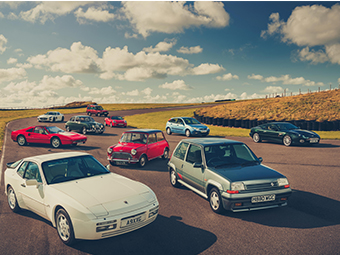 Henry Ford built his first car in 1896, which was a basic quadricycle, but he was quick to realise the US needed a car suited to the rough roads in most places. It also had to be simple to build and maintain, though this didn't stop him from using advanced materials such as vanadium alloy steel to keep the weight of his Model T to just 544kg as a four-seater when it was launched.
A simple suspension set-up with a single leaf spring each for the front and rear suspension offered good ground clearance, wheel articulation, and a supple ride. It was also easy to look after, while the chassis itself was also designed to flex and help soak up the poorly surfaced tracks the Model T would have to cope with.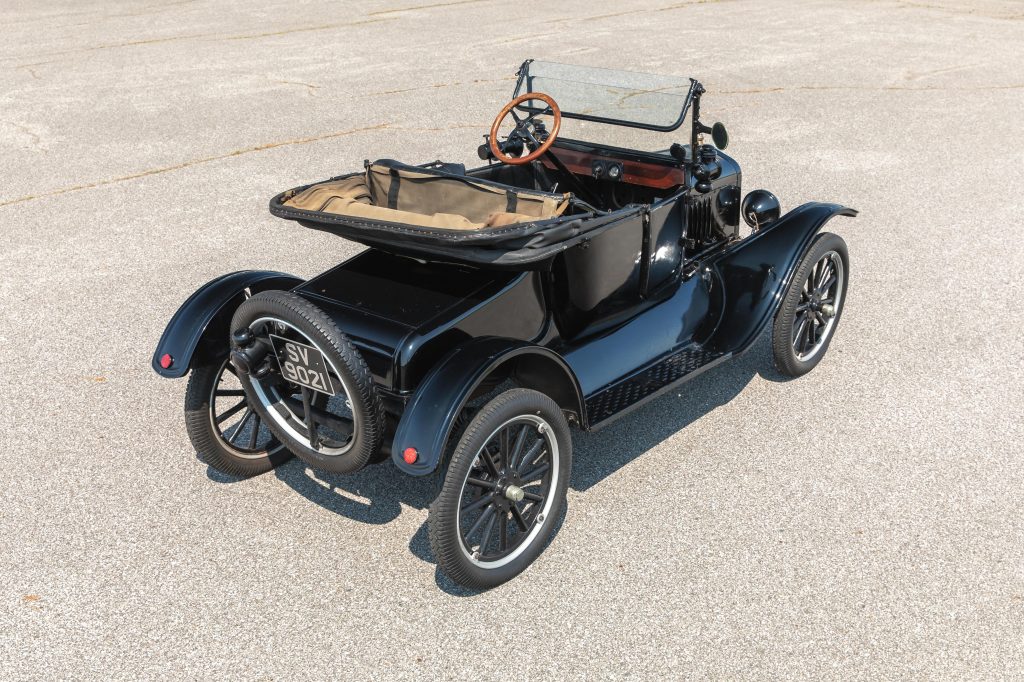 Ford understood most people buying a Model T would not have driven a car before. While the controls can be confusing for a modern driver coming to the car now, the Model T made life easier for early motorists by using a planetary transmission system. This helped with smooth, easy shifts and there were only two forward gears to worry about. Other simplification was adopted for the electrical system that used 16 magnets on the flywheel to form a magneto to produce power to spark the engine via individual coils for each of the four cylinders.
The engine itself is a simple 2896cc motor. It could take the Model T to a 35mph cruise, or 40mph if really pushed, and that was more than enough for most drivers. The same engine was used when Ford opened its UK factory in 1911, plus others in Argentina, Canada, France, Germany, Japan, Mexico, and even Australia to name a few.
Much of the Model T's success came from its simplicity, making it easy to build. As sales grew, Ford invested in streamlining production further and passing on the saving to consumers. As a result, Ford had a 60% market share in the US and Model T sales peaked at 1.8 million in 1923.
However, even Ford's gentle evolution of the Model T was not enough to keep pace with changing customer demands. The last and 15 millionth Model T rolled off the Highland Park, Detroit line on 25 May, 1927. More than half a million Model Ts had been built elsewhere, but this was the end of the line.
What's a Model T like to drive?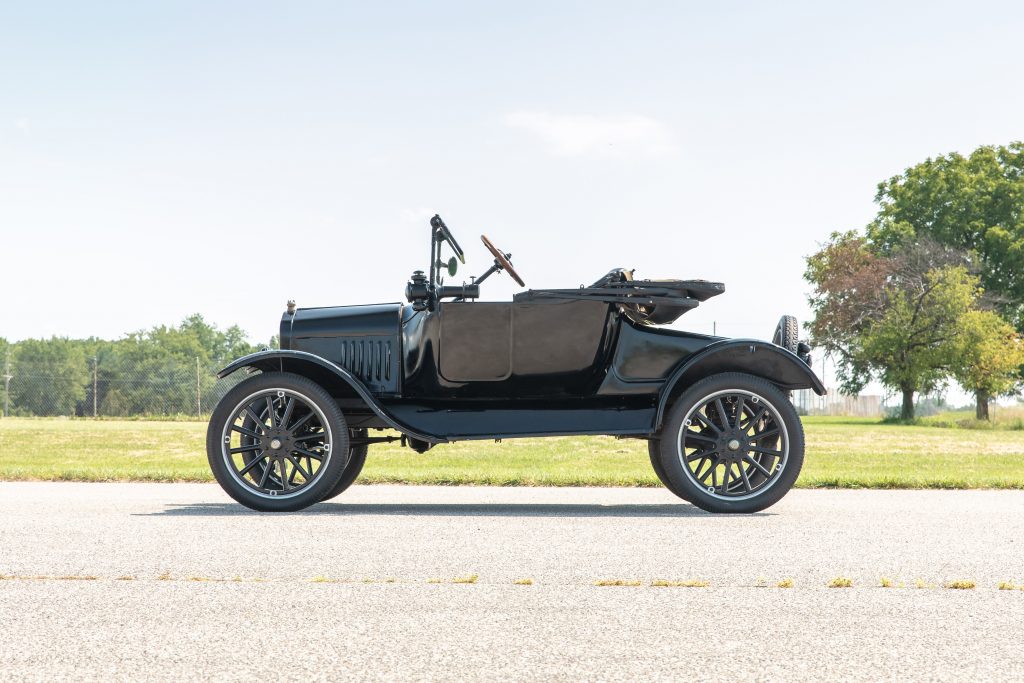 Richard Rimmer, who runs Model T specialist The T Service, says: "A T should be easy to drive when it's set up properly. You should be able to drive it one-handed and about half an hour of driving tuition will be enough to see most modern drivers get the hang of it."
Another specialist, Neil Tuckett of Tuckett Brothers feels that once a driver has mastered the braking, the rest is simple. "When you can stop a Model T, you can drive it because the brakes are not as strong as a modern car's. You have to look ahead and allow for this.' If that sounds daunting, it's not, as both experts believe the Model T is one of the best introductions to this era of car you could hope for," said Tuckett.
There are three pedals, but they are not laid out in the same way as a modern machine and two don't even work familiar foot controls. On the left is the high/low speed clutch to change between the transmission's two gears. In the centre is the pedal to engage reverse gear, while on the right is the foot brake. A separate hand lever operates the emergency brake and clutch release, and another acts as a hand throttle. On the steering column are levers for the spark and fuel. Later cars came with an electric start, but most are started by handle.
Once you're familiar with the Model T's controls, you'll find the low-revving 2.9-litre, four-cylinder engine has lots of torque, so you don't need to change gear very often when on the move. Coming down steep hills is best done in the low gear to make use of engine braking, while climbing hilly routes is made easier if your car has the optional Ruckstell rear axle that provides an extra gear in between the usual ratios. This can be added to a Model T for around £3000. Another useful extra to have are Rocky Mountain brakes, which gives control of braking on all four wheels via the foot pedal. As the transmission works like an automatic, stop-start traffic is not as much work as it can be in other cars of this period
As you cruise along, the Model T's soft-set suspension and flexible chassis mean the car has no trouble with potholes. It does need your full attention to plot a straight course, but a well-maintained T will have accurate steering. The engine is quite noisy at lower speeds, but it will quieten down in the direct drive top gear. Richard Rimmer and Neil Tuckett both agree that a Model T is very usable with the caveat that a top speed of around 35mph means you have to choose roads to suit the car and plan your braking in advance. They also say the best way to keep a Model T in good shape is to use it as often as possible and to stay on top of maintenance.
How much does a Model T cost?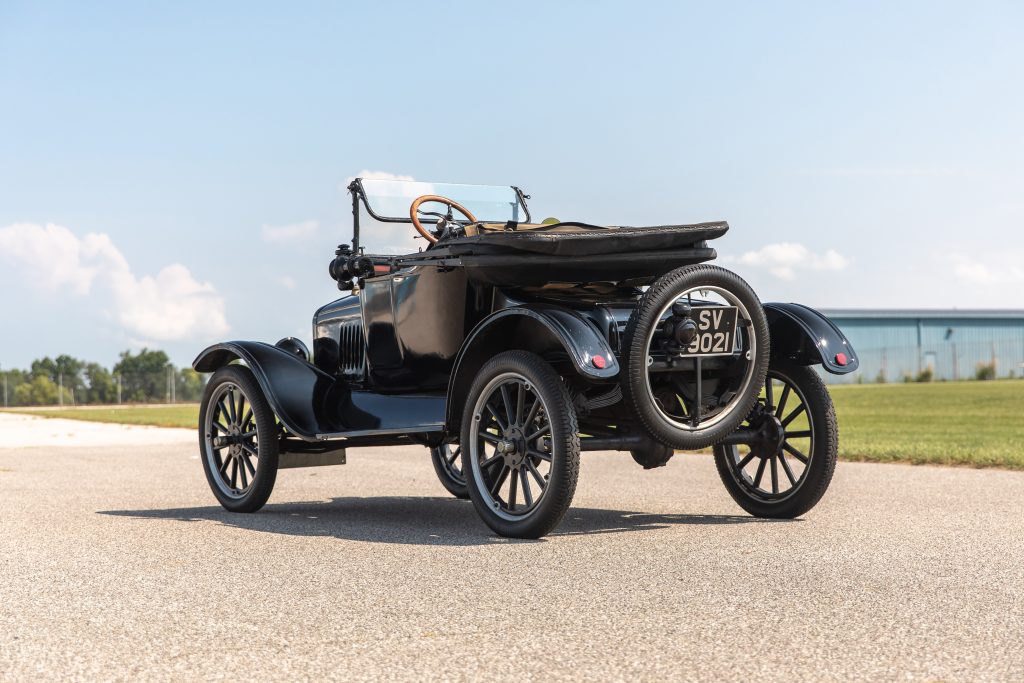 Most Model Ts in the UK are left-hand drive imports from the US. This has little or no bearing on values reckons Richard Rimmer, who adds: "You can buy a decent running and driving T from £10,000 that you can use and enjoy without major expense. Around £15,000 will get you a very solid car, while higher prices are for cars with the more desirable speedster bodies or a coachbuilt saloon. Don't get too hung up on bodywork is my advice and instead choose a car based on its running and driving condition. There are shiny cars that are terrible to drive because they are either from collections where they have been sat or are show cars that only ever drive off and on a trailer. Better a scruffy car that drives well."
Although the Hagerty Price Guide doesn't track values of the Model T in the UK, it does in the US, which can be a useful indication of values.
Neil Tuckett explains that earlier cars featuring a brass radiator are more sought after, while the black steel radiator cars are the most numerous and best starting point. Later nickel radiator cars are a little more refined, but the most important point is to know what you are buying. Parts interchangeability with Ts of all ages is very good, so if you are concerned about this check the engine, chassis and body numbers carefully. This ability to swap parts is also why so many Ts survive as older cars could be kept running, but it's also why many US imports can be in a poor state.
Cars with the Ruckstell axle and Rocky Mountain brakes are worth finding rather than having the additional expense of adding these extras. Cars from 1919-on had an electric start that also makes the Model T easier to live with for those not keen on using a starting handle to fire up the engine.
Coupés and coachbuilt Model Ts often command a price premium, while vans tend to be cheaper but come with their own charms and practicality. Speedster cars can be worth spending more on if you want to compete and the car comes with period tuning accessories or an overhead valve engine conversion.
What goes wrong and what should you look for when buying a Model T?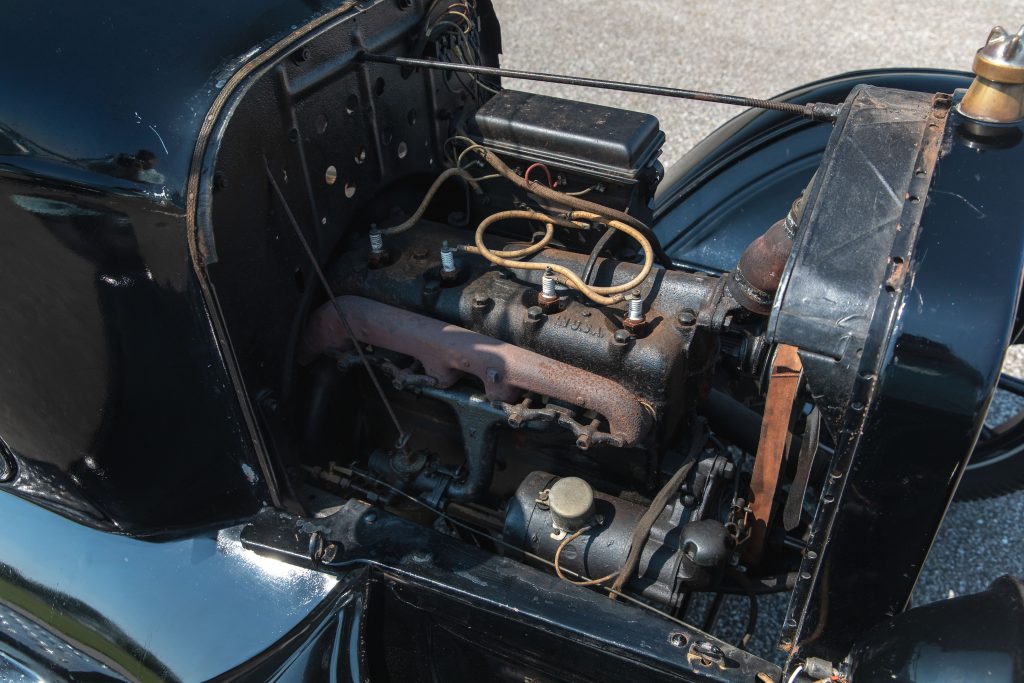 For a simple car, there is a lot to check on a Ford Model T. Unless you are very confident of your knowledge of these cars, it's wise to have an expert inspect any T you are thinking of buying.
Most Model Ts came with wooden-spoked wheels. Given many will now be garaged and kept dry, this can can cause the wood to dry and shrink and that leads to loose spokes. Tapping the spokes should create a sharp sound, but if there's a dull thud it points to a wheel that needs a rebuild. From 1919, Ford fitted detachable wheels rather than detachable rims, which makes changing a wheel at the roadside a lot simpler. Also be certain the tyres are in good shape as a set of new ones will be £600.
Next is the suspension. The shackles on either side of the leaf spring at both the front and rear should be in good condition and with no play in the bushes. These bushes need to be regularly lubricated, and the leaf springs should also be oiled rather than dry to prevent wear. Also make sure the front leaf is angled backwards as it can be wrongly assembled and cause the steering to snap to full lock when a wheel hits a bump or pothole. If you can jack up the car, look for any play in the king pins and track rods.
Expect to see some oil leaks from the engine, but nothing excessive. Checking the oil is an acquired skill using two taps, but many Ts have been converted to use a dipstick. Water leaks are more of a worry from the thermosyphon system. Look along the left-hand side of the engine for signs of this. Cars from 1916-on had a cylinder head with better cooling.
Exhausts are easy and cheap to replace, but check to see if the manifold has drooped. The transmission is robust and you just need to make sure the friction bands have been changed recently. More critical is the charging system. Early cars did not have a dynamo and will happily run for a couple of days just on a battery. Later cars have a magneto that means you can run without a battery, or just use the battery for starting before switching to the magneto. All of this needs to be carefully set up and a failed magneto means removing the engine, so it's a pricey fix if you don't want to rely solely on a battery for the electrics. Ignition is by four trembler coils that are reliable when rebuilt and looked after. Swapping to a 12-volt electrical system is a common Model T upgrade and pre-1919 cars are often retro-fitted with a starter motor.
The Model T's bodywork uses good quality steel, so rust is less of a concern than you might think. However, look out for doors that have dropped or don't close easily as a sign the wooden framework underneath the metal has started to rot. Replacing a wooden body frame is expensive but replacements are available along with body panels. Bear in mind saloons tend to be taller than open tourers, so make sure the car will fit in your garage.
Interiors can be restored with off-the-shelf kits that cost from around £800 for a tourer's vinyl and leather set. A saloon's wool cloth interior kit will be about double that plus fitting. With a soft-top car, check the hood works and fits, and the material has no holes in it. Again, replacements are easy to find.
Which is the right Model T for you?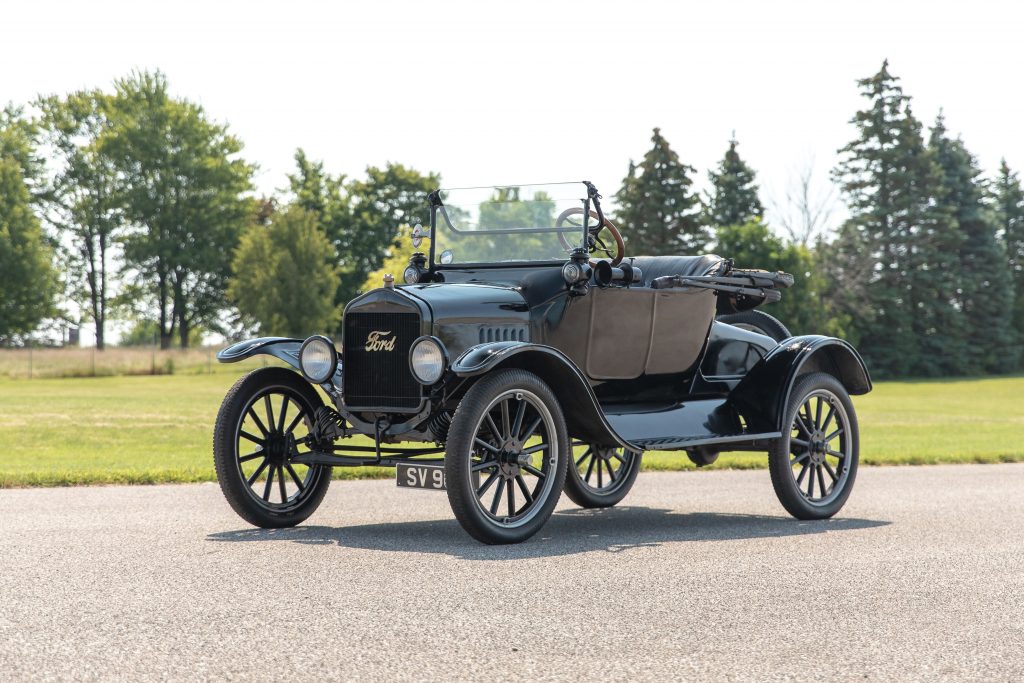 With more than 15 million Model Ts made, and every style of body fitted from stripped-down racers to vans, there's a Ford to suit you to a tee. There are also plenty of cars still waiting to be restored if you want to build one to suit your needs. However, the most common versions are the open Roadster and Tourer cars. Roadsters have two seats, while Tourers can carry five adults. From 1926, the 'Improved' Model T had lower-slung bodywork
Saloons come in a variety of shapes and have the added benefit of a driver's door, which most open cars don't as the hand brake lever gets in the way. The Tudor two-door and Fordor four-door cars appeared in 1925, while the Centerdoor saloon was built between 1916 and 1925 to offer more room for the family. The Centerdoor is a better bet for taller drivers thanks to a little more space for long legs.
The appeal of Coupé and coachbuilt Model Ts comes down to an individual car's looks, which is a subjective choice for the buyer. As for colour, Model Ts were made in a much broader palette than just black, so don't be concerned by cars finished in other hues.
Read more
Buying guide: Ford Escort Mk1 and Mk2
Buying Guide: Triumph TR4, TR5 and TR6
These 10 affordable Fords will be fun to drive while you wait for them to attain classic status