The race to create the world's ultimate hypercar continues to accelerate, after Bugatti launched its fastest, lightest car, causing its website to crash as enthusiasts thronged to watch the unveiling.
Those who tuned into the live launch stream on bugatti.com were only able to see a screen full of code, but YouTube viewers were able to catch the reveal of Bugatti's most extreme machine in the video, below.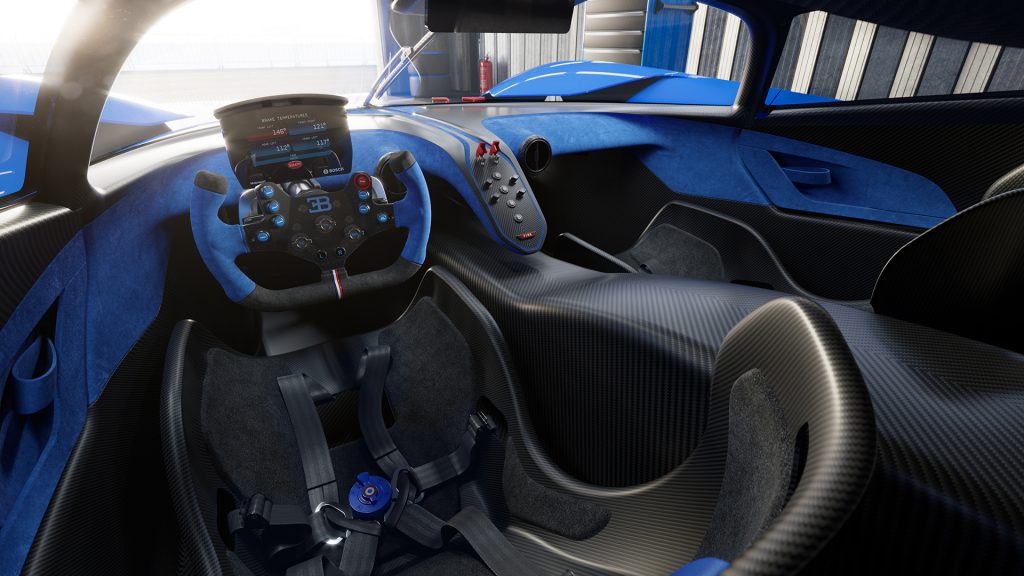 The Bolide is a one-off track car, designed and built for one very special, very wealthy, unnamed customer. Unlike Bugatti's road cars, the Bolide is stripped back to basics to give it the best power-to-weight ratio, at 0.67 kg per horsepower. That means the Bolide weighs 1240kg (about the same as a Ford Fiesta ST) and its 8-litre, quad-turbo W16 engine produces 1825bhp when running on 110 octane fuel. To put that into context the Chiron Super Sport 300+ kicks out 1600 horsepower.
The extra power comes courtesy of new turbos, a dry-sump lubrication system and a new intake and exhaust. There are air-to-air intercoolers with water pre-cooling for the turbos and oil coolers, and water pre-cooling is also used for the engine, transmission, and differential. In other words, it's a far cry from Bugatti's legendary cars such as the Type 35.
The Bolide is built around an ultralight carbon-fibre monocoque that's claimed to be as strong as materials used in aerospace. The minimal bodywork is also carbon, while all screws and fastenings are titanium for weight-saving and strength. The Bolide uses carbon-ceramic disc brakes behind centre-lock forged aluminium wheels shod with massive 340mm front and 400mm rear tyres. An air jack system speeds up pit stops to change the rubber.
Suspension is handled by titanium pushrods with horizontal dampers and aerodynamic stainless-steel control arms. On the subject of aero, the Bolide makes almost 1800kg of downforce at the rear thanks to its massive rear wing; the front splitter adds a further 800kg at 200 mph. An innovative roof scoop provides active aero by changing its surface texture. At low speeds it is smooth, but at race pace, bubbles bulge out to reduce drag.
The car's form is really a factor of its function. Designer Achim Anscheidt says it was "more technically driven than shaped by style." Hence the car has LMP1-style doors, Formula 1-esque air ducts, and a crazy X-theme that is purported to be a tribute to Chuck Yeager's sound-barrier-busting Bell X1 rocket plane. Bugatti boss Stefan Winkelmann describes driving the Bolide as "like riding on a cannonball."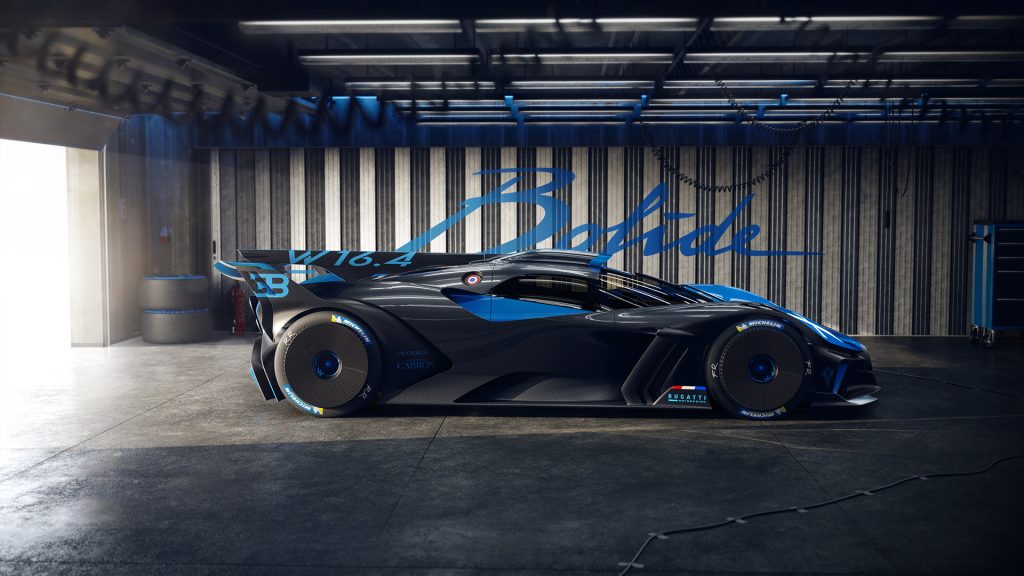 With cars like the Aston Martin Valkyrie, Gordon Murray Automotive T.50 and Mercedes-AMG Project One also in the wings, the hypercar segment is approaching warp speed.
Bugatti claims the Bolide can exceed 311 mph and has simulated a lap of the Nürburgring at 5:23.1 minutes which is only just shy of the all-out record held by a Porsche 919 Evo LMP1 race car. The Bolide meets FIA racing regulations, and rumours abound that the company may enter the Le Mans 24 hour race.
That's something we'd all like to see happen, right?
The Bugatti Divo and Type 35 hit the historic Targa Florio route together
Via Hagerty US