Aston Martin and Ford Motor Company might operate in vastly different ends of the market, but the two have been entwined many times in many ways. The most obvious is Ford's 20-year ownership of the sports car company – during which a well-known secret agent drove anything from a Mondeo to a DB9. But the bond between them extended to another franchise, one far more famous than 007, that also patronised the two automotive brands: the House of Windsor.
Each steered along their respective blue blood and blue-collar paths until John Miles, a former Formula 1 driver who raced for Lotus in 1969 and 1970, realised he had a problem. After failing to achieve great success racing for Colin Chapman he needed an income. Unlike today's more fortunate ex-F1 drivers, there were no highly paid TV punditry gigs, but one could get paid for writing. So Miles began working for Autocar magazine, acquiring a pre-production Ford Capri 3.0S as his long-term test car in 1978. He figured that there might be a market for modifying the V6 Capri; he helped develop a larger 3.2 litre engine, along with a host of suspension mods and an aero kit designed with Peter Stevens, the designer of Lotus and McLaren fame.
How much is your car to insure? Find out in four easy steps.
Get a quote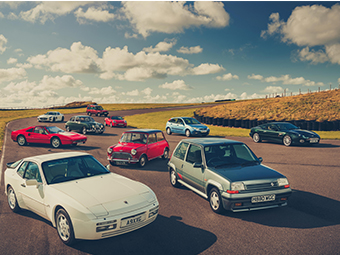 So far so good, until Rod Mansfield, the leader of Ford Special Vehicle Engineering, and later Aston Martin Engineering Director, offered Miles the chance to drive a prototype Capri 2.8 Injection in early 1981.
Mansfield recalls that it was a blow for Miles: "I followed John in his own car [Mansfield was driving the modified Capri 3.0S, Miles the 2.8i] and suddenly he pulled over. I thought something was wrong and so I got out and walked up to him. He said, 'You bastard, your car is better than mine!'"
So it was back to the drawing board for Miles who had to rethink his idea for the ultimate Capri. He shot for the moon, and, against all odds, he got there. It changed the course of Aston Martin history.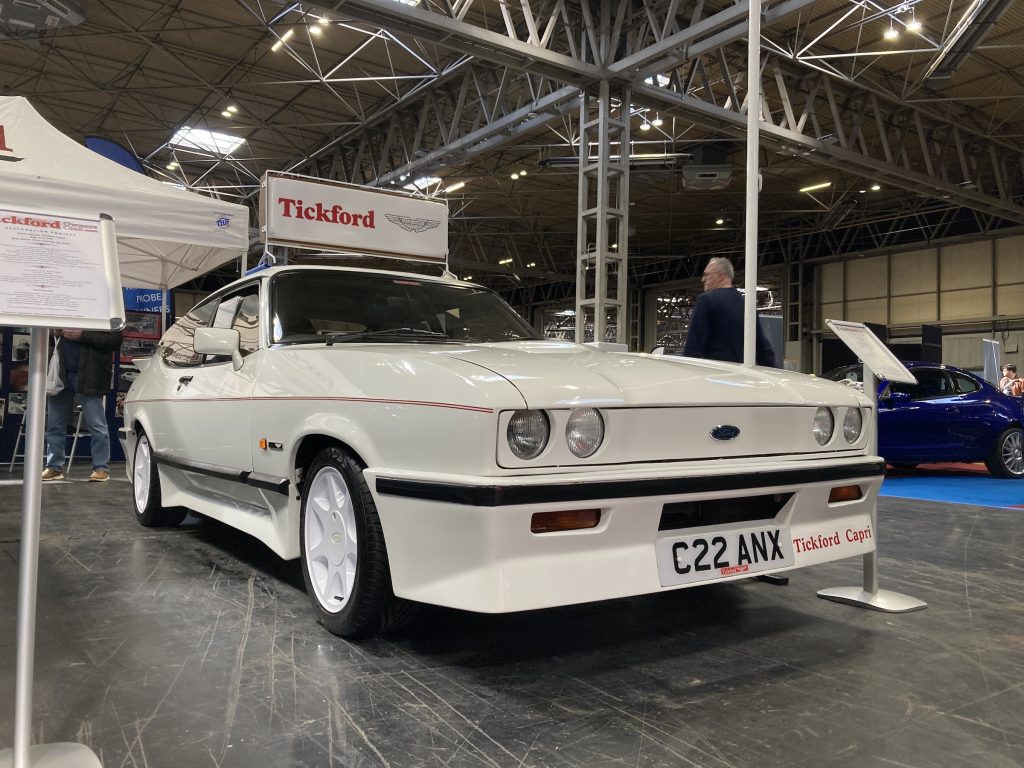 Aston Martin had limited engineering resources in the early 80s, creating cars on miniscule budgets. It led part-owner and full-time managing director, Victor Gauntlett, to an idea – bring in extra revenue by selling his company's engineering skills. All it needed to attract customers was a brand name and a vehicle to showcase its work. Enter John Miles who – thanks to Tom Northey, Pirelli's PR chief – arranged a lunch with Victor Gauntlett and Bob Lutz, Ford of Europe's Chairman. Miles's plan was simple; Aston Martin would turbocharge and reengineer the Capri Injection as a budget Aston. It even had a name, Tickford – a long-dormant coachbuilder that Aston Martin had absorbed many years before.
The idea appealed to all sides. Ford would garner some prestige by associating with Aston Martin… well, Aston Martin Tickford, while Aston developed its new engineering offer. Miles would benefit from a contract to help develop the Aston Martin Tickford Capri and even Pirelli would do okay; its P7 tyre was intended to be fitted to it as standard.
Aston Tickford set itself up as an engineering consultancy in Milton Keynes, a few miles away from Aston Martin Lagonda's traditional Newport Pagnell home in Tickford Street. It's the same road that gave its name to the coachbuilder. It's where the company used to custom-build new cars, and today, it's the location of Aston Martin Works, the division that fettles the company's heritage models.
When the new venture got going as 1981 rolled into '82, the designers and engineering teams of Tickford and Aston Martin were one and the same. Although the Tickford Capri didn't sell well, it served as an impressive calling card. Tickford went on to win contracts to engineer the production versions of several Ford RS models like the RS200, RS500 and Focus RS, established operations in Australia and took on projects with Rover, such as development on the turbocharged K-series four-cylinder engine that would find its way into the 220 Turbo coupé.
By the time Tickford was bought by Prodrive, in 2001, the company had become a significant engineering business independent of Aston Martin Lagonda. At one point it even had a small manufacturing site near Coventry with an impressive paint shop and the ability to take on bespoke work. And this is where the story gets a little murky…
Google the words Charles, Diana and Granada and you'll see an array of images showing members of the Royal Family and the unhappy-couple-to-be riding in various metallic grey and blue Ford Granada estates during the early '80s. The Royal House of Windsor was evidently quite taken with the commodious Fords. But it would seem they went one step further and had a bespoke Granda estate made to their liking.
Known by the Granada geeks as the 'Tickford Granada', it has been reported that the lavishly appointed estate car was commissioned by King Charles III's mother, the late Queen Elizabeth II. But since the internet can be a treacherous place for unsubstantiated stories, I decided to dig a little deeper.
Around five normal Granadas served duty with the royal family. Look closely and each of them wore a Ford Motor Company registration. Like Diana's red Escort Cabriolet and the black Escort RS Turbo that replaced it, they were loaned by Ford – for there's nothing like free publicity – and even ferried Charles and Diana to their wedding rehearsals at St Paul's Cathedral, in London, in 1981.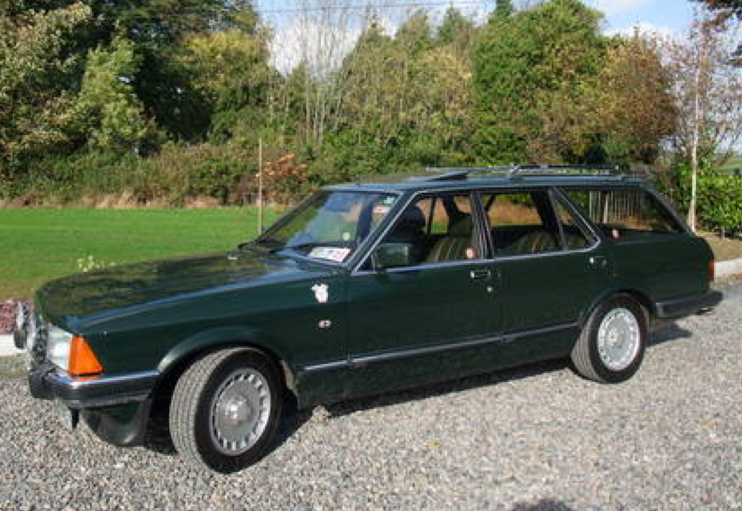 But this one-off green 2.8i Ghia X estate – painted in Balmoral Green – was never photographed with a royal occupant. Indeed, any pictures at all of the car are hard to come by. On the various occasions that it has been offered for sale it has been claimed to have been commissioned by Queen Elizabeth II and used exclusively on the Sandringham Estate. Although it's possible, the Queen's automotive tastes tended towards manual transmission Land Rovers 4x4s in Balmoral in Scotland rather than automatic estate cars in Norfolk. What's evident is that this car certainly received the ministrations of one part of Aston Martin, But which part, when was it done and for whom?
It's evident it's trimmed in just the same way that Tickford rebuilt their turbo Capri to Aston-like levels of luxury. There's the same attention to detail in the way the green Connolly leather has been applied over Ford plastic, the same style of piping, the same swapping of stereos and steering wheels that Tickford would do. But before jumping to conclusions, I'd like to throw a spanner in the works: not one of the eight former Tickford employees that I contacted can remember this car, so who could have done it?
One of the ex-Tickford team pointed out the obvious: "This looks like it was done by Aston Martin Works, there's no way we would have put Aston Martin rather than Tickford badges on it. And the way it's trimmed is the same simply because most of the Tickford trimmers started out at Aston Martin – it would be tough to tell their work apart!"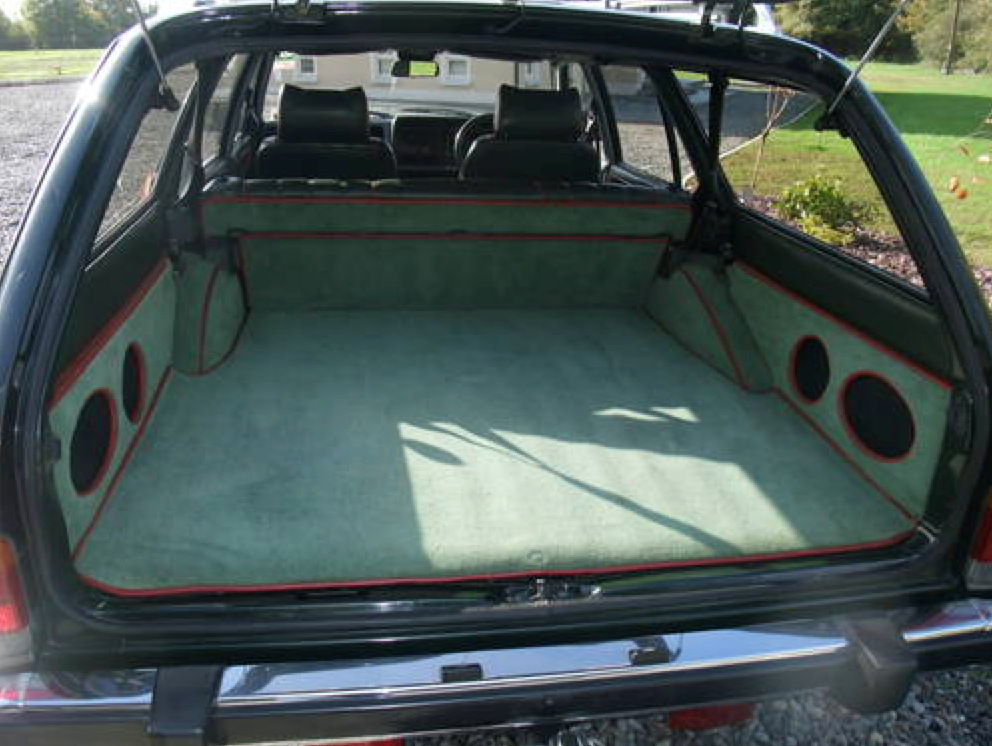 It's a plausible probability, given the car wears Aston Martin badges on its electrically operated seats, there's deep wool carpet like an '80s Aston, the same leather and piping and stitching an uprated audio system. Then there are the Aston badges on the bonnet and boot; admittedly, anyone can stick a pair of Aston Martin wings on a car – but the ones fitted to this car are from the 1984 era, and this is where another clue emerges.
When the Granada estate went out of production in 1984 many bemoaned its death. Ford even kept several in storage for executives at its Essex headquarters for many years. It's quite possible that the Royal Family thought the same and asked if their Granadas could be retained rather than returned to Ford. It might explain why one seller of the car claimed that they were registered to a company related to the Sandringham Estate and disposed of by Stratton Motor Co, the former Ford turned luxury car dealer based in Norwich, Norfolk. The green paint looks too deep to have been a factory one-off special, but the most telling clue is that the Granada 2.8i Ghia X tailgate badges have been applied incorrectly, the most obvious sign of a repainted car.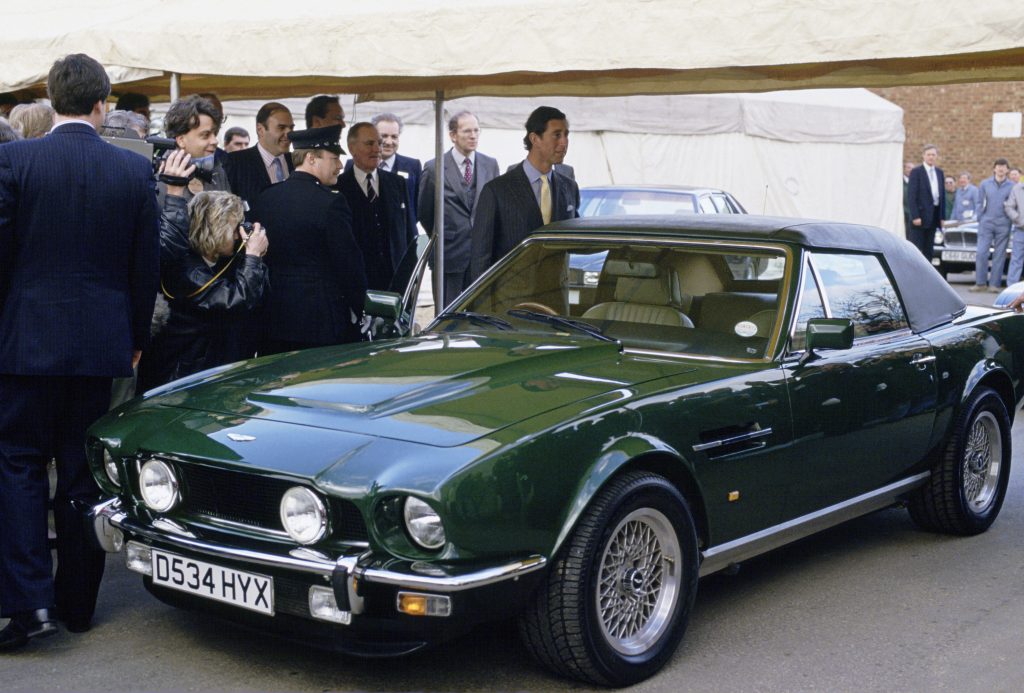 So who commissioned it? Was it Queen Elizabeth II? And if not, who? In 1986, her son King Charles III, then Prince of Wales conducted a state visit to Bahrain. The Emir, Sheikh Isa Bin Salman Al-Khalifa, offered his guest any Aston Martin of his choice. Prince Charles selected to have a unique V8 Volante convertible built for him with the more powerful Vantage engine. The subtlety of the car led to another 27 copies being completed to the same 'POW' Prince of Wales specification. The first of them, Prince Charles's own, was the same Balmoral Green as this Aston-badged Granada. If the Prince wanted a subtle one-off Balmoral Green Aston Martin convertible, then is it too far-fetched to speculate that he'd liked to have a matching estate car?
We may never know the truth but Shaun Skinner, Chairman of the Tickford Owners Club, told me he feels it is the most plausible explanation. There's less chance that this was a Tickford Granada at all and more likely one built by Aston Martin Works. It's pure conjecture but rather than being constructed for Queen Elizabeth in 1983, this one-off seems more likely to have been built for her son in 1986 to accompany his other Aston Martin.
Unlike Diana's record-breaking black Escort RS Turbo, the jury is out on the green Granada's exact provenance, but until the verdict is returned there's a fantastic royal mystery to be solved.
Hagerty Media readers can get a discount of 20 per cent on each of the two volumes of Steve Saxty's Secret Fords books at www.stevesaxty.com. Use the code HAGERTY20 at checkout.