"The one thing I'd heard about Grimsby was that it was good for fish and chips. It must have taken about five hours to get there on the train from Essex and I hadn't had any lunch, but I had an appointment with a Ford dealer about a Capri. That was in 1984, and the car was in a bit of a sorry state and had been abandoned round the back because it was a part exchange and they didn't want it.
At first, I'd been angry that this car even existed, it was one of one hundred Tickford Capris ever made, but I had a plan for it. It was the '80s, I was 21 years old and I had a vision so I paid about £5,000 to take it home in the pouring rain. These cars are lethal in the wet at the best of times, but the tyres were heavily worn so it was even more of a handful.
How much is your car to insure? Find out in four easy steps.
Get a quote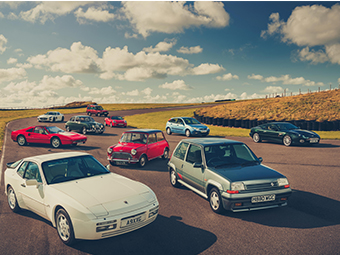 I grew up in Essex and always wanted to be a car designer. By the age of 20 I was a design engineer for Ford and enjoyed rocking around in '70s dinosaurs like the Capri; a car that's old and cool now, but it wasn't old and cool then, it was just old. I suppose I was a little bit out of step with my peers because they were into hot hatches like the XR3, but I felt the Capri was more romantic – and fun! Despite it being seen as a bit of a negative back then I liked that it was rear-wheel drive. We struggled to sell the Sierra, in part, because of it, so colleagues did wonder why I was so fond of the Capri.
As a Ford employee I thought I knew everything that was coming up, so was most annoyed when the Aston Martin Tickford Capri popped up at the 1982 Birmingham Motor Show – I knew nothing about it! It was a Capri from the future with all sorts of high-end modern stuff on it that the regular Ford Capri didn't have; electric windows, disc brakes, turbocharging and a body kit. In those days they'd rope off the stands which made me even more frustrated because I couldn't have a proper look at it. It was a forbidden fruit and I was irritated by its existence.
At the time I drove a 2-litre Capri S worth around £3,500 and the Tickford was about £15,000. I thought, 'How dare they? I can't possibly afford that!'. It was twice the price of a regular Capri injection and five times the price of mine which, on my salary, was so far out of my league. The problem for Aston Martin [which built the early cars] was that I wasn't the only one, that price point was straying into Porsche money, so they didn't sell new particularly well.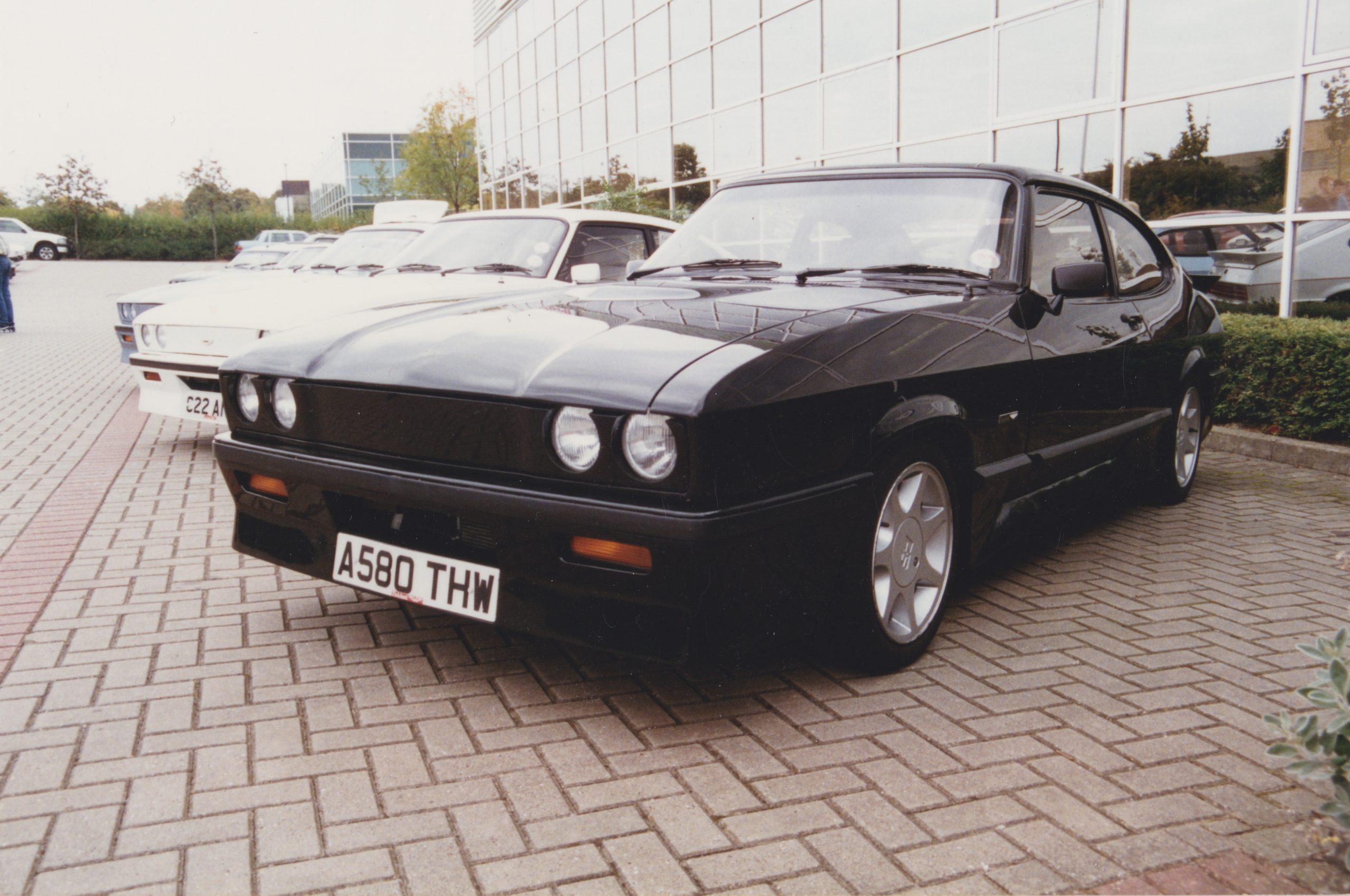 I thought the people at Tickford would be a bit full of themselves because of the Aston Martin association but that wasn't the case at all; they were enthusiasts and very nice. I got a call from them one day when that used black Tickford came up for sale at the Ford dealer; it was £5,000 and I took out a bank loan to buy it. It was fantastically fast and I think it had more power than it was supposed to because such cars back then were hand-built and therefore all different. I enjoyed it, drove it hard and had no complaints with it whatsoever, but after a little while I'd done what I needed to do with it and sold it at a profit.
In the Spring of 1986, Tickford then came up with a white one, and that was the one I bought in Grimsby. I couldn't believe it, after not being able to afford one, I'd now been in possession of two, but I didn't buy the white one to make a profit, I bought it because I had a vision for it. I wanted to do a restomod of its time that progressed the car in a way that imagined Ford and Tickford had teamed up, which they did later on, so I was a bit ahead of the curve. There's a great danger of going too far when modifying a car, you can end up with something that looks a bit tacky – like putting huge modern wheels on a seventies Alfa – and I was conscious that I wanted my car to be upgraded in good taste. As a consequence, after three years of work, I had a very special car.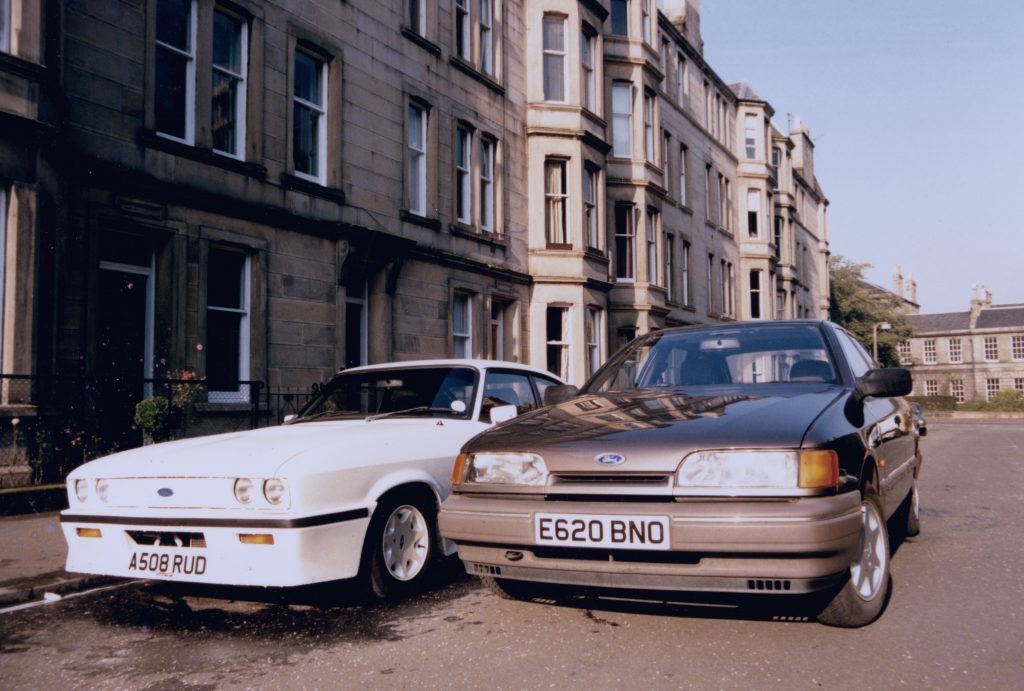 I sketched my own ideas and because I worked in Ford's design, research and engineering centre I was able to get half of Ford Motor Company, who'd be working on prototypes during the day, to help me modify the car after hours. The trimmers re-trimmed the cloth interiors for me in Jaguar-spec' Connolly leather, which is thicker and richer than Ford would typically fit, and the ambience inside the cabin changed; it was much quieter, and quite curious. To reflect Tickford's colour scheme, I chose two-tone grey leather for the seats (darker in the centre, lighter on the outer) with red burgundy pinstripe detail. I also had beautiful alloy Scorpio rocker covers machined to dampen down the sound of the engine.
It was a Saturday night when I drove it round Essex for the first time and a young girl in a Fiesta crashed into it; there wasn't a lot of damage but I had to have a new door fitted. Canvey Island is not a place you want to get stranded and sure enough that's where I broke a half shaft. The Capri was completely immobile so I had to abandon my baby on a roundabout, and run to find a phone box to call for a tow truck; I'm reasonably athletic now, but I wasn't then. I changed the clutch on my parents driveway that night because I had to go to a car show the next day and then took it out on the track at Castle Combe – but it wasn't strong enough and the clutch sheared which mean I had to drive the 200-odd nightmare miles home doing clutchless gear changes. We definitely had some adventures together.
When I took a job with Ford in Edinburgh I took the car with me and this is where it came into its own, as a long-legged car built for the long sweeping roads typical of the Borders.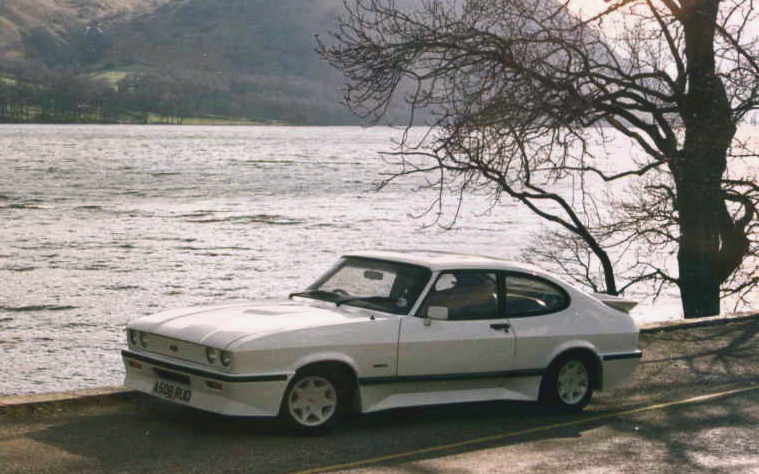 I lived in the middle of the city and kept it under a plastic sheet which always set the alarm off and frustrated the neighbours, and when it was windy it would just take off down the road. One night, having retrieved the sheet, I took the Capri out for a drive.
Going faster and faster I'm thinking I'm a real hero, the coolest driver in the world, until I realised I wasn't the coolest driver in the world, I was driving the car harder and harder because it was going slower and slower, and the reason it was going slower and slower was because I'd blown the engine up. I was losing power because I'd melted one of the pistons. A Ford dealer in Peebles rebuilt it for me but when I got it back, as much as I loved it, I decided it was time to say goodbye. I had a company car, a Sierra XR4x4, and thought one is free, one is not. It was 1988, and the car was four years old.
The white Capri is the one I really loved and is the one that got away that came back, sort of. After I sold it, it passed through the hands of a few people – one of whom sealed off the entire street he lived on to throw a little party for me when I came to visit – but eventually I moved to New York and didn't see it for fifteen years. We were reunited at a show being held to celebrate Capri's 50th anniversary at Ford's Dunton R&D centre (where I used to work and where the car was shot for an episode of Top Gear in 1984, before Clarkson, when Capri ended) and the first thing I said to its owner, Karl, was "go on then, give me the keys and I'll take it round the track," and to his credit he gave me the keys!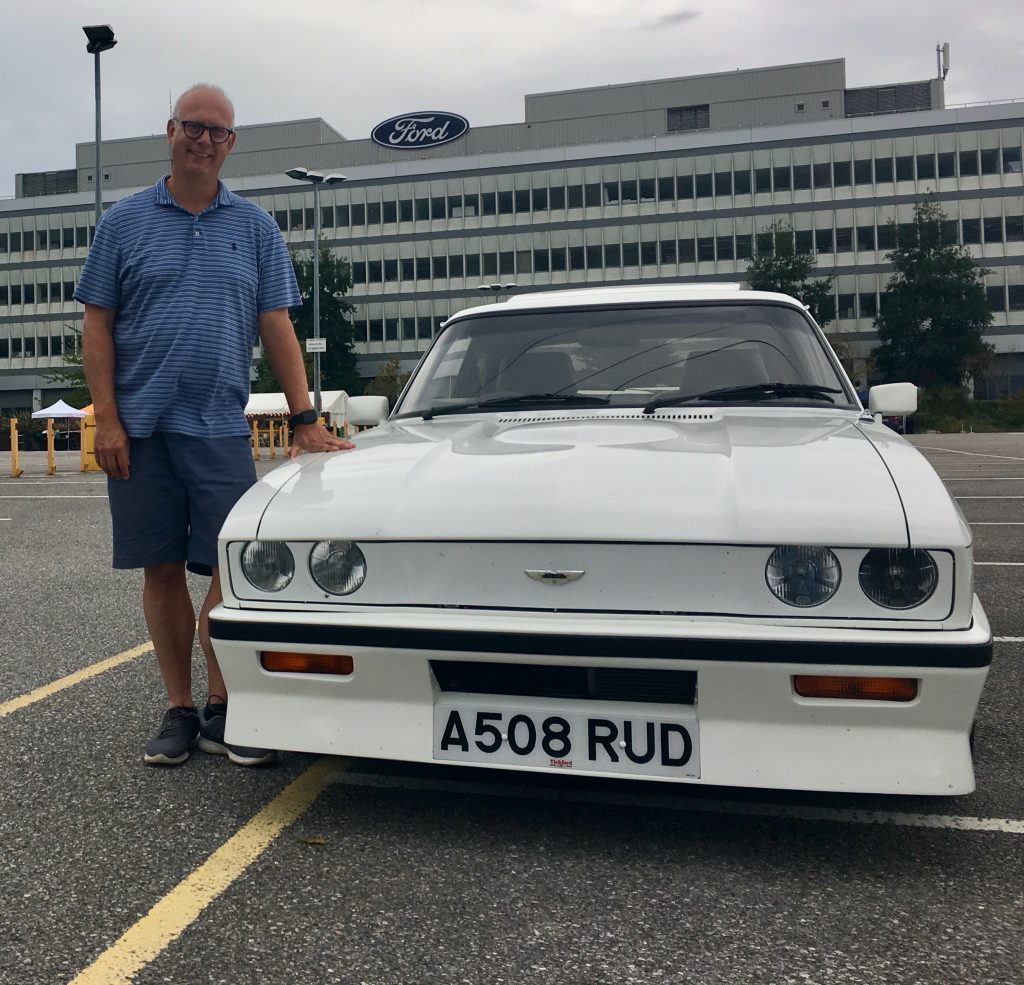 I'd always wished I'd kept the Capri, but every decision you make is the right one at the time, and it has a habit of coming into and going out of my life in some way. It's never dawned on me to buy it back because Karl has had it for 20-odd years so it's his car, not mine, and that's how it should be.
Until very recently I'd not owned a car for 22 years and although I've had the use of about 100 cars for work I don't take them home and build a deep, long-term relationship with them. That's what made the difference with the white Capri, it was a long-term relationship, it wasn't just a quick spin round the block.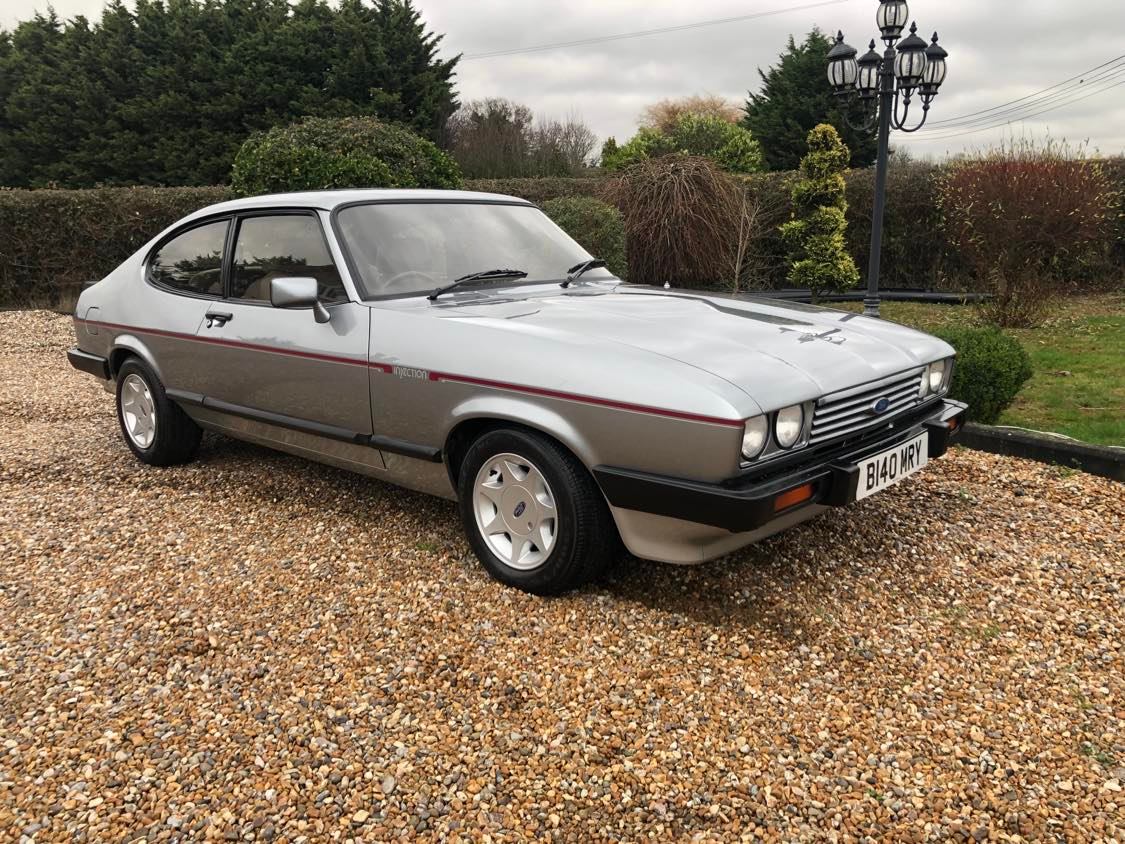 Only 50 of the Tickford Capris have survived and I've had two of them, so I don't need to have a third because I've happily moved on, but I did want to experience another turbo; a 1984 Capri 2.8 Injection Special. I put an appeal out to my readers [Saxty is the author of the Secret Fords books], and that's exactly what I've bought. It's never been restored and has only done 29,000 miles from new so it's an absolute unicorn. As much as I loved my Tickford Capri, going back to an old relationship is never the same and I think this is a nice way to close the story.
I did get my Grimsby fish and chips the day I picked up the white Capri; going to get them was the first journey I ever made in the car. The weather wasn't very good but I didn't want the car to smell like fish and chips all the way home so I ate it hanging out the half open door, I must have looked ridiculous. If I were able to have one last blast, I would love to take it back to the Scottish Borders and drive it as fast as I could – without blowing the engine up!"
Find out more about Steve Saxty's books here
Read more
The fastest Ford the world never saw
Retro Rewind: Ford Fiesta RS Turbo vs Fiesta ST
Tracking down my old Ford Sierra Cosworth after 31 years was easier than you'd imagine