Welcome to Freeze Frame, our look back at moments from this week in automotive history.
19 April 1964 – Ford Mustang reaches the nation's TV sets
According to Hagerty's own Jason Cammisa, the new Ford Mustang Mach-E is a fine piece of work; tidily-styled as far as crossovers go, brisk enough to dust a modern V8 'Stang off the line, and blessed with an adept if not a truly inspiring chassis.
How much is your car to insure? Find out in four easy steps.
Get a quote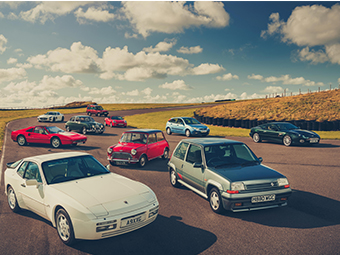 One thing it has not done despite its Mustang badge – in fact, one thing no other car has done to the same degree since 1964 – is whip up such an incredible buzz amongst drivers from the moment it launched as the original, 1964 Ford Mustang.
Ford anticipated it would sell around a hundred thousand Mustangs per year; not an unrealistic figure for what was effectively a sported-up Falcon with a healthy options list and affordable price tag of $2368. To save you the "math", that's around $20,200 in 2021 dollars, or about £14,500.
If that sounds mighty affordable today, it was still impressively modest in 1964, and brought this exciting new coupe and convertible within the reach of normal people. And as it turns out, the Blue Oval rather underestimated the draw of pricing something incredibly appealing at a point normal people could actually afford. By the end of its first year more than 400,000 Mustangs had found homes, and a year after that Ford had sold more than a million.
The car hit dealers on April 17, 1964, the same day it was officially unveiled to the public at the World's Fair in New York. But two days later, on April 19, the first television advertisements would project the Mustang to the entire country.
For a car now recognised for its performance and style, the ads focused heavily instead on its value, from that low base price to standard features such as its vinyl bucket seats, wheel covers, and "wall to wall carpets".
One slot did go as far as noting the four engines on offer, ranging from a 2.8-litre inline six to a "289" V8, and the dozens of options available, including "a console, three-speed Cruise-o-matic transmission, and even air conditioning!" The Mustang allowed customers to personalise their car like none before it.
Some customers didn't have to dabble with the options list though. Searching for a convertible for her commute in 1964, 22-year-old Illinois-based schoolteacher Gail Wise stopped at her local Ford dealership to find nothing suitable in stock. That was until an enterprising sales agent showed her a pair of cars not yet on display, one of which was a Skylight Blue Mustang convertible.
Wise, speaking to Hagerty in 2014, said that she bought it on the spot. The date? Wednesday, April 15: two days before the World's Fair, and four before the rest of the country would get a glimpse on the nation's TV sets and cement the Mustang's wild popularity for more than half a century to come.
Also read
Buyer's Guide: Ford Mustang (1964-1973)
50 years later, Ford's Transit Supervan is still outrageous
Freeze Frame: British victor for the first Monaco Grand Prix