You could say that Dirty Mary Crazy Larry bade a fond farewell to the Great American Muscle Car, its 1974 release coinciding with federal regulations that brought an end to a decade of power-wars among the Big Three US car manufacturers. And as a legacy to that magical era, this full-throttled, bombastic heist movie ticks all the right boxes.
Amateur race driver, Larry Rayder (played by aviator-wearing Peter Fonda) and his long-suffering mechanic, Deke Sommers (Adam Roarke) want to hit the big time, but motorsport is an expensive business, so they concoct a plan to fast-track their ambitions, extorting $150,000 cash from a local supermarket manager by holding his wife and daughter hostage.
How much is your car to insure? Find out in four easy steps.
Get a quote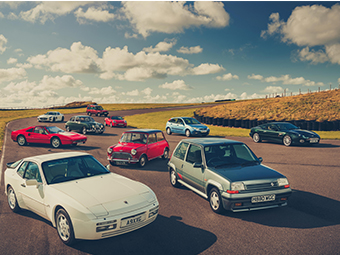 With the theft executed, Mary Coombs (Susan George), Larry's one-night stand, convinces the pair to let her tag along. But there's a fly in their ointment in the shape of Captain Everett Franklin (Vic Morrow), who defies regular cop protocols as he attempts to cast a net around the fast-moving trio.
What ensues is effectively one long car chase, with director John Hough happy to let a raft of V8-powered cars take the aural centre-stage in the absence of any incidental music. Larry, Mary and Deke initiate their escape through California to the Mexican border in a '66 Chevrolet Impala Sport Sedan, but soon switch to the film's poster-boy, a 375bhp 'Citron Yella' 1969 Dodge Charger R/T 440, wearing American Racing Sprint wheels and snazzy black side stripes applied by the film crew. Three cars were supplied, including two regular Charger Coupes dressed to appear as R/Ts, but the main film car was the real McCoy.
Shot mainly in San Joaquin County, California, in the autumn of '73, Fonda performed much of the fast driving, with legendary stuntman, Cary Loftin (Vanishing Point, Duel) covering off the more extreme 'gags', of which there were plenty. Hurtling towards an opening drawbridge, Mary exclaims: "Hey…why aren't we slowing down?", as the Charger smashes through barriers and vaults the gap, landing sideways with an heroic 'save' on the other side.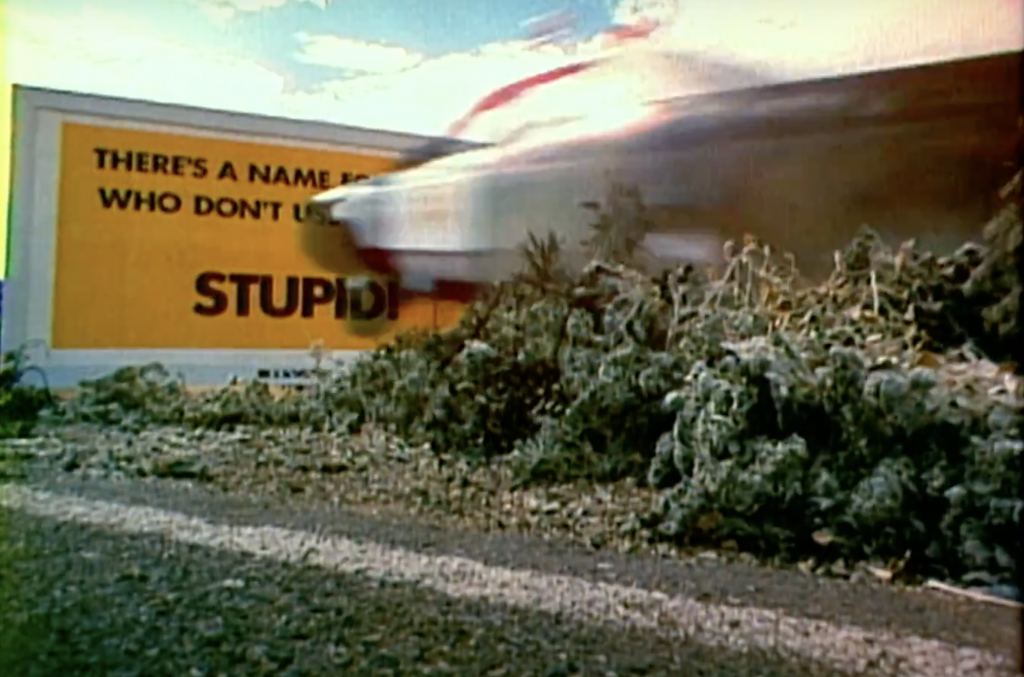 But in their pursuit of the trio, all six of the ex-California Highway Patrol Dodge Polara 440 police cars were destroyed in increasingly imaginative ways during filming. One careens backwards into a ravine, and another, swerving to avoid a rolled car in Larry's wake, is jettisoned through a giant billboard, reading: 'There's a name for people who don't wear seatbelts: STUPID!' Naturally, neither cop is strapped in.
However, one hot-shot cop driver is confident he can nail the quarry ("Keep going, partner, because my top-end is unlimited!"). Armed with the force's interceptor, even Larry's surprised at the lawman's turn of speed, but jinking off the blacktop and on to a broken track, he knows how to defeat him: "I'm going to powder his face…". Rendered blind by the Charger's 80mph dust cloud, the interceptor strikes a telegraph pole and bites the dust.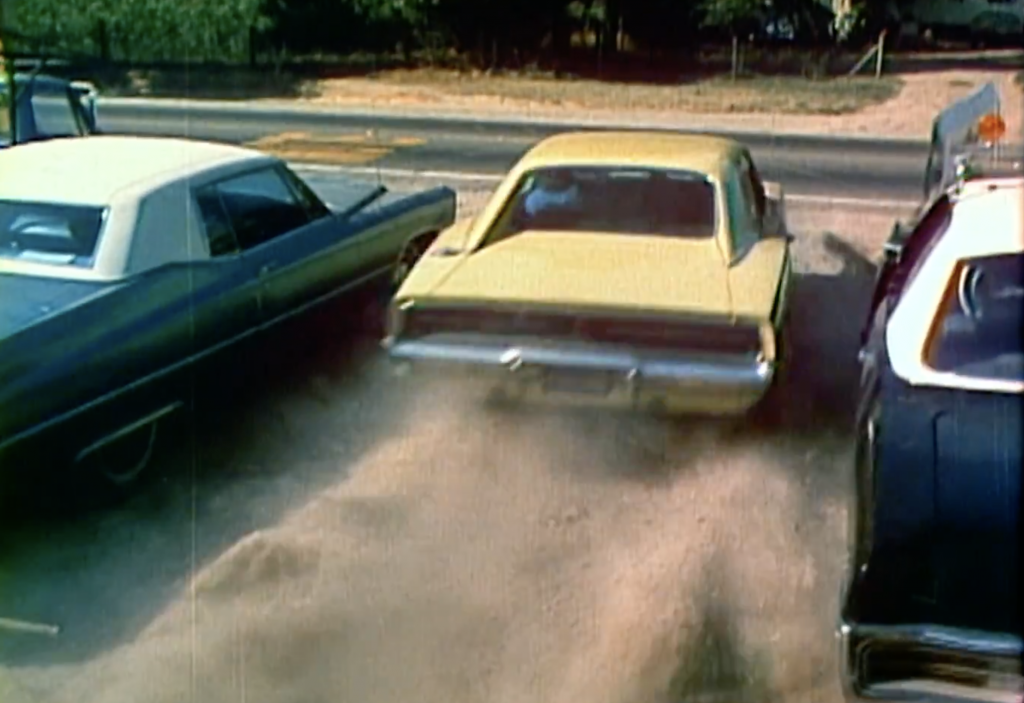 As with all films in this series, the car action is frighteningly authentic and shot in real time and at real speed, and never more so than in the final chase scene. Franklin eventually realises that Larry is using a CB radio to plug into the police channels, helping him to evade cops on the ground, so he takes to the air. Riding shotgun in a helicopter, he tracks the Charger down. Actor Morrow demanded $1m insurance cover for the scene, which required him to passenger legendary film pilot, James Gavin, in a Bell 206B JetRanger.
As the Charger swerves violently from side to side down an arrow-straight, tree- and power-lined road, Gavin first taps the chopper's skids on the roof of Larry's car at high speed, while the interiors clearly show Morrow's perspective, and evidence that no stand-ins were used. Gavin then places the craft broadside, in front of the speeding Charger, with its skids almost scraping the road's surface; this would look dramatic in CGI, but as a masterful piece of stunt work it's probably the finest you'll ever see.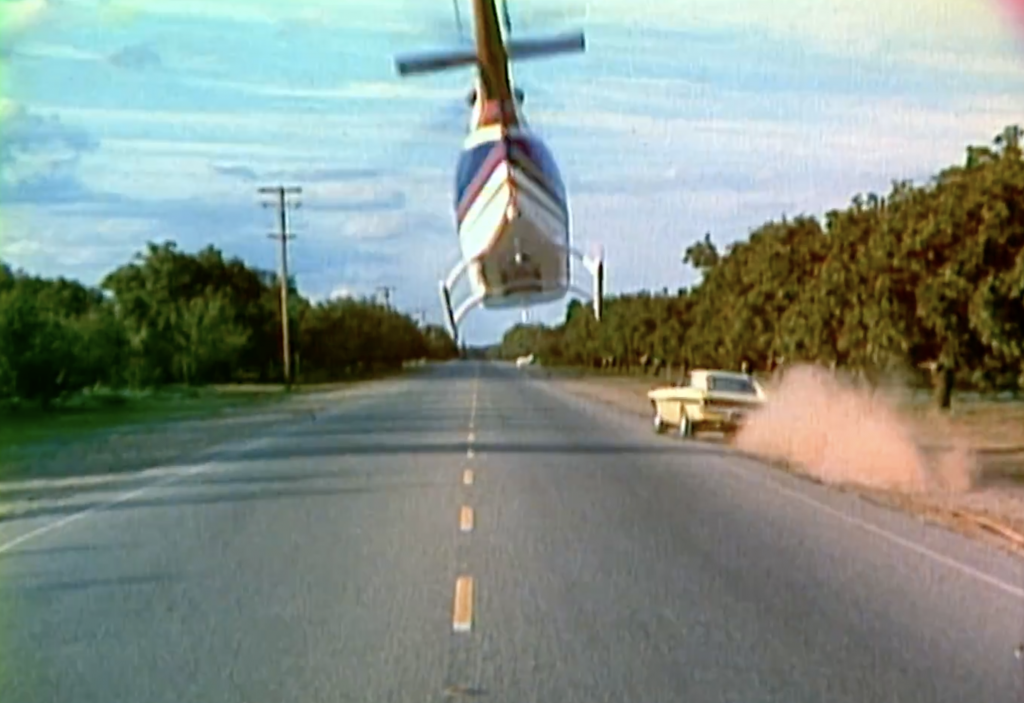 Of course, crime doesn't pay, but with the chopper out of fuel and no more cop Polaras breathing down their necks, it looks like the trio is home and dry: "Hey mister," says Larry to Deke, as they motor away from the law's clutches. "Ain't nothing going to stop us." But life is about to stop them, quite literally, dead in their tracks, as the Charger impacts an Alco S-1 locomotive at a level crossing, and is immediately engulfed in flames.
In reality, the film crew used an engine-less Charger packed with explosives, which was towed by a cable passing beneath the tracks, attached to a pulley, and then to the train itself. Like an automotive Butch Cassidy and the Sundance Kid, the protagonists all meet a bitter end, perhaps not unlike that of the genre of car they were driving.
Read more
The road leads to nowhere in Two-Lane Blacktop
The Hagerty Power List 2022: Movies
Freeze Frame: Herbie spawns a thousand imitators