'The last American hero to whom speed means freedom of the soul.' It's a sentiment that I'm sure most of us could relate to today, but more than 50 years ago it captured the essence of Kowalski, director Richard C. Sarafian's amphetamine-fuelled delivery driver in the 1971 film, Vanishing Point.
Rooted in sixties culture, Kowalski, played by an enigmatic Barry Newman, is the archetypal anti-establishment loner. Driving at speed on speed, he bets that he can deliver a 1970 Alpine White Dodge Challenger from Denver to San Francisco – a 1,200-mile schlep – non-stop, in just 18 hours. His cross-country mission attracts a multi-state police hunt, but also public awareness through Super Soul, a blind DJ dialled into the police channels who helps Kowalski evade capture – at least, until the film's grim finale.
How much is your car to insure? Find out in four easy steps.
Get a quote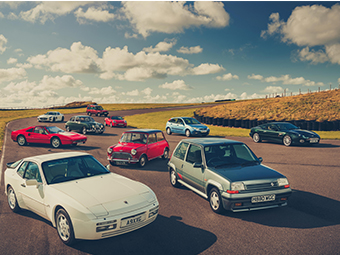 Five Challengers were loaned to Sarafian's Cupid Productions, the model chosen by legendary stunt driver, Carey Loftin (see Bullitt and Duel, among many others) "…because of the quality of the torsion bar suspension and for its horsepower," he claimed. None of the cars were modified, save for one fitted with heavy-duty shock-absorbers that jumped a creek during a chase scene. Four cars were fitted with the 440 cu in (7.2-litre) engines and four-speed manual 'boxes, and one with a smaller 380 cu in (6.2-litre) motor and auto transmission. According to Sarafian, who I interviewed some years ago, even the supercharged whine of the Challenger's 440 cu in V8 was an effect: "The cars never went over 90mph… the illusion of speed was given by the camera."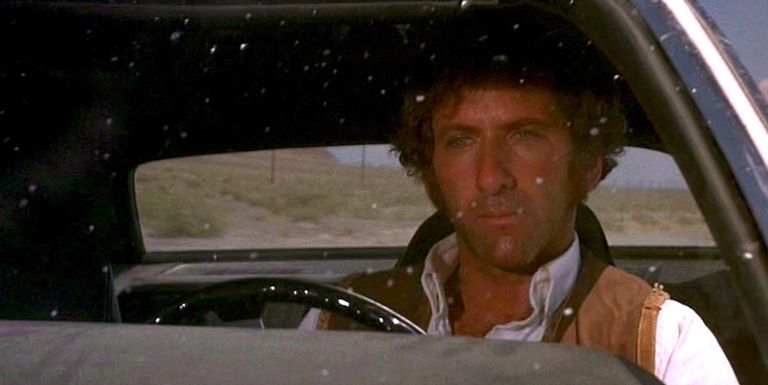 As Vanishing Point's story unfolds, layers of Kowalski's former life are revealed through flashbacks, his prowess behind the wheel coming from stints as a stock-car and motorcycle racer. The stunts are dramatic and set against beautifully photographed backdrops across Colorado, Nevada and Utah. But unlike in Bullitt, the illusion of speed was down to clever camera work, according to Carey Loftin in a 1986 interview with US journalist, Paul Zazarine: "The top speed (of the Challenger) was at most 100-110mph. We had a fairly low rear-end ratio, and to get the appearance of speed we would 'undercrank' the camera."
All the same, the four 440 Challengers were worked hard. "We had a magnificent mechanic, we called him 'The Surgeon'. His name was Max Balchowsky," said Barry Newman in the same interview. "He would take parts out of one to make another car work, because we really ruined a couple of those cars, what with jumping ramps from highway to highway." And that particular stunt, where Kowalski uses the median strip as a launch pad to swap carriageways, was fraught with danger, despite the other road-users being stunt drivers: "We just had to trust the other drivers to get the hell out of the way," Safarian told me.
As the net tightens around Kowalski, he encounters a disparate slice of human counterculture across America's vast swathes of wilderness. An old prospector helps him hide the Challenger from a prying police helicopter; two hitchhikers are brutally dispatched after holding a gun to his head; a would-be racer in a tatty E-Type Jag is run off the road; and a naked girl on a motorbike (this being the tail-end of 'free love', after all) turns out to be his unlikely saviour when faced with a police roadblock. And all this underscored with a relentlessly upbeat soundtrack from DJ Super Soul (Cleavon Little) interspersed with the Challenger's mellifluous V8.
Did Newman perform any of the stunts himself? While Loftin "…did all the heavy stunt driving," according to the actor, Loftin reckoned that Newman took instruction well. "He caught on so fast I couldn't believe it. The scene before the crash at the end where he comes up and does a '180' on the road and goes back, he did that himself."
Which brings us to the film's dramatic final scene – spoiler alert! – in which Kowalski vaporises the Challenger and himself against a police roadblock comprising two bulldozer blades. In fact, the car you see is a 1967 Chevrolet Camaro, stripped of its mechanicals, which was towed behind one of the Challengers by Loftin. "I had a quarter mile of cable when we did the stunt," he said. "When I started to tow, I couldn't see the Camaro…after all the testing I just had to believe it would work. Once I got up to speed, it came straight down the road. I was doing a good 80mph at the time of impact."
Debates abound around Kowalski's apparent suicidal demise, but the smile on his face as he guns the V8 for the last time suggests that he really believed that he'd make it. Said Newman: "The title 'Vanishing Point' was meant not for his impact into the bulldozers. At the beginning of the movie, the Challenger and a black Chrysler pass each other and the Challenger vanishes, and he delivers the black car to Denver. It represents Kowalski's point of no return – it was his 'vanishing point'; it was his last ride."
Read more
Leap of faith: The Italian Job was Remy Julienne's stunt spectacular
Popcorn double feature: Seven of our favourite car movies
The Blues Brothers: How John Landis choreographed chaos and destruction on a blockbuster scale