To appreciate where Bullitt, Peter Yates' 1968 neo-noir classic, rates in the pantheon of car-chase royalty, then check out the hammer price of its featured Ford Mustang GT 390 Fastback last year at Mecum Auction's sale: $3.4m – roughly 50 times what a regular 390 would sell for. Whether you believe that Bullitt is a B-movie with an A-list car chase attached, or not, there's no denying the effect that a ten-minute slot of tyre-smoking, sump-smashing, hubcap-losing drama has had on its legacy.
Bullitt's plot is cumbersome, but it frames the chase perfectly. San Francisco senator Walter Chalmers (Robert Vaughn) wants to take down a mob boss with the help of testimony from the criminal's brother, who's in custody under the watchful eye of Frank Bullitt (Steve McQueen). But two mob hitmen are set on taking Bullitt down, and the fact that one of them is played by stunt-driving legend, Bill Hickman (bespectacled and implacable throughout) adds credibility to the chase from the start.
How much is your car to insure? Find out in four easy steps.
Get a quote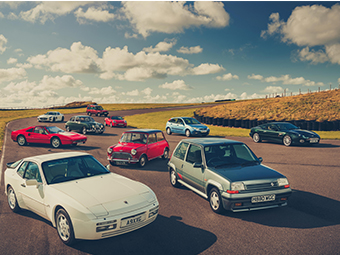 'JJZ 109' is the memorable number on Bullitt's Highland Green GT 390 'Stang, two of which were supplied by Ford, though only one had GT equipment, with the identifying badges and grilles removed to even them up. As standard, the 390 produced 325bhp, but McQueen's Solar Productions commissioned race-car builder Max Balchowski to add milled heads and uprated carburettors. He also toughened the front end with heavy-duty anti-roll bars and coils, increased the ride height and fitted Koni shockers all round. The only visual clue to the Mustangs being non-standard was their butch-looking American Racing Torq-Thrust wheels.
Lalo Schifrin's brooding soundtrack is a portend to what's in store, as McQueen backs out of a parking lot, followed by Hickman and sawn-off-toting sidekick (Paul Genge) in a black Dodge Charger R/T, complete with 440 cu in Magnum engine. Ford had originally offered Solar a Galaxie 500, but it was deemed too slow and heavy for the chase, though the two unmodified Chargers purchased by Solar still each weighed in at 3500lbs.
Mustang and Charger lurk through San Francisco's vertiginous streets, swapping places, each driver formulating a plan. But after three minutes that changes with a click of Hickman's seatbelt buckle and a full-blooded V8 roar as he gives the Charger its head to escape Bullitt's Mustang. "The marvellous thing about having an actor like McQueen, who can actually drive," said Director Yates, "is that you don't have to work out ways of not getting too close to your doubles…". Undoubtedly true, though for some of the more risky driving, another stunt legend, Bud Ekins, took his place with the rear-view mirror flipped during over-shoulder shots.
There's a frightening authenticity about the chase, which was filmed over two weeks. Roads were closed, but even so, two now-famous 'control cars' were used at various junctions: a green VW Beetle and a white Pontiac Firebird, each of which makes multiple appearances in the urban chase scenes. Both Ford and Dodge understeer prodigiously through the tight city junctions, and it's clear that the Mustang wasn't fitted with the optional LSD, as McQueen leaves a single rubber track accelerating away from an over-shot junction (which gave us one of the chase's best-known stills). The Charger also took out a remote camera unit parked behind a '56 Ford, hit hard in one scene.
But the action becomes faster, closer and generally more lethal as the chase leaves the city. "From the beginning," said McQueen, "we felt that we should start off working in close harmony at a race track so that Hickman and myself would be used to working close to each other at high speed." This, they did at Cotati Raceway, 45 miles north of San Francisco, before filming began. When they finally shot the scenes, camera car expert Pat Hustis built a bespoke, dune-buggy-like vehicle with rig attached that could track the chase cars' 100mph-plus speeds on the highway.
And the action was close. Setting aside the Mustang's apparent 16-speed gearbox (a soundtrack glitch) you can see how close each car is to its dynamic limit, as other cars (and a hapless rider on a BSA 750) take evasive action as Ford and Dodge trade side-blows, punctuated by rifle-fire from the Charger's passenger.
As you'd expect, Bullitt triumphs in the end, nudging the Charger to career into a gas station, cueing a massive inferno. In reality, the cars were linked together by a bar across their front bumpers on the approach, before an uncredited Carey Loftin (mystery trucker in Duel), driving the Mustang at 90mph releases the undriven Charger towards the faux filling station pumps. You can just see the bar still attached to the 'Stang as it pirouettes across the freeway, its front suspension broken. And you also see the Charger missing the pumps entirely, but largely hidden by the pyrotechnics.
Given its influence on many 70s car-chase classics (Vanishing Point and The French Connection to name but two) you can perhaps see why its undoubted, Highland Green star would now command such a bonanza price.
Read more
A legend in the rear view: Bullitt screenwriter Alan Trustman
Proving the Bullitt Mustang's authenticity
McQueen at Sebring: Fact or Fairy Tale?