It is one of the great motor-racing stories, a fairy tale made more real by the twist at the end: the hero doesn't quite get the girl or, more literally, win the race. Instead his is a prize of another kind: the approbation of his peers, the adoration of the crowd, the admiration of the wider world beyond. It's a story of what happened when the Hollywood superstar took on motor-racing royalty and came within an ace of pulling of the shock of the century. This is the story of how Steve McQueen so nearly won the 1970 Sebring 12 hours, despite being hobbled not only by an uncompetitive car, but also a broken foot.
It goes like this: McQueen loves racing and has done plenty on both two wheels and four around the US. He's a really good driver. He's making a movie about Le Mans and while his insurers are saying there's no way he can race in France, at home in America it's somehow different. Sebring is still a fully-fledged round of the World Sports Car Championship, as important in points terms as winning Le Mans, but it's 'only' a 12-hour event. Perhaps if he races there, they'll relent and he'll actually get to take part in the race his film will do so much to publicise.
How much is your car to insure? Find out in four easy steps.
Get a quote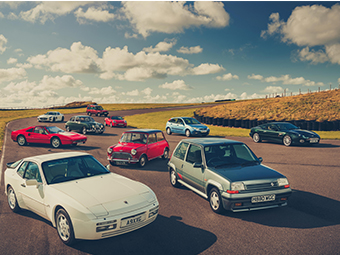 But then it all goes wrong. In a local motorcycle event he comes off his bike and breaks his foot badly, but not sufficiently badly to prevent him from leaping back on said bike, operating its pedals and finishing the event.
But the upshot is that he will have to race at Sebring with that foot in plaster. Luckily it is his left foot which will only have to operate the clutch. His car is a Porsche 908/2, a very handy weapon and probably as effective a machine as a private buyer could hope for, but no match for the factory entered Porsche 917s and Ferrari 512Ss it will face.
The Hollywood superstar starts the race and drives brilliantly, not putting a (broken) foot wrong as, all around him, superstars from the world of racing fall by the wayside, let down by the frailty of their machinery and the relentless pace around the appallingly bumpy Sebring track. It is well known that surviving 12 hours at Sebring puts at least as much stress and strain on a driver and his machine as managing 24 at Le Mans.
With just an hour to go the 908 lies a superb third, with only a factory Porsche and Ferrari ahead, the latter driven by none other than Mario Andretti. But then Andretti's Ferrari breaks down! An almost unbelievable second place finish seems there for the taking. Fifteen minutes later, the works Porsche also grinds to a halt. Can Steve McQueen, a man best known for failing to escape from a prison in Germany, actually now escape for real with one of the great prizes in racing?
It would have happened but for that pesky Andretti bloke, who was Ferrari's best driver and whose talents would not be wasted sitting out the rest of the race in the pits. Instead Ferrari pulled in another one of its cars which was languishing some distance behind McQueen after various maladies, and told Mario go and win the race. The Ferrari was so much faster than the Porsche that overtaking it would not be difficult. But it was being driven so fast it would need to stop for fuel before the flag. As it did, Steve McQueen's 908 took the lead once more. Only even greater heroics from Andretti saved the day and spared Ferrari its blushes. At the flag the Ferrari's lead was just 22 seconds, the closest finish seen at Sebring at that time.
Good story, isn't it? So perhaps you're now expecting me to tell you that none of it is true. Well, no, every word is true: Steve McQueen really did drive a Porsche 908/2 in the Sebring 12 Hours with a foot in plaster and, yes, it really did very nearly win the race. But just because it is true, doesn't make it the whole truth or anything like it. The tale I've just told is the one that has passed into popular folklore thanks a media which knew a good story when it saw one and which certainly wasn't going to be inconvenienced by mentioning some of the other truths about that near win.
But, yes, there is another story that never got told at the time, and which had a bearing on the race not even Steve McQueen could have anticipated at the time.
What was rarely mentioned at the time was the other bloke. McQueen's team-mate. You could no more take on a 12-hour race single handed in 1970 than you could today. Now as then the rules specifically forbade it. So, McQueen partnered with a driver you may have heard of called Peter Revson. That's soon to be two-time Grand Prix winner, Indy 500 pole-sitter and outright Can-Am champion Peter Revson.
To say Revson was quicker than McQueen is putting it somewhat mildly. The difference was around two to three seconds a lap when both were on good laps. But the professional racing driver will always have far more good laps than the amateur, so the real difference was far greater than that. But even at three seconds (and if you presume they split the driving evenly), just by having McQueen in the car rather than another professional as fast as Revson would cost over two entire laps over the course of the race.
But McQueen didn't drive half the race, nor anything close. Revson did the lion's share of the hard work, while McQueen sat in the pits being idolised by the crowd. And here's the thing. When Andretti retired his Ferrari from the lead, he was so tired and cheesed off he had no intention of getting in another car. Indeed, he was racing elsewhere the very next day and his plane was waiting. He was the reigning Indy 500 champion which, in the US, meant he could do whatever he damn well liked. As he once said "The only reason I went into the other Ferrari was because I was tired of hearing the guy on the PA system talking about Steve McQueen. That was all they talked about. It's still ringing in my ears. Poor Peter Revson drove his ass off, and even at his best McQueen was well off Revson's pace, but Revson wasn't even mentioned."
Andretti also suggested that the reason the 908 was relatively easy meat at the end of the race was because Revson was utterly exhausted in his efforts to keep McQueen's car on the pace.
So, far from Steve McQueen being the reason the 908/3 nearly won Sebring in 1970, the fact is he was the chief reason why it did not, and twice over. First, if Revson had partnered with anyone close to his talent, Andretti would never have got near him. Second, if McQueen hadn't been taking all the credit, Andretti would never have got in the second Ferrari and given chase. In either alternate scenario, the Porsche wins.
I'm not saying McQueen was a poor driver, in fact by amateur standards he was clearly pretty good, but the real reason his car did so well in that race had little to do with him and almost everything to do with the late, and very great Peter Revson. After almost half a century, it's time his contribution had the appreciation it deserves.