Welcome to Freeze Frame, our look back at moments from this week in automotive history.
13 March 1969 – The Love Bug released
Look, it's cheesy in the extreme, the dialogue even in Disney's three-minute trailer is ludicrous, and the special effects wouldn't exactly give Industrial Light and Magic cause for sleepless nights.
How much is your car to insure? Find out in four easy steps.
Get a quote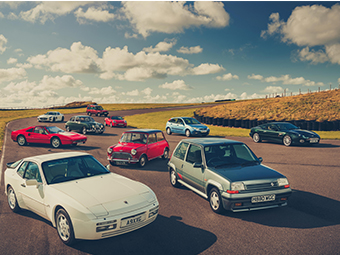 But as a car movie, and one that spans the divide between the whimsical Chitty-Chitty Bang-Bang and the gleefully over-the-top The Fast and the Furious (without troubling more serious players like Vanishing Point or Duel), The Love Bug will always have merit, particularly as a way of entertaining the kids.
Launched to audiences on March 13, 1969, The Love Bug is the story of a washed-up racing driver whose fortunes are turned around by Herbie, a Volkswagen Beetle with a mind of its own. The driver, Jim Douglas, played by Dean Jones, finds himself winning races with the Beetle's assistance (in more ways than one), culminating in a climactic race along the El Dorado.
Given the movie's title, and how iconic Herbie has since become, it's surprising to learn though that other cars were actually considered in the role before the Beetle was chosen. In the end the crew's warm disposition towards the car sealed its place – but just know that pop culture might look rather different had "Herbie" been a Volvo. The name, meanwhile, was taken from a skit from one of The Love Bug's co-stars, comedian Buddy Hackett, who plays Jim's friend, Tennessee Steinmetz.
As is often the way with car movies, there was more than one Herbie used for filming, with roles as diverse as the jokey, oil-squirting car that antagonises the film's antagonist, or the cars used for performance driving, one of which was hopped-up with the flat-four from a Porsche 356.
The last live-action movie that Walt Disney personally oversaw before his death, The Love Bug was a box-office success, taking more than $50 million, ten times its budget. But its automotive cultural impact is arguably even deeper: Go to any Volkswagen show anywhere in the country this summer, and you're almost guaranteed to see at least one replica.
The Beetle was already a success by 1969, but The Love Bug helped it dig deeper into the public's consciousness and made the Beetle overtly loveable for generations of drivers.
"People's cars" rarely need much help developing a personality, as anyone who drives a Citroën 2CV or a Mini will be acutely aware, but a bit of help from the silver screen certainly doesn't hurt.
Read more
Freeze Frame: Beetle overtakes the Model T
Buying Guide: Volkswagen Beetle (1938-2003)
The complete guide to £10,000 starter classics