There's nothing like a good track record in racing to boost the credibility of any supercar. This fact wasn't lost on Steve Saleen, who set up shop in 1983, on the west coast of America, to tune Mustangs for road and track. It was only a matter of time before he designed and engineered his own car, and that would be the Saleen S7 which arrived in 2000.
The S7 came about after the introduction of the Mustang-based Saleen SR, a car which used only the glazing and airbags of the donor vehicle. Saleen reckoned that if he was going to change the car so much, a new model created from scratch was the next logical step. And if a completely new car was going to be developed, it had to be something rather special. It's fair to say that the Saleen S7 was exactly that.
How much is your car to insure? Find out in four easy steps.
Get a quote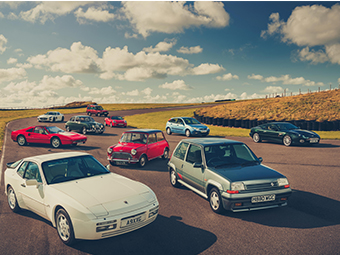 While the S7 was conceived and styled in the US, much of its development was carried out in the UK, by Ray Mallock Limited, the race team best known for campaigning in endurance racing and the British Touring Car Championship. At first glance, and especially when viewed from head on, the S7 had strong overtones of the McLaren F1; inside, the driver's seat was offset towards the centre of the car for optimum weight distribution, although it wasn't centrally mounted.
Unlike the F1, the S7's construction was unusually low-tech as there was no carbonfibre central tub, because in the event of an accident that would have to be replaced, which meant rebuilding the entire car. Saleen opted instead for a tubular steel spaceframe, which could be easily repaired. Around this was wrapped glassfibre and carbonfibre bodywork, which was lightweight but tough.
For motive power, Saleen fitted a simple all-alloy 7.0-litre pushrod V8 behind the cabin, which started out as a Ford Windsor V8, but it was completely reworked. With just two valves per cylinder and natural aspiration, this wasn't a complicated engine, but it was very effective with its 550bhp and 525lb ft of torque. This was supposedly enough to take the S7 from 0-60mph in just 2.8 seconds, with 0-100mph despatched in all of 7.1 seconds. The top speed was estimated at 220mph, although this was never independently verified.
The roadgoing Saleen S7 was unveiled in 2000, and a year later came the track version, the S7R. These were campaigned in FIA GT, ALMS, Grand-Am, European Le Mans and the 24 hours of Le Mans series, along the way setting 27 fastest laps, 29 pole positions, and numerous podium finishes, including 19 wins. But that success on the track didn't translate into extra sales for the road-going S7, which remained vanishingly rare.
In 2005 Saleen added a pair of Garrett turbochargers to the S7 to produce a 750bhp monster. With 700lb ft of torque on tap, the S7TT featured tweaked bodywork to cut drag and increase downforce. The claimed top speed rose to 248mph, with the 0-100mph dropping to just 5.9 seconds, and for those who wanted even more, a 1000bhp Competition Package joined the options list in 2006.
By the time production ended in 2009, just a handful of S7s had been built. It's reckoned that as many as 30 S7TTs were made along with a smaller number of racers. Add in the naturally aspirated cars and it's reckoned that well under 100 Saleen S7s of all types were made. But as Steve Saleen is keeping tight-lipped about production figures, we'll have to just assume that the S7 is one seriously rare supercar, and one that is now largely forgotten.
Read more
Cars That Time Forgot: Lancia Hyena
Are these the most alternative supercars of the 21st century?
Freeze Frame: Chevrolet Corvette production is go!