If ever there was an example of dreams being dashed by the realities of life, it was the sorry saga of the Fitch Phoenix.
Born in 1917, American racing driver John Fitch enjoyed a very successful motorsport career throughout the fifties and much of the sixties. As early as 1950 he built his first special, based on a Fiat 1100; later would come the Sprint, based on a Chevrolet Corvair, but perhaps his most fascinating car of all was the Fitch Phoenix.
How much is your car to insure? Find out in four easy steps.
Get a quote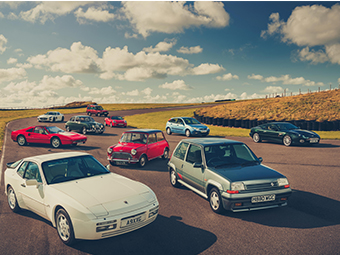 Like the Indra, Italia and the Apollo GT, the Fitch Phoenix was built by Intermeccanica. It was commissioned by Fitch in 1966, with a plan was to create America's first rear-engined sports car, based on the Chevrolet Corvair to reduce costs, and with glassfibre bodywork to cut weight; Fitch was a big fan of the plastic-bodied Chevrolet Corvette. Then he saw an Intermeccanica Italia, and apparently taken by its high-quality construction, he performed something of an about turn and commissioned Frank Reisner to construct the first Phoenix prototype using steel panelling.
Fitch was good friends with Coby Whitmore, a successful magazine illustrator and commercial artist, and the two worked together for three years to come up with a design for the new sports car, which was aerodynamically efficient and suitably eye-catching. A neat touch was the pair of spare wheels which were mounted in the front wings. Because the front wheels were narrower that the rears, a pair of spare wheels had to be carried, which kept things balanced with the front-end design. The removable targa roof was also something new, and with an overall height of just 54 inches, the Phoenix was seriously low slung.
That low nose was possible thanks to the Corvair's six-cylinder air-cooled engine sitting behind the two-seat cabin. This drove the rear wheels via a four-speed manual transmission, there was independent suspension all round, with disc brakes up front and drums at the rear. Equipped with Weber carburation, the Corvair engine was tuned to produce 170bhp, which was enough to take it all the way up to 130mph, with 0-60mph possible in about 7.5 seconds. Those who tested the car in period were impressed by its ride and handling as well as its performance.
The Fitch Phoenix made its debut at the New York Auto Show on 7 July 1966, priced at just shy of £9000. The rakish coupé caused a sensation, and around 100 people slapped down a deposit to buy one. But the timing couldn't have been worse, because 1966 was the year in which Congress passed the Highway Safety Act. Nobody knew what to expect in terms of legislation that would affect the design and construction of cars, so Fitch had to park his project until more was known.
By the time the Highway Safety Bureau arrived on 1 January 1968, Fitch had a better idea of what was needed to comply with new and forthcoming legislation, but by this point he had a much bigger problem to contend with. Ralph Nader's road safety crusade had picked on the Corvair as an example of everything that was wrong with car design, and his campaign resulted in Chevrolet's rear-engined family car being killed off.
With the Corvair no longer available, Fitch didn't have the engines and chassis that he needed to put his Phoenix into production. His original plan had been to build 500 Phoenixes, but in the end just the one prototype was made. That car survives and it was sold by Bonhams in 2014 for $253,000, two years after John Fitch died at the ripe old age of 95. He had kept the car right up to his death.
Read more
Cars That Time Forgot: Vector W8
7 lesser-spotted British classics you can buy for under £10k
BMW's XM wasn't the first – or the most extraordinary