When Asia Motors launched its Rocsta Jeep-alike in the UK in spring 1994, it bullishly proclaimed that within just a few years it would become one of the world's 10 biggest car makers. But by the end of 1997 the brand had retreated from UK shores forever, and by the turn of the millennium, Asia had shut up shop altogether. Meanwhile, Asia's parent company had launched in the UK in 1991, with a rebadged Mazda 121, marketed as the Pride. That company was Kia and in the intervening years it's done rather well, so who knows what Asia might have achieved had it stuck around and been the subject of some major investment.
Kia was founded in 1944, while Asia was set up in 1965 as a standalone business to build military vehicles, trucks and buses. By 1976 Kia had acquired Asia Motors, with the aim of starting exports of a low-cost road-going 4×4 based on Asia's Jeep-style military vehicle. It wouldn't be until 1990 that the Rocsta would be launched though, and it would take another four years for this Jeep clone to go on sale in Europe. By that point, Asia was exporting its vehicles to more than 100 countries around the world.
How much is your car to insure? Find out in four easy steps.
Get a quote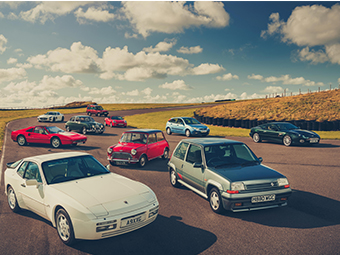 When it did appear in the UK, the Rocsta was very much at the bargain-basement end of the market, priced from £9500, which put it up against the Mahindra Jeep and Suzuki Vitara. For those who needed go-anywhere ability but had even less cash to spend, there was the £7995 Suzuki Samurai. Within a year there would be the Toyota RAV4 though, and while that was more costly, it was a far more accomplished all-rounder. Frankly, the Rocsta never stood a chance.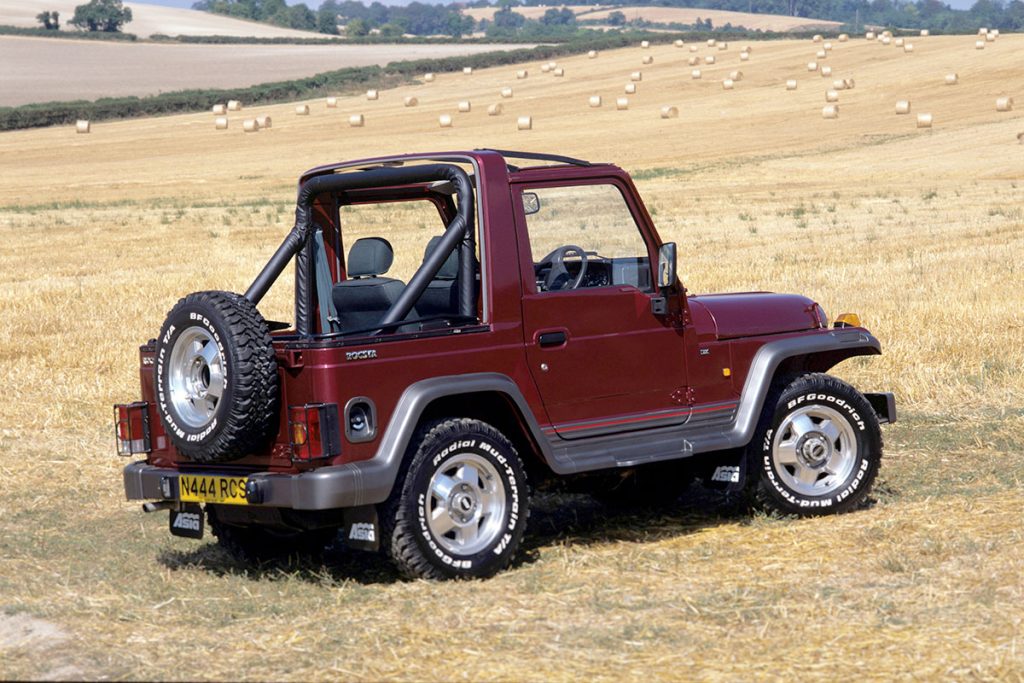 Clearly heavily inspired by the original Jeep, the Asia Rocsta came only in (very) short-wheelbase form, so while there was seating for four, cabin space wasn't a high point. Neither was cabin quality, while the ride quality was even worse, but more of that in a minute.
Buyers could choose between two Mazda-derived four-cylinder engines, both built by Kia and mated to a five-speed manual transmission. There was a 77bhp 1.8-litre petrol unit, while for diesel fans there was a 61bhp 2.2-litre lump. Both units peaked at around 90lb ft of torque, but with the diesel having a power-to weight ratio of just 36bhp per ton, its yawnworthy 0-60mph time of 22.6 seconds was no inducement to buy. The petrol unit was rather better in this regard; it slashed the time to just 11.4 seconds in hard top form, or 13 seconds as a convertible.
The Rocsta was tested by all of the usual motoring outlets and they were unanimous with their verdicts: this was a car that was astonishingly talented when tackling tricky terrain, but its on-road abilities were shockingly poor. All Rocstas came with selectable (only when stationary) four-wheel drive, a separate chassis, and leaf-sprung live axles front and rear. Free-wheeling hubs were also fitted up front, but to save fuel by going into rear-wheel drive mode, these had to be engaged and disengaged manually, while the car was parked up. Sophisticated was not a word associated with the Rocsta.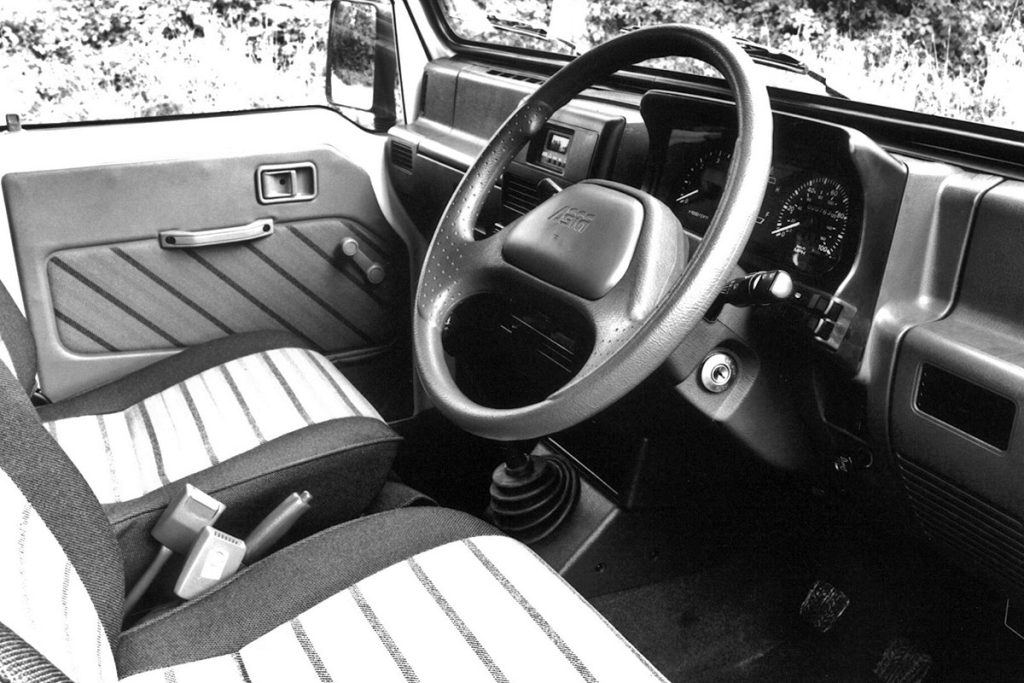 Despite its incredible talents off road, the Rocsta didn't have all that much ground clearance, but it did have high-profile tyres and these, combined with the short wheelbase, ensured that the ride comfort was comparable with a pogo stick's; Complete Car reckoned that 'ride comfort is absurdly bumpy by normal car standards'. Its author also introduced the car by saying 'the Rocsta (pronounced rock star, as in Gary Glitter)…'
When Roger Bell tried a Rocsta for Car magazine, he also came away impressed by its off-road abilities, less so by its on-road talents. He wrote: There's no incentive to drive quickly, even if you could. The low-geared, unassisted steering is heavy and ponderously unresponsive – you twirl the wheel madly on sharp bends. Despite the short wheelbase, the turning circle is abysmal. Ten miles on tarmac was more than enough to expose this vehicle's limitations as normal transport'.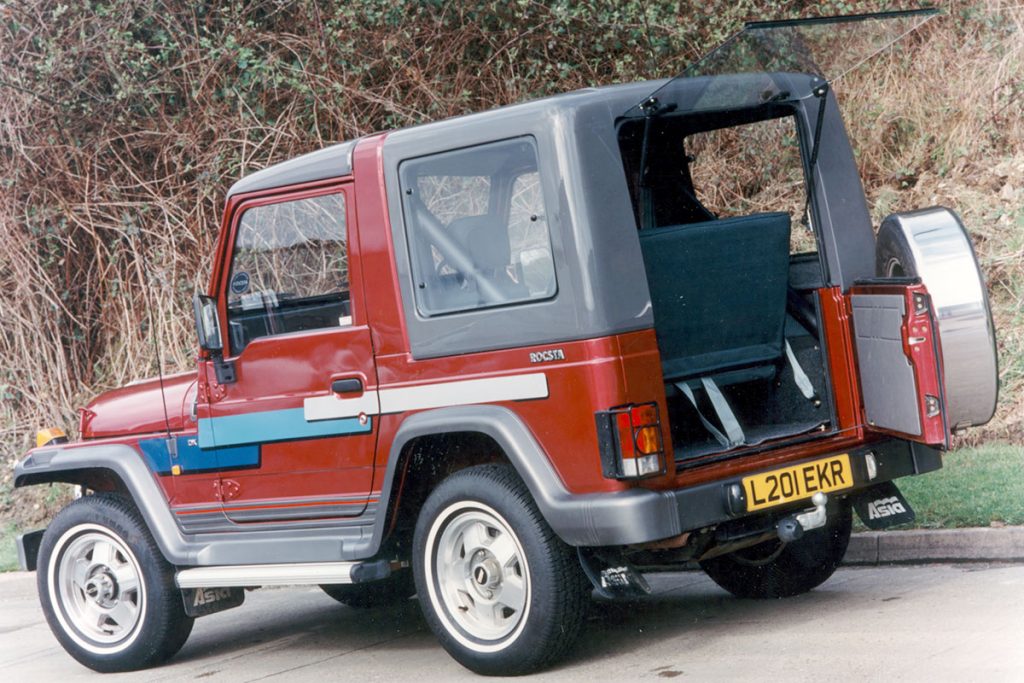 That £9500 headline-grabbing starting price secured a diesel-engined base-spec convertible, while the range topper was the more luxurious DX-spec diesel hard top. Whereas entry-level Rocstas came with vinyl trim, reclining front seats and steel wheels, the DX added alloy wheels, cloth trim, a four-speaker stereo, a rev counter and a digital clock. Rather handily, a folding rear seat was also added to the roster of DX standard kit, which was essential bearing in mind the boot was too tiny to be able to accommodate anything useful.
When Asia launched in the UK it had aspirations of selling 1200 Rocstas by the end of 1994, then 2000 cars per year after that. But in all, little more than 900 Rocstas were sold here, and the brand was defunct altogether by 1999. According to howmanyleft, as many as 18 Rocstas are still taxed and another 175 are on SORN, suggesting that more than a fifth of the cars sold here have survived. The question is though: when did you last see one?
Read more
9 classic 4x4s that aren't Land Rovers
Future classic: Range Rover Classic 3.9
Mud Wrestling: At some point in the 1993 Camel Trophy, we began naming the leeches