How often are you likely to come across the words "1927 Triumph" and "cyber engineering" in the same sentence outside of a time-travelling episode of Dr Who?
If you're involved in certain aspects of the British Army's Royal Corps of Signals, then possibly reasonably frequently.
How much is your car to insure? Find out in four easy steps.
Get a quote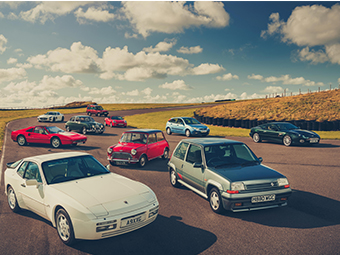 The Royal Corps of Signals turns 100 years-old, tomorrow (28 June). And it was a stunt-generating 1920s Triumph that helped start what is now the techi-est division of the military on a journey that today delivers all IT, cyber and telecommunications needs on the battlefield and beyond.
There's something about discipline and precision that drops jaws with real-life audiences. Military display teams provide a glimpse of just how intensely precise, skilled, capable and disciplined front-line armed forces are.
The RAF's Red Arrows need no description. Then there's the Red Devils – the Parachute Regiment Freefall Display Team; there's the Black Cats – a pair of Royal Navy Lynx helicopters and their crews who appear to spend an entire display trying – and failing – to have a nasty accident.
It's all designed to be a mix of recruitment drive, muscle-flexing and flag flying for the UK and its military.
But if a display team representing the Royal Corps of Signals started doing very visible and public displays of what they currently do, then anything from a war to an Official Secrets breach could result.
Look no further than the official website of the British Army's Royal Signals and what leaps out are "cyber engineering", "electronic warfare signals intelligence", "power engineering", "supply chain" and "communications".
In other words, Top Secret Stuff. They probably can't even tell us whether they've signed something to say they can't tell us.
The only time we might get the slightest idea what these guys actually get up to is probably in a movie. So what's the connection with Triumph motorcycles and soldiers dressed as if about to attend a formal regiment dinner?
Well the Royal Signals did once have a display team, and you're about to have one of those "aaah, yes, I remember now…" moments.
The White Helmets – The Royal Signals Motorcycle Display Team – was disbanded in 2017 after 90 years. The Ministry of Defence considered them to be not representative of what the Signals did. But what about all the horses used in current-day military displays? Precisely. Maybe, one day, the future King William – a known biker in his past – will revive The White Helmets.
Anyway, back in the First World War, horses and motorcycles were crucial components of communication and signals.
And, just as in the 2020s, give somebody a motorcycle back then and they're going to develop a ground-covering control capability and skills which non-bikers can't comprehend. Getting a feel for a bike – crossing that line from necessary commuting to real enthusiasm – means that those skills can draw gasps doing apparently daredevil but actually well-drilled precision stunts.
In war-torn Europe, communication was often by pieces of paper carried in the satchel of an Army motorcyclist who had to navigate from A-to-near-oblivion largely without the benefit of roads and bridges while dodging all manner of ordnance. Probably at night.
So sitting on top of a ten foot vertical ladder bolted to a Triumph Tiger motorcycle being ridden round a showground by somebody who appeared to be controlling the bike with his teeth as a warm up to jumping the bike through a wall of fire? A cinch.
The White Helmets weren't named until the 1960s. But they were doing "demonstrations" of their skills for audiences from the outset in 1927. Even the earliest photos are of the chaps lounging around enjoying a smoke, seemingly oblivious to a lump of British iron ridden by an army Captain launching itself from a ramp behind them before brushing their caps and denting the field it landed in.
Things had moved on by the time the White Helmets were disbanded in 2017, and while it was great fun to be involved, there was that underlying precision and discipline at which the military excels.
Ralph Deegan was a White Helmet, performing from 1985 to 1988. Now 56, he'd actually been riding a bike since before he was ten.
"When I applied, I thought that would be an advantage. No, definitely not. I knew what I could do, I knew what a bike could do, but the Army being the Army they much preferred White Helmets recruitment and selection courses to be filled with lads who had never ridden a bike," he told me.
"I turned up and they said we'd be riding a bike backwards at 60mph by the end of the week. They demonstrated it to the non-bikers, who accepted it, and said, right, that's OK; but for the experienced riders it was a shock. Three quarters of White Helmets never had a road licence.
"But the Army had to see what we were made of, so it was off up to Catterick Garrison for the selection process. And the first thing they did was take us off onto the Moors, with a 4am start, a day riding through the mud, back to base, and then we had to present ourselves and our bikes the next morning at 4am, and both we and the bikes had to be immaculate: never mind our clothes – the bikes had to be stripped down and cleaned properly in the way the Army defines as 'properly'.
"There was a purpose to this: they wanted to see could we cope with doing a display in Scotland one day, and then another in London the next."
Once they'd negotiated that challenge, then it was down to five months learning the tricks.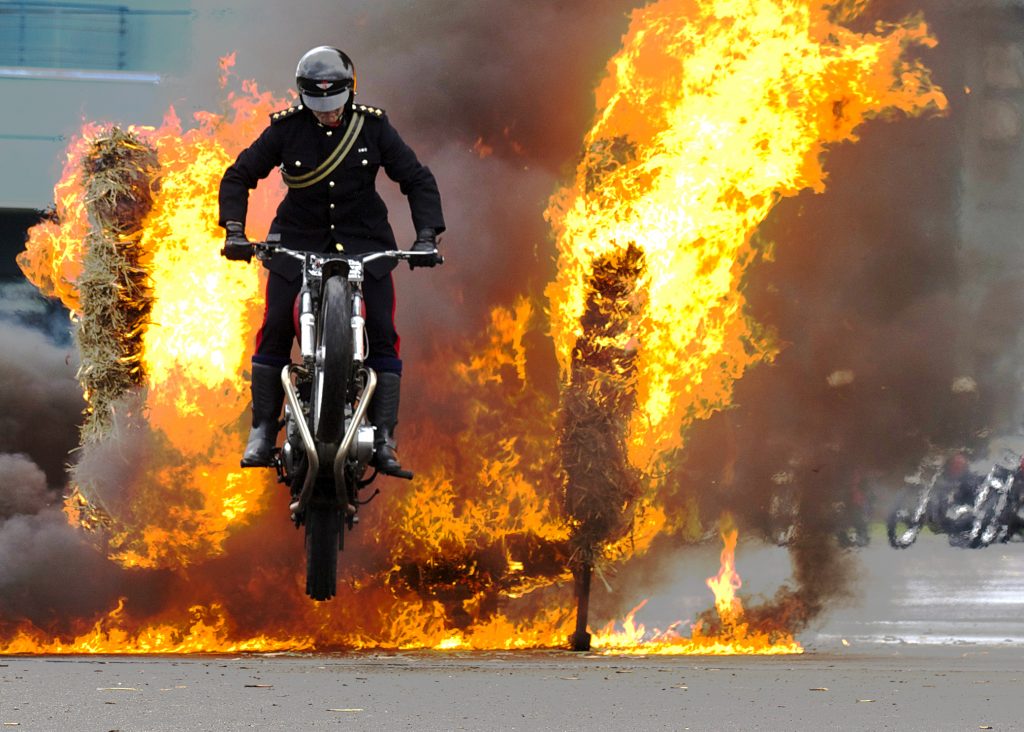 "Until we'd qualified for a white helmet – which only happened after a successful public display and a number of tests of personality and ability to engage with the public – we were 'Blue Helmets'.
"When we did get that white helmet, we were actually joining a very select club: there have been fewer White Helmets than recipients of the Victoria Cross."
And the bikes? The White Helmets always used Triumphs, in the most recent eras the Triumph Tiger. Its single-carb version of the Bonneville 750 powerplant was known for its torque, vital in some of the White Helmets shows where instant grunt meant potentially lethal tricks such as 'crossovers' – where two converging lines of bikes crossed in the gap behind and in front of other bikes moving across their bows – could be performed.
"None of our tricks were guesswork. Everything was precise, based on planning and markers, so you always glanced up and knew whether another rider you were just about to have a planned near-miss with was in the right place," said Ralph.
"There were accidents, but we had to tell the First Aiders not to enter the arena if there was a problem; our priority was to get our guys in there and get the bike out.
"We always needed all the bikes, so the priority was to rescue it and get it back in shape. We could always get another rider," said Ralph with a stifled grin.
It's a line only the military could get away with.
Dreaming of the Aston Martin Brough Superior £100,000 superbike