'Badge engineering' is a deplorable thing, we've been conditioned to think by generations of car history buffs – mainly, of course, because there's precious little engineering involved at all. It's a branding exercise brought about by a series of mega-mergers, takeovers and rescue missions that reduced Britain's sprawling car business into about half a dozen large manufacturers by the mid-1950s.
Very few marques were axed totally because – even if their factories were flattened for housing estates – there was usually an existing dealer chain that wanted to be kept supplied. So instead they lived on as spin-off versions of other cars, manifested in a pick-and-mix of radiator grilles, badges, trim, two-tone paintjob splits, sunroofs, upholstery fabrics, chrome strips and daft names. In fact, any cosmetic changes short of altering the structure and the drivetrain.
How much is your car to insure? Find out in four easy steps.
Get a quote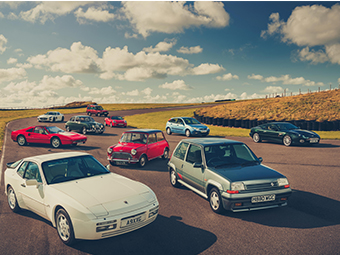 The two firms offering the broadest badge-engineered buffets were the British Motor Corporation (BMC) and the Rootes Group. The very first cars it was actually inflicted on were the Wolseley 6/80 and Morris Six in 1948 – same engine, same body, different décor – and weirdly it was the luxury Wolseley that did well while the plainer Morris was a flop. Still, it will surprise, shock and possibly appal you to know that the second set of marketing twins were the Bentley MkVI and Rolls-Royce Silver Dawn which, majestic grilles aside, were one and the same thing in 1949.
When it came to MG's turn to join this burgeoning trend in 1953 – 70 years ago this year – there was initially an irate response from the marque community, which is in itself a bit bewildering, as the very kernel of MG's birth was as an adaptation of Morris cars. Now, though, BMC had elected to foist an MG version of its Wolseley 4/44 on the market.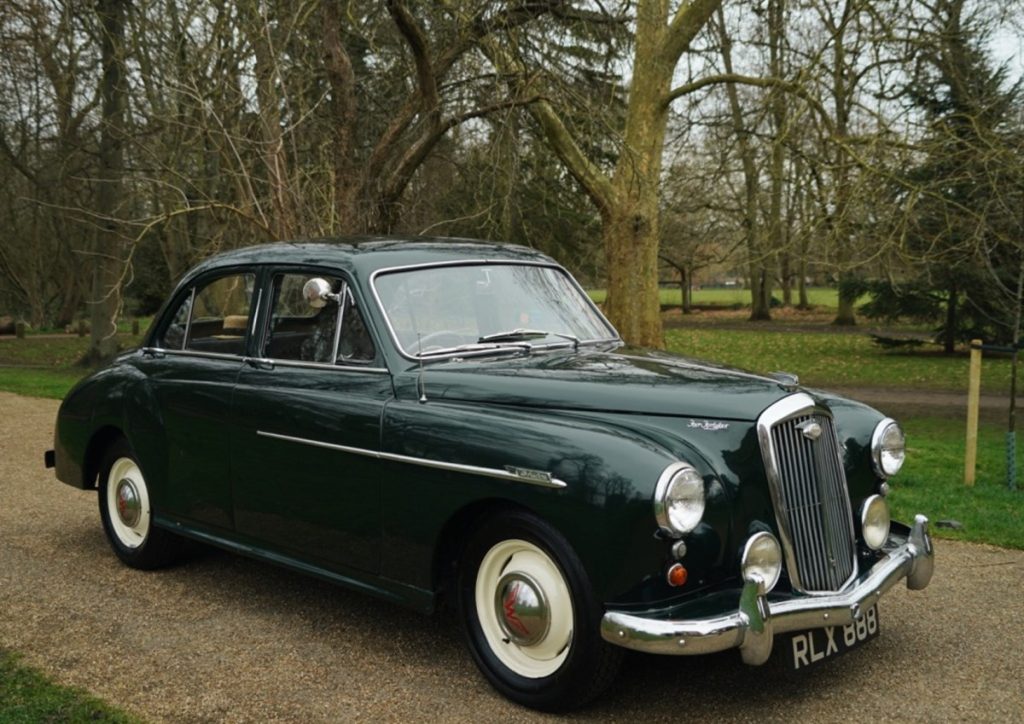 This four-door saloon with its Italian-influenced lines and monocoque construction had been on sale for a year already, yet despite running a single-carb version of the old XPAG engine from the MG TC, it was a rather feeble performer, its four-speed gearbox controlled via a willowy column-mounted change. Expectations were low.
People had not, however, counted on the multiple skills of chief designer Gerald Palmer in being able to create a rather superb sports saloon from the most unpromising of bases.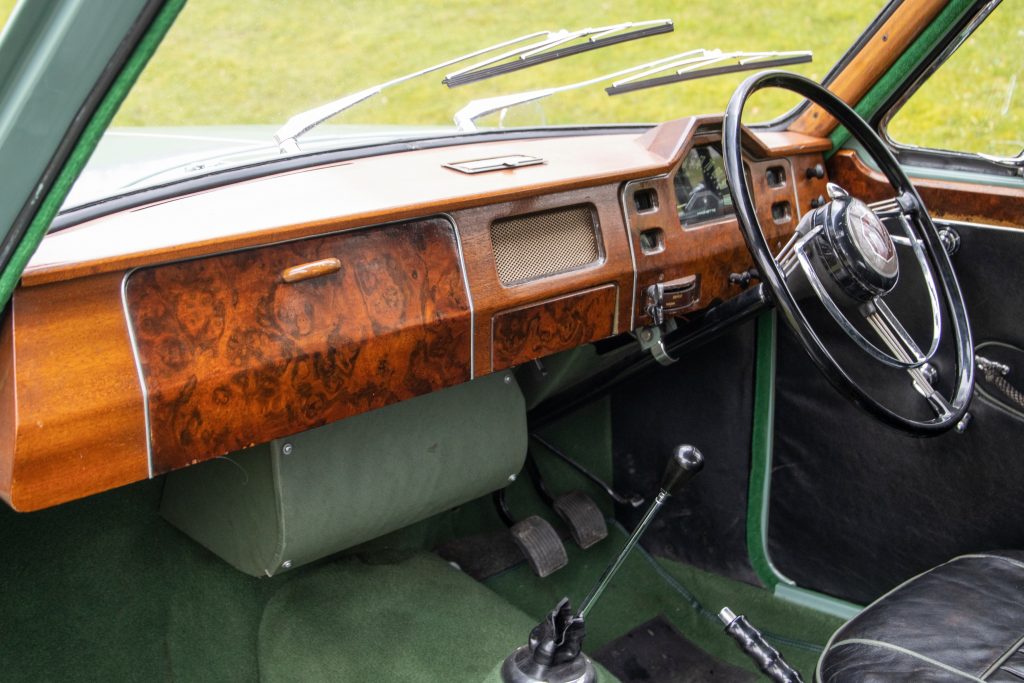 The Magnette version truly benefited from the installation of Austin's 1.5-litre B-series engine complete with twin SU carburettors that lifted the 4/44's wheezy 46bhp to a spritely 60bhp. The gearchange was moved to the floor to please enthusiastic drivers, and the suspension was lowered by 2in and Pirelli Cinturato tyres were fitted, which brought alive the 4/44's best feature, its rack-and-pinion steering, in a pioneering sports saloon that went and handled unexpectedly well.
Letting other people know you weren't driving along in a Wolseley with your Homburg hat and swirling pipe smoke was another essential facet of the new MG Magnette. As well as the more ground-hugging stance, Palmer added 'go-faster' chrome flashes hugging the front wheelarches and two big, rally-style front spotlights. And the Wolseley's upright number plate in the centre of the boot lid slipped discreetly below the rear bumper. You had to supply your own Kangol cap, driving gloves and cheroot…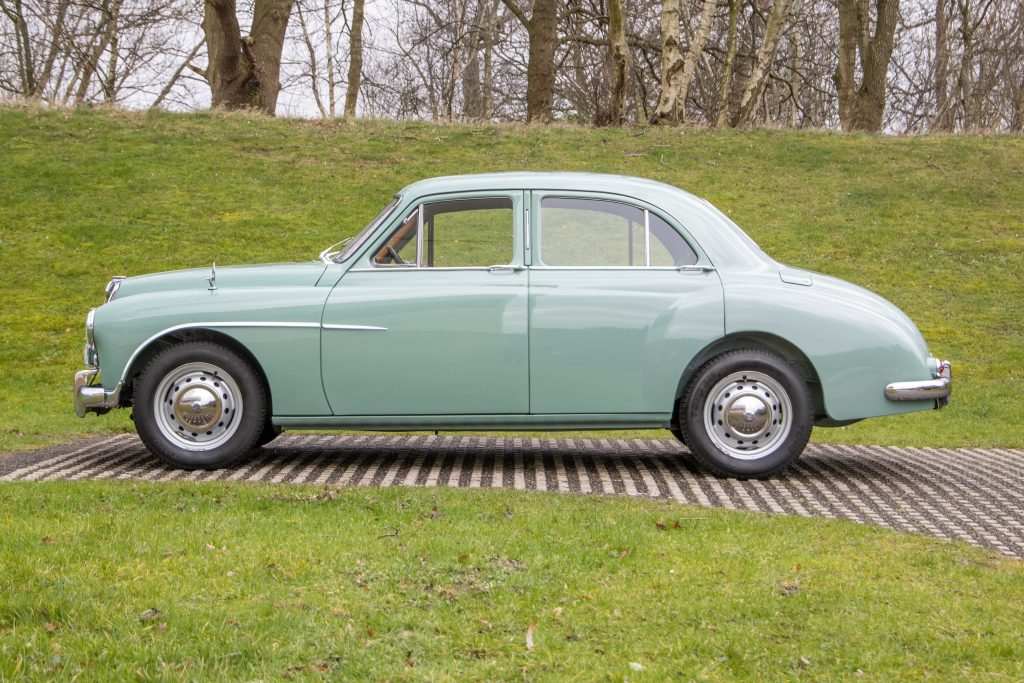 The Magnette ZA dispelled all early rumblings of disapproval, and MG made sure to keep the car on the pace with the ZB, adding a higher back axle ratio, 5bhp extra engine power in 1956 (top speed jumped from 80 to 86mph) and interior refinements, and there was also a trendy Varitone model with a bigger rear window and a two-tone paintjob.
But for all the kudos the Magnette built, the MkIII version introduced in 1959 was a shocker. It came at the apotheosis of BMC's badge-engineering strategy, and so was the MG version of the 1.5-litre saloon range styled by Pininfarina and alternatively known as the Austin A55 Cambridge, Morris Oxford Series V, Riley 4/68 and Wolseley 15-60. Along with the Riley, it used the 64bhp twin-carb B Series from the ZB but the Americanised, be-finned styling – even with those rear appendages slightly clipped to dodge pretend-Cadillac accusations – looked overblown.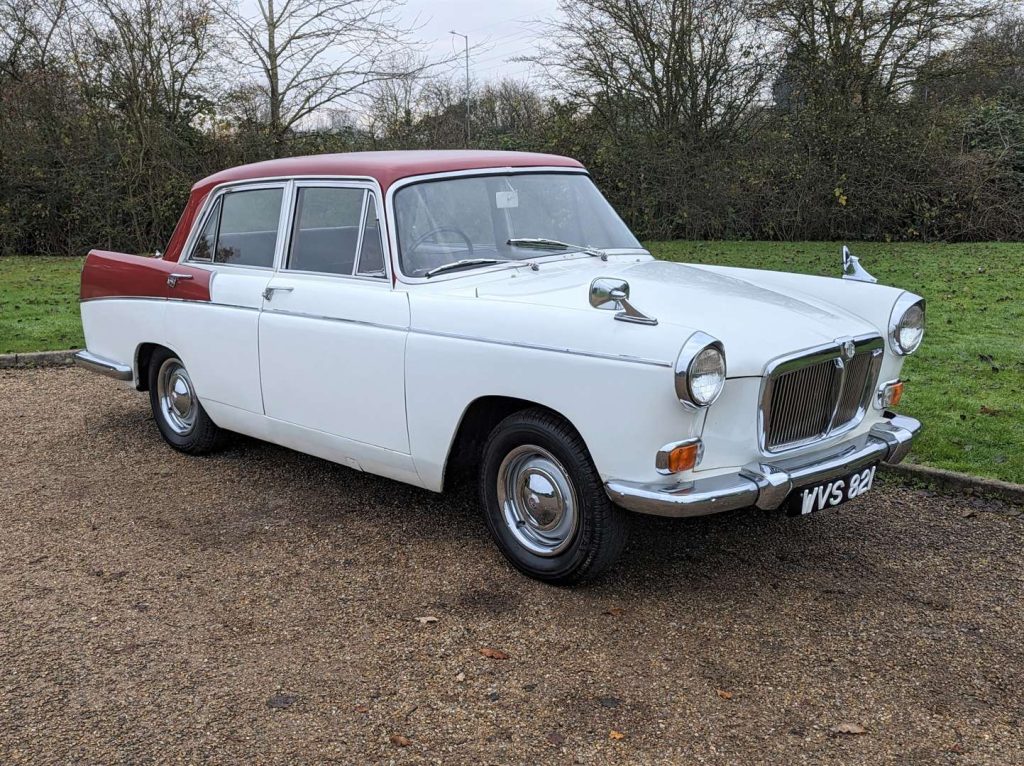 Despite a roomy interior rich in walnut veneer and leather, the softly sprung car was resolutely no fun to throw around. About the identical-spec Riley 4/68 Which? magazine said: 'It was not a car in which our testers drove with much confidence or pleasure.' Hardly the sort of verdict that chimed with MG's image, even with the bigger, 68bhp 1.6-litre engine installed in 1961. Having said that, it's an easy car to take out of context because the Italian lines were certainly a bold departure from what came before.
If the Farina Magnette engendered enthusiast dismay then the next MG saloon was positively joyous from a driving perspective: the 1962 MG 1100. The octagon badge was this time affixed to the MG version of the BMC 1100. Alec Issigonis's family car follow-up to the Mini with its front-wheel drive and Hydrolastic suspension was launched in tandem with the Morris 1100, and its sparkling road manners and excellent roadholding were enhanced by a twin-carb edition of the 1098cc A Series engine. With the later 65bhp 1300 model the car was practically a four-door Mini Cooper. It was a car to drive with relish while your grandparents squeaked nervously in the back, and the two-tone paintwork and upscale interior added to the special appeal.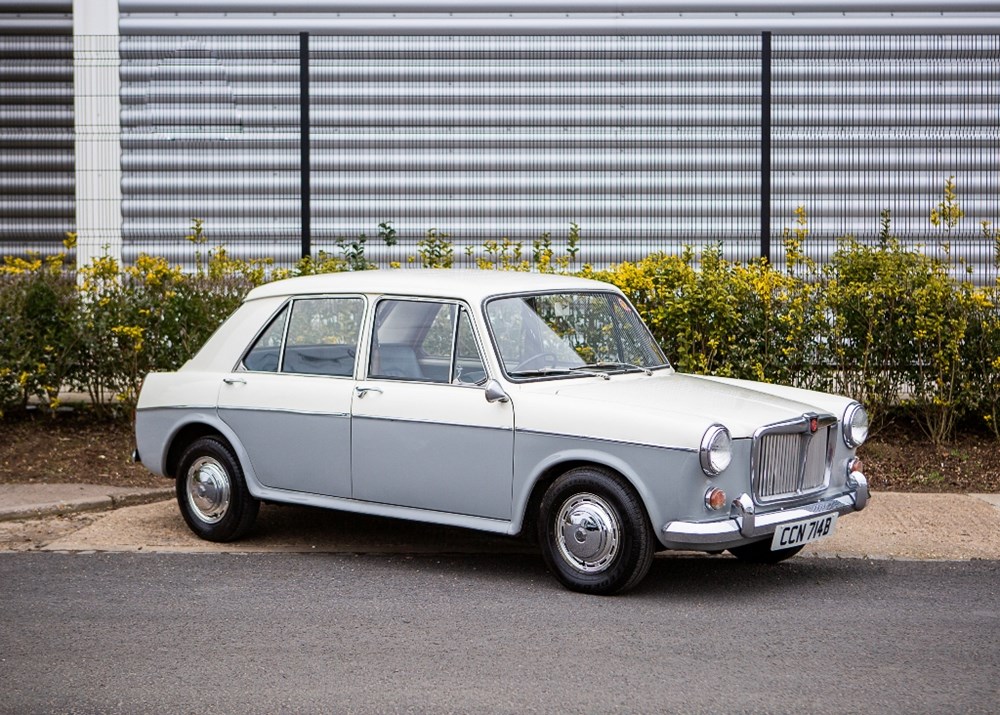 Sadly, the MG sports saloon concept would soon run out of petrol, stutter along, and then coast to a halt. The MG 1100/1300 simply petered out in the early 1970s. It seems inconceivable in today's terms that a popular brand and product would just be allowed to wither away; would United Biscuits have just given up on its Ginger Nuts, or Clark's not bother to update and repackage its Desert Boots? This was, however, peak-British Leyland malaise. Its creation had brought together so many brands, factories, conflicts and conundrums that it couldn't handle them all. Sports saloons, henceforth, were deemed Triumph territory, and although tags such as GT, TC and SS were glued on to the sportiest offerings from Austin and Morris, MG was restricted to two-seater sports cars only.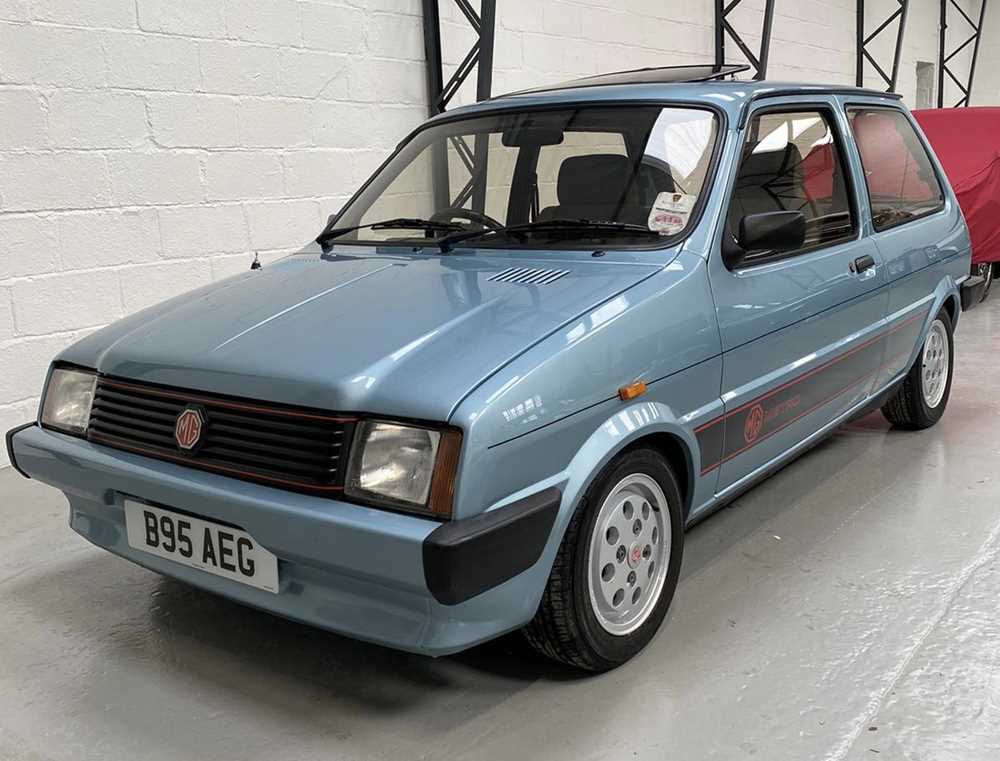 In 1982, there came a change of heart. An MG saloon was back. I'm looking at a book called A-Z Of Cars Of The 1980s by the late Martin Lewis, who I know for a fact got behind the wheel of almost everything in that era. I note he says: '…the "badge-engineered saloons and hatchbacks failed to recapture the original magic." I respected Martin a lot, but I think he was wrong. The MG Metro did fully rekindle the spirit of the earlier, hotted-up tin-tops in that it was peppy, with a lightly-tuned 72bhp A-Plus engine, and natty, with its alloy wheels, wide tyres, graduated go-faster decals, red carpets and seatbelts, and three-spoke steering wheel. It recaptured the Mini Cooper and MG spirits intertwined, could hit 100mph, and manage 60mph from rest in 12sec. No Golf GTi, for sure, but then the MG way was always to ladle just enough exhilaration over a standard car to keep it this side of punishing insurance premiums and running costs. In this the Metro succeeded admirably. And for anyone who wanted some overpowered madness, in 1983 came the Lotus-developed MG Metro Turbo, the 93bhp blown engine straining at its mountings when the boost cut in (as indicated on a gauge on the dash) and the four-speed manual gearbox doing its best to cope with the requisite slam-dunk changes.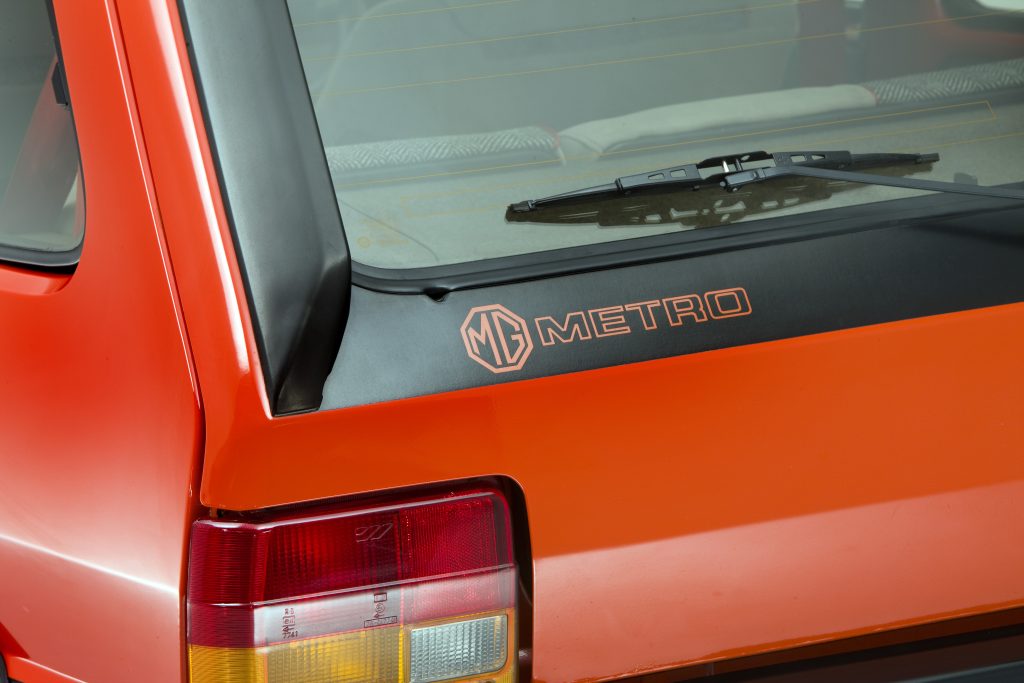 Certainly the worst of the MG standard-bearers with a family bent was the Maestro 1600 of 1983. Its 1598cc O Series engine with its two Weber carbs was a rough-running, temperamental thing, and its synthesised voice trip computer noteworthy for all the wrong reasons. After less than a year and 2500 built it was axed. The 2-litre EFI fuel-injected model that replaced it turned the car from a certain runt to an unlikely greyhound – smooth, fast and fine-handling with a capacious and versatile hatchback body, while the hectoring dulcets of voiceover actress Nicolette McKenzie had been banished from the dashboard.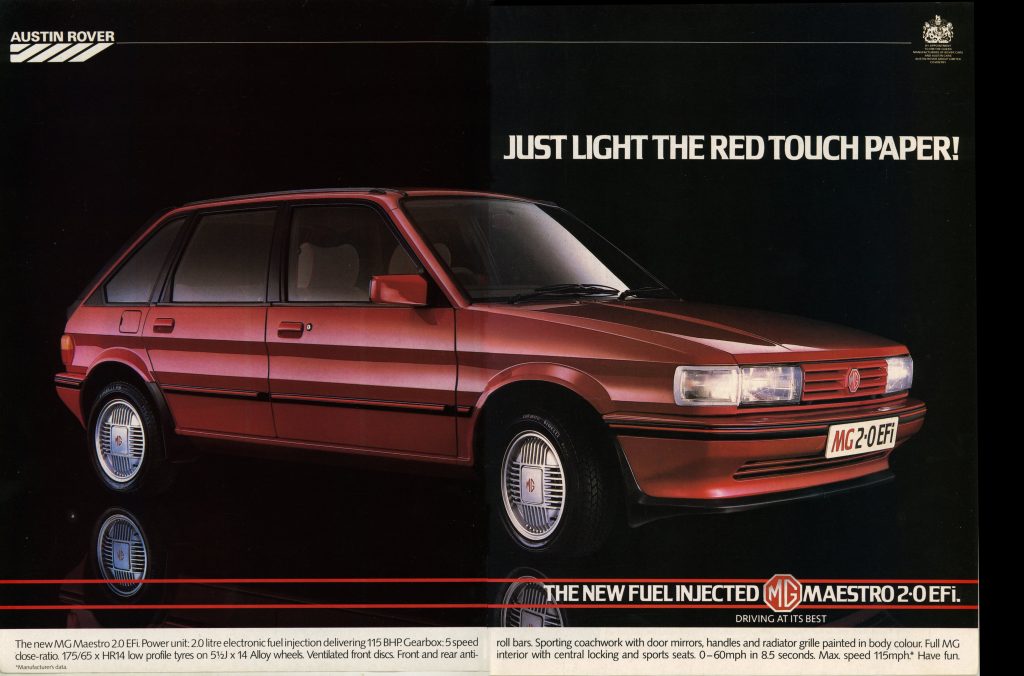 Alongside it in 1984 came the MG Montego 2.0 EFI with a near-identical drivetrain, and in the golden age of the company car this one did well as a surprisingly accomplished alternative to a sporty Cavalier or Sierra. Adding a turbocharger to the MG Montego was, once again, a hurried move. It created a 150bhp machine that indulged in an alarming internal struggle as its turbo lag came up against the torque-steer through its driven front wheels. Slippery roads and hard acceleration were a challenge, even with wide alloy wheels. In the limited edition MG Maestro Turbo of 1989, a sister car developed and built with help from Tickford, a lot of the issues were carefully ironed out, and with a comprehensive aerodynamic body kit in the most outré of 1980s fashions, it emerged as the fastest production MG yet, with a 128mph top whack and 0-60mph in 6.7sec – faster than a Lotus, a Ferrari or a Porsche, as Austin Rover gleefully informed the slack-jawed public.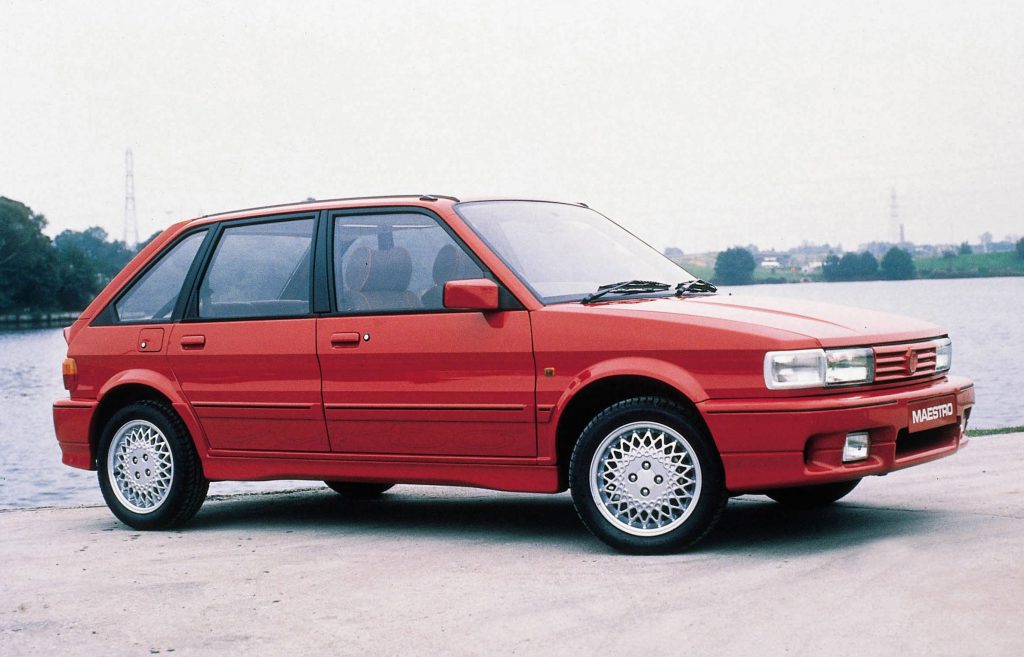 By 1991 the MG saloon cars vanished once more, as the way was cleared for the all-new MGF in 1995. Everything else the resurgent company made would be a Rover, with GTi, GTa and SLi tending to denote high-performance aspirations. And that might very well have been that but for the crisis that engulfed Rover Group in 2000. After shortlived ownership by BMW, the company was broken up. There was no saviour for the venerable mainstream cars business, so it looked as though there would be no more of them. In the nick of time, a management buyout took place and the company was reformed as MG Rover Group in 2001. New thinking was desperately needed to reverse its fortunes, but the company almost immediately fell back on what had truly become an MG tradition: good old badge engineering. In an exercise conducted at breakneck speed, the Rover 25, 45 and 75 spawned MG ZR, ZS and ZT derivatives.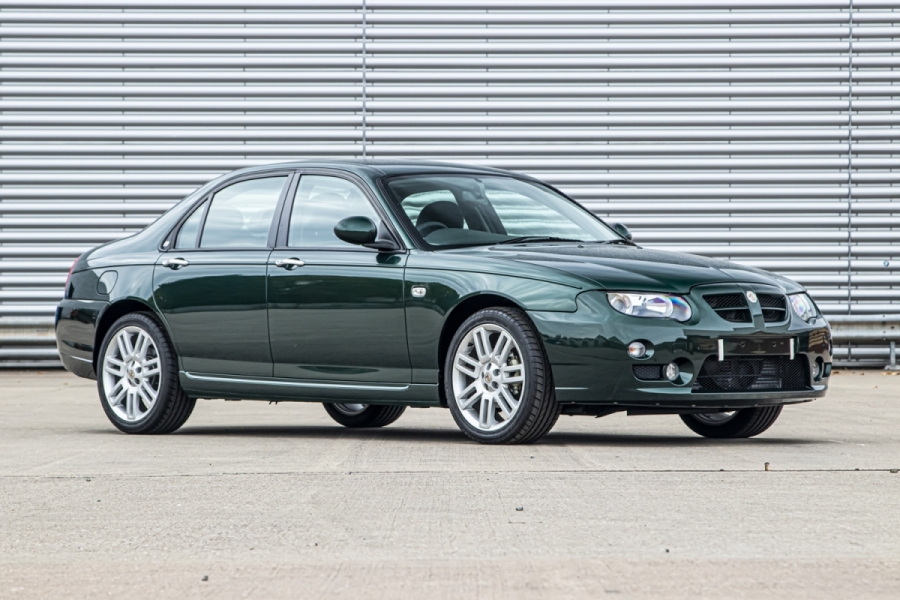 In the four years before the business venture fell into bankruptcy a mind-boggling variety of these MGs were offered, with 1.4- and 1.8-litre K Series and 2.5-litre KV6 engines, and even a rear-drive Ford V8-engined sports-saloon. So imaginative was the deployment of the badge that it produced not only the first MG estate car, the ZT-T, but also the MG Express, its one and only delivery van.
British-made MGs are no more, and that's a shame. Hopefully, though, MG will increasingly be remembered for sparkling transformations of otherwise mundane cars as much as two-seater, wind-in-the-hair enjoyment.
Read more
MGF driven: A fresh look at MG's MX-5 rival
Concept Cars That Never Made The Cut: MG Rover RDX60
The Full English: MG MGB