One-oh-five em-pee-aitch. Trojan, owner of the Elva brand since 1962, kept things simple in its advertising for this small British sports car. Your top speed was up there, front and centre, a time-honoured way of boasting of the abilities of your car, even if you might never get there.
Trojan kept things simple in other ways too, reprising Elva's original catchphrase – "elle va" of course meaning "she goes" in French. Today's ad was squeezed quietly in a corner of a December 1962 issue of Autocar, alongside a story about the 500,000th Mini leaving Longbridge.
How much is your car to insure? Find out in four easy steps.
Get a quote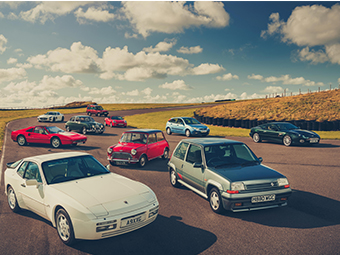 The Courier used BMC power of course, as Richard Dredge wrote when covering the Elva as a Car That Time Forgot. Originally it was a 1.5-litre from an MGA, but in this Mark III it's a 1622cc variant of the same, such as you might have found in Mark II MGAs, Austin Cambridges, and MG Magnettes.
And with disc brakes, you could be sure of scrubbing down any speed you'd gathered, 105mph or not. Whether it cornered as neatly though was a different matter – Dredge notes that among Mark III changes was an improvement in cabin space brought about by shifting the B-series forward, altering the car's balance in the process.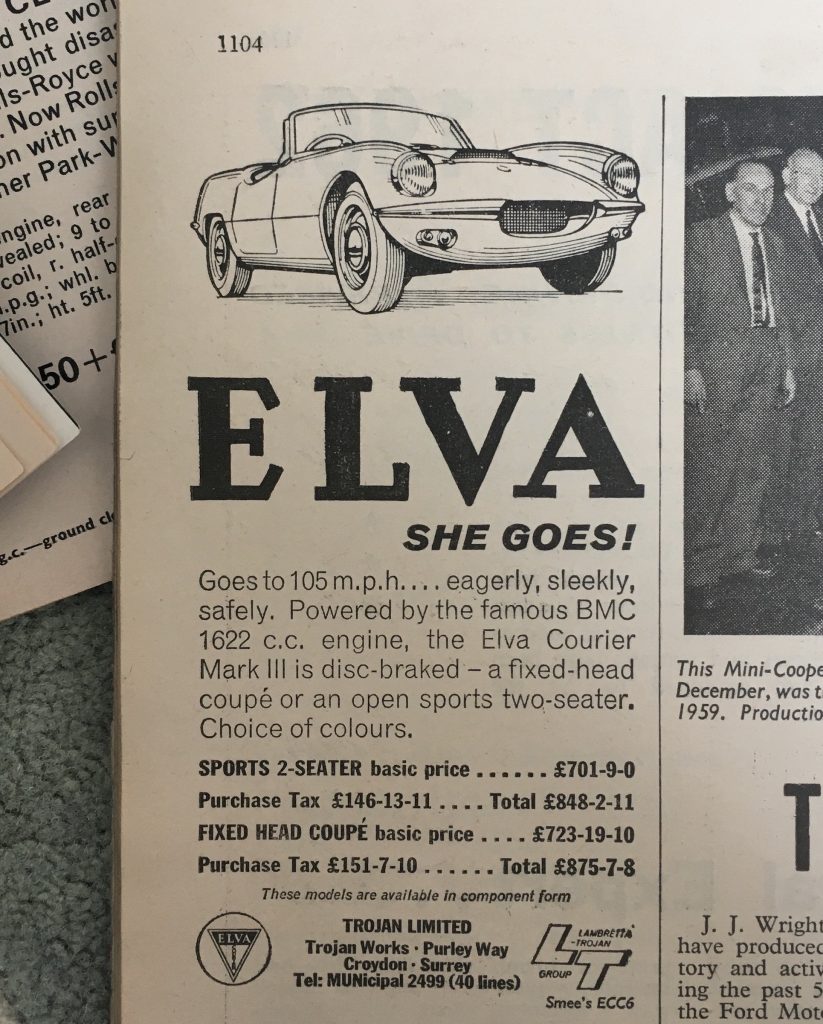 This was later corrected, but being a '62 advert, we'd assume the engine was still a little far forward at this point – perhaps some Elva experts can confirm either way.
You did get the option of two different body styles, a pretty two-seater roadster and fashionable fixed-head coupé, and going for the roof meant an extra £27 after tax. Those purchase prices in the ad equate to about £14,500 and £15,000 today. Cracking value, then – in 2023 money, it'd undercut an MX-5 by ten grand.
Trouble is, some of its rivals, from much bigger and more established marques with no doubt more significant dealer and parts backup, were even cheaper: try £834 after tax for an MGB, or a mere £641 after tax for a Spitfire.
You could call it a premonition of the 1990s kit-car decline three decades earlier. When a booming industry of affordable roadsters is springing up all around you, who's really going to want a plastic-bodied parts-bin special, clever name or not?
Read more
Ad Break: Cool off with a Cortina
Owners with Elan: Star-studded Lotus collection up for auction
I helped make the first MX-5, and now I love its ancestor