Here's a fun fact for you: did you know that the English sports car maker Elva took its name from the French for 'She Goes' (Elle Va!)? If you know your cars there's a good chance that you did know this useless piece of trivia, because for many car geeks it's the only thing that is widely known about this small marque that existed in various forms between 1955 and 1968.
The man behind Elva was Bexhill-based garage owner Frank Nicols, who fancied going racing. In nearby Hastings, budding race car designer Mike Chapman was putting the finishing touches to his CSM sports racer which was powered by an 1172cc Ford 10 side-valve engine. Despite this powerplant's inefficiency the lightweight and sleek CSM could touch 100mph, but Nichols wanted more. He developed an overhead inlet valve conversion which pushed up power by an impressive 60 per cent, and unsurprisingly other racers wanted a piece of the action.
How much is your car to insure? Find out in four easy steps.
Get a quote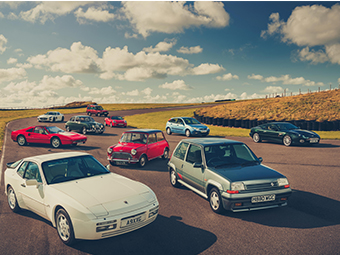 Nichols reckoned that the best way to market his tuned engine was to offer his own single-seater racers, so he developed a kit which proved to be such a roaring success that in 1955 things were formalised with Elva Engineering being incorporated.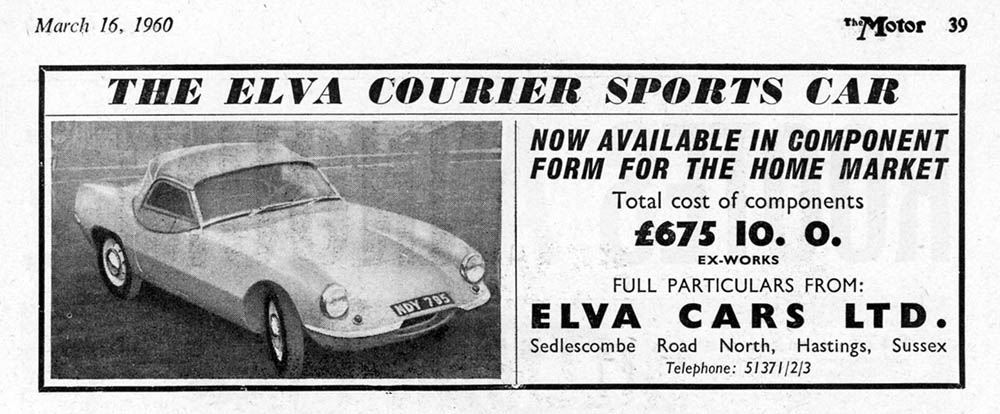 Before long Elva appointed an agent in the US to import its racers. That agent was Continental Motors which was run by Walter Dickson, and he persuaded Nichols that Elva's future lay in selling road cars rather than racers. Dickson promised to buy the first year's production of Elva's new sports car and in 1958 the Courier was born.
Designed by Peter Nott and Tim Fry (the latter was instrumental in creating the Hillman Imp), the fibreglass-bodied Courier featured a tubular chassis and a 1489cc MGA B-Series engine which was mounted far enough back to give a 50/50 weight distribution. Sales boomed, with Couriers flowing steadily through the gates of Elva's new factory in Bexhill, many for export to the US.
Despite its crude construction the Courier proved unassailable in SCCA (Sports Car Club of America) racing, but keen to address the shortcomings of those first cars, a Series 2 was launched in 1961. This featured a single-piece windscreen, a new dashboard and a heavily revised chassis, the option of a hard top plus a more powerful 1588cc engine.
Just before the Series 2 surfaced, Elva introduced a fixed-head Courier with a reverse-rake rear window. The model as a whole continued to sell well with nine cars each week leaving the factory, but Dickson then failed to pay for a batch of Couriers, forcing Nichols to go bust.
Economy car maker Trojan bought Elva and introduced the Series 3 in 1962, with a roomier cabin which was achieved by moving the engine forwards – wrecking the handling. The solution (radically and unpredictably…) was to move the engine back again to improve things.
Next came another coupé, this time with a fastback profile; it was a flop and was consequently killed off soon after. More successful was the MkIV T-Type Courier with smoother bodywork, stronger chassis, independent suspension front and rear plus 1588cc Ford Cortina or 1798cc MGB engine options.
All of these things improved the Courier, but by late 1965 Trojan was losing interest so the rights were sold on to Hertfordshire-based Ken Sheppard. Over the next two years he made another 26 Elva Couriers almost single-handedly, but with parts supply getting ever harder he decided that it was time to pull the plug early in 1968, killing off the Elva marque after more than 2000 cars had been built.
Also read
Cars that time forgot: Opperman Unicar
Cars that time forgot: Caterham 21
From Suzulight to Spacia, Suzuki celebrates making 25 million minicars