It's been more than six years since a rare, alloy-bodied 1955 Mercedes-Benz 300SL has been offered at public auction and nearly 10 years since one sold. In other words, a lightweight Gullwing finds a new owner less often than a major comet is visible from earth.
That's about to change, perhaps in dramatic fashion.
How much is your car to insure? Find out in four easy steps.
Get a quote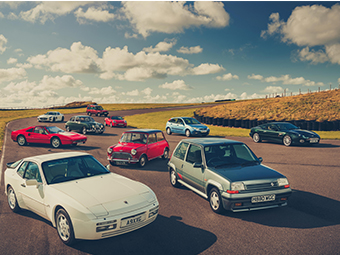 At the end of this month, the RM Sotheby's Arizona Auction will see the 13th of only 24 alloy Gullwings built cross the block. As the most coveted post-war Mercedes it won't come cheap.
The highly collectable 1955 model is described by the auction house as "a unique and peerless specimen with fascinating provenance," which is why chassis #5500332 carries a presale estimate of $7m to $9m (£5.1m to £6.6m). If it sells for anything close to that range, it will become the most expensive alloy-bodied Mercedes 300SL ever sold at auction.
"Due to their rarity and competition pedigree, the value of an aluminium Gullwing is nearly five times that of a steel-bodied one," says Andrew Newton, Hagerty US auction editor. "Whereas a standard 300SL is actually quite common among seven-figure classic cars, the aluminium Gullwing is one of the rarest production cars of all. It may look the same as a steel-bodied 300SL, but it's in a different class when it comes to value."
The Alloy Gullwing is the second most-valuable Mercedes-Benz in the Hagerty Price Guide behind the prewar 540K. While a steel-bodied 1955 300SL carries a #2 (Excellent) value of $1.4 million, an alloy-bodied version in equivalent condition has an average value of $6.7 million in the US, and in the UK concours cars are currently valued at £5m.
The record price paid for an aluminium 1955 Mercedes-Benz 300SL is $4.62m at Gooding & Company's 2012 Scottsdale Auction. That was also the last example sold. Two others have been offered since – one was bid to £2.4m at RM's 2012 London sale and the other to $4.5m at RM Monterey in 2015 – but each fell short of its reserve price.
The alloy Gullwing was the brainchild of Mercedes-Benz engineering chief Dr. Fritz Nallinger, who proposed a special 300SL for retail to privateer racers. By outfitting the Gullwing with aluminium body panels of 1mm thickness, in place of 0.8mm thick steel, the car's overall weight was reduced by more than 90kg, from 1225kg to 1134kg, making it competitive against the Aston-Martin DB3S, Maserati A6GCS, and Ferrari 750 Monza and 250 GT.
Mercedes also offered an engine upgrade as a cost-option on both the alloy and steel-bodies Gullwings coupés. Known as the NSL 'Sonderteile' (special parts) engine, it included a sportier camshaft adding about 15bhp, an uprated butterfly throttle valve for the injection pump and recalibrated distributor. Alloy Gullwings also received different springs and dampers and Rudge knock-off wheels.
Mercedes bosses approved the new edition for the 300SL on 22nd February, 1955. It was hoped to appeal to clients wishing to participate in FIA races where a limited weight saving was allowed compared to the standard car. In Germany, the price premium for this 'Leichtmetallausführung' was DM.5000 over and above the steel car's DM.29,000. At the time, a comfortable town house would have cost DM.55,000.
The alloy Gullwing on offer in Arizona was delivered new to Casablanca (yes, Morocco) Mercedes-Benz agent Joseph Weckerlé, an accomplished racer in his own right. It is one of only a few to retain its numbers-matching, race-bred 3.0-litre NSL uprated engine and original alloy body.
The Weckerlé alloy was imported to the United States in the early 1960s and has remained here ever since. Due to the lightweight Gullwings' notoriously thin bodies, which dent easily, almost all examples have been reskinned or repaired at some point. This one has been most fortunate, however, as a 1975 restoration by Paul Russell & Company noted only aluminium stress repairs inside the engine bay.
Wearing factory-correct livery of Silbergrau Metallic (DB 180) over blue gabardine fabric with blue vinyl (L1), the car has the desirable factory features like sports suspension, a high-speed 3.42 rear axle, uprated metric speedometer, belly pans, and Rudge wheels. It was owned for 32 years by Hyatt Cheek, national president of the Gullwing Group and Mercedes-Benz Club of America.
As one of the most sought-after and rarely seen Mercedes in the world, "this one will definitely get the attention of Mercedes collectors," Newton says. Considering how often – or how rarely – alloy Gullwings make their way to auction, this could be a once-in-a-lifetime opportunity to own this rare star.
Want to follow Arizona Auction Week from afar? Get auction results, analysis and everything in between by signing up for the Hagerty Insider reports from Arizona Auction Week.
Read more
The One That Got Away: Simon Kidston's Mercedes-Benz 300SL Gullwing
Mercedes-Benz 300 SL 60th Anniversary
Your Classics: Ian Tisdale's Mercedes 130H is a rear-engined marvel