It is tempting to suppose that the Swiss have been as carbon-neutral as a wild-flower meadow at the foot of a glacier but in the country's past lurks one of the most gas-guzzling super saloons ever made – the Monteverdi 375/4.
The 375 was born of a company that was never going to be anything but confrontational. It was founded in 1967, after Peter Monteverdi, a successful racing driver turned Ferrari distributor for Switzerland, became so enraged with Enzo Ferrari's insistence that he bulk-buy 100 of its cars and, adding insult to injury, pay up front, that he voted with his feet (and quite possibly his fingers, too) and established Monteverdi.
How much is your car to insure? Find out in four easy steps.
Get a quote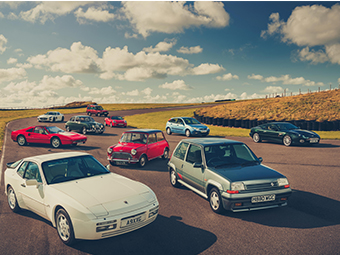 In its short but glamorous 18-year life, Monteverdi left a lasting impression on the luxury car market. It challenged more established British and Italian marques for GT supremacy, with a range of coupés and saloons that signalled status without shouting too loud. And – anorak fact alert – Monteverdi even beat British Leyland to the punch by offering a five-door Range Rover before Land Rover. A not insubstantial achievement for a firm founded out of spite towards Ferrari.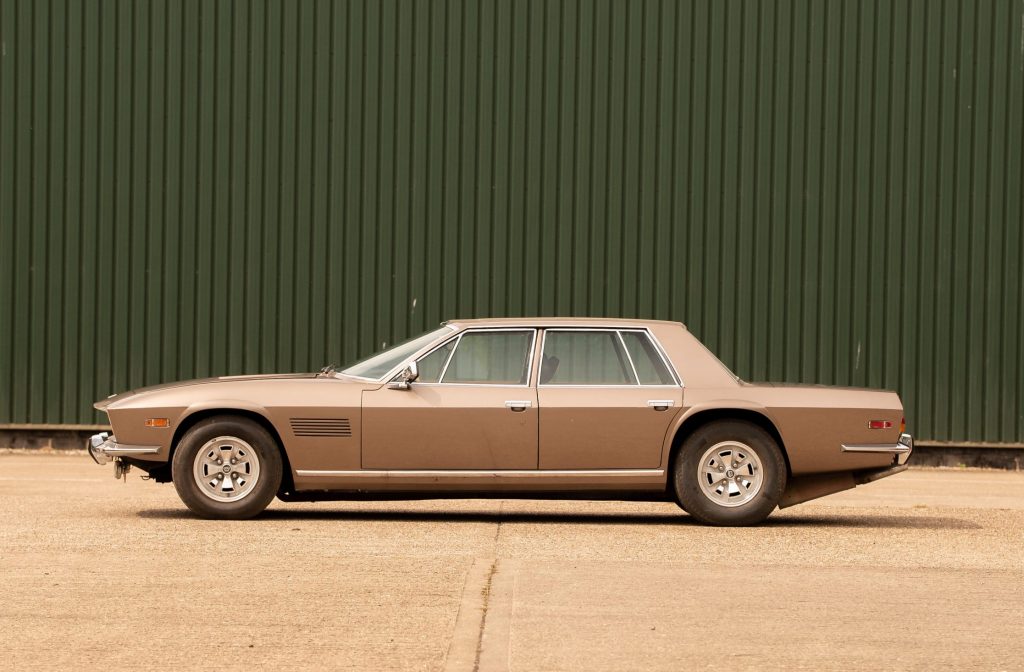 It was with the Ronseal-titled High Speed range that Monteverdi was to pick up sales; its 375 series combined the might of a Chrysler big-block V8 with a strong tubular chassis, a de Dion rear axle and Italian coach built bodywork.
Bonhams' 3 July Gstaad sale is offering one such car from the very end of the High Speed 375 story, the four-seat saloon version, known as the 375/4. Named from the horsepower rating of the 7.0-litre Hemi V8 engines used throughout the range (a 7.2-litre, 440bhp Chrysler engine could also be specified), the 375/4 was a lengthened version that offered as much hand-made luxury as money could buy at the time, and gave buyers pause for thought when choosing between cars from Maserati Quattroporte, Iso Fidia and Aston Martin Lagonda.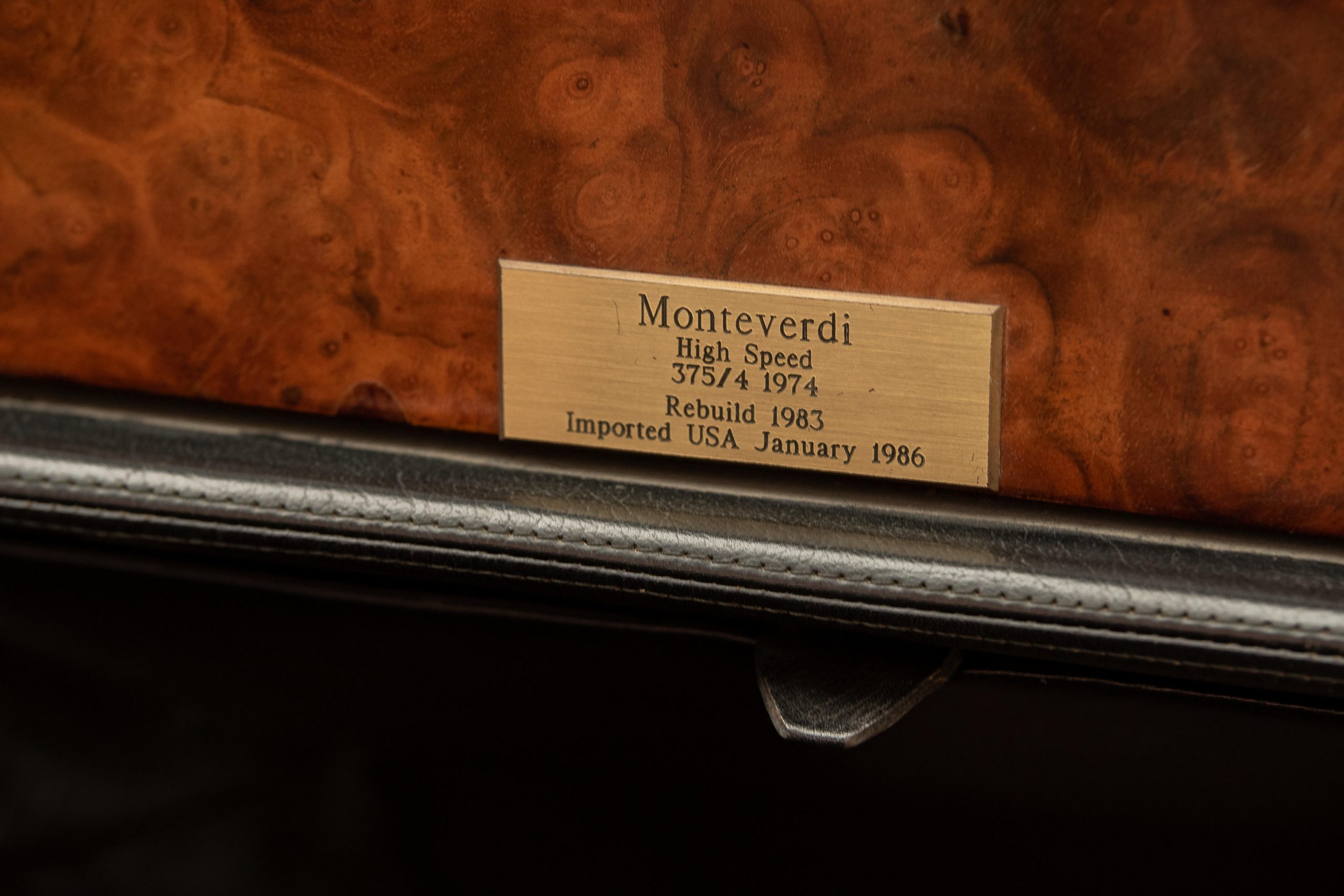 Despite measuring in at 5.3-metres long, it was one of the fastest, if not the fastest saloons of the day. The factory claimed it was capable of launching from standstill to 62mph in just 6.9 seconds, and the top speed was 155mph.
It was also hoped that wealthy drivers would be swayed by the performance advantage the 375/4 offered over the Rolls-Royce Silver Shadow and Mercedes-Benz 600 'Grosser'. Indeed, a good number were, and orders came in from America and the Middle East, notably the Qatari royal family. 
Monteverdi's record keeping was infamously poor; it's thought that between 28 to 35 375/4s were built during a five-year period (1971-1976) all of them bodied by Carrozzeria Fissore following a lengthy lawsuit between Monteverdi and Frua, coachbuilders for the previous series of 375 S and 375 L models. The car listed here was built in 1974, after Monteverdi, hit by the Fuel Crisis, ceased series production and began producing models to order.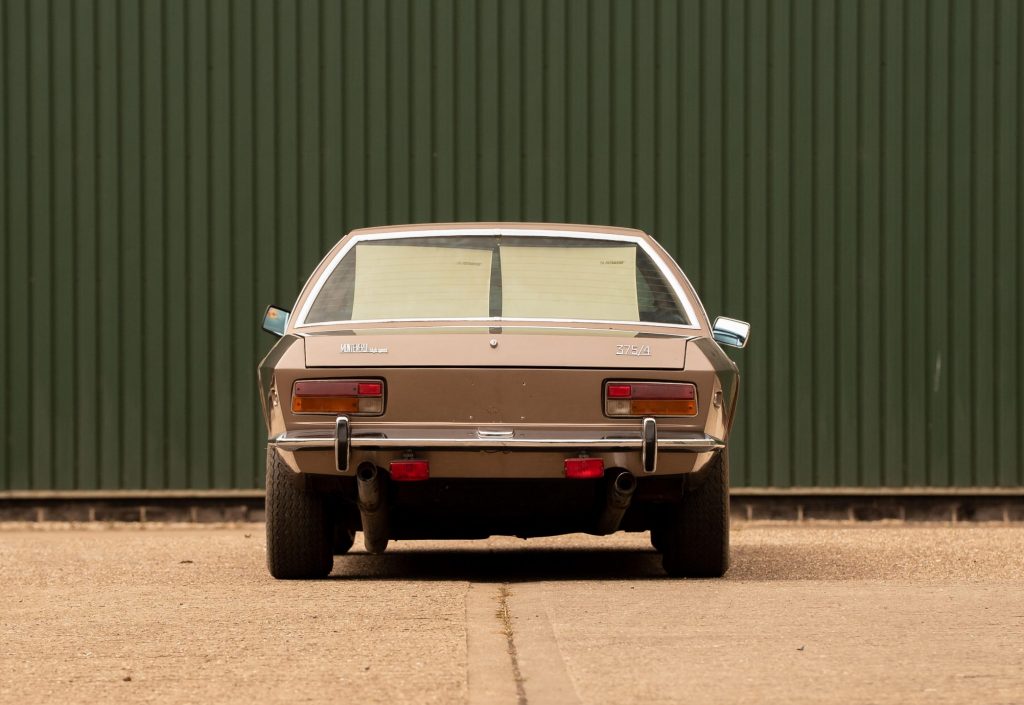 Bonhams notes that the car will need recommissioning before it can hit the road again; the Persian rug floor mats are part of the sale. Sadly, there's very little history to go off, but a plaque on the dashboard states that the 375/4 was rebuilt in 1983 and imported into the United States three years later. The car is estimated to make between 80-140,000 Swiss Francs (approximately £66,500 to £116,400, or $79,800-$139,700); Hagerty's US valuation tool lists a Condition 4 (fair) 375/4 at $73,000 (£60,800).
If you were searching for a super saloon that stands out of the crowd, this is one rare gas-guzzler that would be as welcome as Swiss chocolate, in the right company.
Read more
Built on a whim, abandoned for decades and discovered by accident, this is the story of the Furia GT
Unique Ferrari Testarossa Spider ordered by Gianni Agnelli to appear at London's new Concours on Savile Row
The One That Got Away: Stephen Archer on saying a bittersweet farewell to his father's DB4