This story was first published on Hagerty Insider, the essential destination for comment and analysis on the global classic car scene.
COVID-19 has left the world all topsy-turvy, and that includes America's globally significant classic-car auction scene. Though the Mecum Indianapolis Auction is returning to its normal May dates, the Amelia Concours d'Elegance will be held two months later than its usual March time slot. Then there's Gooding, which has taken its May auction entirely online (the week-long sale wraps up today).
How much is your car to insure? Find out in four easy steps.
Get a quote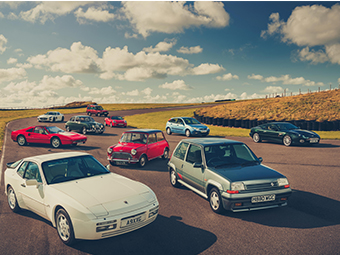 Let's just say we're not in Kansas anymore, Dorothy. One thing we can count on, however, is that plenty of impressive cars are looking for new homes. Here are the eight cars with the highest presale estimates at Mecum Indy, which is already underway and ends on May 22, and at RM Sotheby's and Bonhams' events at Amelia Island on May 22 itself, one day prior to the concours.
The American setting means there's a particular focus on US metal at the upcoming auctions, with not one but three Duesenbergs, and a Plymouth Hemi Cuda Convertible with an estimate that could put it among the highest sales of the year, let alone May sales. There's something here for those interested in blue-blooded Europeans too, with a trio of Ferraris and a supercharged Mercedes representing one of the undisputed greats of the 1930s.
1971 Ferrari 365 GTS/4 Daytona Spider by Scaglietti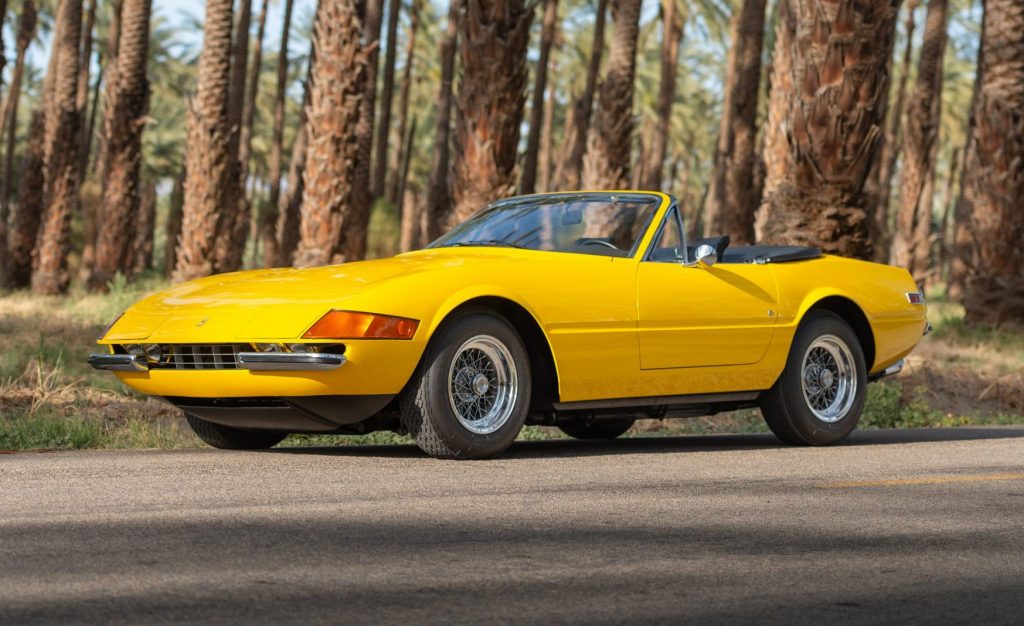 RM Sotheby's Amelia Island, Lot #176
Estimate: $2.25M–$2.75M (£1.6m–£1.9m)
Hagerty #2 (Excellent) value: £1.5m
This stunning Ferrari Daytona Spider has a lot going for it. The 36th of only 121 built, it was displayed at the 1972 New York International Automobile Show and was Ferrari Classiche Certified and a Platinum Winner at the Cavallino Classic. Formally owned by Alfred Ducato, an early Ferrari enthusiast and personal friend of Enzo Ferrari, it retains its matching-numbers chassis, engine, and gearbox, and it has fewer than 13,500 miles on the clock. Plus, it's painted Giallo Fly over Pelle Nera.
The new owner had better build in extra time whenever they go out, because they'll be answering questions at every stop.
1968 Ferrari 275 GTB/4 by Scaglietti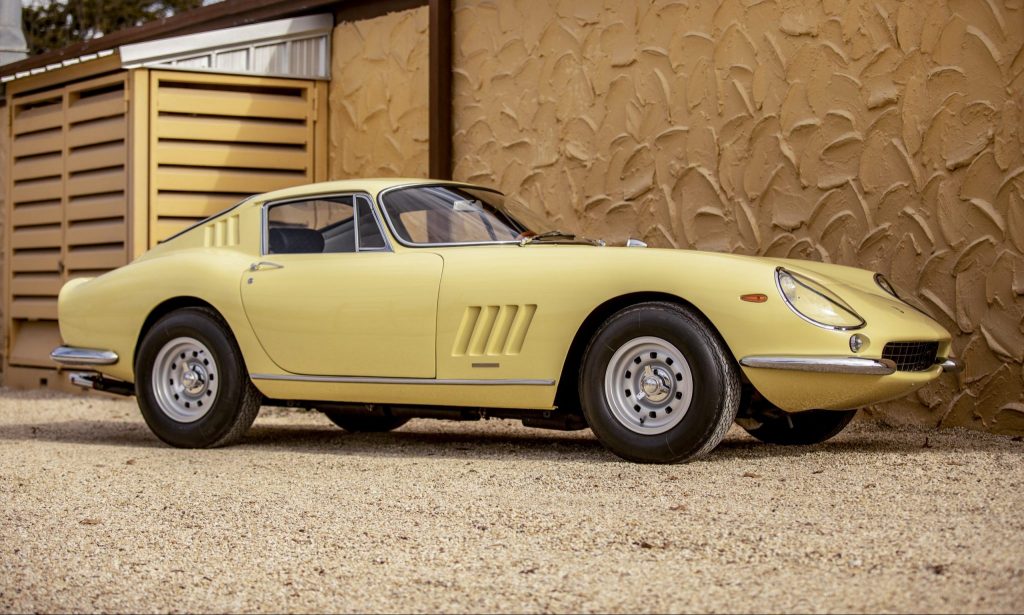 RM Sotheby's Amelia Island, Lot #136
Estimate: $2.5M–$2.8M (£1.8m–£2m)
Hagerty #2 value: £1.6m
Another yellow Ferrari, albeit a lighter shade, this 275 GTB/4 has received more than 50 years of fastidious care under single ownership. One of 330 produced from 1966–68, the sports car retains its matching-numbers engine and gearbox.
Ferrari showed this successor to the 250 series at the Paris Salon in 1964, and although its Colombo two-cam, 3.3-litre V12 was familiar, its layout was new. The Ferrari 275 GTB was the first road-going Ferrari to have independent rear suspension, as well as a rear-mounted transaxle. Some changes appeared in 1966, including a longer nose with a slightly redesigned grille for the GTB. Shortly thereafter, the 275 GTB became the 275 GTB/4, as the engine under its hood gained two more cams.
This one, which recently underwent a meticulous restoration performed by Bob Smith Coachworks, won't come cheap.
1930 Duesenberg Model SJ Rollston Convertible Victoria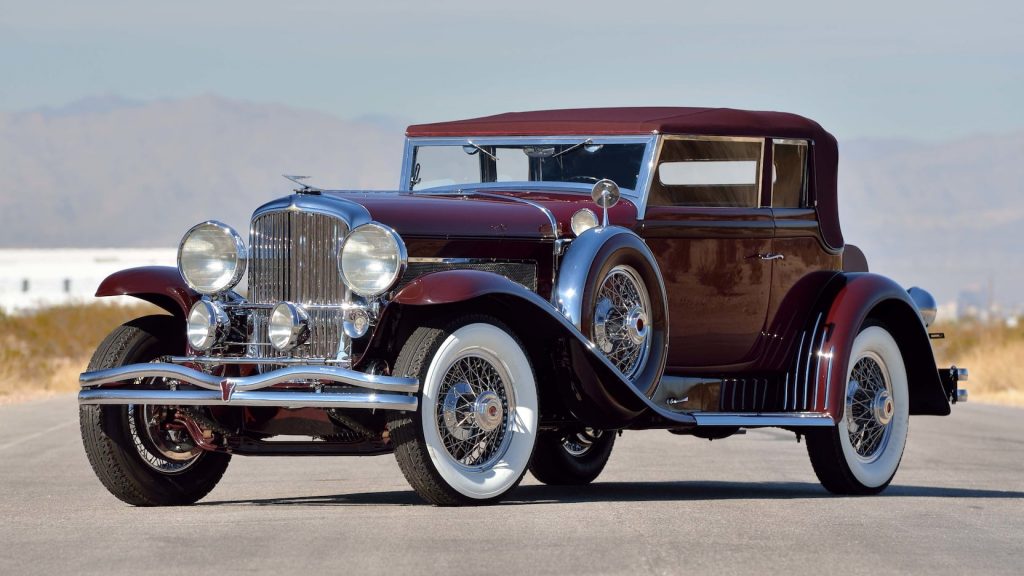 Mecum Indianapolis, Lot #S135
Estimate: $2.75M–$3.25M (£1.9m–£2.3m)
Hagerty #2 value: N/A
It's hardly a surprise that an Indiana classic car auction includes a Duesenberg (two, actually), since the marque was once headquartered in Indianapolis before it moved to Auburn. When E.L. Cord purchased a controlling interest in the carmaker in 1926, he named Fred Duesenberg chief of engineering and tasked him with designing "the best car America had ever seen." In 1928, Fred rolled out the Model J.
Paul Whiteman, the legendary "King of Jazz" bandleader of the 1920s and '30s, purchased this short-wheelbase SJ (chassis 2293/engine J-272) new. It originally received a LeBaron Barrelside Phaeton body, but after Whiteman parted with the car, new owner G. Tucker Smith had it refitted with a Rollston body in 1935. That's an incredible upgrade, considering Rollston's reputation for quality and attention to detail.
Under the bonnet of this SJ is a supercharged 420-cubic-inch (6.9-litre) inline-eight engine that produces 320 horsepower, making it the only early Rollston Convertible Victoria to be supercharged from the factory. This Duesy shouldn't have any difficulty finding a new home.
1995 Ferrari F50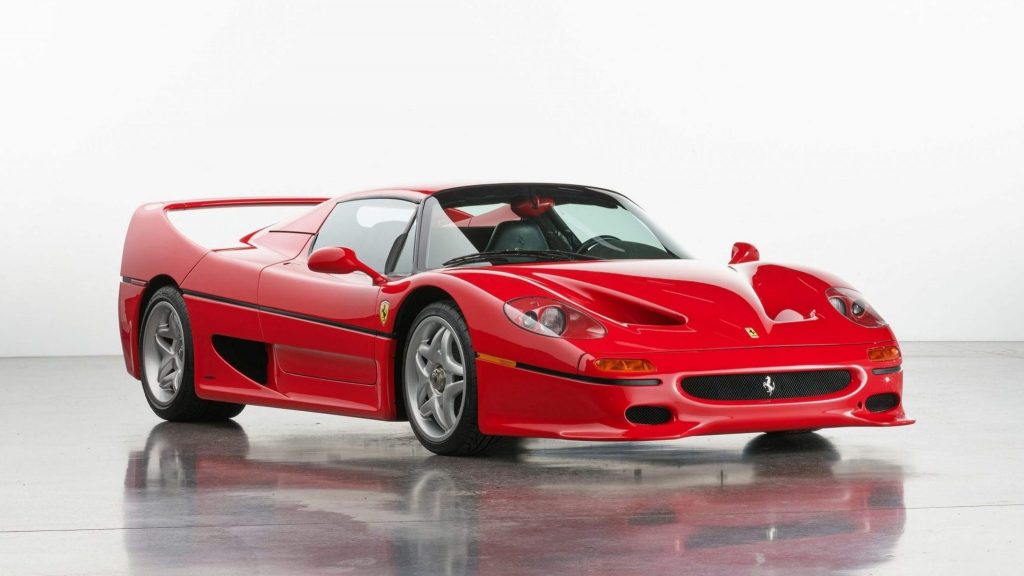 RM Sotheby's Amelia Island, Lot 181
Estimate: $3.4M–$3.75M (£2.4m–£2.6m)
Hagerty #2 value: $2.5M (£1.8m)
As Ferrari had done for its 40th anniversary with the F40, it ushered in its 50th with the F50. The supercar was inspired by Ferrari's racing efforts, sharing its layout with Ferrari's contemporary F1 car by utilising a carbonfibre monocoque and having its F1-based, 65-degree V12 bolted directly to the chassis, thus acting as a load-bearing member for the rear suspension and transaxle. The 60-valve, 4.7-litre, 512bhp V12 made it one of the few cars of its era to justify the term 'race car for the road'.
Although the F50 is often considered the F40's ugly younger sibling, it's the rarest of all modern Ferrari halo cars with only 349 produced, while publications such as evo Magazine rate it as one of the all-time greatest supercars. Here's your chance to join the exclusive owner's club – though with an estimate of more than £2.4 million, it could come in substantially above its Hagerty Price Guide value.
1936 Duesenberg Model J Rollston Convertible Berline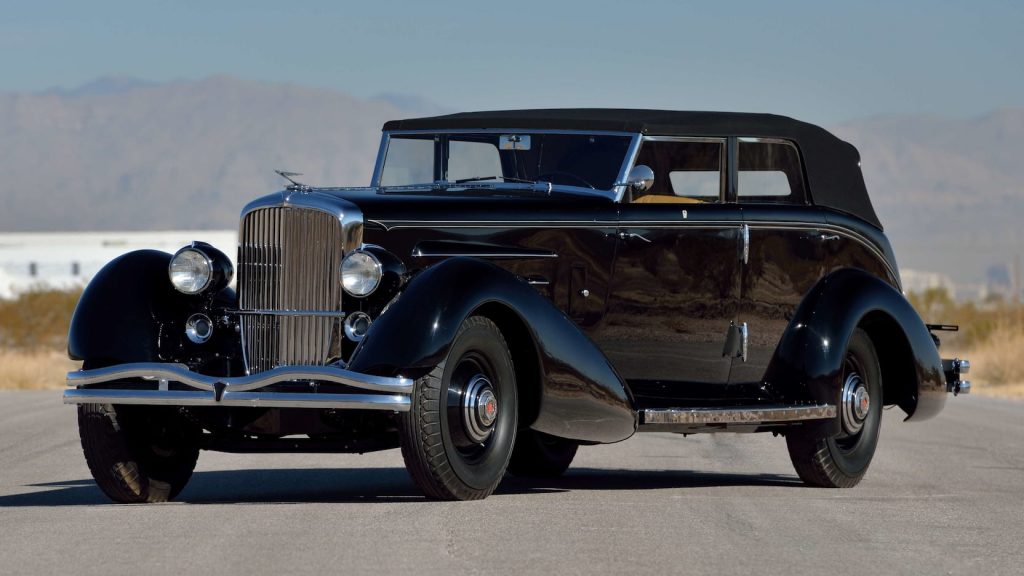 Mecum, Lot S147
Estimate: $3.5M–$4M (£2.5m–£2.8m)
Hagerty #2 value: N/A
The second Duesenberg at Mecum's Indy auction (see above for the other one), this 1936 Model J Convertible, also bodied by Rollston, was the final luxury automobile sold by Duesenberg while it was still in business. (Two more were completed by coachbuilders after chassis and engine production ceased.)
Black with a tan interior, it was shown at the 1936 New York International Auto Show, and Conkey Whitehead, president of Coca-Cola, just had to have it. At a time when the average automobile cost about $500 in the US, Whitehead bought it for $17,000. Adjusting for inflation, that's the equivalent of $323,950 (around £230,000) today.
The engine – a naturally aspirated version of Duesenberg's 420-cu-in (6.9-litre) straight-eight – must have been music to the ears of jazz musician Charles Kyner, who later purchased the Model J and owned it for 46 years.
1934 Mercedes-Benz 500/540K (Factory Upgrade) Spezial Roadster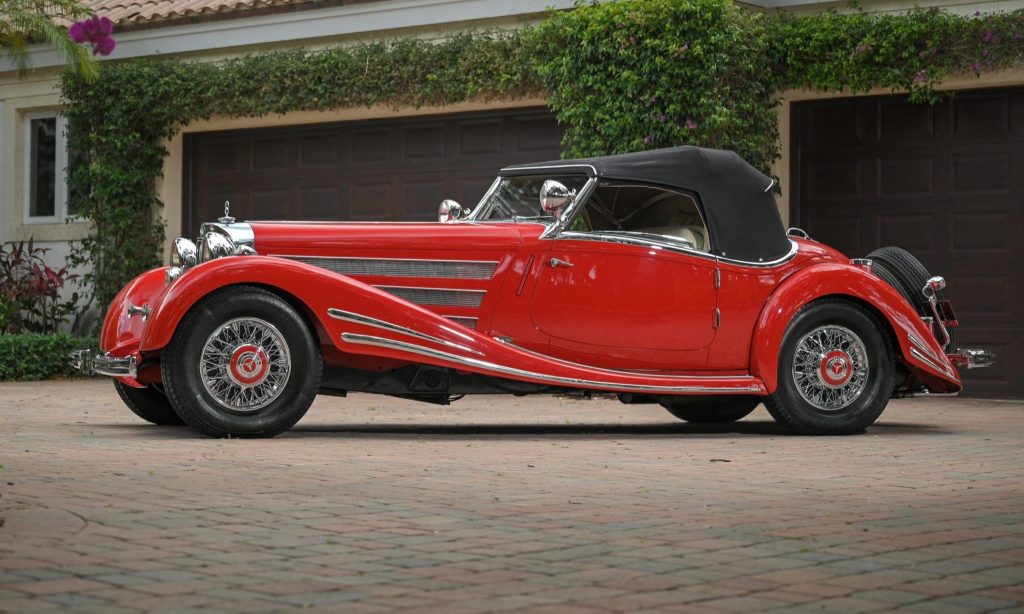 Bonhams, Lot 160
Estimate: $4.5M–$5M (£3.2m–£3.5m)
Hagerty #2 value: N/A
Long before anyone called over-the-top sports cars "supercars," Mercedes-Benz dominated the performance market. The stunning and exclusive 500K and 540K grand tourers were opulent and powerful – the must-have automobiles of their day. They're equally sought-after now.
This 1934 Mercedes-Benz 500/540K Spezial Roadster (chassis #105136/engine #105136) is powered by a 5.4-litre eight-cylinder OHV engine with a Roots supercharger, engaged by pushing the accelerator all the way to the floor, that takes output to 160bhp. Among its features are independent coil-spring suspension – double wishbones in front and swing-axles in back – as well as four-wheel drum brakes with "Hydraulic Servo-Assistance."
Back in the day, Autocar magazine's H. S. Linfield was in awe of the driving experience: "Without the supercharger, this is a quiet, docile carriage, the acceleration from low speeds being then quite mild. It will amble around town and along byways with scarcely a hint of its latent performance. Bring in the supercharger and it becomes another machine, with fierce acceleration … [yet] even a severe deflection is not felt, and on normal road surfaces the riding is mostly level and steady."
Only 29 roadsters were built, and according to Bonhams, "Mercedes-Benz's own Sindelfingen coachwork left little room for improvement. It can safely be argued that its own top-of-the-range sports tourer – boldly and appropriately named the Spezial Roadster – eclipsed all of its peers." And so too will its new owner.
1929 Duesenberg Model J "Disappearing Top" Torpedo by Murphy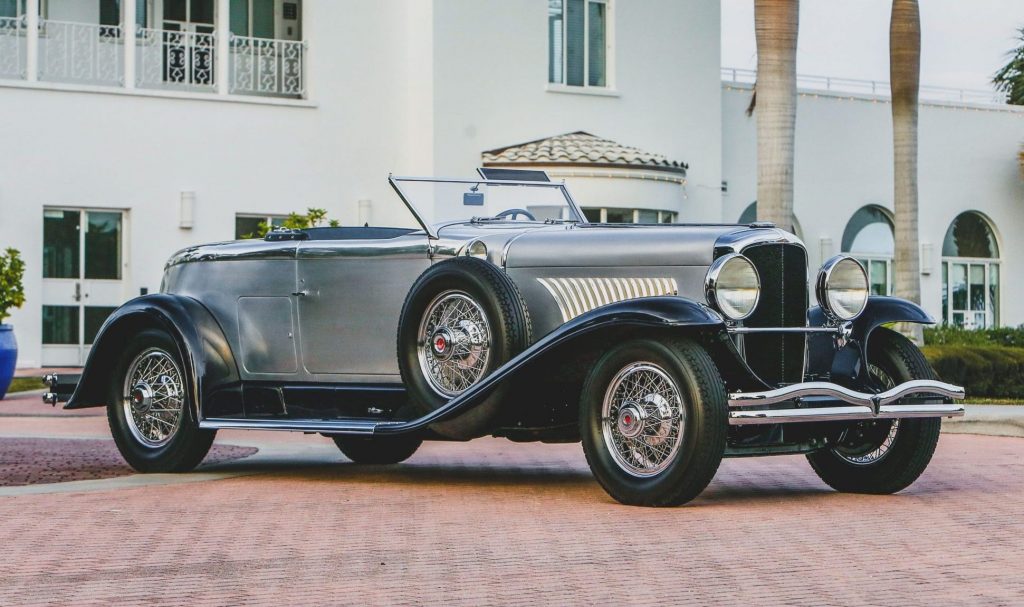 RM Sotheby's, Lot 156
Estimate: $3.5M–$4M (£2.5m–£2.8m)
Hagerty #2 value: N/A
The third Duesy on the list (this one offered by RM Sotheby's), this Model J is not only gorgeous but unique – and expensive, even in Duesenberg circles.
California coachbuilder Walter M. Murphy's most famous Model J design was the "Disappearing Top" convertible Coupe, which had a distinctive ragtop that hid neatly within the smooth rear deck when lowered. He built only about 25 examples, and the rarest of all is the Torpedo version, which is considered by many to be the pinnacle of Murphy's work on Duesenberg chassis. The Torpedo combined the standard convertible coupe's lines with the flowing, gracefully tapered deck of a boattail speedster. It was often finished in bare aluminium, which extended forward through the belt-line and down the centre of the car's cowl, like this example.
Few more glamorous Duesenbergs are in existence, and this one underwent a meticulous restoration by RM Auto Restoration that resulted in a 2020 Amelia Island Concours d'Elegance Best in Class award. Win-win.
1971 Plymouth Hemi Cuda Convertible
Mecum, Lot F166
Estimate: $5.75M–$6.5M (£4m–£4.6m)
Hagerty #2 value: $2.1M (£1.5m)
This Mopar muscle machine is almost as rare as a unicorn. It is one of just 11 convertibles fitted with a 426-cubic-inch Hemi engine in 1971, one of five sold exported to Europe, and one of only three that were equipped with a four-speed manual transmission. That makes it extra special – and especially desirable.
Originally sold in France, the droptop pony car – which retains its numbers-matching 425bhp engine and transmission – was repatriated in 1993 and shows 98,553 kilometres on the odometer (or just under 61,600 miles).
As our own Brandan Gillogly wrote in March: "The lauded Hemi V8 is undoubtedly one of the most recognisable engines of the muscle car era. There's simply no disguising the massive cylinder heads of the 426 V8 when the hood is open. To trumpet the stock car and drag race prowess of the street Hemi even when the hood is closed, Mopar gave us the optional shaker hood so that at least part of the raucous engine could see the light of day."
Additional features include a six-way manually adjustable driver seat, power steering, power brakes, and radio delete, which also means there is no aerial protruding from the passenger-side wing. The Cuda also wears understated Winchester Gray paint, but don't expect it to fly under the radar. That won't be possible at Mecum's Indy auction, or on the street.
Also read
Hagerty Analysis: The Leonard Collection
Get in there, Lewis: Hamilton's race-winning F1 McLaren up for auction
Hammer Time! UK car auction preview May 2021