It might not look like it, but underneath the aged, coachbuilt bodywork of this Ghia-penned coupe is a Jaguar XK140 – and it's being offered for sale by Bonhams this October 10th in The Zoute Sale in Knokke-Heist, Belgium.
First seen at the Paris motor show in 1956, the car you're looking at is a 1955 Jaguar XK140 coupé with coachwork by Carrozzeria Ghia of Turin, and while it's looking a little the worse for wear, an estimate of £170,000-£260,000 belies its interesting history.
How much is your car to insure? Find out in four easy steps.
Get a quote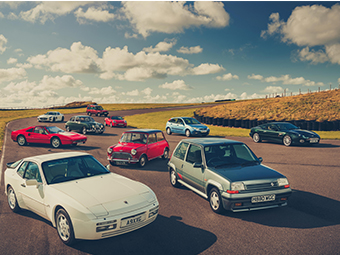 For a start, it's one of just four Ghia-bodied XK140s, the Italian firm's unique lines wrapped over a rolling chassis from Jaguar in an effort to bring modernity to a shape that was by then looking a little old-hat.
Ghia had already tackled a trio of XK120s and its XK140 redesign was similar, giving the car a closed roof, hand-formed aluminium panels (cutting 100kg from a standard XK140), and Italianate styling worlds away from the XK's 1940s-derived curves.
The car being offered by Bonhams was the first to roll out of Turin, chassis 810827DN, and was originally owned by a Mr Hans Altweg living in Lyon. Altweg had bought an XK140 chassis second-hand with the intention of clothing it in unique bodywork, and it was Altweg's Ghia on display in Paris.
Period photographs show two different grille designs, however – altered by Ghia between appearances at a concours in Cannes and its Paris motor show debut. The car then changed again after an accident in 1959, in the hands of its second owner, giving it an even more modern appearance for the era.
A colourful early history then, but in the late 1960s it was acquired by the late Roland Urban, founder and former president of the Jaguar Drivers Club of France. Urban fitted a 3.8-litre XK engine with triple twin-choke Webers, and spent the next decade racing and rallying the car with some success.
Given the car's current state the intervening years have clearly been less eventful, and Bonhams is selling the car in need of total restoration. Thanks to its alloy coachwork it does at least appear mercifully free of holes, though its well-worn exterior is reflected in both an engine bay empty of ancillaries, and a cabin that blurs the line between patina and abandonment.
The Jag's previous guises should give the buyer some creative license when it comes to restoring though; how wonderful would it be to see the car returned to race-ready form, as it was under Mr Urban's ownership?
Read more
Six classic European sports cars with American V8 engines
The One That Got Away: Nick Whale's racing E-Type, CUT 7
Early quirks made these 9 classic cars the holy grail of collectors