A collector's estate, up for sale in Attleborough, Norfolk, contains a trove of Cadillac limousines and hearses dating back to the mid-1950s. The Clowes Nash auction, which is currently underway, ends on 5 July. Fourteen Cadillacs from the '50s, '80s, and '90s are listed, including a flower car.
All of the Caddys appear to have been stored inside. They're still wearing a thick blanket of dust, but the images seem indicative of vehicles that are in solid shape. Even the older cars appear to have all of their trim intact, although some do have a couple of minor dings in the chrome. Not at all bad for a bunch of "barn finds."
How much is your car to insure? Find out in four easy steps.
Get a quote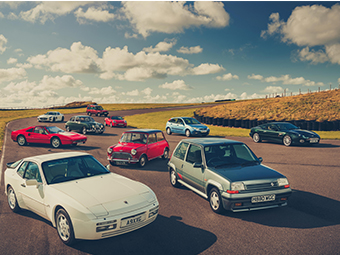 The highlights for fin-loving Cadillac collectors are the 1954 Fleetwood 75, 1956 Fleetwood 75, and a trio of 1959 Fleetwood limos with their iconic angular fins and bullet taillights. These largest of the land barges have been slow to appreciate in the market, with coupés (naturally) being the preferred body style, but each of those models saw a significant uptick in value when we last updated our pricing data in May 2021 .
In America, the 1954 Fleetwood Series 75 saw values rise across the board, with an 18 per cent hike in #3 (Good) value, while the 1959 Fleetwoods only saw the #1 (Concours) and #2 (Excellent) cars each rising by 21 per cent.
The rest of the limos and hearses are of the un-finned variety, hailing from the boxier 1980s and only slightly smoothed 1990s. These cars also appear to be in solid shape but, just like the rest of the cars, the lack of under-bonnet photos makes it tough to say for certain.
This might be a great find for Cadillac limo collectors – they have to exist, right? – but be warned, all of the vehicle lots we've checked note that the cars were never registered and don't come with any paperwork. If you've got your heart set on these limos for your own vintage livery, it might take some work whether using them in Blighty or exporting them back to their homeland.
Via Hagerty US
Also read
Tom treats us to Liberace's gold Cadillac, a rare Mazda Cosmo, an Aston DB5 and 911 GT2. And more!
Your Classics: Patrick Sumner's 1942 Jeep is a veteran of WWII and family life
Temptation test: Delivery-mileage McLaren F1, Mercedes SL and Lancia Gamma for sale