If your budget doesn't stretch to a race bike ridden by the late, great Barry Sheene, his old Suzuki LJ80R might be the next best thing. Not that it's expected to be cheap; Silverstone Auctions says it's likely to fetch between £20,000 and £30,000 at the NEC Classic Motor Show in November.
Barry Sheene is best known for his success while riding for the Suzuki works motorcycle grand prix team, winning the 500cc world championship in 1976 and 1977, before taking podiums in 1978 and 1979. In recognition of his success, Suzuki gifted him the Pastel Blue LJ80R for promotional duties and to use as a pit vehicle.
How much is your car to insure? Find out in four easy steps.
Get a quote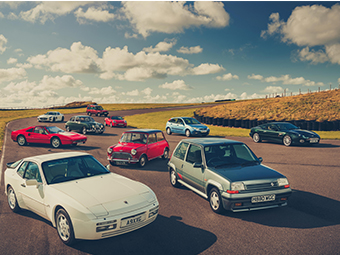 It may have been a factory colour, but there's something extra special about a Pastel Blue Suzuki with Sheene's famous number 7 on the flanks. Was the colour a nod to his famous lucky blue underpants? We like to think so. Dandyish Brown wouldn't work in the context of underwear, would it?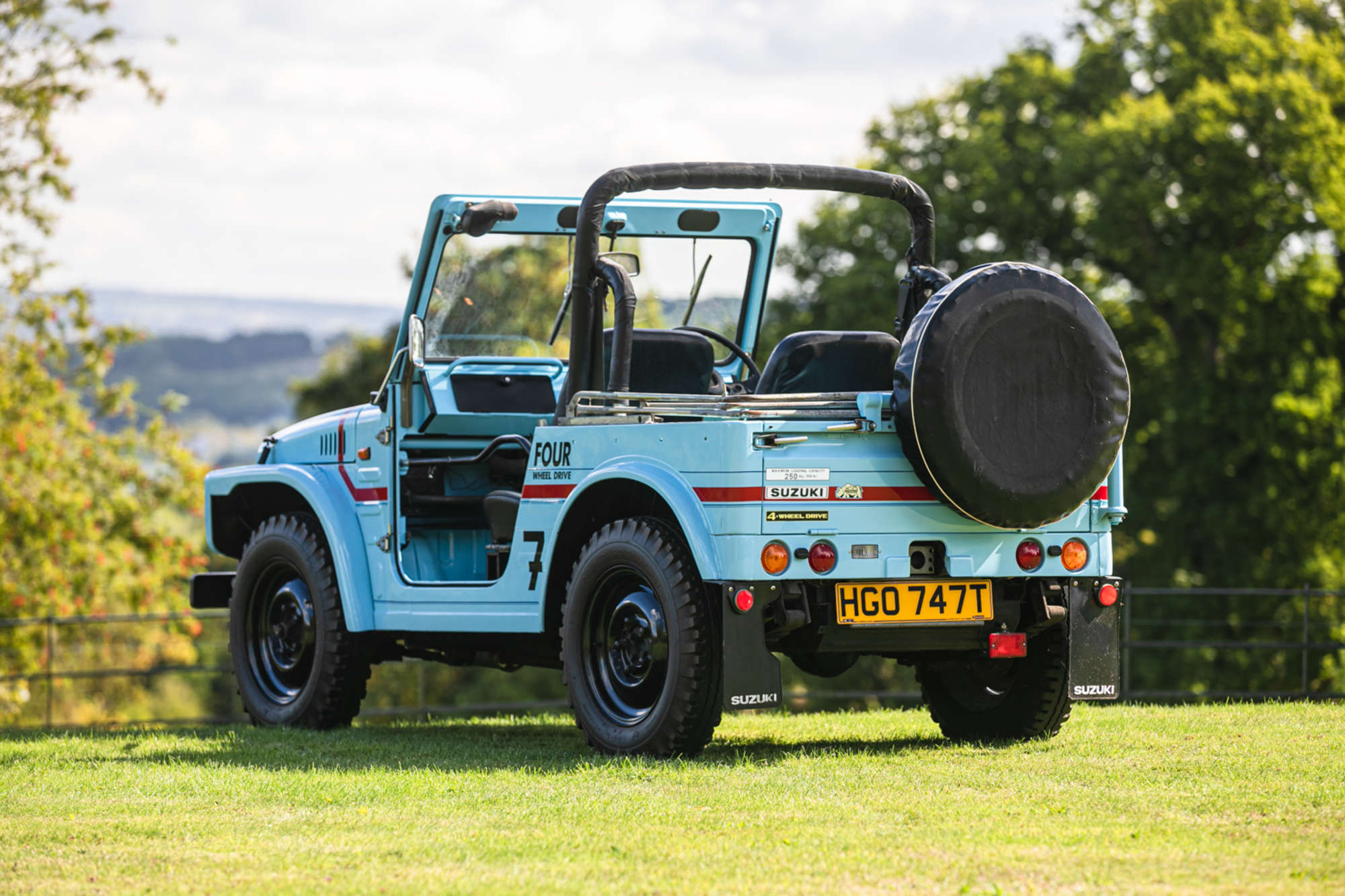 Sheene kept the 800cc-engineed 4×4 until 1987 when he migrated to Australia, at which point it was passed to Ian Catford, Suzuki GB's contemporary marketing director. He reinstated the full 'Barry Sheene' livery and sold it on, with the Suzuki passing through several hands before being purchased by the current owner in 2013.
He paid £14,625 for the car at H&H's Pavilion Gardens sale in February 2013 – above the pre-auction estimate of £7000 to £9000. Today, the indicated mileage is 26,170 – just 170 more than when it under the hammer a decade ago.
The modern Jimny can trace its roots back to the first-generation LJ (Light Jeep), introduced in 1970. Suzuki's diminutive 4×4 evolved into the LJ80 of 1977, which saw the introduction of a new 800cc engine. HGO 747T was registered in April 1979, just weeks after Barry Sheene had won the Venezuelan Grand Prix.
The Brit finished third that year, with the American Kenny Roberts taking the title. It was a year famous for what Motor Sport called a "breath-taking duel for victory at the 1979 British GP, notorious for Sheene's cheeky hand signal".
"Look at that – Barry Sheene, with absolute effrontery… waves at Kenny Roberts!" screamed Murray Walker. He wasn't waving…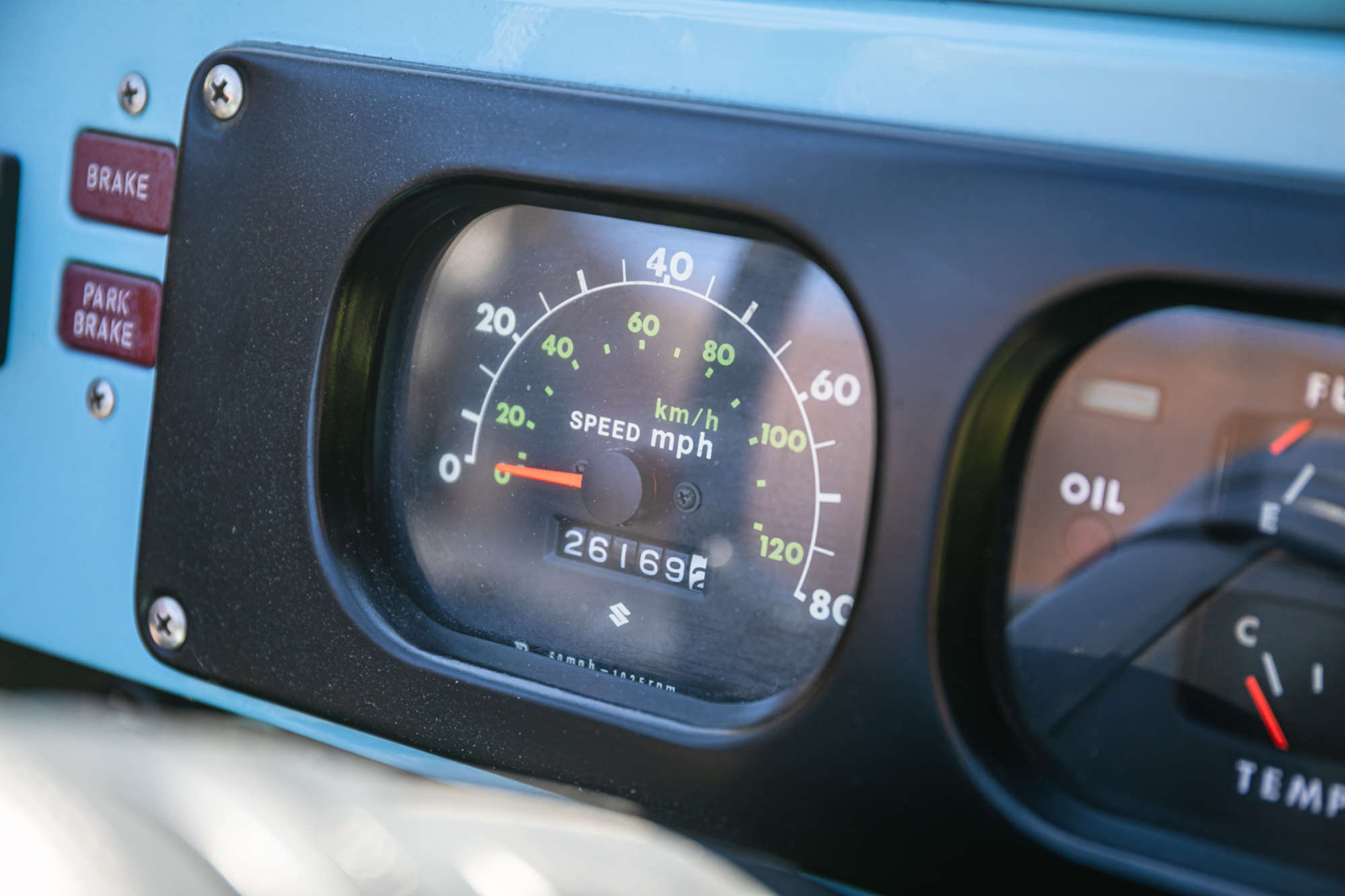 Advertising the LJ80 in 1980, Suzuki said the car could "splash through streams, buzz down to the beach and storm the odd alp". It concluded by saying: "you can say goodbye to tame weekends". We can't imagine the flamboyant rider ever having a tame weekend.
If you fancy placing a bid on Sheene's Suzuki, the live auction gets underway at 10am on Saturday 12 November.
Read more
Steve Parrish: A lifetime of getting away with it
Sheene shine: The Suzuki GT550A basked in reflected racing glory
Goodwood Revival: Maria Costello gets the bug for racing cars