Who doesn't love a good barn find? Throwing open the doors to find a dust-covered classic is our hobby's version of uncovering buried treasure. RM Sotheby's has seven pieces of such treasure up for grabs through its "Open Roads, March" online auction this week.
The collection comes from Suffolk, Virginia, where two brothers accumulated the cars in the 1980s and put them in a barn built by their grandfather. They have apparently sold the property, so the cars now have to go. RM, naturally, is promoting the collection with a spring cleaning theme, but the cars need a whole lot more than just a wash and wax. All are rusty and covered in years worth of dirt and grime, and they're missing everything from trim pieces to engines. For all the automotive archaeologists out there, though, there are some very rare cars in this group that are worth saving.
How much is your car to insure? Find out in four easy steps.
Get a quote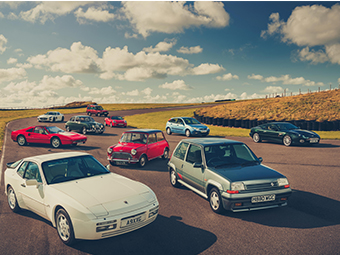 1963 Ferrari 250 GTE (body only)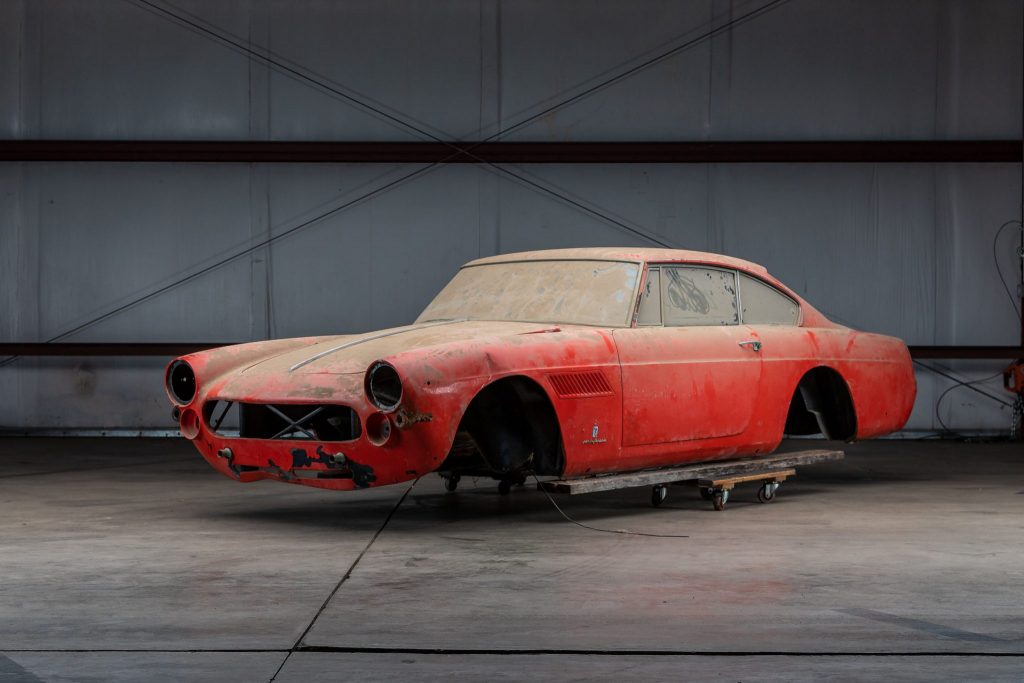 Lot 224 – Estimate: £14,500-£21,800
There was a time when not every classic Ferrari was a blue chip collector car. Some of them, like the 250 GTE, were relatively affordable. It was also not uncommon for people to take bits off of lesser Ferraris to put together a replica 250 GTO. Such was the case with this 250 GTE body, which was orphaned from its original chassis and engine in the 1980s to make way for a replica GTO shell. It was later purchased to use as a sculpture, but instead it just sat and gathered dust. Will this piece of Pininfarina metal ever clothe a car again? Or will it just serve as garage art? That's for the winning bidder to decide.
1953 Porsche 356 Coupe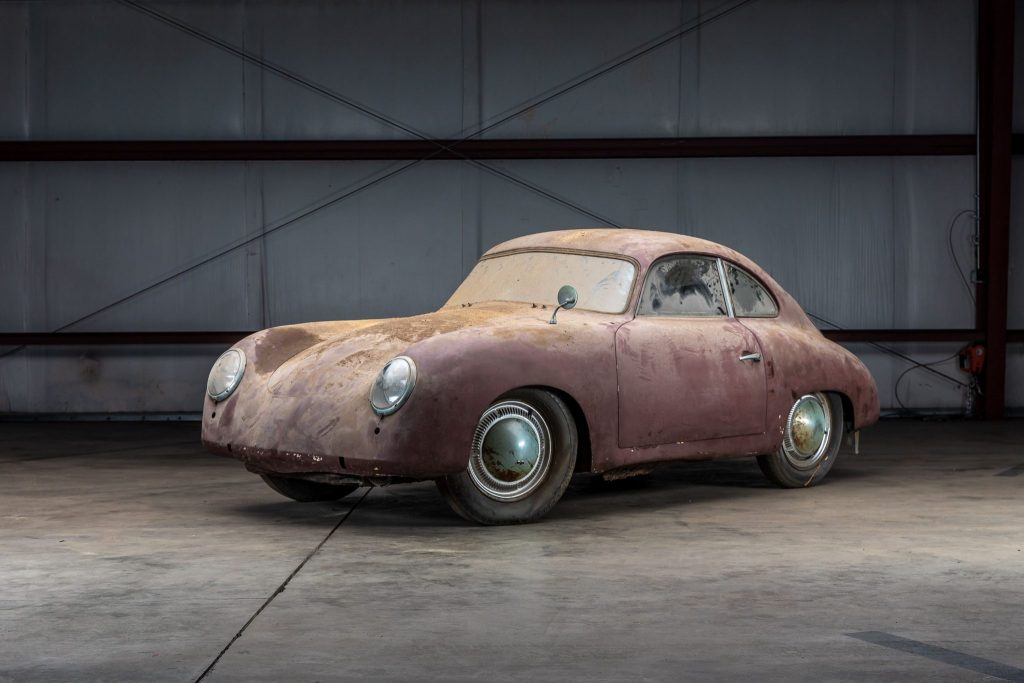 Lot 251 – Estimate: £36,300-£43,500
As a "Pre-A" Porsche 356 with the bent windscreen, this is a very rare car from Porsche's early days. It was also ordered new in Palmetto Green with the 1500S engine and a nifty Telefunken pushbutton radio, the latter of which is still in the car. The engine is not, and the 356 has been repainted at least once. We've seen rusty Porsche barn finds sell for big money and get resurrected before, but this car is several years and six figures in workshop bills away from seeing the road again.
1970 Mercury Cyclone Spoiler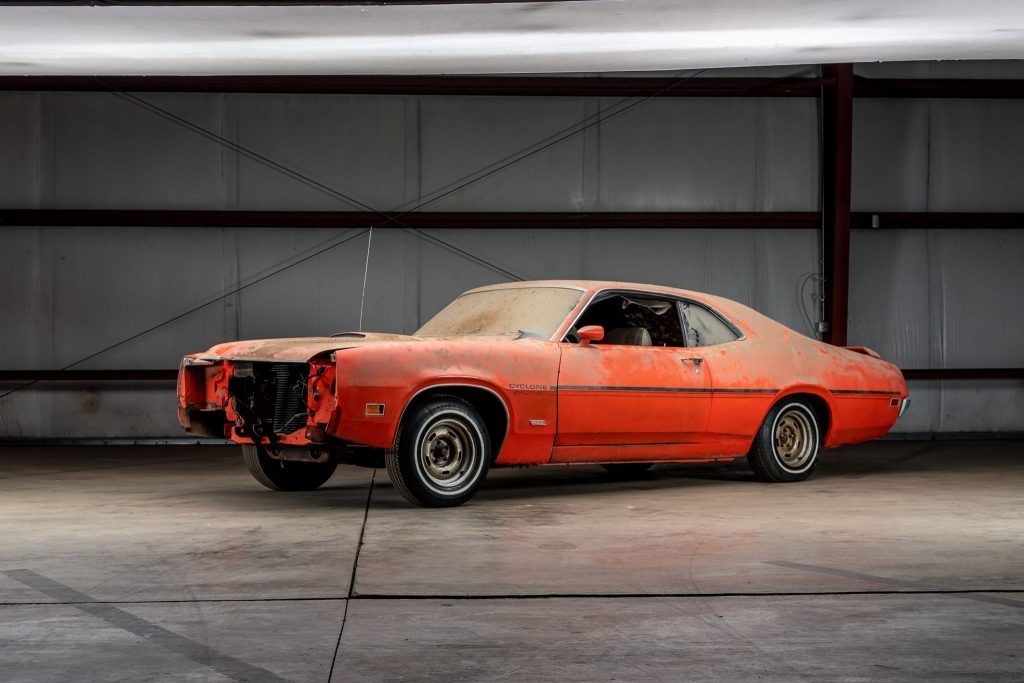 Lot 255 – Estimate: £14,500-£21,800
Like most of the cars in the group, this '70 Mercury has been sitting in a barn for 30 years and, well, it shows. The car is, however, well-optioned from the factory with the Spoiler package (stripes, bonnet scoop, competition suspension and spoilers, obviously) along with the 429 Super Cobra Jet engine and Drag Pack. The Cyclone is currently faceless, but the original bumper, grille, radiator fans, and at least one headlight are included with the sale.
1965 TVR Griffith 200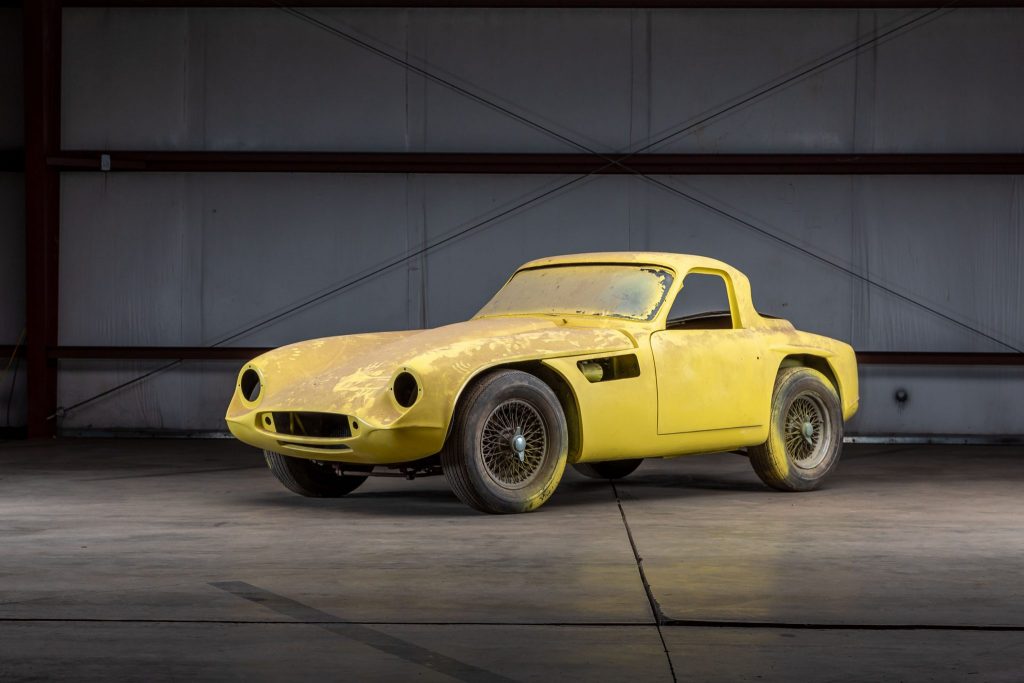 Lot 269 – Estimate: £25,400-£36,300
There's an old formula in the world of sports cars where small British two-seater + torquey American V8 = lots of speed. You could also say that formula equals Shelby Cobra, but you'd be leaving out some spectacular cars like the TVR Griffith, and that's just unfair. While Jack Griffith may not be a household name like Carroll Shelby, the Long Island Ford dealer nevertheless built one of the quickest little cars of the 1960s using the same approach as the Cobra. To create it, he took a modified chassis from the TVR Grantura shipped from England and then dropped in a 289-cubic-inch Ford V8. Sound familiar?
Just 192 Griffith 200s were built before it was succeeded by the improved and even rarer Griffith 400, so these cars don't exactly pop up for sale every day. This one, however, is a basket case in need of everything. The TVR body is fibreglass and appears reasonably solid, but every visible metal piece on the car is rusted, no trim is fitted, and 30 years worth of dirt and dust has worked into every nook and cranny. Someone also went a bit wild with the spray gun, as there is yellow overspray on the windscreen, wheels and tyres, and under the bonnet.
1969 Ford Mustang Boss 429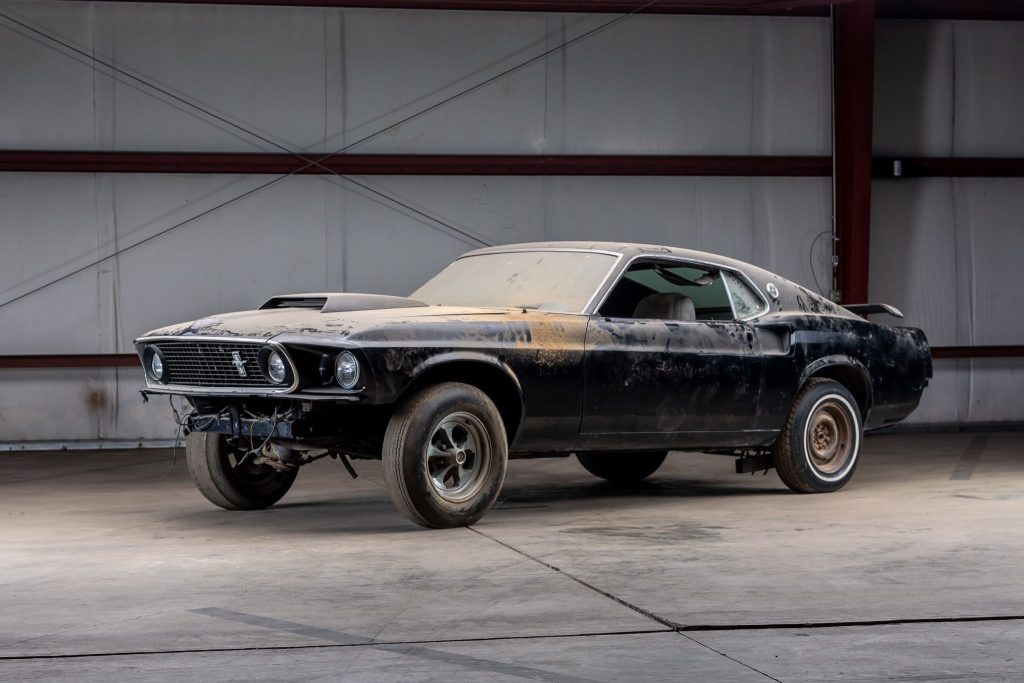 Lot 261 – Estimate: £43,500-£58,000
In order to homologate its Boss 429 "semi-hemi" engine for NASCAR racing, Ford worked with Kar Kraft in Dearborn, Michigan to shoehorn the beefy V8 into the Mustang. Fewer than 1400 Boss 429s were made (including 857 in 1969), and today these are some of the most valuable Mustangs out there that don't wear a Shelby badge.
What makes a Boss 429 so desirable is, of course, its nearly race-spec engine. Unfortunately, this Boss doesn't have it. What remains of the car has been sitting for 30 years. The original engine came out during the late 1980s for a rebuild, but the shop doing the work went out of business. The V8 was sadly lost to history. There isn't a transmission or a correct rear axle, either, and the boot lid has been replaced with an incorrect one.
1976 Triumph TR6
Lot 262 – Estimate: £5800-£8700
The final model year for the Triumph TR6 was 1976, and this marked the end of an era for the old-school, ladder chassis British roadsters. This Java Green car has only been off the road since 2001, so it's one of the more solid and complete projects out of these seven barn finds. It's currently filthy and looking awfully neglected.
There is no shortage of perfectly nice TR6s out there, and the cars remain affordable, with condition 3 (Good) cars coming in at £13,700 and condition 2 (Excellent) examples costing £24,000 on average. This example is worth saving, but it'll have to go to someone who's really angling for a project.
1967 Mercury Cyclone R-Code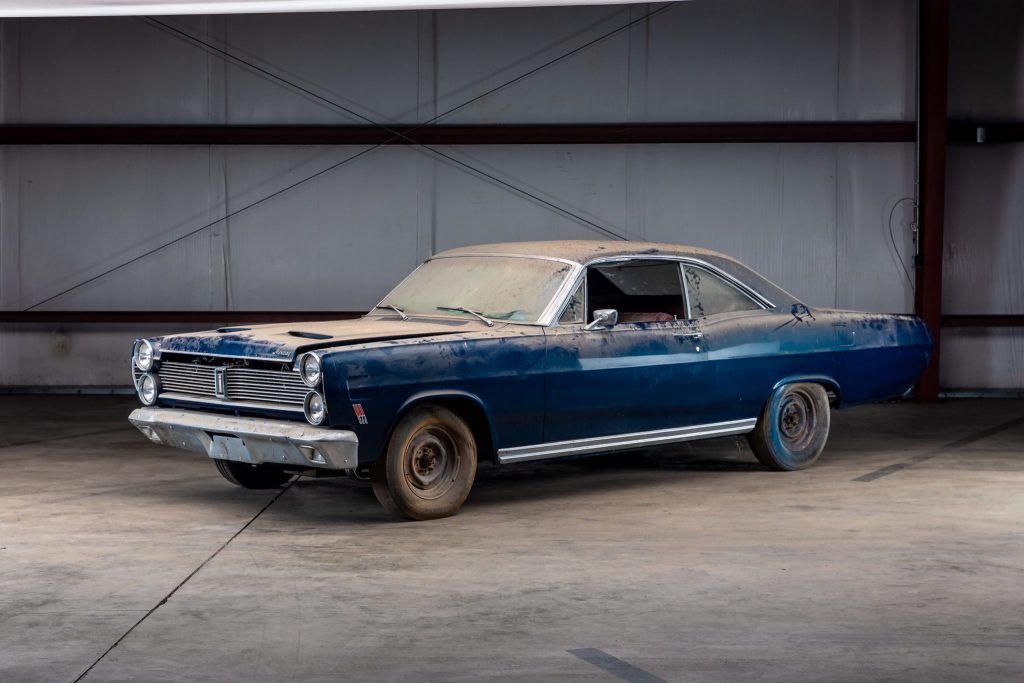 Lot 266 – Estimate: £36,300-£54,400
The third-gen, Ford Fairlane-based Mercury Comet debuted in 1966, and the Cyclone was the sporty version of the Comet. Although most Comets and Cyclones came with a 390 cubic-inch V8 under the bonnet, a few customers ordered theirs with the R-Code 427/425bhp engine.
Very few of these R-Code Comet Cyclones are known to exist today so it is a surprise to see this one, but not every part of the unexpected is pleasant. A restoration appears to have been started but the final product was clearly long was from finished, and although the car comes with lots of spare parts, the engine is not original to the car but a replacement 427 block dating from 1964.
Via Hagerty US