There is nothing we like more than idly spending money we don't have on cars we don't need, especially if it isn't for real. Many an hour is lost trawling the furthest reaches of the internet for dream cars of old and the sort of stuff we have only just heard of but suddenly cannot live without.
Well, we've been at it again, and listed below is our pick of 15 cars we really wouldn't mind giving garage space to. It is a random selection, that's for sure, but that's the way we like it. If you think we're kidding, consider this: we have included a two-cylinder city car and a quad-cam V8-engined super-GT, an amphibious convertible and a road-going variant of a rally legend.
How much is your car to insure? Find out in four easy steps.
Get a quote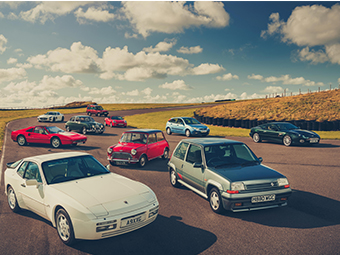 Some of our choices are tantalisingly within reach in the real word, some perhaps less so. But that's the thing about idly daydreaming: tomorrow's pick will probably be different.
1991 Rouse Sport Ford Sierra RS Cosworth Sapphire 304-R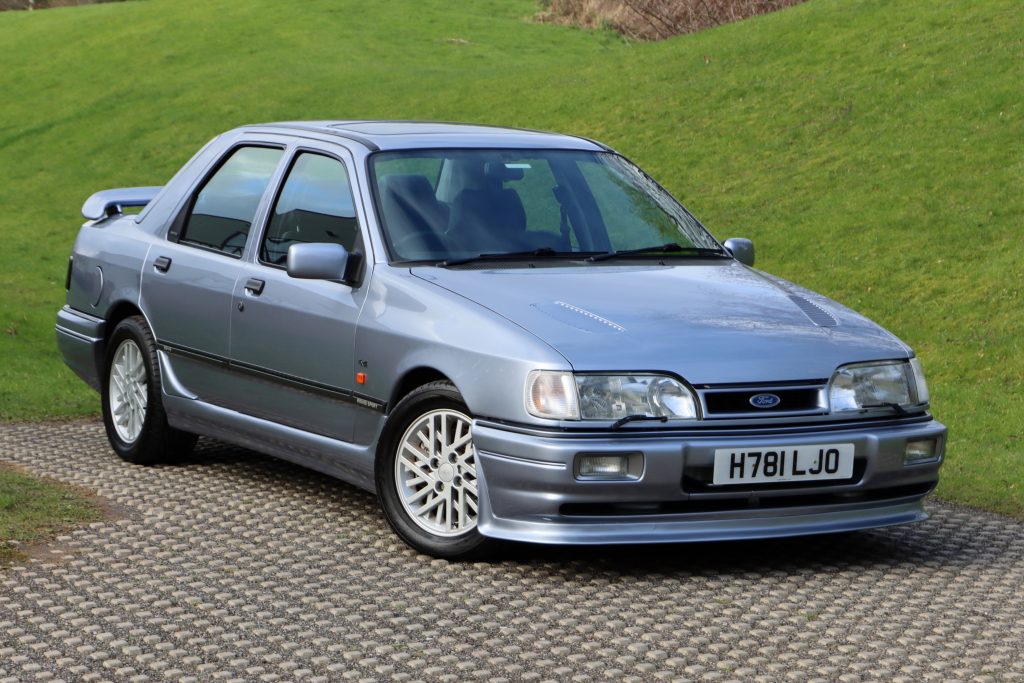 Scroll back to the late 1980s and the dawn of the '90s, and few drivers mastered the Ford Sierra RS Cosworth quite like Andy Rouse. The four-time British Touring Car Champion also prepared and fielded his own cars. This, in turn, led to him offering limited-run road cars, Rouse Sport's take on the RS Cosworth Sapphire being among the most coveted all these years later. Two versions were offered: the 302-R (with rear-wheel drive), and the 304-R (with four-wheel drive).
Packing a useful 260bhp and an oh-so period body kit, both variants were offered via 18 Ford dealerships with factory backing. The initial plan was to build 100 cars, but only 78 were completed. The 304-R pictured here is number 55. Resplendent in Moonstone Blue with black leather, the car has covered just 19,000 miles and will be auctioned via Manor Park Classics on March 12. The estimate is £40,000 to £50,000.
1996 BMW 840Ci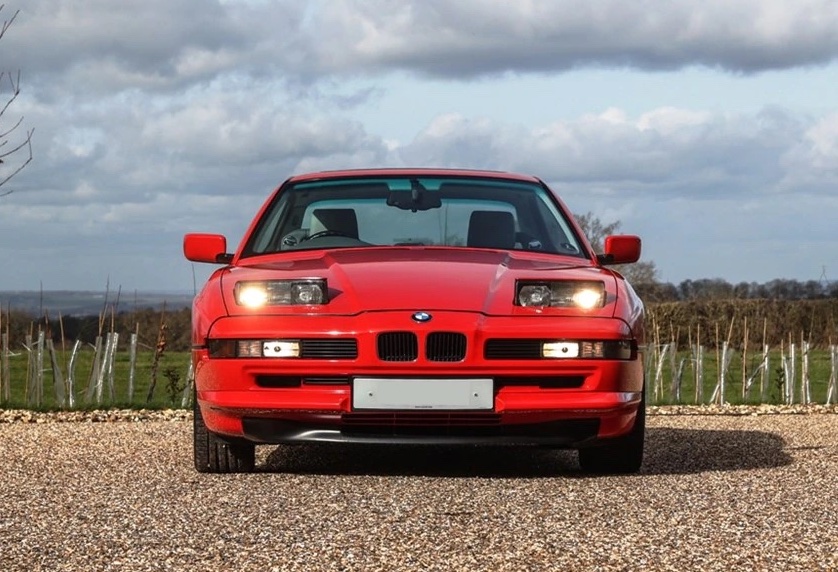 Unveiled in 850i form at the 1989 Frankfurt motor show, powering this super-GT was a 296bhp V12. This was followed two years later by the mighty 850CSi, a 5.6-litre, 381bhp behemoth. In early 1993, BMW added the 840Ci to the line-up, which boasted a four-litre, 286bhp V8. In any of its various guises, there was no doubting the intent to create a class-leading machine; the sort of car that would crush the opposition. Impressively, the car had a drag coefficient of just 0.29cd – not bad even today.
Unlike some other BMWs of the period, where everything was an optional extra, here the driver wanted for nothing. All of this techno-wondrousness and wanton luxury came at a price, though. BMW deliberately pitched the 8-Series at several market segments north relative to that of its 6-Series predecessor and, as such, even the 'base' model was eye-wateringly expensive. When launched, the 840Ci cost £52,950 (roughly £102,000 adjusted for inflation). This 1996 example boasts the later 4.4-litre M62B44 engine and has covered just shy of 65,000 miles. With an estimate of £19,000, it will be auctioned through Historics at Ascot Racecourse on March 12.
1976 Alfa Romeo GT 1600 Junior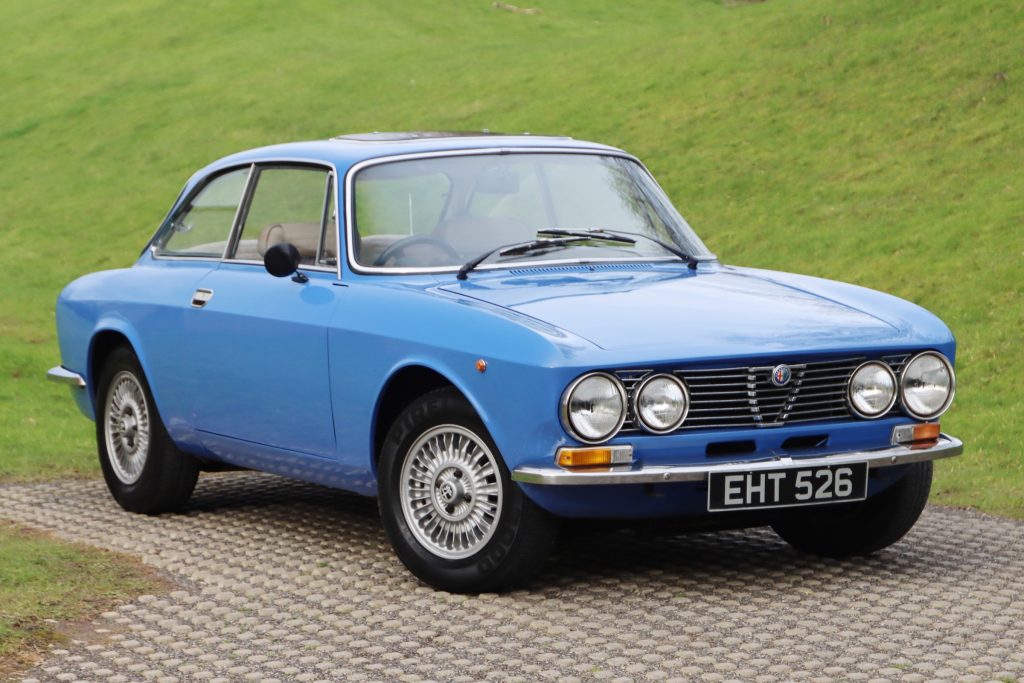 One of the greatest sports coupés ever made, the 105-series Alfa Romeo GT in any of its many guises is a thing of wonder. The outline was penned by 20-something wunderkind Giorgetto Giugiaro: 'Il Maestro' was on hiatus from Bertone performing National Service at the time. What was originally conceived as a small-series coachbuilt offering became something that bit more ambitious, the production 'step front' editions arriving in 1963. Umpteen variations on the theme followed, but the overall outline remained largely unchanged to the end in 1977.
Engine options spanned everything from 1.3- to 2-litre twin-cam four cylinder units, not forgetting the hardcore motorsport-orientated GTA and GTAm weaponry. Members of the Alfisti have their favourite iterations, but all are classics of their kind and huge fun to drive regardless of displacement. This example, up for auction with Manor Park Classics on 12 March, is powered by a 1570cc version of the enduring Giulia engine with a corresponding five-speed 'box. It also dispels the notion that they were only ever sold in red, Le Mans Blue offering a striking contrast against the original cream cloth upholstery. The estimate is £20,000 to £24,000.
1961 Amphicar Model 770
If ever there was a niche vehicle, it was – is – the amphibious car. They have been around almost as long as the automobile itself, but few have covered themselves in glory. Most sank without a trace, if only metaphorically. Hans Trippel was a serial designer of such vehicles and his Amphicar remains the best known of all cars produced for civilian use. Introduced at the 1961 New York Auto Show, the Amphicar was briefly the darling of the Beautiful People, but production never came close to the once-mooted 25,000 units per annum.
Despite its German origins, the 770 was powered by a rear-sited Triumph four-banger and capable of up 70mph on land and seven knots in the water. Series production ended in late 1963, although cars were assembled from parts to 1965 with the Amphicar still being listed as late as 1968. Celebrity owners included former US presidents Lyndon B. Johnson and Jimmy Carter. This 1961 example, up at RM Sotheby's Fort Lauderdale sale on March 25-26, was restored in 2020 and is finished in a highly unusual shade of Beach Sand White.
1989 Lancia Delta HF Integrale 16V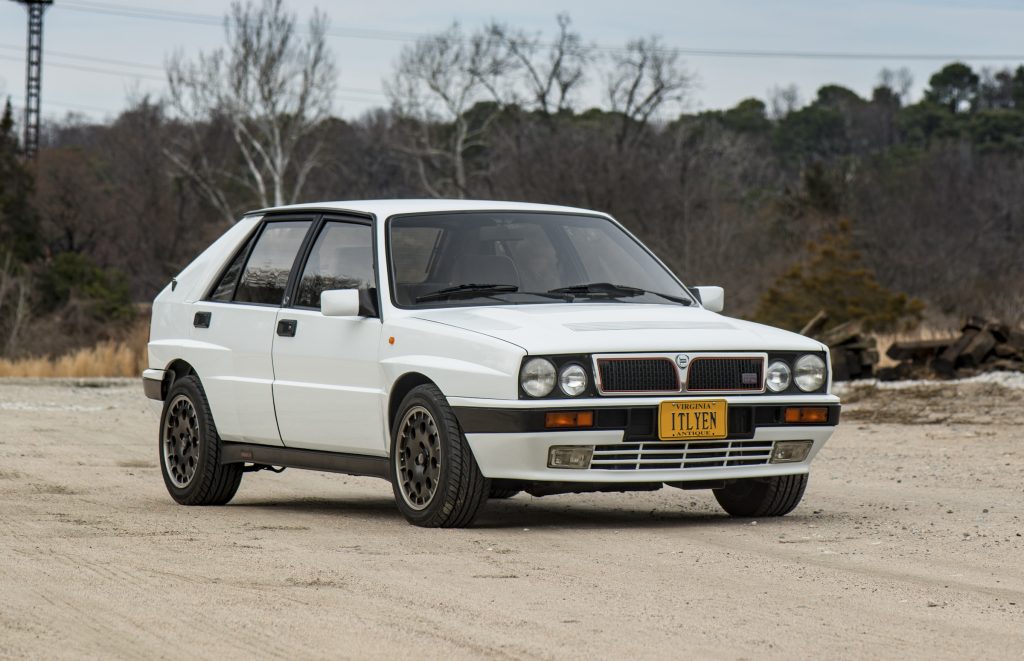 This cubist Lancia was also among the greatest homologation specials ever to storm a special stage and, by extension, one of the most exalted road cars of its generation. Launched at the 1988 Frankfurt Motor Show, it picked up from where the Delta HF 4×4 left off. It was equipped with a larger Garrett T3 turbocharger and boasted an extra 20 horses relative to the outgoing model. Blistered arches embraced fatter tyres and grey 15-inch alloys, the 56/44 front-to-rear torque split imbuing it with preternatural levels of grip.
Capable of 0-60mph in 6.6-seconds on to an aerodynamically blunted 133mph top end in road-going spec, this was a peerless point-to-point car. Lancia wasn't one for resting on its laurels, though. Engineers subsequently introduced a 16-valve variant, the torque split being changed to 47/53 front-to-rear for better handling characteristics. The Integrale was never officially imported into the USA in period, the example pictured here having landed Stateside in 2018. It will be offered at RM Sotheby's sale at Ford Lauderdale on March 25-26. There is no estimate as yet.
1990 Peugeot 205 GTI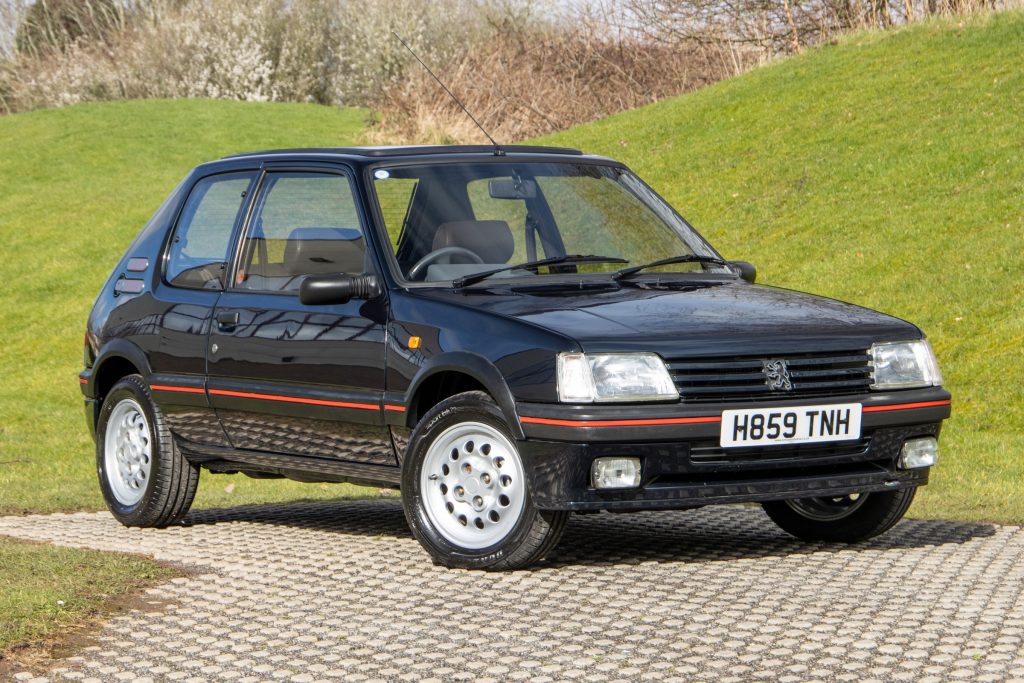 One of the greatest hot hatches ever to turn a wheel in anger, the GTI variant of the 205 arrived in 1984 and immediately made an impact. If the outer cladding, badging and 'pepper-pot' wheels weren't a sufficient giveaway that this was something special, the ex-305 GT aluminium alloy inclined OHC 'four' unquestionably did. Equipped with Bosch L-Jetronic injection, it produced 105bhp at 6250rpm and 99lb ft of torque at 4000rpm.
These figures may appear measly in the here and now, but they weren't in period. And don't forget the 205 GTI tipped the scales at just 907kg. Accordingly, the claimed top speed of 116mph and 0-60mph in 8.5 seconds were more than PR puff. The GTI – the use of an uppercase 'I' was always thus – has long since earned classic status. This 1990 example escaped the fate of others and has not been 'accessorised'. It's riding on period-correct alloy wheels and has covered 108,000 miles. It's another coming up for auction at Manor Park Classics on March 12, with a £10,000-£12,000 estimate.
1988 Aston Martin Lagonda Series 4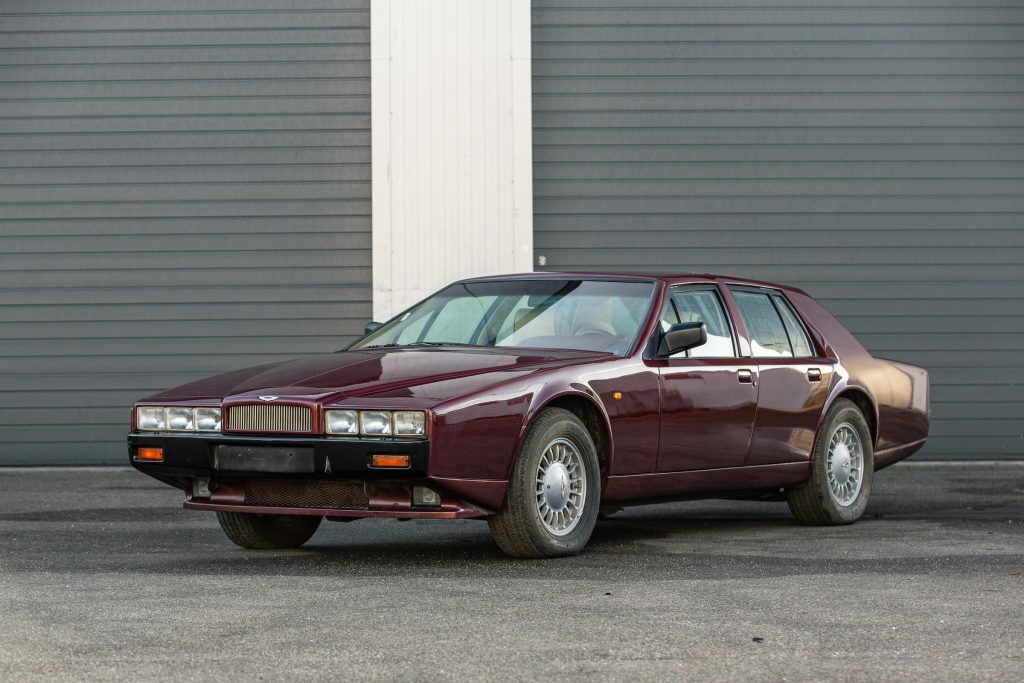 The 'wedge' Lagonda exists in its own little bubble. Well, box. It always has. What amazes more than anything though is that this most super of super saloons was built at all. It was a daring design, to put it mildly, if only in terms of the visuals. Incredibly, the prototype was unveiled at a media event at The Bell Inn in Aston Clinton on 12 October 1976, just seven-and-a-bit months after designer Williams Towns first put pen to paper. A few days later, the car was unveiled to a shellshocked public at the British International Motor Show at Earls Court.
It was an extraordinary performance for a company that had been in the hands of the receivers a year earlier. By the end of the show, more than 150 deposits at £2000 apiece had been taken, which represented ten per cent of the intended end price. There were one or two 'issues', but most were ironed out. Offered through Bonhams in Amsterdam on March 21-31, this example is one of the 'softer' Series 4 which rounded out production. Just 643 cars were made of all kinds, the final version accounting for 105 of those.
1980 AC 3000ME Turbo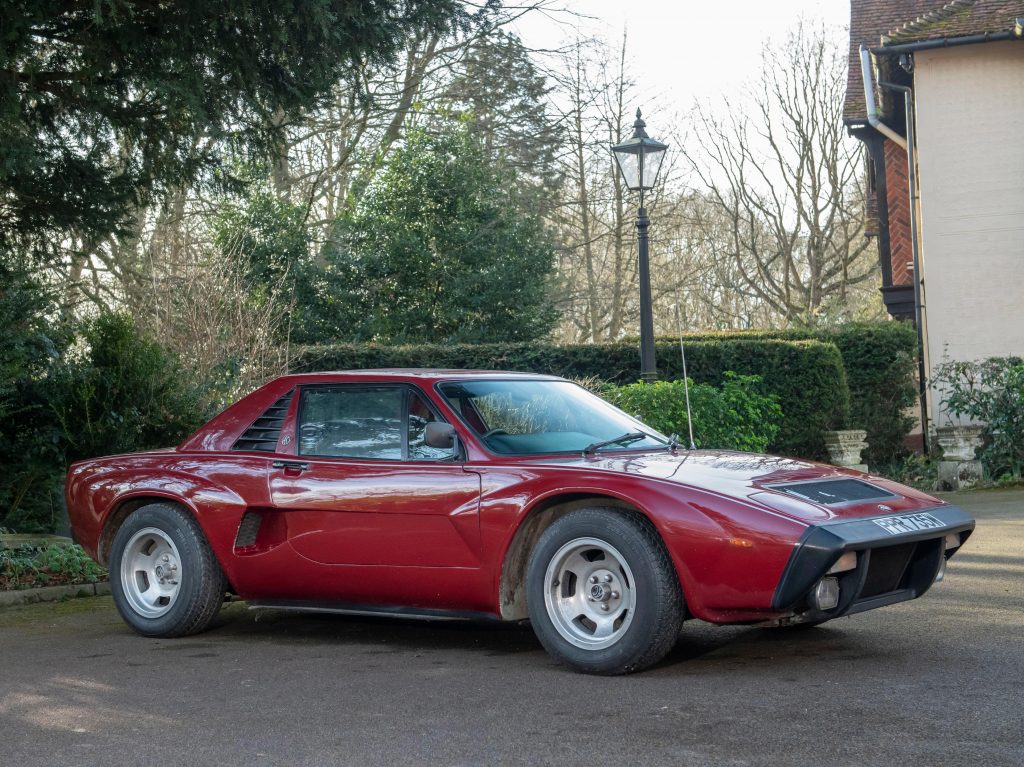 One of the prettiest British sports cars to emerge during the 1970s, the 3000ME nevertheless failed to take flight. Its chances were undone by its lengthy gestation period, the design being rooted in a one-off concept car created by former Lola alumni, Peter Bohanna and Robin Stables. Called Diablo, it appeared strikingly modern when unveiled in 1972, although the application of an inline Austin Maxi four-banger sited amidships seems an odd choice in retrospect. Rights to the project subsequently passed to AC Cars, the Diablo tag being dropped and a 3-litre Ford V6 being adopted along the way.
The 3000ME was shown in prototype form at the 1973 British International Motor Show. However, production didn't begin until 1979, by which time it appeared a mite dated. Sales never got close to the once-mooted 20 units per week, rights subsequently passing to standalone firm AC (Scotland) PLC. We've already taken a look at this car in detail, originally owned by David Hescroff, a fixture in marque circles, and upgraded with a turbocharger conversion via Robin Rew. It's due to be auctioned at the Goodwood Members' Meeting on April 10 without reserve, but with a £12,000 to £15,000 estimate.
1964 Gordon Keeble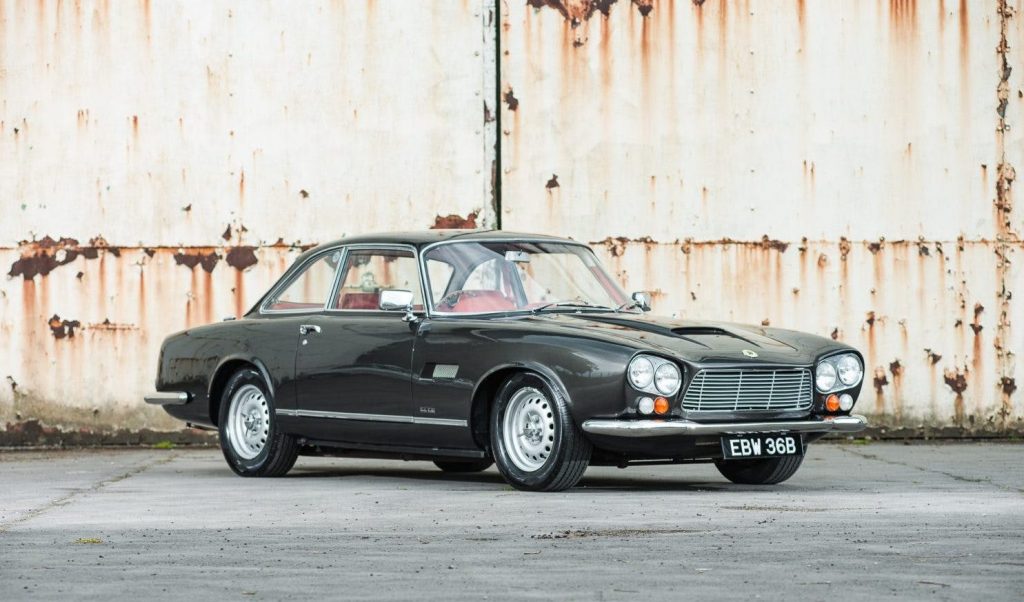 This Anglo-American GT wasn't a commercial success, but it cast a long shadow, not least on artiste Giorgetto Giugiaro who wasn't far into his design odyssey when it was shaped. The Gordon GT (as it was originally dubbed) broke cover at the 1960 Geneva Motor Show although it took an age to reach production. What's more, the outline made the leap from rendering to finished article largely intact, and represented a masterwork in terms of balance and proportion. It undoubtedly influenced other Bertone offerings from the period, not least the Iso Rivolta and all manner of Alfa Romeos.
Tragically, the fibreglass-bodied, 327cu in (5.3-litre) Chevrolet V8-engined GT never realised its full potential, an attempt to revive the model in 1968 under the de Bruyne nameplate coming to naught. Just 100 Gordon Keebles are said to have been made from 1964-67 (the final example being assembled later on from spare parts), and survivors are highly prized. Car 39 was restored and upgraded by Ernie Knott, who was something of a legend in marque circles. We spotted this car last month, and it's pleasing to note that its modifications amplify the original car's attributes rather than detracting from them.
1972 Datsun 240Z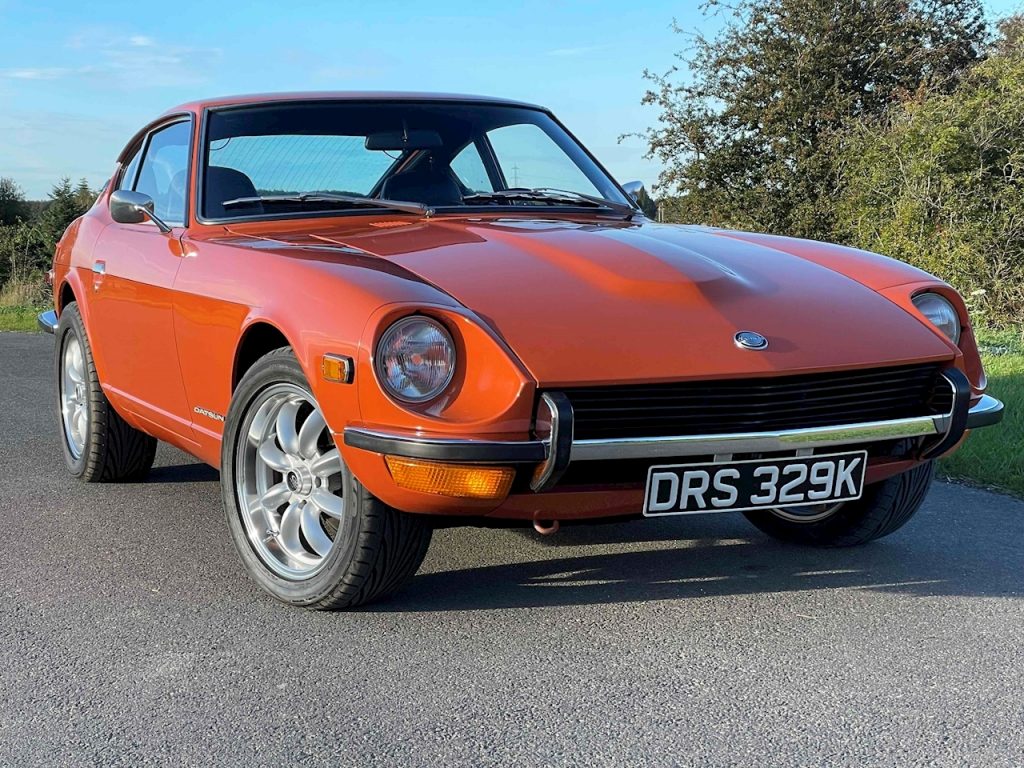 In many ways, the 240Z redefined the sports car, at least in terms of it not being prone to leaving its mark when parked, starting when summoned, and being ruggedly reliable the rest of the time. Strictly speaking, though, the 240Z tag is a bit of a misnomer because there were at least six clearly-defined variations of the 'S30 series' theme when the car was launched. It caused a furore at home upon its introduction at the 1969 Tokyo Motor Show, and an even bigger one in the USA. Cheaper than mainstream British sports cars, and undercutting the Chevrolet Corvette, sales went stratospheric from a standing start.
The 240Z was launched in the UK at the 1970 British International Motor Show at Earls Court, Datsun UK stopping short of bringing cars over in large numbers, due in part to protectionist tariffs levied against Japanese imports. Of the 150,076 Datsun 240Zs made to the end of 1973, a whopping 146,000 headed Stateside. This car was one of them and it arrived in the UK in 2015. It has reputedly never been welded, although it has benefited from a bare metal respray.
1994 Fiat Panda 1000 CLX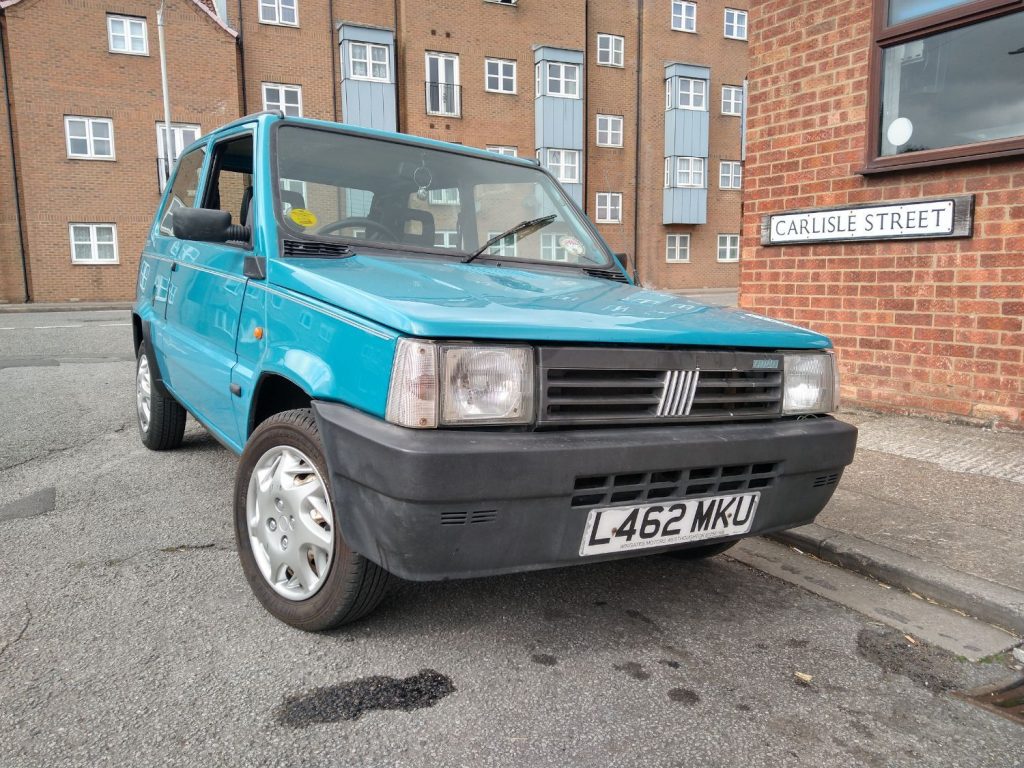 Launched at the 1980 Geneva Motor Show, the Panda somehow finished second to the third-gen Ford Escort in the following year's Car of the Year contest. Nevertheless, it was garlanded elsewhere with Giorgetto Giugiaro claiming the prestigious Compasso d'Oro industrial design prize for shaping it. The man himself told La Stampa: '[The] Panda is like a pair of jeans; a simple, practical, no-frills piece of clothing.' It was a brilliant analogy. Thanks to constant upgrades and clever marketing, the original model soldiered on until September 5, 2003, when the last car – number 4,491,000 – rolled off the production line. And that doesn't include license-made versions.
Nevertheless, survivors are becoming increasingly scarce, even in its homeland. This late-model version features the 999cc FIRE (Fully Integrated Robotised Engine) four-cylinder unit allied to a five-speed 'box. Sadly, the hammock seats fitted at the start of production didn't go the distance, but here the cloth trim is, according to the dealer, 'completely unmolested'. The Panda remains a great commuter shuttle, and the sort of classic you can fix with a hammer. One of the all-time great Italian cars.
1998 TVR Chimaera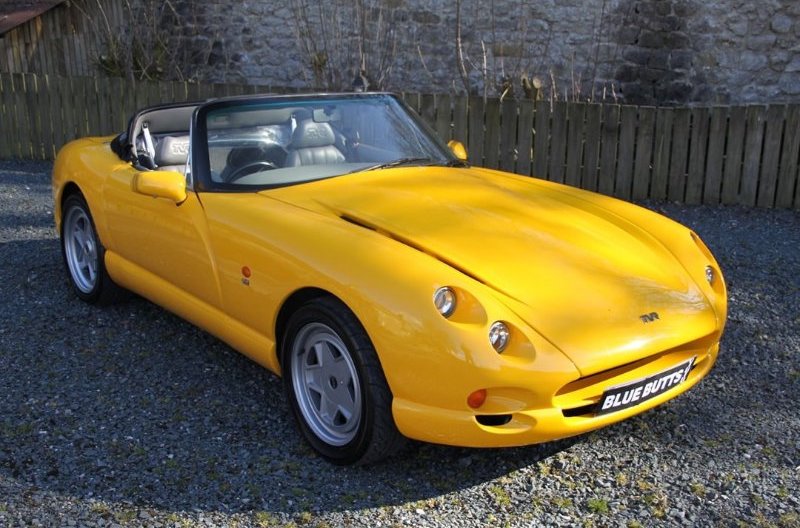 While sharing DNA with the Griffith, the Chimaera was aimed at a different market. It was more of a grand tourer with a slightly larger boot plus a luggage locker behind the front seats. The ride was also a bit softer and, dare we say it, the Chimaera was all the more usable for it. 30 years have elapsed since the model was introduced at the British International Motor Show. It would remain in production to 2003, power being provided by an endless array of ever more powerful Rover V8-based engines rather than TVR's own-brand units.
The Chimaera handles the low-speed rough-stuff better than a Griffith. It has greater compliance in the suspension, while the engine's nature is that bit more… lazy. The power delivery is less fire and fury, although it bellows when pressed. The Chimaera does, however, feel properly and most definitely fast, even when you're treating it with maximum respect. In the dry, the Chimaera is a lovely old thing, all wuffly and docile when you want it to be but not lacking bite should impulse control desert you. This 1998 5-litre car is certainly noticeable, and could be just the ticket for the summer.
1967 Lotus Elans S3 FHC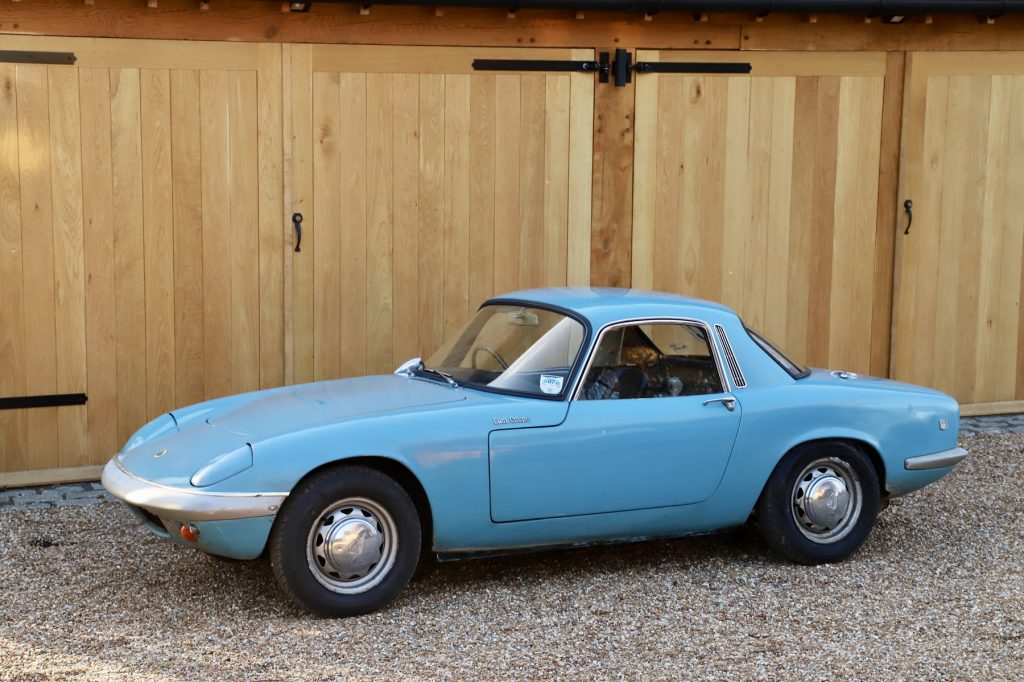 This year marks the sixtieth anniversary of the sublime 'Type 26' Lotus Elan. Everything about this car captivated audiences in 1962 and nothing has changed in the meantime. For all its other-worldly beauty and lateral thinking, the prior Elite was too costly to make and mortally hamstrung by complexity. Lotus principal Colin Chapman clearly thought so, his Elan replacement being a lesson in simplicity by comparison; a copper-bottomed classic that still enraptures all right-thinking sports car fans.
Initially conceived as a low-cost replacement for the Seven, the kernel of the Elan as a more aspirant product took root once it became clear that the Elite would likely bankrupt Lotus. The design was influenced as much by bottom line-minded prudence as starry-eyed futurism, the use of a steel backbone chassis becoming a marque constant for generations to come. Then there was the engine, a twin-cam head being allied to a Ford 116E five-bearing block. The Elan was brilliant, its handling dexterity deservedly lauded. The example pictured here is a fixed-head coupé; one that is reputedly in time warp condition, having had only one owner since 1969, and could be yours for £27,995.
1972 Fiat 500F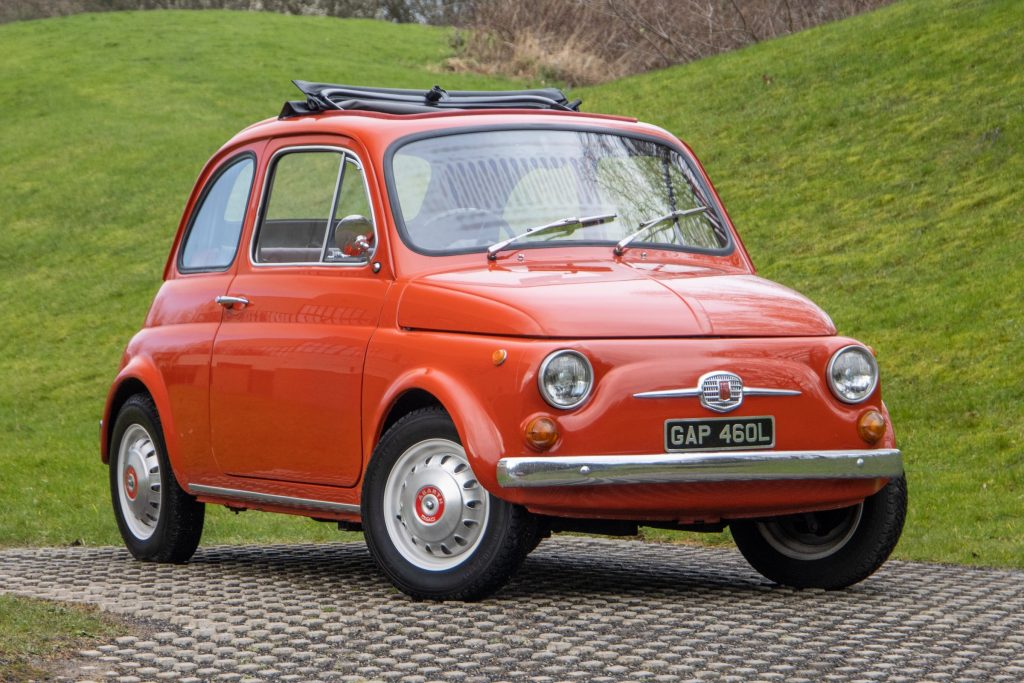 Think of a symbol of Italy's motoring heritage, and some sort of vowel-laden supercar will probably leap to mind. The Lamborghini Miura perhaps; maybe the Ferrari 250 GTO. By contrast, we would argue that the quintessential post-war Latin classic is not a mega-horsepower, multi-cylinder exotic. Our candidate would be the Fiat 500 Nuova. There was a time when it represented street furniture in its homeland and, while that might not still be the case today, you still see them in use.
In the UK, the 500 remains a darling of the hip and the stylish. It makes perfect sense in a city environment, its off-the-line nippiness and compact dimensions ensuring that few gaps in traffic cannot be exploited, or meagre parking space employed. This 500F appears striking in an unusual shade of Rosso Corallo Scuro (that sounds so much sexier than Dark Coral Red), and it has received a two-cylinder engine from the later 126. This is a common upgrade, and here it has been bored out to a giddying 650cc. The car will be auctioned via Manor Park Classics on March 12. The estimate is £7000 to £9000.
1969 Maserati Ghibli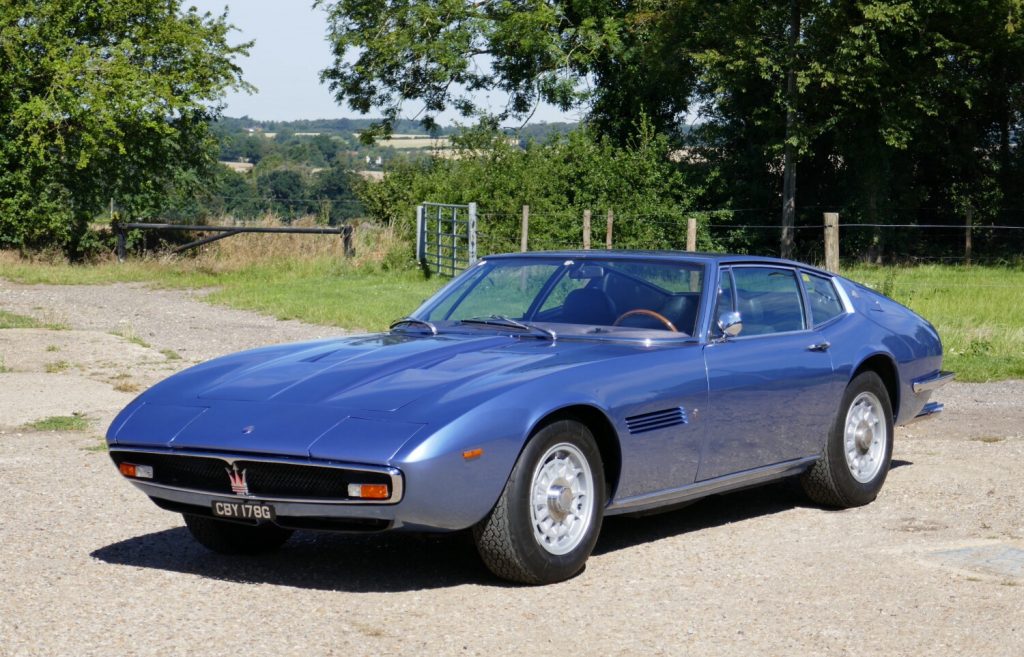 While its running gear didn't push technological boundaries, the Ghibli's silhouette was among the finest of its era. The use of a dry sump set-up had the additional benefit of allowing stylist Giorgetto Giugiaro to create an outline with a dramatically low bonnet line. The 20-something shaped the car during his brief spell at Ghia. It was a landmark design for a firm which, during its immediate post-war years at least, hadn't always erred on the side of good taste.
Remarkably, Maserati envisaged shifting just 100 Ghiblis, having seriously underestimated demand. The most expensive car in the marque line-up was also the most popular, the board in Modena soon revising their estimates and targeting sales of 400 units instead. Production continued until 1973, by which time 1149 fixed-lid Ghiblis had been made. By comparison, Lamborghini built 765 Miuras, while Ferrari made 1005 Daytonas. This 1969 example, up for £195,000, is resplendent in period-spec 'Metallic Celeste' which complements the largely original black leather interior. It has also appeared in several leading motoring titles, and not just those of the old car variety.
Read more
Shelby-tuned Toyota 2000GT sets an auction record for Japanese cars
The Renault Collection sale: Which would you pick?
Maestro's Mercedes: Fangio's 300 SL Roadster comes up for auction