Awards decisions are rarely easy, particularly when there's an enormous choice of candidates and so many have done such good work. Bravo, then, to the Vintage Sports-Car Club (VSCC), which has been announced as Club of the Year by Classic & Sports Car (C&SC) magazine.
The VSCC edged out hundreds of other car clubs – all doing their own significant part for the classic car industry in the UK – and was highly commended for its willingness to innovate, an increasingly important factor as the motoring landscape changes around us.
How much is your car to insure? Find out in four easy steps.
Get a quote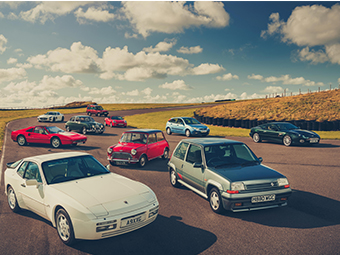 Formed in 1934, some of the VSCC's cars are more than 100 years old, but the club has recently allowed some post-war cars into its ranks, expanding its appeal further. Better still, C&SC highlights that around one in 10 of the VSCC's members is under 30 years old – giving it vital representation among younger enthusiasts.
One of Hagerty's valued partners, the VSCC is enormously active in racing, trials, driving tests, tours, rallies and more, and offers numerous benefits to its members too, including discounted tickets, a newsletter, a motoring history archive, and other services.
Alongside the VSCC, Classic & Sports Car awarded a highly commended rating to the Riley RM Club, which has increased numbers and cut fees despite the difficulties presented by the Covid-19 pandemic, while the Mk1 Golf Owners' Club was also given a nod, which has shown impressive growth for a club that started in only 2004.
Shortly after going to press, another gong was picked up by the VSCC. Octane's Historic Motoring Awards announced that its Club of the Year 2021 went to the Vintage Sports-Car Club. Proof, as if it were needed, that the club is doing good work to welcome young blood while keeping old hands happy.
Read more
The classic vehicle community is thriving
What it takes to keep a vintage Bentley on the boil for 100,000 miles around the world
Your classics: Ed Marriott and his 27-litre Minerva Liberty Special