No, it wasn't built by Williams, but that didn't really matter. The Renault Clio Williams – actually built by Renault Sport – was one of the best hot hatchbacks of its era, and the fact it bore the name of the team dominating Formula 1? That was just a bonus.
We've come to expect great things from Renault Sport, thanks to a string of class-leading hot hatchbacks that followed the Williams. But the Williams really set the tone in 1993, taking everything that was great about the Clio 16v and making it even better – with a nod to homologating the car for Group N and Group A rallying.
How much is your car to insure? Find out in four easy steps.
Get a quote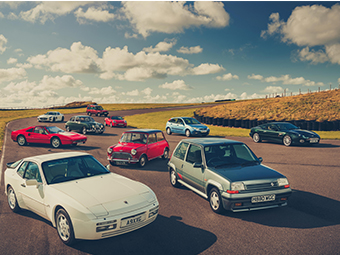 You might not know it as you sink into those squashy blue-trimmed seats, but as Henry Catchpole points out in Carfection's latest video, which discusses the Clio Williams' place in the 2022 Hagerty Bull Market List, the driving position is actually pretty good. It's still a cracker to drive too – age really hasn't wearied many aspects of the lightweight Clio's dynamics.
Hagerty's John Mayhead also provides advice on where the Williams sits in the market, and the differences between the Williams 1, 2 and 3. The former is most sought-after, the latter the most affordable and best-equipped – and, here's a factoid for you, the rarest. Whichever Williams you buy though, you'll be putting a true legend in the garage.
Read more
Renault Sport re-stocks Clio Williams wheels
Your Classics: Lee Sunderland, 1994 Renault Clio Williams
Renault Clio at 30: Highs and lows of a hot hatch hero