Yesterday we brought early Christmas tidings of comfort and joy to you good people, with the launch of the 2023 Hagerty UK Bull Market List.
This is our annual crystal ball session, where the team behind the Hagerty Price Guide crunch enough numbers to keep a super computer busy, and look for signs that a car's value is stable and, whisper it, likely to appreciate. That's a big difference to the vast majority of new cars, which fall in value faster than a Steinway & Sons grand piano pushed off the roof of a skyscraper.
How much is your car to insure? Find out in four easy steps.
Get a quote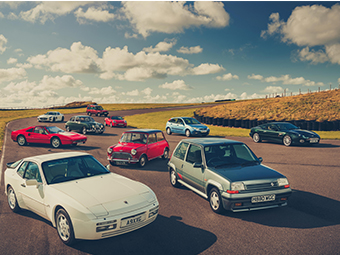 Our thinking is that you can buy, drive, and enjoy any of the 10 cars we selection for the Bull Market List – and should you come to sell it a few years down the road, there's a good chance that it will fetch more than you've spent on it, which means you've enjoyed motoring for nothing. Hopefully.
This years cars include the century-old Austin Seven and the stripped-for-action and limited-edition Audi TT Quattro Sport. And talking of action, we also have the Lamborghini Diablo, a car that delivers more drama at a standstill than most cars can muster at their redline. However, if like your speed served up in a more comfortable package, then you'll like the Bentley Turbo R.
So far, so exclusive. But fear not, we've also included the Ford Fiesta Mk1, which is as mainstream as any car comes, and the Triumph Spitfire, which is as affordable as British-made roadsters get.
There are leftfield cars in the mix, too. How does the Marcello Gandini-designed Citroën BX grab you? Or the forward-thinking Saab 99 Turbo?
If you'd rather not have a roof over your head, then sunny Sunday drives were made for the Mercedes SL500 and Lotus Elise S2.
By now, you may be wondering why Hagerty's number-crunchers picked these 10 cars. let's hand over to John Mayhead, Manager of the Hagerty Valuation Team, and James Mills, Editor of Hagerty Media, and find out how the Bull Market List is built…