Price: £4999
Year: 1990
Mileage: 51,000
Condition: Fantastic (Mr) Fox
Seller: Car & Classic

One of the things that takes a little getting used to when talking about once-ubiquitous cars making their transition into rare classic car status is the steady increase in value. We know why it happens, and when an old Porsche or Ferrari or even a 205 GTi sells for a healthy sum the how isn't too difficult to put into place either.
When it's an old "breadvan" Volkswagen Polo going for five grand though, a car you could swear was a couple of hundred quid just a few years ago, it's cause for a sharp intake of breath.
How much is your car to insure? Find out in four easy steps.
Get a quote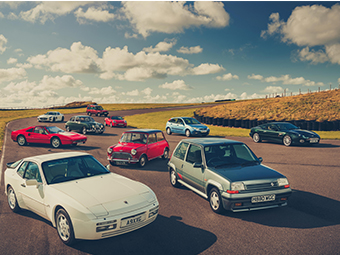 Some might say this is all just par for the course. Base model Mk1 Escorts were valueless for a while too but when that heady cocktail of "I had one of those"/"my parents had one of those"/"I grew up reading about those in magazines" kicks in, nearly every humble family wagon becomes sought-after given enough time.
These Polos were everywhere as recently as the 1990s, and then without really paying attention, suddenly they were nowhere.
The government scrappage scheme – tackled in this story – probably accounted for some of that. The official list doesn't split things down by year, but a conservative tally suggests more than ten thousand Polos met their end in 2009. Given eligible vehicles had to be more than ten years old – so pre-1999 – it's fair to assume that the majority were 80s and 90s models, meaning hundreds of cars just like this have since been recycled into refrigerators.
This particular "breadvan" Polo that's for sale – a nickname awarded thanks to its squared-off rear, and more appropriate a moniker than "Coupé" appended to those with a sloped back – must have been sold narrowly before the Mk2 Polo received a significant facelift in 1990, adopting a more sophisticated look to bring it kicking and screaming into the final decade of the 20th century.
Earlier cars were effectively products of the 1970s, having debuted in 1981, with slim bumpers and simple painted metal beneath, small round headlamps, and hilariously skinny 135/80 R13 tyres. "Power" came from a 45bhp 1043cc inline-four, directed through a four-speed gearbox. It must have looked and felt pretty anachronistic back then, but today it's all charmingly retro.
The cabin has more than a hint of Mk1 Golf about it too, though as a Fox special edition (another jazzed-up entry-level car like last week's Citroën AX Spree) it does get some particularly cosy-looking red cloth seats. Polos of this era had impressive build quality for a car at this price point too – a new Fox was £5698 in 1990, only eight pounds more than the much flakier-feeling Ford Fiesta Popular.
The Popular's an apt comparison, because tidy Fiestas of similar vintage – and indeed Metros and other tiddlers – seem to go for similar money. This Polo is for sale through Bristol-based UKD Autos, and has an asking price of £4999 on its Car and Classic advert. Their burgeoning popularity means they're not the cheapest way of getting into a true Festival of the Unexceptional favourite, but they have true scrappage scheme survivor appeal.
Also read
Unexceptional Classifieds: Citroën AX Spree
The VW Jetta MkII is so sensible I forgot I owned one
Small but perfectly formed: 40 years of the Fiat Panda