Price: £6250
Mileage: 144,108
Condition: Dashing*
Seller: Car & Classic
Follow discourse on social media and there is discontentment at the ever-increasing values of some classic cars. If you're a seller, holding onto an appreciating asset is a great position to be in, but it can be understandably frustrating for enthusiasts who've spent years saving for their dream car, only to have it constantly inch out of reach.
How much is your car to insure? Find out in four easy steps.
Get a quote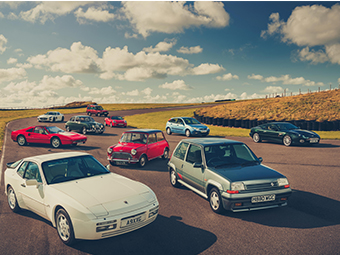 There's not a lot you can really do about it – the market pays what it pays – but the inflated price of one or two cars doesn't necessarily mean the entire hobby is closed off. Look to the fringes and there are cars of a lower profile, but often plenty of appeal, that are much more attainable.
This week's unexceptional classified is an example of just such a car. While the price of Golfs (particularly those of GTI persuasion) grows ever higher, quirky and characterful models like the B2-generation Passat hatchback are still well within reach.
Just how quirky you view the second-generation Passat probably depends on where in the world you live. In Europe it disappeared from production in 1988 after an eight-year run, but Volkswagen continued building and selling a variant in the burgeoning Chinese market, badged Santana, until 2012. So the Chinese are probably a bit bored of them.
We see a touch of Rover SD1 about it though, plus a hint of Audi (unsurprisingly, given it shared its platform with the second-generation 80), and also a strong 1970s flavour, belying the period in which it was designed. It's easy to see it originating from the same family as the pert Scirocco.
Inside, with its squared-off dashboard and four-spoke wheel with four horn buttons, it resembles a kind of upmarket Mk1 Golf GTI. With a 2-litre, five-cylinder engine under the bonnet, the Passat GL5 almost certainly makes a better noise than a GTI, and with 115bhp to call upon and a kerbweight of under 1100kg, you'd likely get a taster, if not the full course, of GTI-style performance (officially, 60mph comes up in 10.5sec from rest).
Like many contemporary Audis the odometer of this particular Passat shows a generous number (just over 144,000 miles), but it's recently had a new cambelt, water pump, plus oil and filters. The seller seems to have gone through it with a fine-toothed comb over the past year or so, turning numerous small MOT failures in 2020 into a completely clean ticket good until July 2022.
Okay, so the price of this one isn't quite rock-bottom, and might still put it out of reach of floating voters or younger enthusiasts, but consider that a condition 4 "fair" example of a Mk1 Golf GTI is now £8000 in the Hagerty Price Guide, and an "excellent" car nearly twenty grand, and you can see how it pays to cast a broader net.
Plus, you might even enjoy it more, confident in its lower value – and maybe feel more compelled to add to the 144,000 miles driven by all those previous owners.
(*Yes, I know the Dasher was actually the American name for the B1 Passat, not the B2, I just liked the pun, okay?)
Read more
Unexceptional Classifieds: Alfa Romeo 33 1.5 Ti
The One That Got Away: the pint-sized Golf that Jon Bentley squeezed Jeremy Clarkson into for a trip to the pub
The Volkswagen Corrado VR6 sounds like a winner | Revelations with Jason Cammisa