Price: £1795
Mileage: 40,000
Condition: As straight as the box it came in
Advert: eBay
The late 1990s saw an influx of boxy and voluminous shapes from the far east. Popular in the likes of Japan for decades, companies like Daihatsu, Suzuki, Daewoo and Hyundai for some reason decided that Europe might like them too, and all of a sudden the roads became just a little taller and a little sillier.
How much is your car to insure? Find out in four easy steps.
Get a quote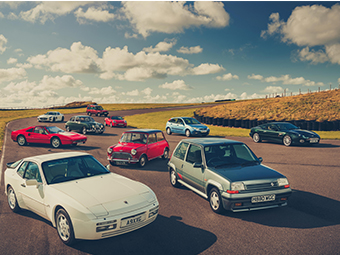 Perhaps they were cashing in on our continent's growing predilection for our own brand of practical vehicles.
Within the space of a few years, Renault had invented the compact MPV sector with the Mégane Scenic, Citroën decided we'd like to try the van-with-windows thing with its Berlingo Multispace (quickly followed up by a similarly-glazed Peugeot variant, and then the Renault Kangoo), and Mercedes-Benz brought us the A-class, which promptly fell over.
It's no wonder eastern marques spotted an opportunity. In 1997, the Suzuki Wagon R, Daihatsu Move and Hyundai Atos came ashore (the latter renamed Atoz in the UK, to avoid too many "we don't give…" headlines in the press). In 1998, the Daewoo Matiz followed, while Daihatsu even brought over its tiny'n'tall Terios as an off-road option – the same year rival Suzuki did likewise with the Jimny.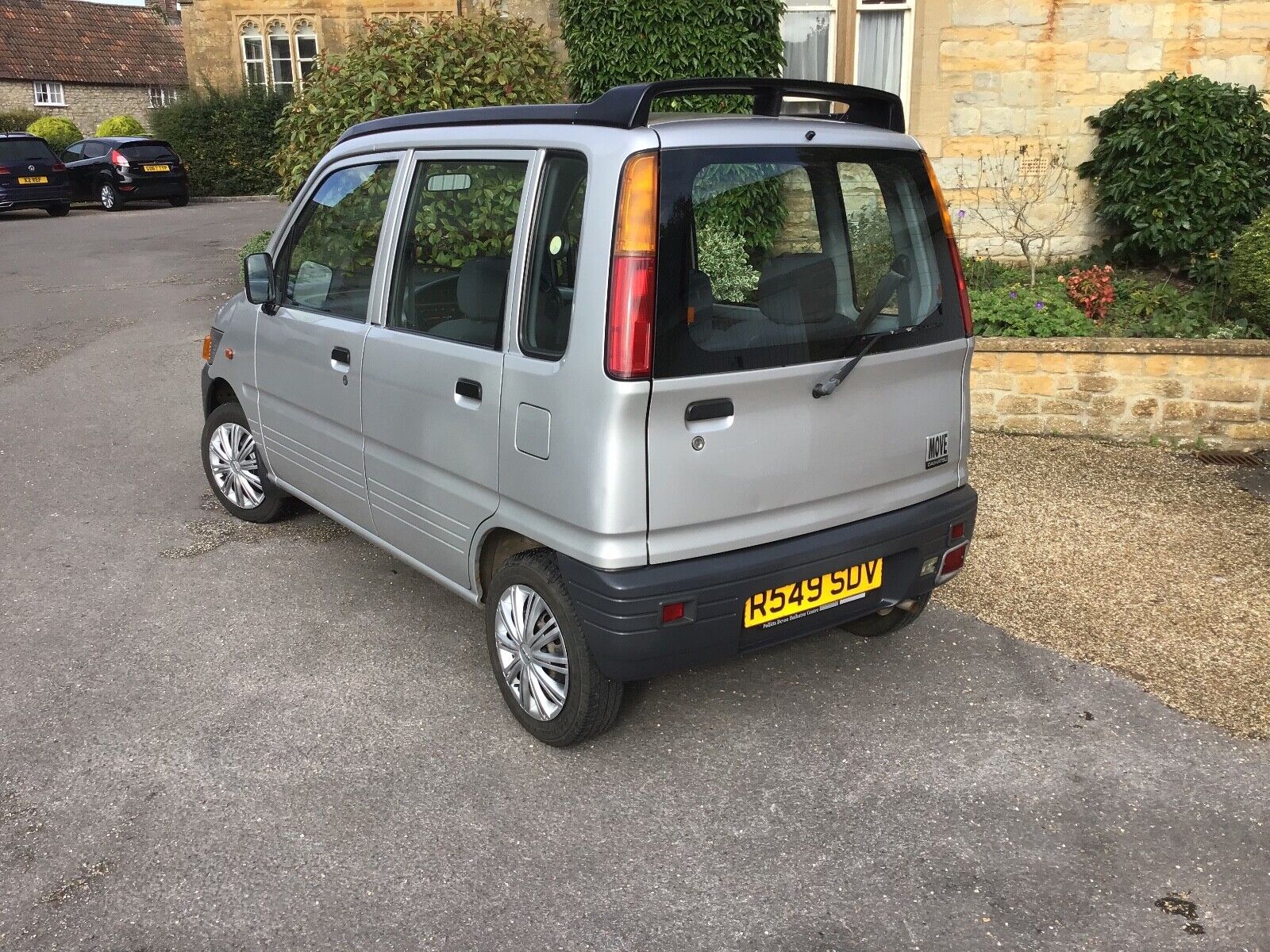 It's the Move we're concentrating on today though, partly because there's one for sale, which is already a rare occurrence, and partly because it's suitably unexceptional.
While these tall cars go down well with Japan's youth, for example – giving them not just transport but a place to err… fraternise in private, something not possible for those still living with parents – they became instantly and unavoidably popular with the elderly over here, who appreciated the wide-opening doors, seats at hip-level, and presumably, interior fabrics that reminded them of Dralon living room suites.
The seat trim in this 1997 Move is possibly a little too high-tech to have found on the curtains of your 1990s grandparents, but the tall-boy styling is very much present and correct. While regular superminis did go for a high-roof look for a while, these tiny, narrow MPVs never really caught on, so it remains an eyecatching (if not especially pretty) form.
The Move's one real styling flourish is a sharp cut in the front wing that follows the line of the windscreen. It's enough to make us wonder whether Daihatsu was considering a rear-engined model, and simply having the front end descend to the ground along this cut.
There's detail in the flanks too, as much to prevent big, expansive panels resonating like drum skins, while the concavity carries around to the tailgate, which is side-hinged – and, being Japanese, on the correct side for the UK. The Move badge is a nice touch too, emphasising the car's tall nature.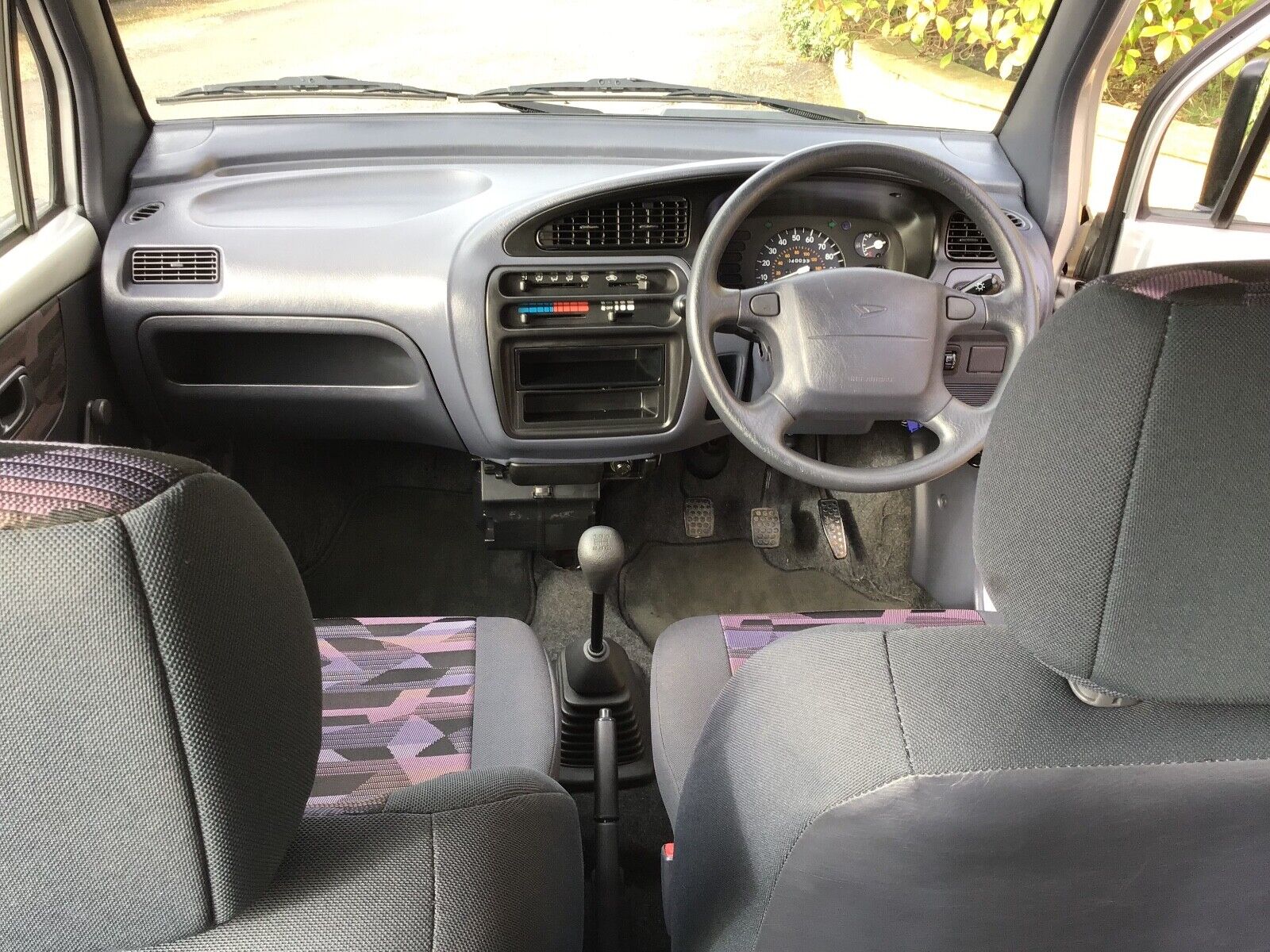 The specification is truly unexceptional too. We don't think those wheel trims are original, but please note the complete absence of a radio. You do get a five-speed gearbox though, helping to extract a 19.1-second 0-60mph time (and 47.1mpg) from the 847cc, 42bhp three-cylinder.
Jason Barlow, driving one for Car in April 1998, described the engine as having "hyperactive verve", and that "it hangs on gamely during kamikaze cornering sessions… keeling over drunkenly but defying basic physics like a latter-day Oriental 2CV", both of which make it sound like an unexpected riot to drive.
At £1795 it's a fiver under 25 per cent of the £7200 it would have cost new. Such money might put some off but is probably towards the lower end of the unexceptional metal we usually find, especially for one so rare and in such decent nick.
Tall cars have a bad rap in the car enthusiast community, since they're mostly associated with today's crop of teetering superminis. But if you're prepared to look outside the box – or maybe, at the box itself – cars like this Daihatsu Move aren't all so bad.
Read more
Cars That Time Forgot: Daihatsu Applause
Your Classics: Eddie Rattley's Daihatsu Fellow Max is a tiny two-stroke
My unexceptional story