Through no small amount of time, effort and investment, Hyundai has gone from being an unknown Korean car maker with cars that were cheap and not in the slightest bit cheerful, to rubbing shoulders with Volkswagen and building cars most drivers would be happy to, well, drive. Whether the i30N hot hatchback, the new i20N hot supermini, or US offerings like the Veloster N and upscale Genesis brand of sports saloons and luxury cars (Phil Collins not included), the lineup looks more appealing by the day.
Things weren't so easy in the 80s and 90s. Korean carmakers were treated with the same suspicion back then as Japanese brands were in the 1970s, and often side-eyed with the same derision – they were dependable, but surely you'd prefer something European instead?
How much is your car to insure? Find out in four easy steps.
Get a quote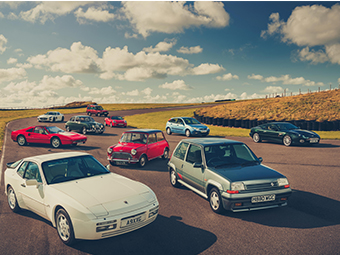 An early attempt at image-building came in the form of 1988's Hyundai Scoupe. No, not "S Coupé", but "scoop", and ambiguous name aside it was pretty much the archetypal budget coupé of the era.
Based on the brand's contemporary small car, the Excel, the Scoupe used a range of 1.5-litre engines, both naturally-aspirated and later turbocharged, and powered the front wheels. The two-door body was generic but not unattractive, and with a kerb weight of just under a metric ton performance was similarly by-the-numbers. The 60mph benchmark came up in the mid-12s and top speed just broke the 100mph mark. Turbos were quicker, dispatching 60mph in the low nines and touching 120mph flat out.
It was a hard sell though. At just over £10,000 for a non-turbo model it didn't look bad by coupé standards, but sporty 106s, Clios and Metros were similar money and came from more familiar manufacturers.
By the time Honda introduced its Civic Coupé in 1992 the jig was up, not least because road testers raved about its handling, revvy engine and quality build to a degree the Scoupe couldn't hope to match. Autocar gave the Civic LSi four stars from five in its comparison test in 1994; the Scoupe Turbo achieved only two.
The passage of time is a funny thing though. Currently residing on eBay is the 1995 Scoupe you see here, for a relatively modest £2250. It's a non-turbo model and among the last produced before Hyundai replaced it with the even less imaginatively-named (but much better received) Hyundai Coupé in 1996.
And doesn't it look tidy? It's covered just over 64,000 miles from new and appears close to original. The bodywork looks straight and corrosion-free, the interior resplendent in mottled grey trim, and it's got just under a year's MOT left. That same MOT history appears to point to a few spells off the road here and there and a long list of defects in 2017, but its most recent ticket suggests that's been sorted.
The description that it's an ideal starter classic probably isn't far from the mark; if you've not got much cash to spare and every other retro coupé from the era has recently shot up in value (you'll pay more for a grotty Civic now) then it could be an unexpected (and dare we say, unexceptional?) alternative. And, now that Hyundai is turning out some genuinely desirable performance cars, you're buying into a part of that heritage.
Read more
If you want this Hustler kit car, you'll have to Sprint
This Citroën Visa Chrono makes every journey a special stage
Invest in British beef with this Land Rover Discovery V8