In a year that has faced unprecedented turbulence, how has the market for classic cars responded? Buyers and sellers have had to think on their feet. Many have had to adapt the way they buy or sell classic cars, while auction companies, whether operating in the physical environment or online, have had to rethink the way they do business – or face not doing business at all.
It was, arguably, the UK's auction houses that faced the greatest number of challenges brought on by Covid-19. Through the course of 2020, Hagerty's Valuation Team tracked 4666 cars in 53 classic car auctions from 14 different auction houses. Their combined sales were more than £144.6 million ($193m). But along the way there have been bumps in the road.
How much is your car to insure? Find out in four easy steps.
Get a quote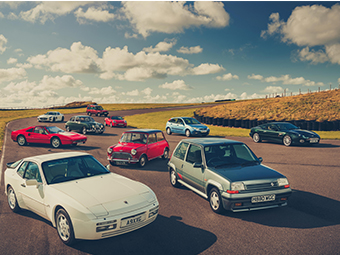 At the start of the year, before the impact of the pandemic became obvious, a sell-through rate – the percentage of cars submitted to an auction that sold – of 70 to 75 per cent was considered a good result for a live classic car auction, but as Britain's lockdown started in March, those auctions that didn't cancel or postpone were hit hard.
In April, sell-through rates plummeted to as low as 19 per cent, and even online interest in cars fell: Auto Trader UK, the country's largest digital car sales platform, reported a 30 per cent year-on-year drop in web traffic.
By May, the story had changed. Those auction companies who already had a strong online presence tended to do best, as did those that adapted quickly to the ever-changing public health regulations. Silverstone Auctions achieved an extremely strong £4.53m ($5.52m) of sales at 86 per cent sell-through on 23rd May, achieving a mean winning bid of £61,148 ($74,466), over double that of the next-best auction. This was the start of a summer boom: as the lockdown eased and spring turned to summer, a sense of optimism fuelled Britain's classic car market.
Most people – both buyers and sellers and those in the trade – had become used to the Covid-19 restrictions and went back to the business of buying and selling cars. The number of auctions increased, too. Those companies that had assumed they could cancel a sale or two and wait for the storm to subside had realised that life was not going back to the way it had before. They had to sell, or go out of business.
It has changed the process of buying and selling classic cars for good. Few enthusiasts or professionals in the car community believe things will ever return to the way they were before Covid reared its ugly head.
The smallest auction of the year arguably made the biggest impact of the year. Gooding & Company's Passion of a Lifetime event at Hampton Court Palace, in September, offered just 15 cars for sale, but what a collection they were. The auction smashed all sorts of records including the top sale value of the year –  a 1934 Bugatti Type 59, which went for £9.54m – highest total sale (£34m) and highest average sale figures (£2.4m). Of these exceptional cars, most of which would qualify as the star of any run-of-the-mill international sale, just one failed to sell. Given the money spent, it was hard to believe all this took part during a period of global economic turmoil.
2020 Auction Records
Top sale: Gooding & Co (1934 Bugatti Type 59, £9.54m)
Highest average sale: Gooding & Co (£2.25m)
Highest total sales: Gooding & Co (£33.86m)
Highest sell-through rate: SWVA (95%)
Most cars sold: Collecting Cars (979)
At the end of October, the announcement of a new four-week lockdown in England had an almost unnoticeable effect on the auction market. As ever, some sale results were better than others – in early November, Anglia Car Auctions achieved an impressive 89 per cent sell-through rate of 226 cars – but overall the average was right where typical for the time of year. The mean sell-through rate of all auctions Hagerty tracked in November was 73 per cent.
As in the United States, the story of 2020 was the dominance of online sales. From May, Hagerty started tracking web-only relative newcomers Collecting Cars and The Market. In that month, The Market achieved an 89 per cent sell-through and a near £18,000 ($21,920) mean winning bid. The fact that so many buyers had sufficient level of trust to buy so many cars sight-unseen is typical of the evolving behaviour we've seen this year.
When sales at classic car auctions were analysed by era (by decade except pre-war cars that were considered together) newer cars tended to be both the more numerous (the 1990s provided the most auction entries with 809) and also the most successfully sold: 86 per cent of collectible cars offered from the last decade, for instance, found a buyer. Older cars did not do so well: 1940s cars were the least well-represented (55 cars offered) and pre-war cars had the lowest sale rate (65 per cent). Other than a slight dip in the 2000s decade, sell-through rates increased decade-on-decade.
Top-selling cars by era – 2020 UK auction results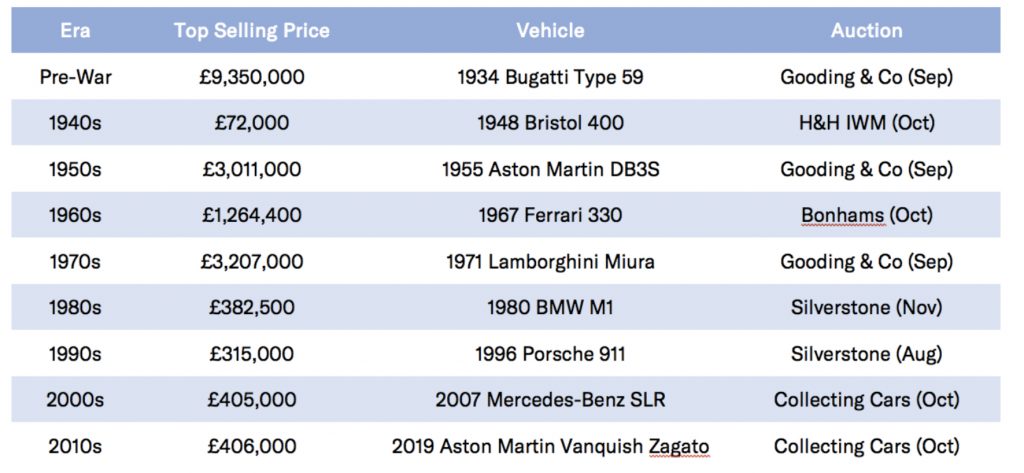 These trends may suggest that the market is embracing more modern cars, but the inclusion of the new wave of online-only sales platforms, which tend to sell more modern cars than the traditional auction houses, may have affected our findings. Next year will reveal whether this is a trend or just an anomaly.
The Gooding sale also looms large when we breakdown which nationalities fared best. The very unusual group of three Bugattis sold at Hampton Court brought an average of £7m ($9.13m), which resulted in French cars having the highest average sale price at UK auctions this year. At the other end of the spectrum, Japanese vehicles sold best, with a sell-through rate of 82 per cent, but at the lowest average price – £11,300 ($15,085). (However, we include collectible motorcycles in these counts). As you'd expect, British cars were the best represented at auction (1845 cars with a total value of £48.91m or $65.3m).
In terms of the top-earning cars by country, an interesting pattern emerges. All of the cars – with the exception of a Lamborghini Miura – are racing or racing-derived cars. Even the Miura was a very special version, upgraded to various Jota specs, including a dry sump and limited-slip differential. It's a trend Hagerty will continue to monitor.
Top-selling cars by nation – 2020 UK auction results

Overall, it was an unexpectedly strong year for classic car auctions. An impressive 75 per cent of the cars that sold at the auctions tracked by Hagerty achieved their guide price or higher, with 20 per cent (698) realising more than presale estimate. It was the year that every auction house – from the biggest international company to the smallest regional business – had to embrace digital media, and in many respects radically change the way they operate. For some, the challenge was too great and many sales were cancelled. Keeping an auction business on a stable footing was challenging, to say the least.
Next year Hagerty will bring the car community more market analysis than ever, monitoring more than double the number of UK sales we did in 2020. And our global valuation analysis will expand further. Why? We want to provide car enthusiasts and collectors with the best possible picture of the market, help identify trends and ultimately make sure that they – you – can be fully informed choosing the best classic or modern-classic car for their needs. Because as much as we love driving, chasing that next car can be equally exciting.
Be first with Hagerty's market analysis: Sign up to our newsletter or join us on Facebook, Instagram or Twitter