The United Kingdom is reeling from the COVID-19 pandemic. It has left no one unscathed, not even the British prime minister. Some people are struggling to survive, some are losing their jobs, and some are seeing their businesses fail.
The monetary value of classic and collector cars—luxury items, for all intents and purposes—is understandably far from the minds of most. The historic car industry is primarily composed of businesses that rely on passion: small dealerships, restoration shops, transport companies, events, magazines, local auction houses, and more. If there's a major drop in values, some of these companies may struggle to remain viable. And, of course, there are individual owners who have put a great deal of time and money into their cars.
How much is your car to insure? Find out in four easy steps.
Get a quote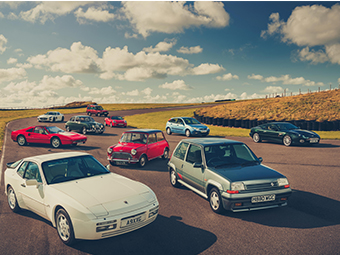 A cursory glance at the U.K. market makes for grim viewing. Almost all classic car auctions here have been postponed or cancelled: Gooding & Co's first London sale, ACA, SWVA, Charterhouse, Mathewsons and SWVA in April alone. Those auctions that have taken place have achieved sell-through rates much lower than similar sales from before the lockdown started when the market was already struggling to recover from a very unsettled eighteen months. Coys have gone into administration, although it is far from clear whether this has anything to do with COVID-19.
Bonhams has been one of the few companies that has gone ahead with its sales, trying different approaches. Its MPH sale at Bicester Heritage on 23rd March fell on the weekend the lockdown was announced, and although the public were not able to attend, the team under Rob Hubbard pressed ahead, changing to a sealed-bid format. "Changing to a sealed-bids system allowed us to still facilitate a sale for the vendor,' said Hubbard, 'And still maximise the car's hammer price.' 34 percent of the cars sold, not great but really not bad given the constraints and the context; as a relatively new department of Bonhams, MPH is still finding its feet and its last sale in November 2019 achieved a sell-through rate of 46%.
The Bonhams Goodwood Members' Meeting sale was a different proposition. With much more valuable cars on the virtual block than at Bicester, and with the event on which it is based cancelled, it was a hard sell. Officially, the auction was cancelled, but with offers invited on cars within the catalogue. The results are currently showing just 15 cars of the 79 offered sold, a 19% sell-through rate.
Of course, this is not just a U.K. problem. "The fact is that there was virtually no market in Europe for about five weeks," said Frank Wilke, managing director of German appraisal firm Classic Analytics (which is owned by Hagerty). "Dealers were closed, and most people had other things on their minds than buying old cars." Although collectors on the Continent generally aren't as auctions-driven as their American and British counter- parts, the postponement of Techno Classica Essen and the associated RM Sotheby's sale didn't help.
So, if you only tracked auction results and read the dire warnings on some online forums, you'd think the market was in free fall, but that's not a clear picture of what is really happening. Online, people are still very active on car sales websites. Redline, the U.K.'s largest independent specialist, sports, and supercar dealer, has reported that traffic to its website has dropped by just 17 percent since 1st March and that it's still receiving hundreds of enquiries. Magnitude Finance, which provides lending for classic and sports cars, actually noted a year-on year rise in the use of its online finance calculator during the first few weeks of lockdown.
"It hasn't affected business as much as we thought," noted Wilke, in Germany. "It now feels people are getting used to the 'new normal,' and our appraisers tell us they're getting more requests from customers. How this turns out, only time will tell."
And there's the rub. The position we're in now is not really indicative of anything. Without being able to view, test, transport or, indeed, drive cars, many buyers – although still interested – aren't purchasing unless they have to. And, unless absolutely essential, most private individuals aren't selling, either. The remaining market, with dealers refusing to drop values, is effectively suspended. It's what comes next that will be most important.
"What's (most) important is what happens when the play button is pressed again once we come out of this lockdown phase," said Chris Penny, Brand Director, Franchise, for Auto Trader U.K. – the U.K.'s largest digital automotive marketplace – which has reported a 30 percent drop year-on-year in web traffic, to about 800,000 people visiting and 8,000 dealer enquiries per day. Tellingly, Auto Trader U.K. also noted that saved searches are up 8 percent from this time last year, suggesting people are preparing to buy cars once the lockdown is over, and that 88 percent of their retailers said they were not reducing prices more than normal during lockdown.
"Our role as an industry is to avoid a race to the bottom, where too many retailers come back to the market and try to force prices down too quickly to cover cash flow," Penny said.
Others are looking further ahead. "The impact will be felt early next year," said Martin Chisholm, proprietor of the Classic Motor Hub, the Cotswold dealership and events establishment. "In the dark days of January and February, when the banks are a little less supportive and people's focus is not on their cars, there will be lots of smaller businesses facing a crunch point. I think the classic car world will look very different indeed after this."
Whatever happens, the depth of the economic impact and the speed of its recovery will be critical to the health of the classic car market. Cars are tangible, easily purchased assets that give pleasure to the owner and could make attractive purchases to someone who has reassessed their priorities during the pandemic. But, as previously stated, collector cars are luxuries, and it will only take a small amount of reduced buyer demand coupled with panicking sellers, desperate for cash, to upset the apple cart.
What's your classic car worth? The Hagerty Valuation Tool is here to help