When the "Holy Trinity" of hypercars debuted in 2013, the performance figures left car enthusiasts slack-jawed. The McLaren P1, Porsche 918 Spyder, and LaFerrari ushered in a new era of hybrid performance with power outputs and lap times that would have been unheard of a decade prior. Ferrari's entrant was considered by Maranello to be the quintessential representation of the brand's performance philosophy, so much so that the company literally named it "The Ferrari".
For modern Ferrari fans, LaFerrari left its mark for a decade by laying the foundation for the track-only FXX-K and FXX-K Evo. Such a revolutionary car certainly required quite a bit of astute engineering and problem solving, and there's perhaps no better representation of the immense technical endeavour than this, the first of three mules used to develop the radical new hybrid powertrain used in the 2013 LaFerrari.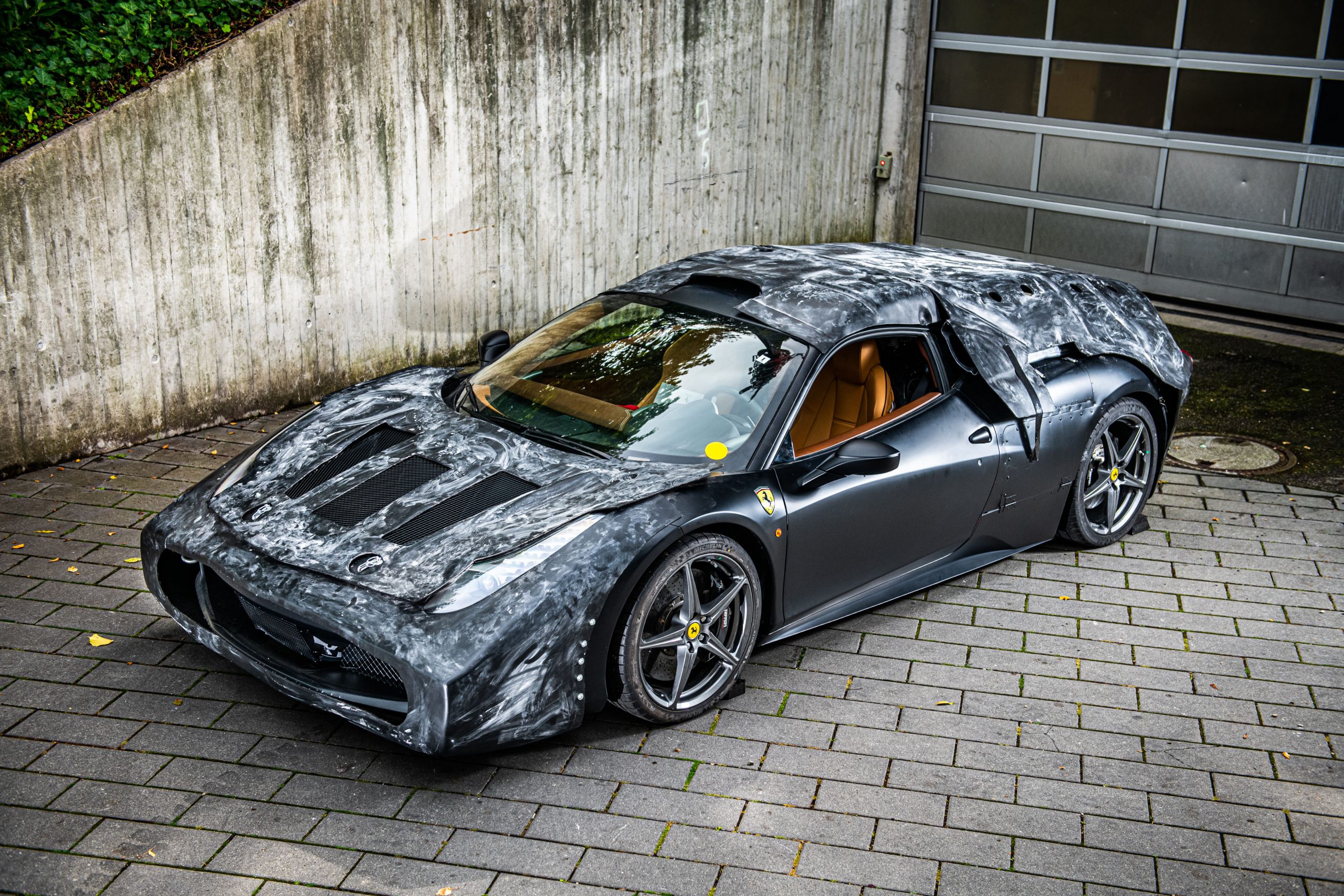 Easily recognisable as a Ferrari 458 Italia with the clumsy camouflage removed, this development mule, called "M6" within Ferrari, was the first car to use an early version of the LaFerrari's hybrid powertrain. It will be offered for sale at RM Sotheby's Monaco event in May.
Underneath the riveted flat-black skin of the Frankensteined 458 is an aluminium chassis that was modified to fit a Type F140FB V-12 engine, the immediate predecessor to Ferrari's Type F140FE that was used in the production LaFerrari for 2013. The engine bay is not the typical sanitary and symmetrical affair you expect from a modern Ferrari, but rather an overflowing nest of ducting, wires, and hoses.
Inside the cabin, things are much tidier, but the development roots are still clearly on display. A large note across the dash warns that the passenger seat should not be adjusted; mounted behind it is a fire extinguisher, along with other development fixtures that intrude into the passenger compartment. Other notable modifications include the suspension turrets, brakes, and steering, which were all in flux when determining the car's weight balance and handling characteristics.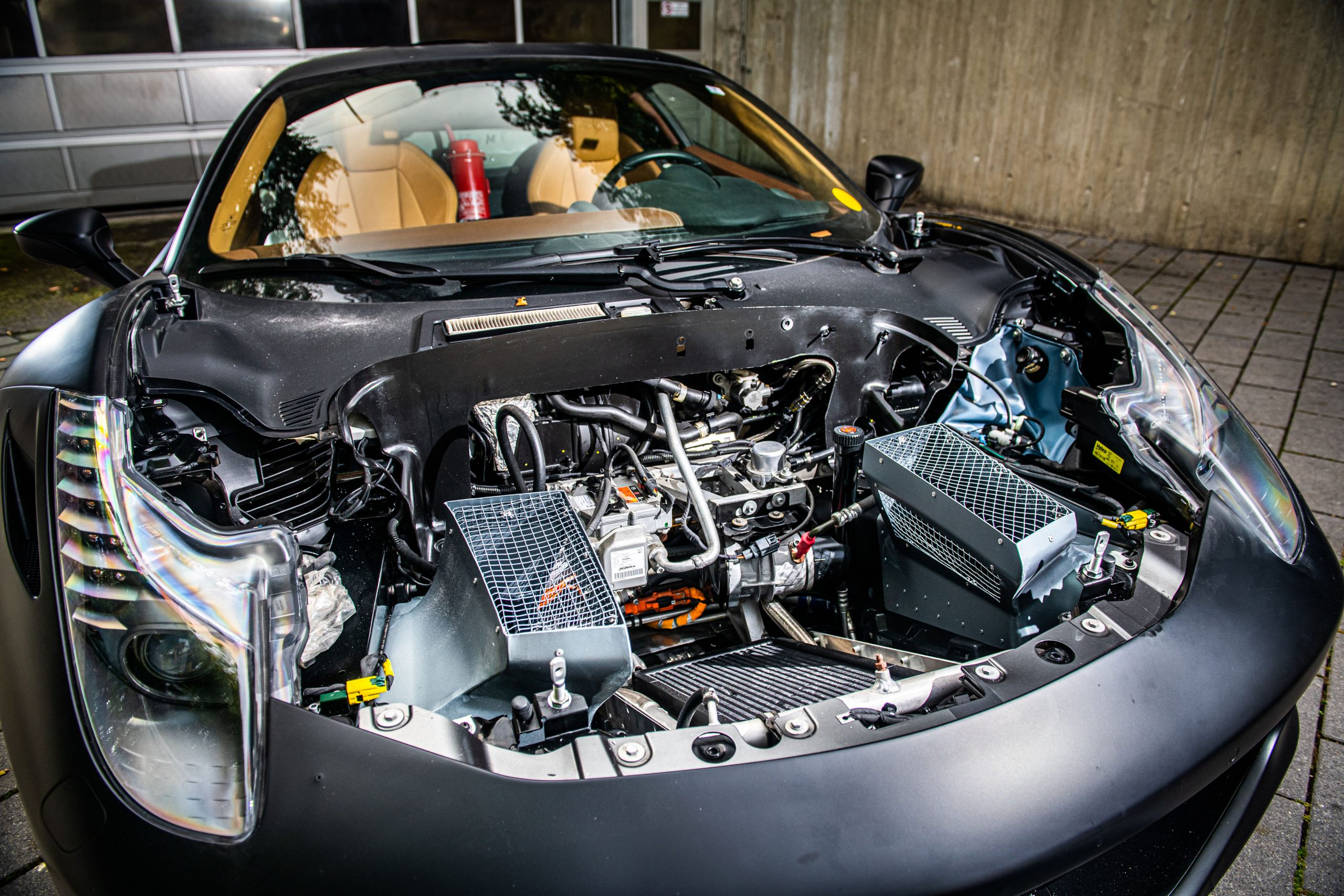 This mule was first sold by Ferrari in July 2016 with the understanding that it was not suitable for use on public roads. That certainly limits the potential usage for any buyer. But considering its experimental status, this prototype is more of a rolling monument to Ferrari engineering than it is a usable car, and no doubt it will be treated as such. Luckily for the next owner, this car is Ferrari Classiche-certified with an accompanying Yellow Book.
We asked Hagerty's auction specialist John Wiley about this LaFerrari mule and what kind of price it might bring. He pointed to a 2017 sale of a one-off 550 Marannelo that brought €287,500, about double that of a #1 (Concours) standard Maranello. Granted, that car was far more buttoned-up than this rough and ready development mule, but it nevertheless goes to show that a one-off Ferrari, even when it's a late model, can throw the price guides for a loop. To what degree, we shall see in Monaco.
Via Hagerty US
Read more
Ferrari 296 GTB review: Plug, play and pray
Your Classics: Matthew Lange and his Ferrari Daytona
Ferrari 458 Italia video: "Just glorious" | Hagerty UK Bull Market List