Editor's note: Adrian Clarke is a car designer, writer, and author of Hagerty's Vision Thing series. He's got a thing for the Fiat Panda, but his choice of classic comes in slightly higher up the Italian car food chain…
16 January 2023: An introduction to the unloved Ferrari
I have always been a bit of black sheep, a professional contrarian in the things I like and how I style myself.
That's not what attracted me to what has long been considered the pecaro nera from Maranello, the Mondial. What appealed apart from the obvious fact it's a Ferrari, is that in today's market it's spectacular value for money. I'm not going to pretend they're cheap. But in my patented "what else could you get for the same money?" method of working out if I think something is overpriced, against something like a RWD Escort surely a Ferrari seems like a no-brainer?
I'm not of means. Late last year I had an unexpected windfall and my evenings immediately swapped from Gran Turismo and Star Trek to perusing classic car adverts and researching possible candidates. No point leaving it in the bank earning a paltry interest rate. Get something with a sense of occasion but a bit out of the ordinary. Aircooled 911? Too ubiquitous, too Instagram. DeLorean? Too fashionable, too unavailable. I struck a biro through these for also being too expensive.
I've always loved the unloved 348 for not being a 355 and simply because I liked the look of the thing. A glance at the classifieds told me everyone else had caught on to my thinking and the market had moved up accordingly. I began wondering where Mondials were sitting price wise.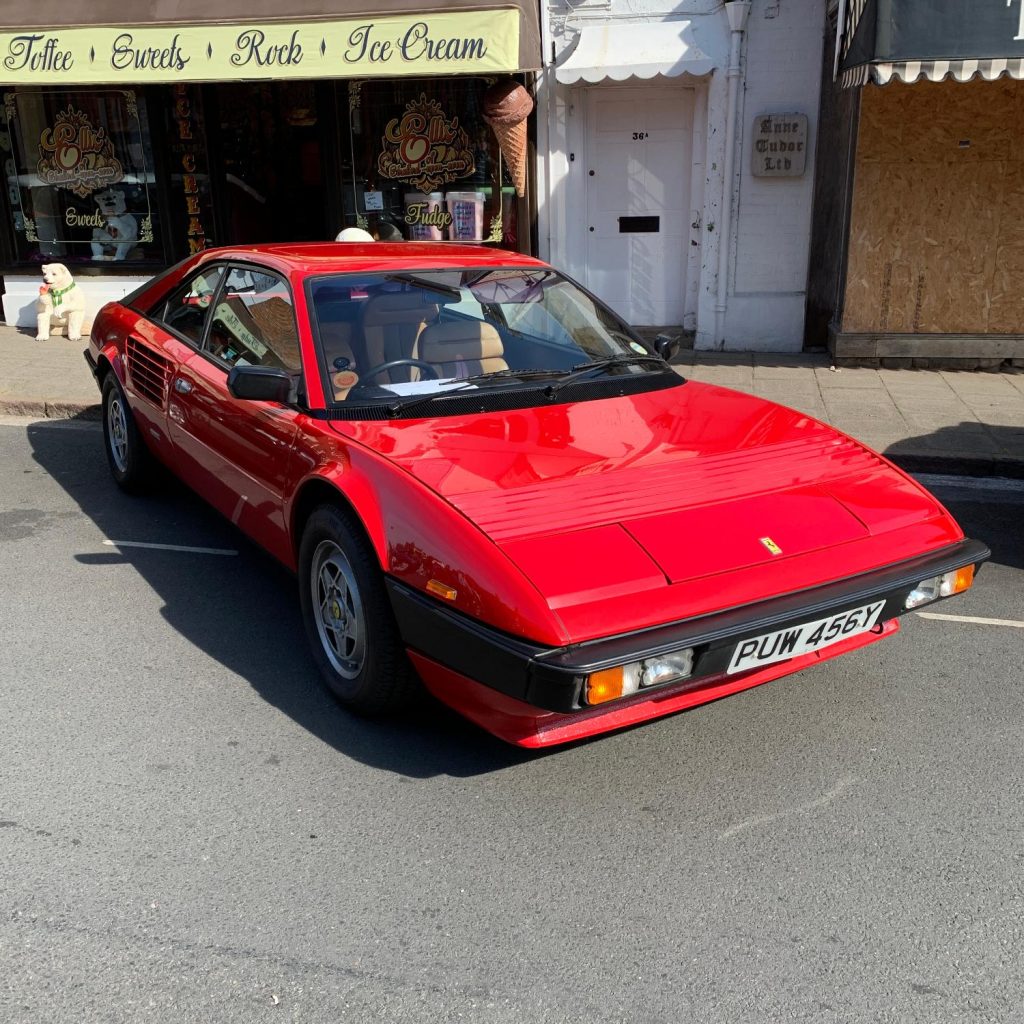 Hello. Hello.
The Mondial was first shown at Geneva in 1980 as a direct replacement for the Gandini-designed 308 GT4. Bolted on the same mechanicals as its sister car the 308, it added a further 100mm into the wheelbase over the GT4 to make the +2 seats slightly more useful. Responsibility for the exterior design was handed back to Pininfarina under long time Ferrari sketcher Leonardo Fioravanti. Subtly blending the angularity of the GT4 with the curves of the 308, the Mondial was the genesis of the slats and strakes theme that dominated the Testarossa and culminated on the 348.
Mechanical Bosch K Jetronic fuel injection and Marelli electronic ignition were bolted on the existing 2.9 Dino V8 for better emissions and fuel consumption, but this resulted in a power drop over the GT4 and earlier 308s equipped with Webers, down from 255bhp to 211bhp. The 308 received these engine updates at the same time but unlike the Mondial seemingly escaped criticism for being not powerful enough.
Let's pause for a minute then and examine where the Mondial's bad rep came from. Both Road & Track and Car & Driver tested the original Mondial 8 in November 1981 and came up with less than stellar 0-60mph figures of 9.4 and 9.3 seconds respectively, although Road & Track did admit their test car had problems with the gearshift. Car & Driver just hated it for being civilised, usable and generally not manly enough which says more about Car & Driver at the time than the Mondial. Motor Sport's Alan Henry recognised its appeal, in 1981, writing: '…[it] offers the indefinable magic of Ferrari motoring as an everyday experience rather that as an occasional treat.'
The whole point of the Mondial was to make a car with a broader appeal. It was the first Ferrari fully developed under the auspices of Fiat, who wanted to increase sales after their takeover. Nonetheless in 1982 Ferrari gave the Mondial four-valve heads with the introduction of the quattrovalvole. This turned the power back up to a respectable 240bhp and the 0-60 time back down to 6.4 seconds.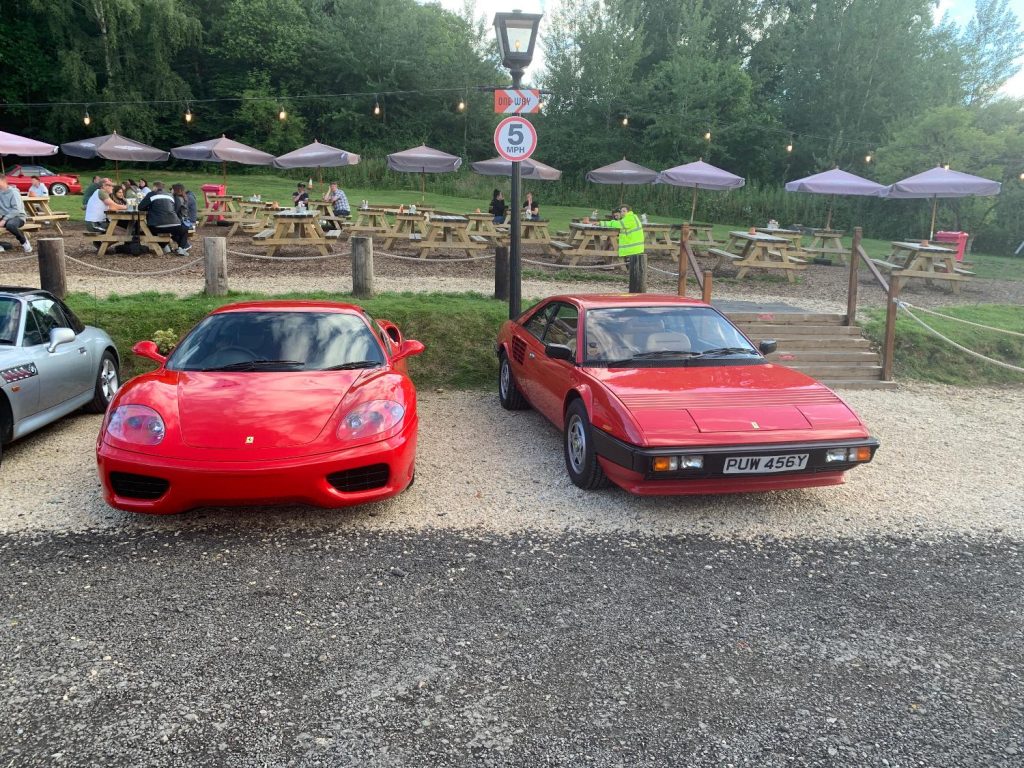 It gained bigger lungs in 1985 with the displacement increasing to 3.2 litres (concurrent with the 308 morphing into the 328) which bought with it a tidying up of the exterior, the bumpers becoming wrap around fibreglass pieces painted body colour. Finally in 1988 the heavily revised Mondial t appeared with a new fully electronically controlled 3.4-litre engine swivelled through 90 degrees. Forming a T shape with the gearbox which remained transversely mounted, this package was shared with the new 348. Appearing for the first time were ABS, power steering, adjustable dampers and an optional Valeo clutch-pedal-less manual transmission.
All but the original Mondial 8 were available as coupé or convertible, so if you want a 2+2 mid-engine drop-top you have a choice of precisely one car. When production ended in in 1993, just over 6100 Mondials of all variants had been built. Put in perspective, that's far fewer than the 308, 328, 348 and 355. A waggish take would be that's because it wasn't as popular, but it sat above the 308/328 and was more expensive to buy new.
So think of a Mondial as a roomier, more ergonomic and thanks to that wheelbase extension less snappy 308 and you're reasonably on the money. As stylish? It's a matter of taste, but because I have an acquired palette I prefer the tautness of the Mondial over the familiarity of the 308. Picasso's blue period contains some of his least loved works, but they're still Picassos.
My sweet spot therefore appeared to be a qv; considerably more go than the 8 and less complication than the t. I committed two cardinal sins in my purchase. Well three if you include the fact that early driving career rot boxes aside this is my first car that can be considered a classic. I didn't get it inspected and I bought the first one I looked at.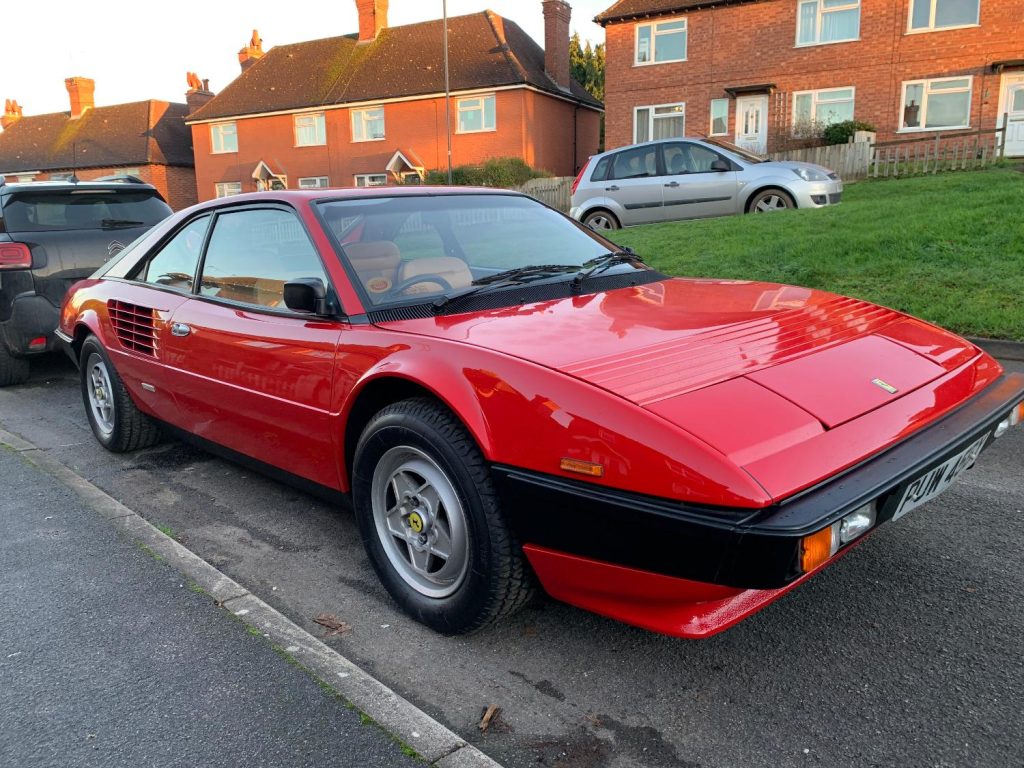 An explanation. When I was looking the market wasn't exactly awash with cars. In fact there were precisely three available. One was slightly leggier and cheaper than what I paid and had well known and hard to solve typical Mondial problems; a kaput electric sunroof and a fuel gauge that only read empty. Another was at the upper end of the market and looked superb in the photos, had stacks of documentation but was slightly over budget and had six previous owners. At the time of writing, ten months later, both these cars were still for sale!
The car I bought the was the middle option. A one-owner, totally original '83 quattrovalvole with a tick over 41,000 miles. Full documentation including the original new-car order form from HR Owen of Mayfair for £27,700. It even still had the guarantee for the trick dealer-fit Pioneer stereo. Just one small problem: the car had been sitting for a number of years after the original owner replaced it, with just the occasional start up until the battery finally died. Included in the purchase price however was a full recommissioning including service, new timing belts and a fresh MOT.
No point buggering about with an inspection in that case. Test drive done, deposit paid in December and in the middle of January I received a call saying the car was ready. Back to the dealer to transfer a ridiculous amount of money via an app on my phone (what a fascinating modern world we live in etc.) and a few days later a flatbed appeared outside my house at an undignified hour in the morning (seriously, what time do these guys start work?) with a 1983 Ferrari Mondial qv on the back. My neighbour was outside having his first smoke of the day. "Bloody hell, that yours?". Yes. Yes it was.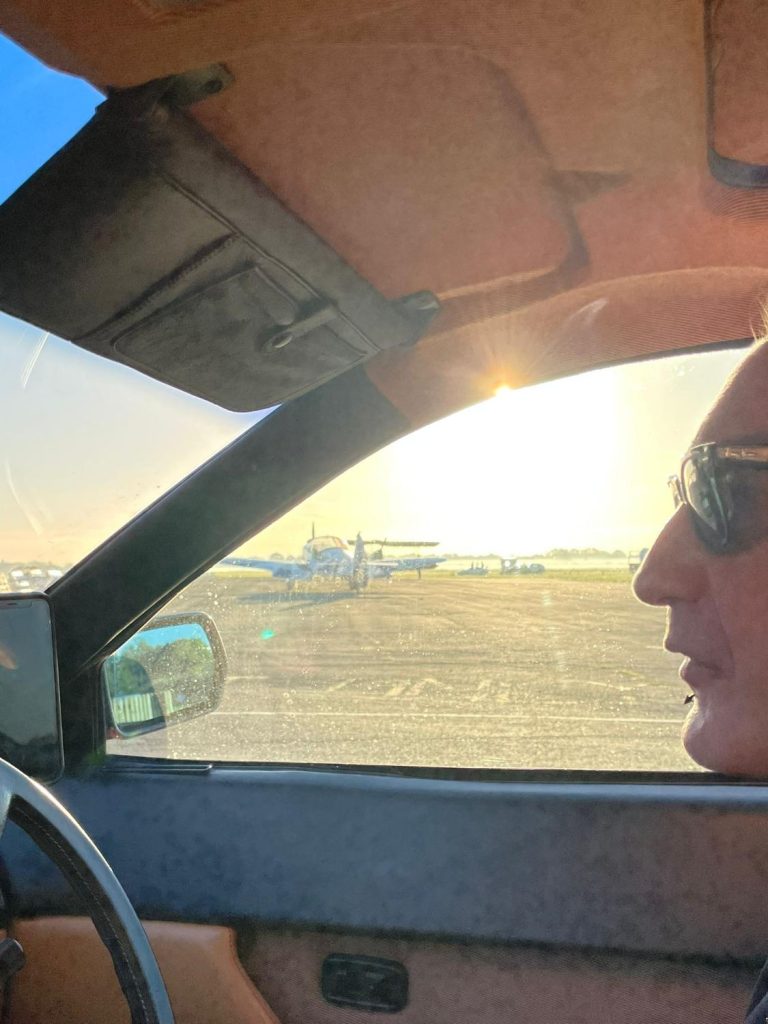 The Mondial might have been conceived as an easier to live with Ferrari. In that case I can't imagine what they were like before. It is not a soft boulevardier. It's not a fingertip, on its tippy-toes car. Every input requires thought, heft and determination. No power steering means low speeds are a work out. The upside is you can literally feel road markings through the Momo rim. You shift from the shoulder, not the wrist, and there's no second gear while the box is cold. Oh and it's a dog-leg first so you really are cosplaying as 1984 Michele Alboreto on his weekend off. But get it all warm and bury the throttle so you've got some revs through the drive train and it all comes alive in a mechanically satisfying manner.
Despite the extra wheelbase the front wheel still protrudes into the pedal box. I have size 11 feet so any footwear bulkier than Converse All Stars is a no go. I suspect a set of racing boots lies in my future. The column angles towards the centre of the car slightly, so you're sitting with a slight torque on your spine, like when you try to undo a jar of olives. The wheel is adjustable for reach and rake depending on how much of the instrument panel you want hidden. It's not uncomfortable though, and at 6'2" I have plenty of room without needing the seat on its last notch.
What was it The Old Man used to say? He'll sell you the engine and you get the rest for free. Thanks to fuel injection, electronic ignition with multiple maps and a fresh battery, starting is twist and go. A quick pre-programmed flare before settling into a smooth, busy idle. The red line is 7700rpm and once fully up to temperature you need to use all of them. It's deliciously linear and toe-twitch responsive. Power builds through to the torque peak at five thousand, then takes a deep breath and goes again towards the limiter as the 32 valves do their best work, sounding utterly glorious all the way. It's not neck-strainingly fast but is more than quick, that wide rev range meaning you can always drop a gear and go. It is perhaps a touch under-geared; sixty isn't available until third so motorway cruising is a busy affair.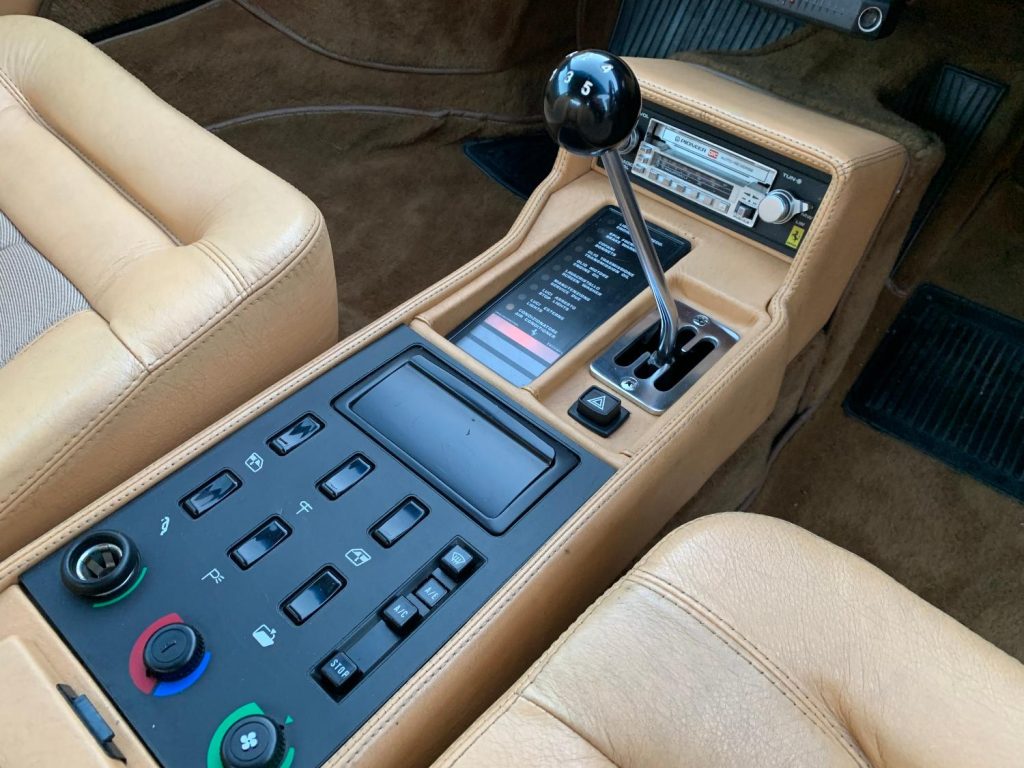 Even though civility was the Mondial's remit it goes about it in an endearingly Italian way. It has electronic climate control, but this only operates out of the three central vents above the centre console. As a car of the Eighties everything has a switch; windows, locking, mirrors, aerial, bonnet and engine cover releases, fuel cap cover, and amusingly the glovebox. There's a self diagnostic system that has a HAL9000 bank of warning lights next to the gear lever for that feeling of driving a grenade with the pin pulled out. A cassette holder that only takes the actual cassette itself, not the cases. If anyone has the misfortune to travel in the rear seats they at least have their own fag lighter and ashtray.
There were a couple of niggles. That aforementioned fuel gauge issue? Yeah. Innocently I reasoned a couple of tanks of super unleaded would free it up. Sound was coming out of only one speaker. Easy enough, I've done enough simple installs in my time. The digital clock had a couple of dead segments. Well, I couldn't see the clock from my driving position anyway. I didn't care as at the price paid I had bloody stolen it.
Because I got the car at the beginning of January, I didn't exactly know when and where I was going to be going with it, so what else to do first but the weekly big shop. Three bags for life easily slotted into the rear boot with room to spare (the front is full of spare wheel, radiators and electronics). This kind of drudgery our dailies put up with, but being able to pull off in a classic suddenly makes the Friday evening trip to Sainsbury's much more fun. The Ferrari sense of occasion is definitely there.
Then a slightly bigger niggle. As I closed the boot after a second shopping trip I noticed a trail of coolant had piddled onto the road where I reverse parked…
But that, as they say, is a story for another time. I'll be updating you on my adventures with the Mondial, right here, over time. Say a little prayer for me.
Tweet to @adrianfclarke
Follow @adrianfclarke
Check out the Hagerty Media homepage for daily news, features, interviews and buying guides, or better still, bookmark it.