They say time stands still for no man but one look at this brand new, unregistered Ford Fiesta Mk1 and you could be forgiven for thinking it's still 1978.
Yet the showroom-fresh example, which shows a mere 140 miles on the clock, is advertised for sale today – for a cool £26,500.
How much is your car to insure? Find out in four easy steps.
Get a quote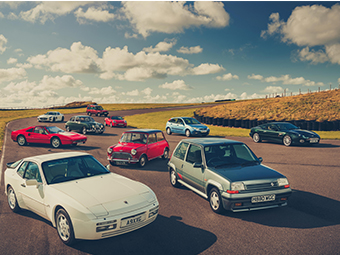 And should it be sold, the successful buyer would become the first officially-recorded owner of the Fiesta 950, should they choose to register the car with the DVLA.
The remarkable find has survived unscathed after being pampered in no less than the Science Museum, soon after it rolled off the production line in Cologne, Germany and was shipped to Britain.
Chassis BAFBUM58259 was manufactured in July 1978 and supplied new to a West London dealer that year. It was then passed to the Science Museum to be displayed as part of a 'Glimpses of Medical History' gallery, playing a role in a diorama showing assistive technology for helping elderly people in and out of cars.
It then came close to being cut in half…
When the museum decided to refurbish the building in 2015, the installation of new freight lifts with narrower doors meant that the Ford faced being cut-up when the museum decided the time had come to remove it from the premises, in South Kensington, London.
At that point, Darren Wisdom, who was working on site in 2017, intervened and saved the unregistered hatchback by constructing a jig which allowed it to be rotated through ninety degrees and brought down to ground level unharmed.
It was then recommissioned by Wisdom, who subsequently sold the white Fiesta to Richard Jordan for £11,550, in July 2018. The following January, the car was sold at auction, by H&H, for £14,625, including commission, after being snapped up by Gareth Tungatt.
Mr Tungatt's brother, Kris Tungatt, is now advertising the Fiesta 950 for sale through his dealership, Performance and Prestige Vehicle Solutions, based in Braintree, Essex. Describing the car, he stated: 'The car has been in the collection of my brother, Gareth, which is being scaled down. The Fiesta is truly a one-off – something for a real Blue Oval enthusiast. It's immaculate and totally original and can be seen running and driving.'
For any Ford enthusiast, this is a rare opportunity to secure and preserve a first-generation Fiesta, the affordable family runaround that would go on to become Britain's most popular car.
And for any Fiesta collector, it could make the perfect pairing with the one-of-a-kind Healey Fiesta, the hot hatch concept that never made production.
Read more
Retro Rewind: Ford Fiesta RS Turbo vs Fiesta ST
10 times Ford had fun with the Fiesta
Handbook Of Sloane Ranger Cars: Ford Escort MkIII